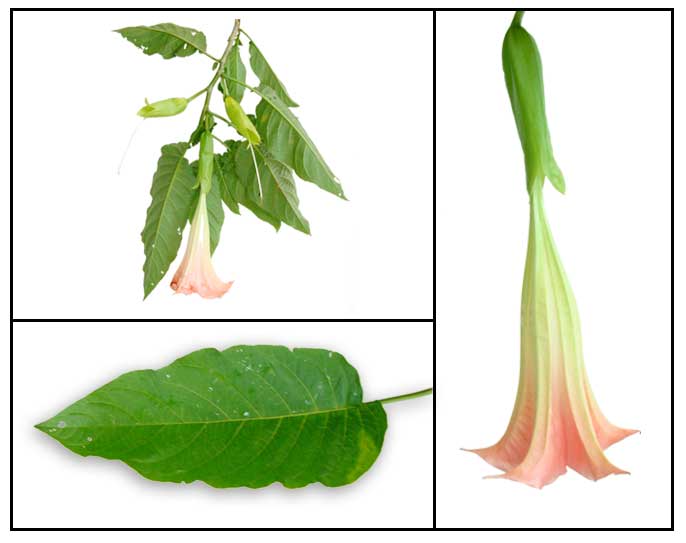 Botany
Trompeta is a small tree or large shrub growing to a height of 3 meters or more. Leaves are simple, opposite, ovate-lanceolate, 13 to 18 centimeters long, 6 to 8 centimeters wide, with pointed tips, unequal, obtuse or rounded bases, with entire or hairy margins. Flowers are large and showy, about 20 centimeters long, creamy white, pendulous, and musk-like in odor. Calyx is tubular, entire and spathelike. Corolla tube is cylindrical with very big lobes.

Distribution
- Recently introduced in the Philippines.
- Cultivated as an ornamental plant in Baguio.
- Occasional in the lowlands.
- Native of Peru and Chile.
- The IUCN Red List of Threatened Species lists the plant as EW: "extinct in the wild." (16)
Constituents
- Leaves and seeds yield alkaloids with narcotic properties.
- Chief alkaloids found in datura are atropine, hyoscyamine, hyoscine (scopolamine) and meteloidine.
- Flowers, leaves, stems and roots contain scopolamine and some hyoscyamine.
- The roots have some atropine and a little hyoscyamine.
- Seeds contain scopolamine and hyoscyamine and a little scopolamine.
- The stem has much hyocyamine and a little scopolamine.
- The leaves contain scopolamine, 0.44% , and an alkaloid, floripondine.
- Flowers have yielded fats, resin acid, tannic acid, glucose, alkaloid, gummy principles, cellulose.
- Phytochemical screening have yielded alkaloids ++, flavonoids +, terpenes and steroids ++, tannins ++, with absence of anthraquinones and coumarins. (21)
Properties
- Leaves and seeds yield alkaloids with narcotic properties.
- Studies have suggested spasmolytic, anti-amoebic, antifungal, aphrodisiac, antioxidant properties.

Parts used and preparation
Leaves.

Uses
Folkloric
- In Peru, Chile, and other parts of South America, a poultice of leaves is applied externally to accelerate the suppuration of boils and to relieve pain.
- Plant used for belladonna if given in double or treble dosing.
- Leaves used in cigarette form to treat asthma.
- In Ayurveda, used for arthritis, ulcers, back pain, skin diseases, sciatica, dandruff.
- Used for rheumatism, worms, colds, fever, erisypelas, cramps, asthma, hemorrhoids.
- In the Ecuadorian Amazon, the stems and branches, cut longitudinally are applied to the head or painful body part, bandaged to the area for 15 minutes. (3) Stems and leaves applied as anti-inflammatory to affected body parts. (18)
- In Peru, leaves are used to treat tumors and alleviate fevers.
- Flower tincture used in homeopathy.
- In Kinshasa, Democratic Republic of Congo, leaves used for the treatment of asthma and externally for rheumatic pains. Externally, the leaves are used as poultice, tincture, ointment, or directly applied. Also used for aches and pains, dermatitis, orchitis, headaches, and as anti-inflammatory. Internally, used in diluted preparations for stomach and muscle ailments, as emetic or sedative, and to expel worms and parasites. (21)
- In Chile, leaves used to ooze furuncles, as a substitute for Datura stramomium. (21)
Others
- In the Ecuadorian Amazon, used as hallucinogenic; used by shamans for bewitching and curing. Brugmansia overdose may result in delirium that lasts for days. Side effects have been known to last for weeks after consumption.
- Crushed seeds are added to chicha, a psychoactive maize beer. In Peru, leaves are added to cimora, a psychoactive beverage that often contains the San Pedro cactus used in shamanic ritual.
- Dried leaves may be smoked alone or mixed with tobacco or Cannabis indica. (13)
- Leaves are extracted in cold water or decocted in hot water. Four leaves or one flower decocted as tea considered a psychoactive dose. (13)

Concerns/ Toxicity
- All plant parts are potentially poisonous, especially the seeds and leaves.
- Plant has been used as hallucinogen and intoxicant from the hyocyamine content.
- Some consider Angel's Trumpet as one of the most potent naturally occurring hallucinogens in the world. Shamans strongly warn of its use by untrained individuals. (13)
- The chief alkaloids found in datura are atropine, hyoscyamine, hyoscine (scopolamine) and meteloidine. Poisoning can occur with overdose of any of the alkaloids. As little as 4 grams of leaf can be fatal to a child; alas, as the child's curiosity is drawn to the plants large flowers and spiny seed capsules.
- Appearance of alkaloid toxicity can be within minutes to hours, depending on concentration, method of ingestion and dosing, manifesting as: extreme thirst, pupil dilatation, vision impairment and hallucinations. High temperature, flushed skin and palpitations may be observed. In non-fatal cases, signs and symptoms subside in 12 to 48 hours, although visual impairment and lethargy may persist for some time.
- In some cases, ingestion of plant parts can cause delirium that may last for days and side effects may persist for weeks after consumption. On the other hand, smoking of dried leaves only produces subtle effects. Combination with Cannabis is reported to potentiate effects. (13)
- It has been mixed with maize beer and tobacco leaves to drug wives and slaves. (21) (also read: 20)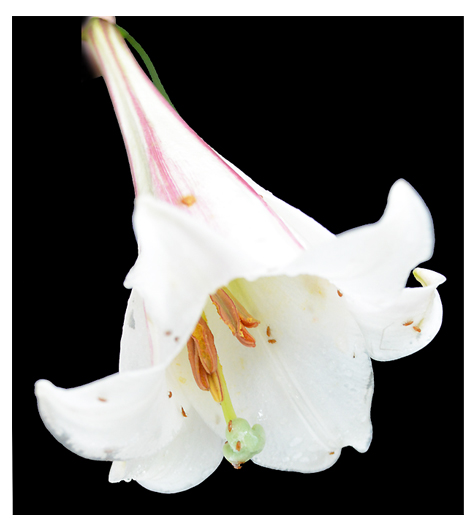 Studies
• Spasmolytic Alkaloids: Results showed dose-dependent reduction of electrical contractions of guinea-pig ileum and reduction of the electrical and the Ach-induced contractions of the ileum. Three active substances identified were tropane alkaloids – atropine, scopolamine and nor-hyoscine. (2)
• Ferredoxin / Amino Acid Sequence: The D. arborea ferredoxin exhibited three or four differences in the amino acid sequence when compared with D stramonium and D metel. The result supports the idea propounded by Bernhardi and Safford that 'Tree Datura" such as D arborea should be a section of the genus Datura and not a separate genus. (4)
• Antiamoebic: Crude extract of leaves showed moderate antiamoebic activity at MIC of 125 ug/ml. The activity was not due to its alkaloid contents because atropine and scopolamine were inactive in vitro against E histolytica. (6)
• Anti-Dermal Pathogenic Fungi Activity: Study of antibiotic activities of metabolite of entophytic fungi strain isolated from D. arborea isolated four compounds. One compound, a 5-butylpicolinic acid named fusaric acid, could inhibit the growth of Microsporum gypseum and Tricophyton gypseum. (8)
• Aphrodisiac / Antioxidant: Study evaluated a root aqueous extract for aphrodisiac and antioxidant properties. Results showed better results with testosterone levels in blood of test animals. Antioxidant activity was confirmed by comparison with silymarin. (9)
• Reduction of Morphine Withdrawal: Study evaluated the effect of three pure tropane alkaloids from Brugmansia arborea on morphine withdrawal. All three alkaloids significantly and dose dependently reduced morphine withdrawal. (10)
• Effect of Secondary Metabolites on Morphine Tolerance and Dependence: Study evaluated the in vivo effect of Brugmansia arborea extract, fractions, and isolated alkaloids on expression and acquisition of morphine tolerance and dependence. The extract significantly reduced the expression of morphine tolerance but was ineffective in modulating its acquisition. The extract, fraction, and pure alkaloids significantly attenuated both development and expression of morphine dependence. Results suggest potential therapeutic application in the treatment of opioid addiction. (11)
• Effect of Secondary Metabolites on Morphine Tolerance and Dependence: Study evaluated a methanol extract on the motor and reinforcing effects of morphine and cocaine. Results showed B. arborea blocked cocaine-induced hyperactivity but did not block cocaine-induced CPP (conditioned play preference). The dopaminergic and cholinergic systems may have provided a neurobiological substrate for the effects observed. Results suggest B. arborea as a useful tool for the treatment of morphine or cocaine abuse. (12)
• Central Nervous System Effects: Study evaluated Peruvian Andes plants (Valeriana adscendens, Iresine herbstii, and Brugmansia arborea) for CEN pharmacological effects using various tests. Results showed the plants were able to significantly reduce the CNS activity of animals with reduction of motor coordination and stereotyped behavior together with induced locomotor activity. Results support their psychotropic activity and confirm their ritual use. (14)
• In Vitro Receptor Binding: Study evaluated the affinity and the selectivity of V. adscendens, Iresine herbstii Hook and Brugmansia arborea (L.) Lagerheim towards 5-HT1A, 5-HT2A, 5-HT2C serotononergic, D1 and D2 dopaminergic, α1 and α2 adrenergic receptors by radioligand assays. The B. arborea aqueous extract displayed weak affinity for all receptors tested. The highest levels of inhibition at the maximum concentration tested (125 μg/ml) were 38% for the 5-HT1A , 16% for the 5-HT2A and 39% for the 5-HT2C receptor. Results showed interaction of the three extracts with the central 5-HT receptors thus confirming their ritual use. (15)
• Affinity on Cerebral Receptors: Study evaluated if the central effects of Iresine herbstii and Brugmansia arborea could be associated with interaction with SNC receptors. Extracts were evaluated for in-invitro affinity on 5-HT1A, 5-HT2A, 5-HT2C, D1, D2, α1, and α2 receptors bu radioligand binding assays with biological materials for binding assay obtained from the cerebral cortex of male Sprague-Dawley rats. In this study, I. herbstii showed affinity for D2 receptors, confirming their ritual use. Brugmansia arborea was able to interact only with the central dopamine receptors tested. (19)

Availability
Wild-crafted.
Ornamental cultivation.