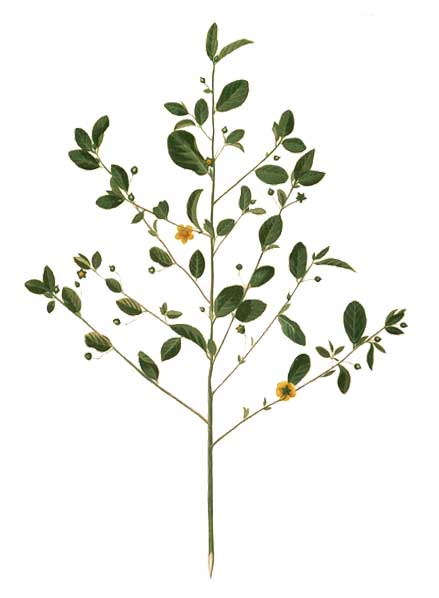 Botany
Ualis is an erect, still, branched undershrub, usually less than 0.5 m high. Leaves are hairy beneath, oblong-obovate, 1 to 2 cm long, with notched, truncate or rounded tip, pointed base, and toothed margins. Flowers are axillary, solitary, yellow, about 1.5 cm in diameter. Fruit is a capsule with beaked carpels.
Distribution
- In open grasslands, on paddy banks, at low and medium altitudes.
- Also reported from India to Malaya.
Properties
Stems abound in mucilage, considered demulcent, emollient.
Leaves considered diuretic and diaphoretic.

Parts used
Stems, leaves.

Uses
Folkloric
- Stems considered emollient and demulcent, for external and internal use.
- Leaves used for dressing ulcers.
- Poultice of leaves used for insect bites.
- Hindus use the roots for rheumatism.
- In Ayurveda, used for rheumatism and variety of neurological problems including epilepsy. Used in calculus troubles as diuretic and as febrifuge.
- In Ayurvedic medicine, Sida rhombifolia (L.) ssp. retusa (L.) is used for the treatment of fever and as diuretic. (7)
Studies
• Sedative Effect: Study of crude extract in mice showed a sedative effect, characterized by a decrease in alertness, wakefulness and reactivity. (1)
• Antioxidant Potential / Roots: The methanolic extracts of root powder of Sida retusa, Urena lobata, and Triumfetta rhomboidea roots were found to inhibit lipid peroxidation, scavenge hydroyl and superoxide radicals in vitro. Effect of Sida retusa methanolic extract on oxygen derived free radical generation showed IC50 µg/ml of 71.29 ± 13.61 superoxide radical, 1763.22 ± 211.43 hydroxyl radical, and 1130.24 ± 112.08 lipid peroxidation. (3) Study evaluated the comparative antioxidant potentials of ethanol extract of roots, stems, leaves, and whole plant of Sida rhombifolia (L.) ssp. retusa (L.) using various assays. All extracts showed effective free radical scavenging activity, reducing power, and superoxide scavenging activities. DPPH radical scavenging was in the order of root > leaves > whole plant > stem. Results suggest a potential source of natural antioxidants. (6)
• Antihyperglycemic: Study of eight Sri Lankan medicinal plant extracts, including Sida alnifolia, showed significant dose dependent improvement on glucose tolerance (p<0.05). The optimum effective dose on glucose tolerance for six extracts, including S. alnifolia, was 1.00 g/kg. (5)
• Central Nervous System Effects / Roots: This 1970 study evaluated the CNS effects of Sida retusa root to substantiate its use in Ayurvedic medicine. Of various extracts, only the crude extract produced a sedative effect, evidenced by decrease in alertness, wakefulness, and reactivity. Crude extract of root (5 and 10 g/kg) produced significant potentiation of pentobarbitone sleeping time in mice and abolished both conditioned and unconditioned avoidance response. The drug showed not toxicity even up to a dose of 15g/kg/ (7)
• Hypoglycemic / Hypolipidemic / Leaves: Study evaluated the anti-diabetic effect of an aqueous extract of S. rhombifolia ssp. retusa leaves in normal and STZ-induced diabetic rats. The aqueous extract showed a 15% reduction in plasma glucose after 1.5 hours of administration. In STZ-induced diabetic rats the reduction was 17%. At dose of 200 mg/kg, the AE showed reduction in triglyceride (16%), cholesterol (4%) and glucose level (10%). Results suggest potential for the treatment of diabetes mellitus. (8)
• Alternative to Bala (Sida cordifolia Linn.):Bala is a predominant herbal drug in Ayurveda, used as a single drug or as an ingredient in many Ayurveda formulations. According to the National Medicinal Plants Board, Bala is the third most consumed drug in Ayurveda pharmaceutical industry. While Bala is usually accepted as Sida cordifolia, in the southern parts of India where it is uncommon, Sida alnifolia is used as the alternative source of Bala. The study was done to evaluated the two plants as source plants of Bala. Preliminary pharmacognostical and phytochemical screening of S. cordifolia and S. retusa suggests that either plant can be used as source of Bala use to immense similarity. Study suggests pharmacological activities and therapeutic efficacy could be the same. (9)

Availability
Wild-crafted.