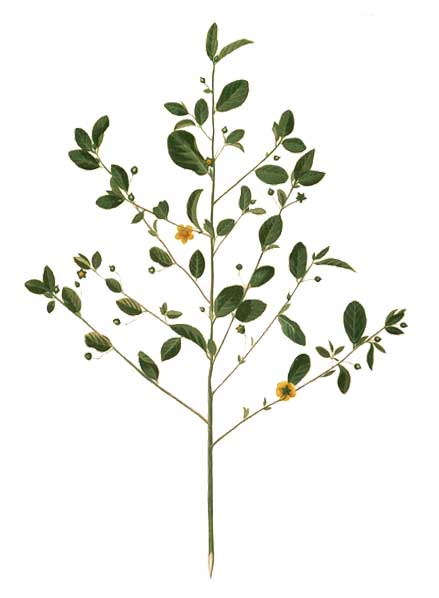 Botany
Ualis is an erect, still, branched undershrub, usually less than 0.5 m high. Leaves are hairy beneath, oblong-obovate, 1 to 2 cm long, with notched, truncate or rounded tip, pointed base, and toothed margins. Flowers are axillary, solitary, yellow, about 1.5 cm in diameter. Fruit is a capsule with beaked carpels.
Distribution
- In open grasslands, on paddy banks, at low and medium altitudes.
- Also reported from India to Malaya.
Properties
Stems abound in mucilage, considered demulcent, emollient.
Leaves considered diuretic and diaphoretic.

Parts used
Stems, leaves.

Uses
Folkloric
Stems considered emollient and demulcent, for external and internal use.
Leaves used for dressing ulcers.
Poultice of leaves used for insect bites.
Hindus use the roots for rheumatism.
In Ayurveda, used for rheumatism and variety of neurological problems including epilepsy. Used in calculus troubles as diuretic and as febrifuge.
Studies
• Sedative Effect: Study of crude extract in mice showed a sedative effect, characterized by a decrease in alertness, wakefulness and reactivity. (1)
• Antioxidant Potential: The methanolic extracts of Sida retusa, Urena lobata, and Triumfetta rhomboidea roots were found to inhibit lipid peroxidation, scavenge hydroyl and superoxide radicals in vitro. (3)

Availability
Wild-crafted.