Etymology
Nudum In Latin, means "bare naked." Its English name derives from time past, when a handful of the branches are tied together to make into a small broom.
Botany
Psilotum nudum is a herbaceious, rootless, perennial, terrestrial or epiphytic fern with branched creeping rhizomes. Stems are two-forked. Forked branches are slender, green, flat , triangular fruiting with minute pointed scale-like leaves. Spore-producing organs consist of three fused globular capsules in the forks of branchlets.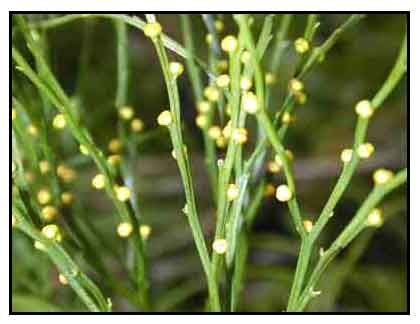 Distribution
- In the Philippines, found in forests at low and medium altitudes, in rockwalls and cliff crevices, and tree trunks.
- In gardens, usually attached to trunk of tree ferns or dead trees.
- Occasionally planted in pots or hanging baskets.
- Widely distributed in the tropics.
Constituents
- Plant yields flavonoids and sugars.
- Yields amentoflavone, and its glycoside, apignenin glycoside, meta- and para-coumaric acids, gibberelin, lipids, psilotic acid, psilotin, and psilotin epoxides, hydroxy psilotins. (4)

Parts used
Spores.

Uses
Edibility
- Leaves reportedly used for making tea.
Folkloric
- No reported medicinal use in the Philippines.
- Spores used medicinally as a purgative.
- Stem infusion used as laxative or cathartic and for pain relief Infusion also used as remedy for thrush. (4)
Others
- In Hawaii, spores collected and used like talcum powder, under the loincloth, to avoid chafing. Also used in making of leis.
Studies
• Antimicrobial / Fronds: Study investigated the antimicrobial properties of extracts and fractions of three selected ferns viz. P. nudum, N. bisserata, and N. cordifolia. Water and ethanol fractions showed activity against most of the tested bacterial and fungal strains. Results suggest the pteridophytes could be a good source of antimicrobials. (3)

Availability
- Wild-crafted.
- Ornamental cultivation.