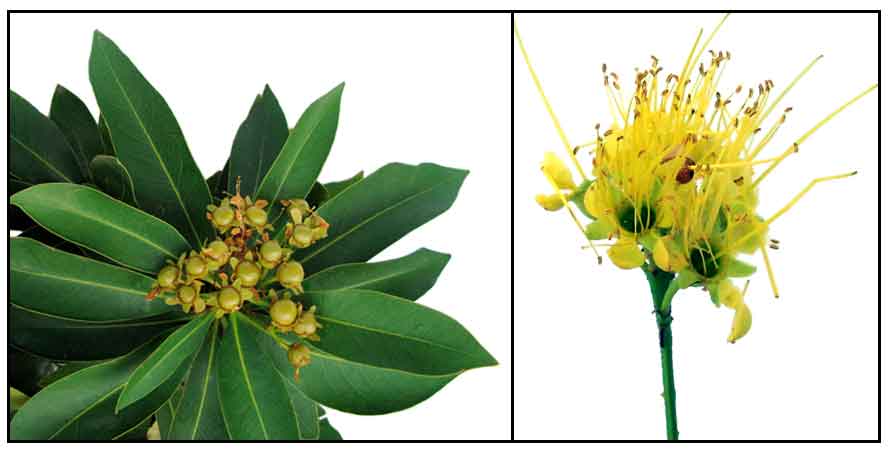 Gen info
- A genus of 45 species found in tropical northern Australia, New Guinea, Caledonia, Indonesia and the Philippines. Names derives from "xanthos" (yellow) and stemon (thread or stamen).
- Etymology: Xanthostemon derives from the Greek word xanthos meaning yellow, and stemon meaning thread of stamen; chrysanthus derives from chrysos meaning gold, and anthos, referring to the flower color.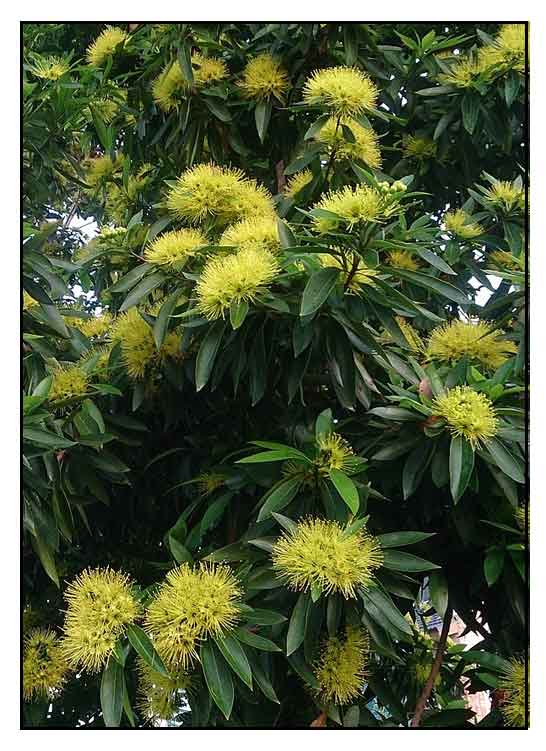 Botany
Xanthostemon chrysanthus is a perennial small tree or shrub growing to a height of 9 to 12 meters, with glossy green, alternate lanceolate leaves, 5 centimeters wide to 15 centimeters long, arranged in whorls along the stem. Flowers are bright yellow, occurring in terminal rounded clusters, five-parted with numerous conspicuous bright yellow stamens. Fruits are inedible; a single fruit measuring 10-12 millimeters, rounded and woody, green when young, dark brown when mature. Fully ripened fruits dehisce to disperse tiny seeds.
Distribution
- Planted as ornamental for its unique yellow florals.
- Indigenous to tropical norther Australia, New Caledonia, New Guinea, Indonesia, and the Philippines. (3)

Constituents
• GC and GC/MS analysis yielded a leaf oil in which the principal component was the ß-triketone leptospermone (65-84 percent). (1)
Properties
• Plant attracts nectar feeding birds and insects.
• Propagated through seeds and stem cuttings. Tolerant of hard urban environments. (3)

Uses
Folkloric
- No reported folkloric medicinal use in the Philippines.
- Used for purifying the blood; for liver and pulmonary complaints.
Others
- Hardened wood used by the Ngadjonji of Queensland for making spear points, swords, and digging sticks.
Studies
• Leaf Oils: Xanthostemon chrysanthus produced a leaf oil in which the principal component was the ß-triketone leptospermone, 65-84%. (see constituents above) (1)
• Antibacterial: In a study of 60 medicinal plant extracts, X. chrysanthum ethanol extract was one of 16 bark and leaf extracts that showed inhibition activity against test bacterium Chromobacterium violaceum DMST 21761. Leaf extract showed an MIC of 2.5 mg/ml. Anti-quorum sensing activity was not detected. (4)
• Cinnamoyl-Phloroglucinols / Cytotoxicity / Leaves: Study isolated four new cinnamoyl-phloroglucinols (1-4) from the leaves of X. chrysanthus. Compound 3 showed moderate cytotoxicity against MDA-MB-231 and SGC-7901 cells with IC50 values of 25.26 ± 0.35 µM and 31.2 ± 0.94 µM, respectively. (6)

Availability
Cultivated.