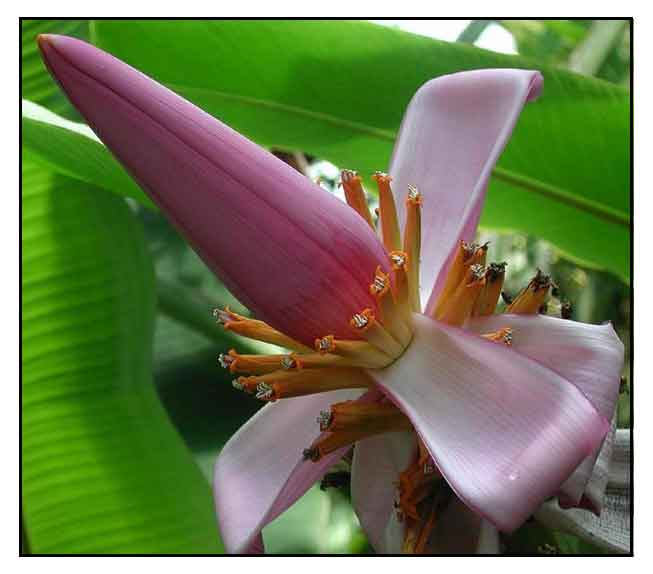 Gen info
- Abaca plant is indigenous to the Philippines, a banana species, and part of traditional agriculture in Southeast Asia, particularly in the Philippines.
- Abaca rope used to be one of the major exports of the Philippines; however, that market has been greatly reduced and supplanted by the use of nylon for cordage.
- Abaca revival came with the discovery of its alternative use as fiber: specialty papers, use in condensers, tea and coffee filters, cable insulation, currency and coniferous pulp in paper production, along with abaca handicrafts and textiles. (3)
- The abaca plant matures at about 20 feet, and harvested 2 to 4 times a year after an initial growth period of 18-25 months, with a total lifespan of up to 25 years. The trunk cut down above the roots to harvest the fibers. The fiber is extracted from the sheaths (the bottom part of the leaves forming the pseudo-stem) by hand-stripping or by a machine. (8) (14)
- The abaca plant has striking similarity with the banana plant. differing in that the fruit of abaca is inedible. (8)
- Of the estimated global annual production of 82,000 tons, the Philippines produce 67,000 tons, with Ecuador producing about 14,000 tons. (14)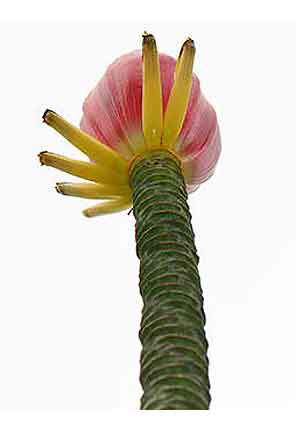 Botany
Abaca is an evergreen perennial, growing to a height of 4 to 6 meters, with clumps of large pseudo-stems up to 30 centimeters in diameter. Ground runners along the ground take root at each segment to form new plants. Leaves are dark green and oblong, light green on the underside. Fruits are indelible, containing irregular shaped seeds. (4)
Distribution
- Indigenous to the Philippines.
- Commercial cultivation for its fiber.
- Grown in Borneo and Sumatra.
- Also grown as commercial crop in Ecuador and Costa Rica.
Constituents
- Study of leaf fibers for chemical composition yielded lignin content of 13.2% of total fiber. Py-GC/MS analysis released compounds predominantly arising from lignin and p-hydroxycinnamic acids, with high amounts of 4-vinylphenol. Extractives content of abaca fiber (0.4%) was low, and predominant compounds were free sterols (24% of total extract) and fatty acids (24%), along with significant amounts of steroid ketones (10%), triglycerides (6%), w-hydroxyfatty acids (6%), monoglycerides (4%), fatty alcohols (4%), and a series of p-hydroxycinnamyl (p-coumaric and ferulic acids), and with minor amounts of steroid hydrocarbons, diglycerides, a-hydroxyfatty acids, sterol esters, and sterol glycosides. (7)
- The sheaths contain the valuable fiber, composed mainly of cellulose, lignin, and pectin. (14)
- Study of EtOAc fraction of stem bark of Alnus japonica yielded a new cyclic diarylheptanoid, alnuheptanoid B (3), along with four known cyclic diarylheptanoids viz., myricanone (1), (+)-S-myricanol (2), myricanone 5-O-ß-D-glucopyranoside (4), and (+)-S-myricanol 5-O-ß-D-glucopyranoside (5). (18)
- Phytochemical screening of ethanol leaf extract yielded flavonoid ++, amino acid ++, steroids ++, saponins +, with absence of alkaloid, anthraquinone, triterpenoids, terpenoids and tannins. Ethyl acetate leaf extract yielded flavonoid ++, triterpenoid +. steroids ++, terpenoids ++, tannins +, with absence of alkaloid, amino acid, and saponins. (19)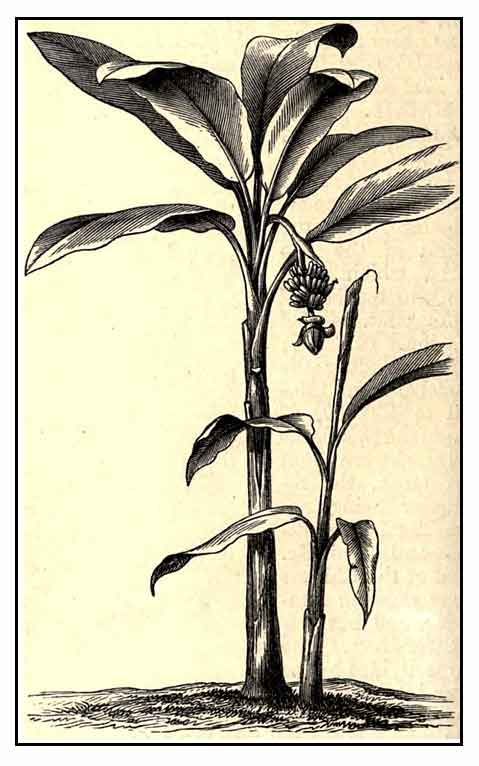 Properties
- Considered the strongest of natural fibers, durable, resistant to salt water damage, and completely biodegradable. (4)
- Study has suggest hypoglycemic property.

Parts used
Leaf stem, flowers, sap.

Uses
Folkloric
- Leaf stem and flowers used to treat wounds and reduce blood pressure. (9)
- In Davao, Philippines, the Matigsalug tribe use the plant for relapse. (12)
- The Higanon tribe of Rogongon, Iligan City, Mindanao use young shoots to treat diarrhea: The shoots are partly roasted, then squeezed, and the sap or juice drunk thrice daily. (13)
- Sap used on wounds to induce blood clotting.
- Inner part of the pseudostem is wrapped around bruises or small cuts to stop bleeding and to improve healing. (21)
- In Zambales, plant used for postpartum relapse.
- In Yogyakarta, Indonesia, sap smeared on skin burns. (20)
- In Lapuyan, Zamboanga del Sur, the Subanen tribe use the plant for treatment of paralysis by heating a small portion of the stem and roll it over the paralyzed part. (23)
- In Aurora, Zamboanga del Sur, a polyherbal formulation of saps from the heated center portion of three palm-sized petioles of abaca, buli, and saging (banana) is drunk once daily for relapse, fatigue, headache, body pain, fever, and migraine. (24)
- Muslim Maranaos in Iligan City, Mindanao drink the sap from partly roasted shoots (leaf buds) for relief of muscle pain. Remaining sap is rubbed or massaged over fatigued or "bughat" in women. (25)
- Subanen tribe in Osamis, Mindanao, roast, pound, and extract juices from palms and massage from head to toe and over fatigued areas or "bughat", especially in women after giving birth. (26)
Others
- Fiber: Considered the strongest of natural fibers. An increasing popular source of fiber for pulp. In Japan, used for making special paper for construction of movable room walls. (4)
- Crafts and other products: Rope, paper, rugs, dye mats, furniture, carpets, manila envelope,banknotes, tea and coffee bags, cigarette filter papers, sausage casing, disposable papers, among many others. (8) (see study below 22)
- Potential uses: Roofing tiles, floor tiles, hollow blocks, boards, reinforcing fiber concrete and asphalt; wigs and grass skirts; fuels (musafel). (15)
Studies
• Lignin-Carbohydrate Complexes: Two types of lignins occur in different lignin-carbohydrate fractions: a lignin enriched in syringyl units, less condensed, and preferentially associated with xylans, and a more condensed lignin, with more guaiacyl units, associated with glucans. Biomass fractionation procedure yielded lignin-carbohydrate complexes (LCC) from the fibers of sisal (Agave sisalana) and abaca (Musa textilis). Study isolated two LCC fractions i.e., glucan-lignin (GL) and xylan-lignin (XL), which differed in content and composition of carbohydrates and lignin. (5)
• Alternative Suture: Study evaluated the potential of abaca as alternative suture in measures of tensile strength and gross and histologic tissue reaction in surgically incised wounds in Sprague-Dawley rats. Results showed abaca was comparable to both silk and nylon in terms of tensile strength and tissue reaction, and suggested a potential as cost-effective alternative to commercially available nonabsorbable sutures. (6)
• Chemical Composition of High Quality Paper Pulps / Leaf Fibers: Study evaluated the chemical composition of leaf fibers used for high-quality paper pulp production. (see constituents above) (7)
• Tensile Strength: Indonesian study of abaca strands recorded a maximum tensile strength of 189.24 MPa, which suggests a potential as alternative material in biocomposite. (10)
• Blood Glucose Lowering / Synergism with Glibenclamide / Fruit Skin: Study evaluated the glucose tolerance effect of methanol extract of fruit skin of wild banana species, Musa textilis in mice. In oral glucose tolerance tests, the methanol extract of fruit skins of M. textilis significantly and dose-dependently reduced blood glucose levels in glucose-loaded mice. Administration with glibenclamide showed a synergistic lowering effect. Results suggest the MEMT can be used as a blood glucose lowering agent in diabetic patients. (11)
• Blood Glucose Lowering / Fruits: Study evaluated the oral glucose tolerance effect of methanol extract of fruits of M. textilis. In oral glucose tolerance tests, methanol extract of fruits significantly and dose-dependently reduced blood glucose levels in glucose-loaded mice by 10.3, 15.9, and 19.7%, respectively, at doses of 100, 200, and 400 mg/kbw in mice. By comparison, standard antihyperglycemic drug, glibenclamide, reduced blood glucose levels by 39.3% at dose of 10 mg/kg. Results suggest tht the extract although not as effective as glibenclamide, can also effectively reduced blood glucose in persons with elevated blood sugar. (see study 11) (18)
• Toxicity Against Brine Shrimp Nauplii / Leaves: Study evaluated different concentrations of leaf extracts for toxicity potential against brine shrimp nauplii. LC50 (concentration required to kill 50% of population) of > 1000 ppm indicates non-toxicity. In this study M. textilis was found non-toxic with LC50s of ethanol and ethyl acetate extracts above 1000 ppm. (19)
• Paper and Pulp Potential: Study evaluated the chemical and pulp properties of abaca cv. Inosa fibers harvested at different stages of stalk maturity to determine suitability for pulp and paper production. Fibers obtained from 8-10-month (immature) abaca possessed desirable chemical properties for pulping i.e. low lignin and ash, high alpha-cellulose, holocellulose and hemi-cellulose contents, comparable with those from intermediate and mature stalks. (22)
In the news
• Research breakthrough in abaca being stymied by a clueless bureaucrat: This newspaper commentary bemoans efforts by bureaucratic powers to stymie breakthrough in abaca hybrid research. The hybrids are undergoing final testing for adaptation, productivity and resistance to bunchy-top virus. While the fibers coming from virus-resistant backcross progenies have slightly less tensile strength than true abaca varieties making them less desirable for cordage purposes, they are comparable with traditional abaca varieties for pulp, paper, textile, and other industrial uses which are increasing the dominant and more profitable market for abaca. Read more. . . (Manila Bulletin: Dr Emil Q Javier; March 16, 2019) (17)
Availability
- Commercial cultivation.