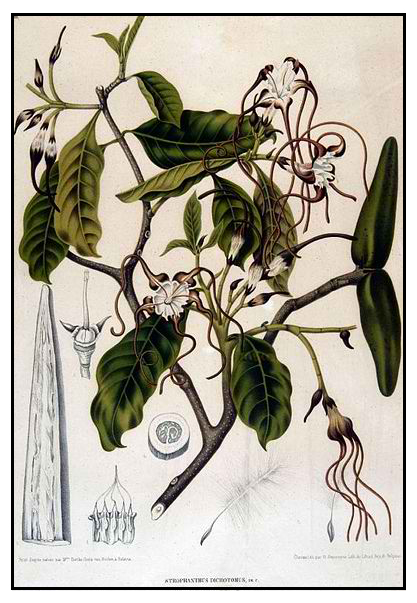 Gen info
• Strophantus is a genus of 35-40 species of flowering plants in the Apocynaceae family
• Strophos anthos, "twisted cord flower," derives from the long twisted threadlike segments of the corolla. (2)
Botany
Abuhab-baging is a stout, smooth, woody vine which , when young, may be erect and shrub-like. Leaves are elliptic-ovate, 8 to 15 centimeters long, and slightly pointed at the base, with a short point at the tip. Inflorescences are terminal, smooth, and few-flowered. Calyx lobes are slender and 7 to 9 millimeters long. Corolla is very characteristic; the tube is white, about 2 centimeters long with lobes which are about 8 millimeters wide at the base and continuing into long, slender and drooping tips. Lobes are about 1 centimeters long. Fruit is a double follicle. Follicle is woody, oblong-ovoid, about 16 centimeters long and 7 centimeters in diameter, containing numerous, elongated seeds, each of which terminates in very long projections with numerous long hairs.
Distribution
- Found in thickets and forests at low and medium altitudes in Cagayan, Abra, Ilocos Norte, La Union, Batangas, Rizal, Cavite, Bataan, Laguna, and Sorsogon Provinces in Luzon; and in Palawan, Leyte, Negros and Mindanao.
- Also found in China, Myannmar, Thailand, Cambodia, Laos, Vietnam, Malaysia, Indonesia, New Guinea.
(Note: Quisumbing's compilation lists S. cumingii as endemic to the Philippines. Strophanthus caudatus, the accepted name, is reported in many parts of Asia.)
Constituents
- Seeds, like that of other species of the genus Strophanthus, yield the glucoside, strophanthin.
- Strophanthin is a digitalis glucoside used as a heart stimulant.
- Bark, as with other Strophanthus species, probably yields strophanthin.
- 80% ethanol extract yielded terpenoid, glycoside, saponin, anthraquinone.

Parts used
Bark.

Uses
Folkloric
- Seeds used as heart stimulant.
- In Vietnam, leaves used to treat high blood pressure.
Others
- Poison: In the Philippines, bark is employed as an effective arrow-poison. In Vietnam, also used as fish poison.
Studies
• Glycosides: The glycosides of Strophanthus cumingii A. DC. were compared with cardiogenic glycosides (digitoxin, ouabain, and strophanthin) by paper chromatography. (1)
• Carcioactivity / Bark: Study evaluated the cardioactivity of bark extract of S. cumingii and its sub-fractions on isolated frog hearts. The hexane fraction was the most cardioactive with maximum 30.58% increase in force of contraction and 38.24% increase in frequency of contraction. The non-polar fraction of the crude extract from bark elicited a positive inotropic and negative chronotropic effect. (4)

Availability
Wild-crafted.