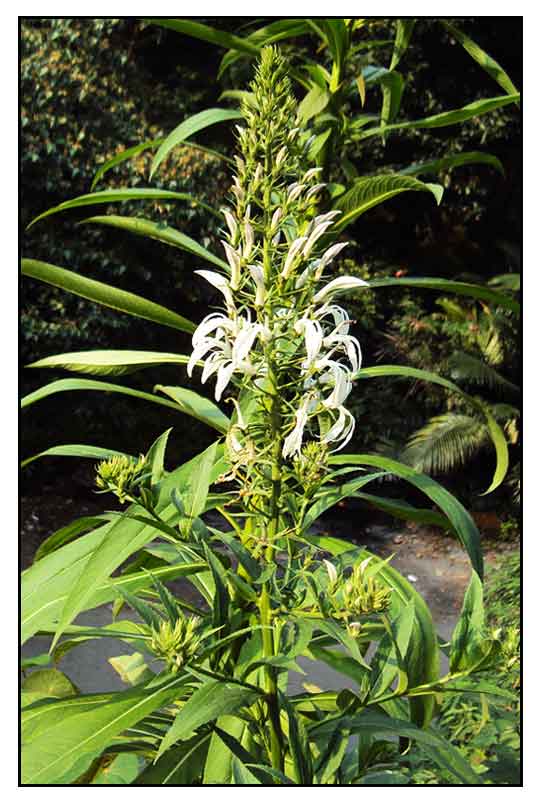 Botany
Adlabong is a tall, erect, much branched, somewhat hairy herb growing from 1.5 to 3 meters in height. Leaves, resembling those of tobacco, are narrowly obovate-lanceolate, the lower ones being 30 cm in length and 5 cm in width, while the upper ones gradually become smaller; all are smooth or nearly so above and hairy or smooth beneath. Flowers are large, white and borne on terminal compound inflorescences. The calyx-tube is smooth or hairy, with linear teeth about 1.2 cm long. Corolla is 2 to 3 cm long, and smooth or hairy. Capsules are 2-celled, somewhat rounded, and about 1.5 cm in diameter. Seeds are numerous, very small, ellipsoid, and compressed.
Distribution
- In damp thickets and ravines, at altitudes of 1,200 to 2,300 meters.
- Occurs in Bontoc, Ifugao, Benguet, Lepanto Subprovinces; and the Zambales Province in Luzon.
- Also occurs in India.
Constituents
- Study isolated alkaloids, one of them identified as lobeliin. The lobeline content of L. nicotianaefolia is higher (1-1.8%) compared of L. inflata (0.3-0.4%).
- Also contains volatile oil, resin, gum and fixed oil.
- Seeds contain an acro-narcotic poison; in India, often preferred to Datura as poison, when a rapid effect if desired.
- A rich source of alkaloids: lobeline, the main alkaloid; others including, lobelanine, lebelanidine, as well as fourteen piperidine alkaloids, comprising a total alkaloidal content of 1.04 to 1.18%. (5)

Properties
- Dry herb, when handled, is extremely acrid; the dust irritating the throat and nostril like tobacco.
- Lobelia used medicinally as expectorant, emetic, anti-asthmatic, stimulant, antispasmodic, diaphoretic, diuretic and nervine.
-Studies have suggested antibacterial and antiepileptic properties.

Parts used
Leaves, seeds.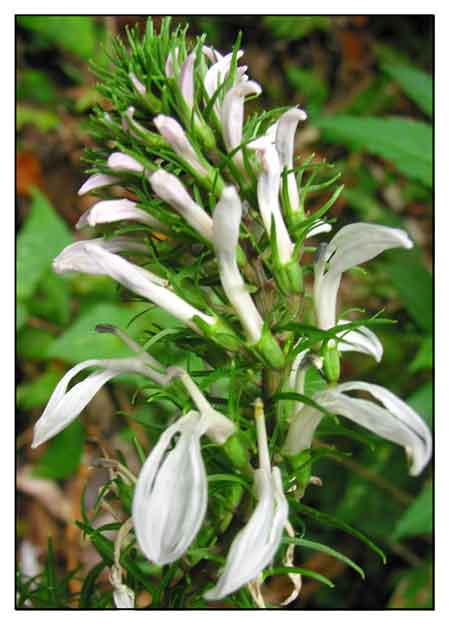 Uses
Folkloric
- In India, infusion of leaves used as antispasmodic and expectorant.
- Roots used in treatment of eye diseases.
- Flower decoction used for asthma.
- Root paste applied on dog bites.
- Used for treatment of bronchitis, asthma, insect and scorpion bites.
- Also used to induce nausea and vomiting.
- In India, leaves are chewed and kept in carious cavity of tooth. (6)
- In Ayurveda, plant is used for sciatica and back pain.
- Leaves used to facilitate wound healing.
- In Karnataka, India, preparations from whole plant used as antiseptic. (9)
- Leaf infusions used as antiseptic. In Kerala, India, stem bark is applied to toothaches; leaf juice used to treat tinea pedis (athlete's foot). Roots used as antidote for scorpion stings. (Note: The seeds and leaves have been reported to be poisonous. Fresh leaf sap may cause dermatitis.) (10)
- In the Amboli region of Maharashtra, India, paste of root stock applied externally to non-bleeding hemorrhoids. (11)

Studies
• Antibacterial Against Diarrheagenic Bacteria: In a study of extracts of six commonly available medicinal plants tested for their antibacterial activity against five different diarrheagenic bacterial ( B cereus, S aureus, E coli, Salmonella enteritidis and L monocytogenes), the crude aqueous leaf extract and crude ethanolic leaf extract of L. nicotinaefolia showed the highest antimicrobial activity. (2)
• Lobeline: Lobeline has been found to be effective in respiratory disorders like asthma,
pneumonia, asphyxia in newborn infants. (5) Studies suggest lobeline and its analogues may have therapeutic potential in the treatment of psychostimulant abuse. Non-competitive inhibition of VMAT2 may be the mechanism in the treatment of drug abuse. Besides substance abuse disorder, Lobeline has also been used in the pharmacotherapy of attention deficit hyperactivity disorder.
• Antiepileptic / Lobeline: Study investigated the anticonvulsant activity of the lobeline isolated from Lobelia nicotianaefolia in chemoconvulsant-induced seizures in mice. Results showed isolated lobeline exhibited potent anticonvulsant activity against PTZ induced seizures probably through enhancement of GABA release. (4)
• Antibacterial / Leaves: Study evaluated various extracts of powdered leaves for invitro antibacterial activity against gram positive S. aureus and gram negative P. aeruginosa, S. typhi and E. coli. The methanol extract showed higher antibacterial activity. (8)
Availability
Wild-crafted.