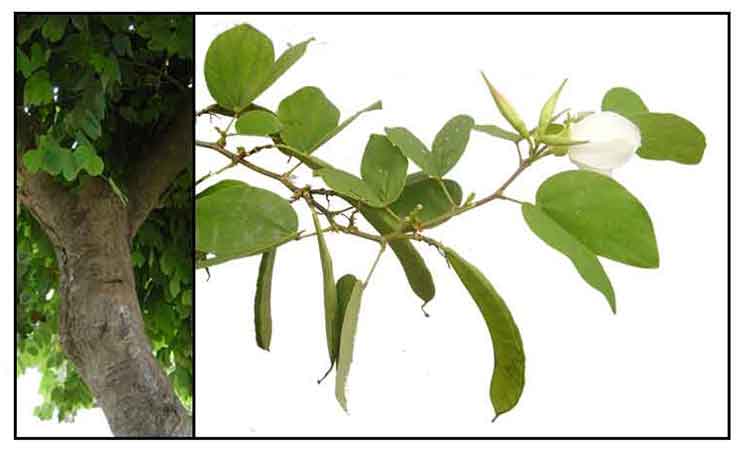 Gen info
- Piliostigma malabaricum is a small tree species in the family Fabaceae. It was previously placed in the genus Bauhinia, but was moved because of the reorganization of the subfamily Cercidoideae and the tribe Bauhinieae. (19)
- It has been called "Purple Orchid Tree", but should not be confused with Bauhinia purpurea or Bauhinia variegata. (19)
- Alibangbang is the Ilongo word for butterfly.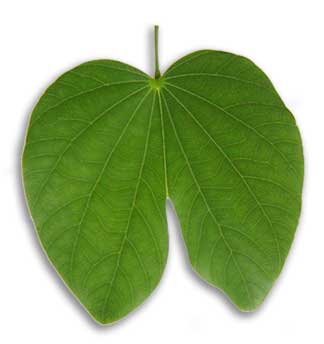 Botany
Alibangbang is a small but stocky tree growing to a height of 8 to 10 meters. Bark is yellowish-brown. Branches are freely rebranched, with a dense crown, the ultimate ones smooth. Leaves are broader than long, 5 to 10 centimeters in length, heart-shaped at the base, deeply notched at the apex. Flowers are white and rather large. Pods are long, narrow, and flattened, 20 to 30 centimeters by 1.5 to 2.5 centimeters.
Distribution
- Native to the Philippines.
- Very common on open, dry slopes, in regions with long dry seasons in Luzon (Ilocos Norte to Laguna).
- Also native to Andaman Is., Assam, Bangladesh, Cambodia, Himalaya, India, Jawa, Laos, Lesser Sunda Is., Myanmar, Nepal, Nicobar Is., Northern Territory, Pakistan, Queensland, Thailand, Vietnam, Western Australia. (10)
Constituents
• Bark contains a tannin, 9.5 %.
• Oil extracted from the seeds was 16%, with linolenic 0.81%, linoleic, 47.26%, oleic 15.26%, stearic 19.29%, palmitic 17.18%, myristic 0.02%.
• Yields antimalarial compounds, preracemosols A and B.
• Seeds yield a higher amount of crude lipid. Seeds are rich in minerals Ca, Mg, Fe. Glutelins (45%) comprise the major seed protein; globulins, 34%.
• Methanol extract of leaves yielded seven flavanols: 6,8-di-C-methylkaempferol 3-methyl ether, kaempferol, afzelin, quercetin, isoquercitrin, quercitrin, and hyperoside were isolated from the methanol extract of leaves.
- Seeds rich in minerals Ca, Mg, and Fe. Unsaturated fatty acids, oleic acid and linoleic acid, are dominant in seed lipids. (6)
- Phytochemical screening of various extracts yielded saponins, phenolic compounds, flavonoids, glycosides, carbohydrates, tannins, terpenoids, and proteins, with an absence of lipids and steroids. (see study below) (12)
- Study of methanol extract of leaves yielded seven flavonols, including 6,8-di-C-methylkaempferol 3-methyl ether, kaempferol, afzelin, quercetin, isoquercitrin, quercitrin, and hyperoside. (see study below) (1)
- Quantitative analysis of leaves for quercetin and quercetrin using RP-HPLC yielded 0.18g and 0.38 g in 100 g of dried crude drug (16)
- GC-MS analysis for leaf and flower constituents yielded 22 constituents in each of the leaf and flower extracts. Leaf contained fatty acids (79.32%), hydrocarbons (6.63%), aldehyde (3.78%), amide (2.91%), ester (2.36%), alkaloids (1.72%), phosphate ester (1.27%), cyclic ether (1.04%) and alcohol (0.98%). Flower yielded fatty acids (81.54%), ester (5.79%), alkaloids (3.62%), aldehyde (3.01%), hydrocarbons (2.44%), amide (2.17%), ketone (1.28%) and alcohol (0.15%). (see study below) (18)
Properties
- Considered digestive, antidysenteric, emmenagogue, antibacterial, antioxidant, antifungal, pectoral, stomachic, anthelmintic, antiperiodic.
- Studies have shown antioxidant, analgesic, anti-inflammatory, nephroprotective, antifungal, hypolipidemic, antiatherogenic properties.

Parts used
Bark, leaves, flowers.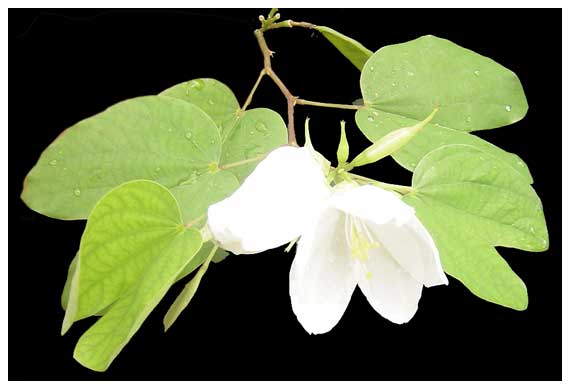 Uses
Edibility
- Young shoots are edible.
- Sour leaves are consumed in India, Indonesia, and Thailand, among others.
- Young leaves used as condiment.
- In the Philippines, commonly used as flavoring for meat and fish (sinigang and sinampalukan dishes).
- Excellent source of calcium; good source of iron.
Folkloric
- Infusion of fresh flowers for dysentery.
- In Malabar, decoction of root bark used for liver problems.
- Bark also used for dysentery.
- Leaves applied to the forehead for fevers.
- The roots of Desmodium elegans, combined with the bark juice of Bauhinia malabarica has been used for the treatment of cholera.
- Paste of leaves applied to swellings.
- In traditional Thai medicine, used for wound healing, diuretic, emmenagogue, and for dysentery.
- In southern India and sub-Himalayan tracts, young shoots used to treat cough, gout, glandular swellings, goiter, menorrhagia, worm infestations, and wounds, among others. (15)
Others
- Apiculture: Flowers are source of pollen and nectar for insect pollinators. (17)
- Fuel: Wood suitable material for charcoal and fuelwood. Energy value of the wood is about 18,100 kJ/kg. (17)
- Fiber: Bark fiber used for making rope. (17)
- Timber: Yields a medium-weight hardwood with density of 665-820 kg/cu m at 15% moisture content. Wood seasons well, moderately easy to use, durable only for interior work. Used for making wooden heels of women's slippers. (17)
- Ecoforestry: As hedgerow plant, contributes to soil stabilization and conservation. Used in fire breaks and afforestation of drylands. Decomposed fallen leaves revitalize soil nutrients. (17)

Studies
• Flavonols / Leaves: Seven flavanols were isolated from the methanol extract of leaves. Of the isolated compounds, isoquercetin showed the highest scavenging activity. (see constituents above (1)
• Antinociceptive / Anti-Inflammatory / Antipyretic: A study of aqueous extract of Bauhinia purpurea leaves on animal models showed significant anti-inflammatory, antinociceptive and antipyretic activities and confirms the folkloric use of the plant for pain and inflammation. (3)
• Antioxidant / Leaves: An extract study for the antioxidant activity of six Thai medicinal plants showed Bauhinia malabarica leaves to have potent inhibitory effect in inhibition of hemoglobin precipitation caused by oxidants. (4)
• Phytochemical Screening: Edible and therapeutically important parts of B. tomentosa and B. malabarica were evaluated phytochemically. Acetone extracts of both plants showed substantial amounts of total phenolics, tannins, condensed tannins, flavonoids, and vitamin C. Seed extracts also exerted significantly higher flavonoid and condensed tannin contents. Results suggest a potential sources for health, food, and pharmaceutical products. (7)
• Nephroprotective: Study evaluated an ethanol extract of leaves of B. purpurea and unripe pods for protective effects on gentamicin-induced nephrotoxicity in rats, Results showed significant protection of rat kidneys from gentamicin-induced histopathological changes. There was also normalization of gentamicin-induced increased in serum creatinine, uric acid and BUN. (8)
• Antihyperlipidemic / Antiatherogenic: Study evaluated the antihyperlipidemic effect of ethanol extracts of unripe pods and leaves in rats with diet-induced hyperlipidemia. The extracts significantly suppressed induced hyperlipidemia suggesting antihyperlipidemic and antiatherogenic potential of the extracts. (9)
• Antioxidant / Antifungal: Methanol and chloroform extracts showed good antioxidant property. The methanol extract showed highest total phenolic content and reducing power. Study indicated the presence of biomolecules to combat pathogenic fungi in the antifungal study. (see constituents above) (12)
• Antioxidant / Pods and Seeds: Study evaluated the antioxidant and free radical scavenging effects of 70% acetone and 50% methanol extracts of B. malabarica pod and seed using various assays. All extracts showed good antioxidant activity comparably higher than synthetic BHT and BHA. The acetone extract of seed showed significant (p<0.05) antioxidant activity in terms of reducing power, DPPH, metal chelating, and ABTS activity. Results suggest consumption of such legume food can be a source of nutrients and potential source of nutraceuticals for human health. (13)
• Inhibition of Heinz Body Induction / Antioxidant / Leaves: In a study of six common Thai medicinal leaves and creeping stems for antioxidant activity via inhibition of Heinz body induction, the leaves of B. malabarica was one of three that showed most potent inhibition effect. (14)
• Hepatoprotective / Acute Toxicity Study / Stem Bark: Study evaluated an aqueous methanolic extract of stem bark for effects on liver function serum biochemical markers and antioxidant markers in liver tissues of Wistar albino rats with carbon tetrachloride induced hepatotoxicity. Acute toxicity study of the extract showed no toxic effect even at highest dose of 5000 mg/kg. Results showed considerable hepatoprotective activity of B. malabarica stem bark as evidenced by biochemical observations and histopathological examination of the liver. (15)
• Antibacterial / Leaves and Flowers: GC-MS analysis for leaf and flower constituents yielded 22 constituents in each of the leaf and flower extracts. The extracts inhibited the growth of Escherichia coli and Staphylococcus aureus comparable to gentamycin. The flower extract showed greater antibacterial potency than the leaf extract. (see constituents above) (18)

Availability
Wild-crafted.