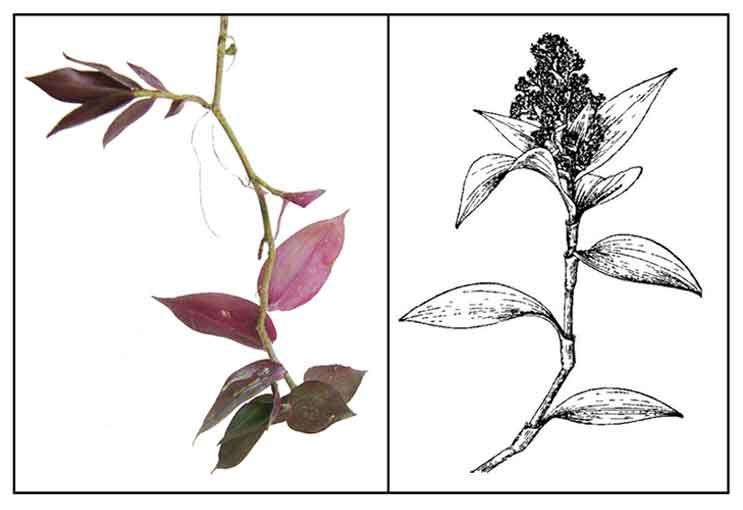 Botany
Alibañgon is a small trailing perennial herb, velvety throughout with multicellular hairs. Stems are stout, erect and creeping below, 20 to 70 centimeters long. Leaves are lanceolate, 3 to 9 centimeters long, 1 to 2 centimeters wide, sessile or petioled. Panicles are short-stalked, pyramidal with long, erect or ascending, many-flowered branches. Flowers are small and subglobose. Sepals are villous and the petals are white, lilac or rosy. Capsules are 2 to 3 millimeters long, orbicular or ellipsoid and compressed. Seeds are glaucous.
Distribution
- In wet places along streams at low and medium altitudes, in most or all islands and provinces.
- Also occurs in India, Indo-China, Sri Lanka, Nepal, China, Thailand and Vietnam, through Malaya to tropical Australia.
Properties
- Ideal as aquarium plant.
Parts utilized
Whole plant.
Uses
Edibility
- In New Guinea, leaves and young shoots cultivated as supplementary food.
Folkloric
- Plant is used for broken bones.
- In Bangladesh, leaf paste used for poisonous stings; juice squeezed on sore eyes. Plant also used as application for fractured bones.(3)
- Plant used for fever, pyoderma, abscesses and acute nephritis.
- In India, leaf or stem juice used on sore eyes. (4)
- In Uttar Pradesh, India, three drops of stem juice applied to eyes three times daily for conjunctivitis. (6)
- In China, used as febrifuge; also for abscesses, pyodermas, and nephritis.

Studies
• Component in Anti-Tuberculin Medicine / Invention: Invention discloses the use of a traditional Chinese composition in preparation of an anti-tuberculin medicine: 18 parts of hairy vein agrimony roots, 15 parts frog orchid tub4r, 20 parts common aeschymomene leaf flower, 12 parts Litsea glutinosa, and 20 parts of Floscopa scandens. The traditional Chinese medicine has remarkable effect of inhibiting activity of inhibiting activity of tuberculin. (7)
• Traditional Chinese Medicine for Treatment of Pulmonary Edema / Invention: Invention discloses a traditional Chinese medicine for the treatment of pulmonary edema comprised of parts of cordate houttuynia, dandelion, Caulis lonicerae, semen lepidii, red fleshy cayratia stems and leaves, with 20-40 parts of Floscopa scandens. The traditional Chinese medicine claims to have significant curative effect on pulmonary edema from early to middle stage. (8)
Availability
Wild-crafted.