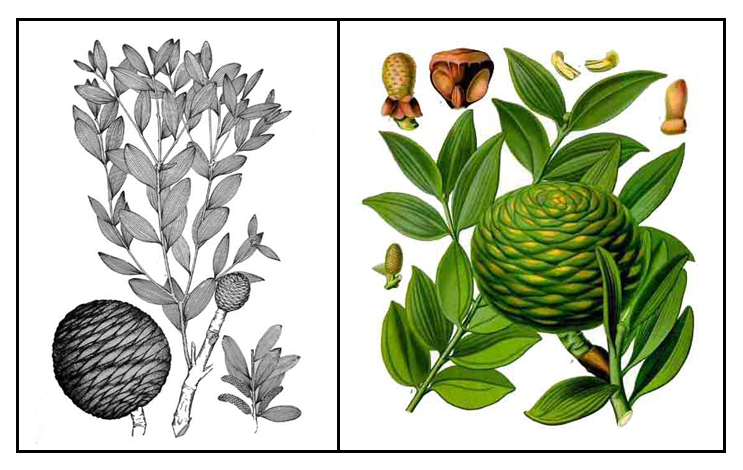 Botany
Almaciga is a large tree with a pyramidal crown and whorled branches, growing to a height of 50 to 60 meters, the trunk up to 3 meters in diameter with a smooth and graying bark exuding resin. Leaves are simple, opposite or nearly so, entire and leathery, oblong-lanceolate to linear-lanceolate, obtuse, 3 to 9.5 centimeters long, 1 to 2.5 centimeters wide. Male cones are cylindrical-oblong, 1.5 to 5 centimeters long. Female cones are 2.5 to 5 centimeters long, globose or ovoid, up to 5 centimeters in diameter; scales are broadly cuneate, 1 to 1.5 centimeters across. Seeds are about 1 centimeter long, with the falcate decurved obtuse wing.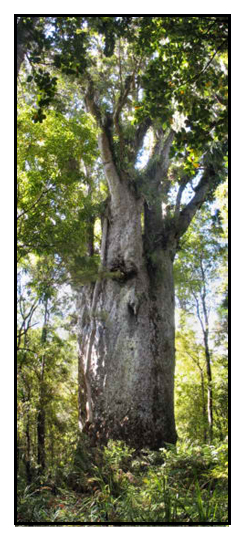 Distribution
- In primary forests, at medium and higher altitudes, 200 to 2000 meters above sea level, from the Babuyan Islands and northern Luzon to Palawan and Mindanao, and in most other islands and provinces.
- Occasional lowland cultivation.
- Also occurs in Indo-China, through the Malay Peninsula, and from the Archipelago to the Moluccas.
- 1UCN Red List of Threatened Species: Listed as vulnerable, 2013. (13)

Constituents
- Volatile oil - surface resin, 1.3%; mined resin, 8%; 8% soft resin, 11.2%.
- Oil of Manila copal: Yields a volatile oil through steam distillation or dry distillation with the following constituents: d-limonene, d-α-pinene, J-pinene and camphene. (8)
- Manila copal consists mainly of amorphous-free resin acids, also containing a neutral resin indifferent to alkalies, and a volatile oil.
- Study of essential oil from fresh leaves yielded nineteen compounds. The major compounds were limonene 36.81%, ß-bisabolene 33.43%, and ß-myrcene 25.48%. (see study below) (3)
- Study of biflavonoids yielded 13 compounds viz. 7,7"-di-O-methylcupressuflavone (1), 4′,7,7"-tri-O-methylcupressuflavone (2), 4′,4"',7,7"-tetra-O-methylcupressuflavone (3), 7-O-metyllagathisflavone (4), 4"',7-di-O-methylagathisflavone (5), 7,7"-di- O-methylagathis-flavone (6), 4"',7,7"-tri- O-methylagathisflavone (7),  4′,4"',7,7"-tetra- O-methylagathisflavone (8),  bilobetin (9), isoginkgetin (10),  kayaflavone (11), 4",4"',7,7′-tetra- O-methylagathisflavone (12) and 4′,7,7"-tri-O-metilrobustaflavon (13).  (see study below) (16)
- Hydrodistillation, GC-FID, and GC-MS studies of fresh leaves for essential oil yielded nineteen compounds. The major compounds were limonene 36.81%, ß-bisabolene 33.43%, and ß-myrcene 25.48%. (see study below) (3)
- Water distillation of resinous exudate of almaciga yielded an essential oil rich in limonene (72%). Minor constituents present in amounts greater than 1% included α-pinene, p-cymene, terpinen-4-ol and α-terpineol. (20)
Additional info on resins and copal
- Almaciga belongs to the same family and same genus as the New Zealand "kauri pine" (Agathis australis) which also yields a resin similar to almaciga. The resin of A. philippinensis is found in the bark and oozes out whenever cut. Occasional lumps of resin are found in the forks of the branches, and large masses – called fossil (mineral) resins – are found in the ground. True copals are hard, lustrous, yellow, brown or nearly white, more or less insoluble in the usual solvents, rendered soluble by melting before making into varnish.
- Copals are resins which contain very permanent substances known as resenes.
- Copals also contain ethereal oils, a bitter principle and a coloring matter.
- Zanzibar and Cameroon copals consist mainly of resin acids and resenes; Manila copals are mostly of resin acids (12% vs 6% of Zanzibar).
- Historical info: The first shipments of copal came from Manila, which earned it the name Manila copal. By the 20th century, 75% of the product was being shipped from Indonesia. The source of all East Indian, Philippine, and Malayan copal, is Agathis alba. These copals are erroneously called damars, although they are quite distinct from true damars. (12)
Properties
- Manila copal varnishes are durable, but do not strongly adhere to the surface, and lacking brilliance. They are often used for interior work and enamels. (12)
- Studies haves suggested antibacterial and anti-plasmodial properties.

Parts used
Resin, wood, leaves.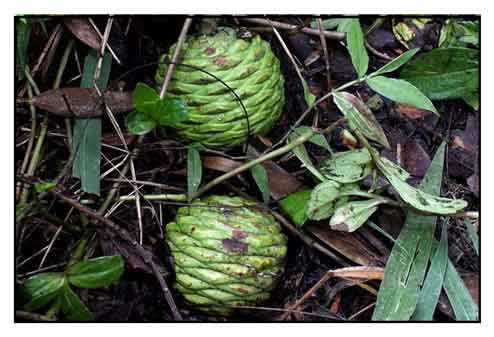 Uses
Folkloric
- For arthritis, resin is softened by steam or indirect heat (not open fire) and spread on cloth or gauze and apply over affected area.
- For asthma, smoke is inhaled from the burning resin.
- In Malaya, the resin is used as liniment.
- In Malaysia, powdered wood used to treat headache and myalgia. (4)
- The Kankana-ey people of Benguet drink a decoction fresh leaves with stems for stomachache, ulcers, and dysentery. (10) In the Cordilleras, used for the treatment of arthritis and bronchial asthma.
- A decoction of sap mixture of almaciga, kawayan and salangkague used as postpartum bath. (21)
Others
- Varnish: Used in the manufacture of high-grade varnish.
- Resin is employed as incense in religious ceremonies, for torches, to facilitate starting fires, caulking boats, as smudge for mosquitoes.
- Exported and used in the manufacture of high-grade varnish.
- Also used in making patent leather and sealing wax.
- Used in the manufacture of cheap soaps and paper sizing.
- Resinate products use in paper manufacturing to render the paper non-bibulous.
- Used as incense in religious ceremonies; used for lighting torches.
- Livelihood: In a study of migrant communities in Palawan, resin collection is the primary source of income (20.45%) and secondary income for 16% of the population. (17)

Studies
• Essential Oil / Antibacterial / Leaves: Study of essential oil from fresh leaves yielded nineteen compounds. The major compounds were limonene 36.81%, ß-bisabolene 33.43%, and ß-myrcene 25.48%. The essential oil showed significant antibacterial activities against Staphylococcus aureus and Pseudomonas aeruginosa with inhibition zones of 23.7 and 23 mm, respectively. (3)
• Anti-Plasmodial: In a study for anti-plasmodial activity against Plasmodium falcifarum D10 strain, Agathis borneensis leaves extract demonstrated a 50% growth inhibition of 11.00±1.41µg/ml. (4)
• Biodegradable Coating: Study evaluated the adhesive property of copal as a potential coating onto aluminum foil to replace polyethylene. Results showed A. alba has potential as biocoating onto aluminum foil. It strongly adheres to aluminum foil, odorless, with a glossy appearance, hydrophobic, biodegradable, and not toxic to tested organisms, however, not detergent resistant. (5)
• Controversial Resin: Site reports on copal, increasing being sold, via online services, shows, and shops, misrepresented as "amber." Copal is an immature recent resin, not the fossilized, hardened resin known as "amber." Similar in appearance, copal is the oldest known substitute for amber. One test of copal vs amber is the application of a small drop of ether—it evaporates quickly on amber leaving it unaffected, while it make copal and other resins sticky. (The World of Amber) (11)
• Dammara Type Diterpene / Anti-Tumor / Invention: Invention belongs to the technical field of medicine and reports on the mapping of Agathis dammara type diterpene compound, preparation, and application of the compound. Experimental researches have shown the compound the have excellent inhibiting activity to various human body tumor cells. The kauri pine type diterpene compound 1 showed anti-tumor activity and can be used for preparing antitumor drug. (15)
• BACE-1 Enzyme Inhibition / Alzheimer's Disease / Leaves: Alzheimer's disease is caused by the presence of amyloid plaque and neurofibrillary tangles. The plaque is formed from the division of APP (beta amyloid precursor protein) catalyzed by BACE-1 enzyme. Studies search for potential medicines that have the ability to to inhibit BACE-1 enzyme. One such group of compounds with that inhibitory ability is the biflavonoid type. Biflavonoids are phenolic compounds comprised of two flavonoid monomers, such as apigenin or naringenin, via oxidative coupling reaction. Coupling reactions between two apigenin monomers generate biflavonoid skeletons i.e., cupressoflavone, agathislavone, amentoflavone, robustaflavone, and hinokiflavone. Study of leaves of A. dammara isolated 13 biflavonoids. Seven of the compounds i.e., 1, 2, 4, 5, 6, 9, and 10 showed potential inhibitory activity for BACE-1 enzyme, with IC50s of 0.44, 0.86, 0.66, 0.57, 2.02, and 3.01 mM, respectively. The compounds can be lead anti-Alzheimer's agents. (see constituents above) (16)
• Antimicrobial / Crude Extracts and Resin: Study evaluated crude extracts and resin for antimicrobial properties by disc diffusion assay against Escherichia coli, Bacillus subtilis, Staphylococcus aureus, Proteus vulgaris, Candida albicans and Aspergillus flavus. MIC studies showed B. subtilis was most sensitive to the extract with lowest MIC of 62.5 µg/ml. Phytochemical screening yielded alkaloids, steroids, anthraquinones, flavonoids, saponins, tannins, and polyphenols. (18)
• Inducement of Almaciga Production by Ethrel: Study evaluated the effect of ethrel application on almaciga resin production. Ethylene application (one spray per tapped cut applied soon after cutting) using the commercial ethrel at concentrations of 0, 0.5, 1.5 and 2.5%. Increasing tapping length directly influenced resin yield with the 30-cm length giving the highest yield. Ethrel concentration significantly affected resin yield, which was highest at 2.5%. (19)

Caution !
• Contact dermatitis: Reports of allergic contact dermatitis to the resin / oleoresin.
Availability
- Wild-crafted.
- Cultivated.
- Resin and resinate products commercially.