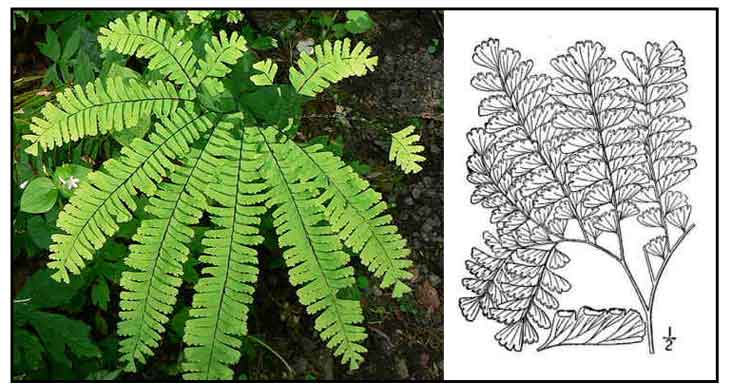 Etymology
Genus name adiantum comes from the Greek word adiantos, meaning unwetted in reference to the water repellent foliage. Pedatum means 'cut like a bird's foot" in reference to the fronds. (5)
Botany
Adiantum pedatum is a deciduous, clump-forming terrestrial fern growing up to 60 centimeters tall. Stems are wiry, reddish-brown to black. Frond stalks are somewhat frilly, purplish, forked like a fan, with circular or horseshoe shaped rachis. Leaflets are papery and light green.
Distribution
- Recently introduced to the Philippines.
- Native to North America.
Constituents
- Phytochemical screening has yielded terpenoids, cardiac glycosides and steroids.
Properties
- Considered to be anti-rheumatic, astringent, demulcent, emmenagogue, expectorant, febrifuge, haemostatic, pectoral and tonic.
- Study has suggested antibacterial and antioxidant properties.

Parts used
Fronds, stems.

Uses
Folkloric
- No reported folkloric use in the Philippines.
- Tea or syrup used for nasal congestion, asthma and sore throats.
- Decoction of leaves used to relieve coughing.
- Root decoction used externally to massage into rheumatic joints.
- North Americans chewed the fronds, then applied them to wounds to stop bleeding.
- Root infusion or decoction rubbed on hands and then to affected area and drunk by Cherokee to treat rheumatism. (6)
- Whole plant infusion used as emetic in agues and fevers.
- Used for bronchitis, whooping cough and excessive menses.
- Plant used as hair conditioner and hair tonic.
- Alcohol leaf extract used topically for thicker hair growth
- Stems used as hair wash to provide shine in the hair.
- In Malaysia, whole plant used for chronic catarrh and other pectoral affections.
Others
- Basketry: Stipe used as ornament in basketry.
- Landscaping: Makes a good ground cover.

Studies
• Antioxidant / Antibacterial: Study of acetone and ethyl acetate extracts showed inhibitory activity against S aureus, K pneumonia, P aeruginosa and E coli. Results showed Adiantum pedatum to be a potential source of natural antioxidants. (2)
Availability
Wild-crafted.