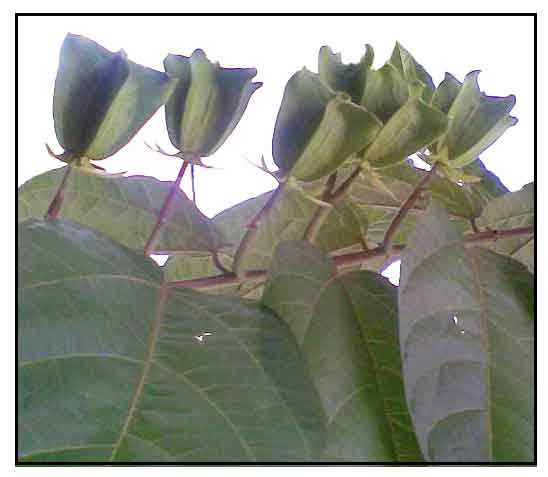 Botany
Anabo is a shrub or small tree, growing 2 to 3 meters high. Branches and branchlets are downy. Leaves are alternate, ovate, 10 to 15 centimeters in length, 10 to 12 centimeters wide, with a pointed tip, heart-shaped base, and toothed margins. Flowers are bisexual, about 5 centimeters across, yellowish with purple bases. Fruit is a capsule, obpyramidal, about 3.5 centimeters in diameter, covered with irritating hairs, ultimately smooth, with five prominent angles or wings, which are 4 to 7 centimeters across. Seeds are subellipsoid, numerous and finely punctate.
Distribution
- Found from the Batan Islands and northern Luzon to Mindanao.
- In thickets, waste places, and open secondary forests at low and medium altitudes.
- Also reported from India to southern China to Malaya.
Constituents
- Whole plant has yielded alkaloids and secondary metabolites including steroids, triterpenes, flavonoids, megastimanes, benzohydrofurans, and glycosides, and phenylethanoid glycosides.
- Root contains a fixed oil, resins, an alkaloid in minute quantity (0.01%), and water soluble bases.
- Study of roots yielded some alkaloid bases, reducing sugars and some phytosterols.
- Study reported a large amount of magnesium salts in combination with hydroxy acids, gums, resins and other organic residues.
- Mucilage from root bark was identified as an acidic polysaccharide with a main chain composed of 1,2-linked α-L-rhamnopyranose and 1,4- or 1,3-linked α-D-galacturonic acid residues. (18)
- Study of seed oil extracted with n-hexane by GCMS technique yielded six fatty acids, four were saturated (66.6%: n-hexadecanoate, 2-methyl hexadecanoate, n-octadecanoate and 2-methyl octadecanoate) and two were unsaturated (33.3%: 9-octadecenoate, 10-nonadecenoate). (21)
- Phytoconstituent include alkaloids, tannin, flavonoids, phenolic compounds, saponins, steroids, cardiac glycosides, phlobatannins, and anthraquinones. Studies have yielded choline, betaine beta sitosterol, stigmasterol, L-rhamnose L-arabinose, among others. (31)
Properties
- The presence of magnesium salts with some hydroxy acids have made it valuable as a styptic for use in uterine hemorrhages.
- Considered emmenagogue, uterine tonic.
- Studies have suggested antidiabetic, antihyperlipidenic, antibacterial, antifungal, antioxidant, anti-inflammatory, analgesic, antipyretic, thrombolytic, repellent, anti-gout, antiarthritic properties.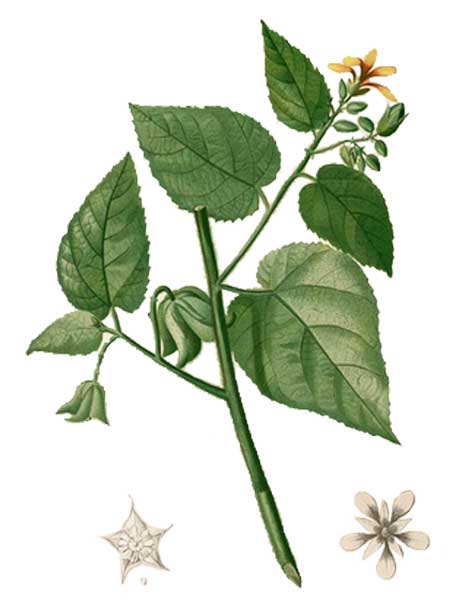 Parts used
Root, bark, sap.

Uses
Folkloric
- Root used as efficient emmenagogue.
- Infusion of fresh stems and leaves in cold water is a demulcent and used in gonorrhea.
- In Ayurveda, used for chronic dysfunctional uterine bleeding.
- In Bangladesh, leaves and stems used for menstrual disorders and diseases of the uterus; bark and roots for leucorrhea and menstrual problems. Also, used for stomachaches, diabetes, dermatitis, and whitish urinary discharge in men.
- In India, used for dysmenorrhea. Fresh and dried root bark used as uterine tonic and emmenagogue.
Also used for wound healing and sterility.
- In Indonesia, used for scabies.
- Fresh viscid sap is useful in congestive and neuralgic varieties of dysmenorrhea. Used as a regulator of menstrual flow and as uterine tonic.
- In the Himalayas, decoction of stem bark and leaves taken on alternate days on an empty stomach to treat diabetes. (29)
- The Santals of Bangladesh use the juice to root bark to regulate menstrual flow. (30)
- In Bangladesh, aqueous extract of fresh leaves used to treat insomnia, irritation of the foot, leg and eye, and to increase appetite.
- In Ayurvedic medicine, plant used for treatment of male sexual dysfunctions. (38)
Others
- Fiber: Bast fiber is silky and valued for its strength. In the Philippines, used for making rope, twine, fish-lines, pouches, etc. A favorite clothes-line material because it does not stain.

Studies
• Hypoglycemic / Hypolipidemic: Study of aqueous extract of Abroma augusta on alloxan diabetic rats showed both hypoglycemic effects with gradual and significant fall in fasting glucose and improvement in glucose tolerance. It also showed lowering of total and LDL cholesterol. (1)
• Combined Herbal Effects / Hypoglycemic / Hypolipidemic / Antioxidant: Study showed on the hypoglycemic, hypolipidemic and antioxidant effects of Curcuma longa and Abroma augusta constituents on STZ-induced diabetic rats showed that the combination of herbal extracts showed better efficacy as compared to individual herbal plant extracts used. (2)
• Anti-Diabetic / Comparative Study: A comparative study was made on the antidiabetic activities of methanolic extracts of Abroma augusta and seeds of Syzygium cumini in alloxan-induced diabetic rats. Results showed significant reduction of glucose level. The activity was attributed to inhibition of free radical generation and tissue damage induced by alloxan or potentiation of insulin effect. Comparatively, SC was more efficacious than AA. (5)
• Anti-Diabetic / Effect of Metformin Absorption / Fresh Leaves: Study evaluated an aqueous extract of root bark in the management of type 2 DM and to observe its effects on the absorption of metformin from the GI tract of rats. Results showed significant reduction of glucose absorption There was also significant reduction of absorption of metformin in alloxan-induced diabetic rats. Results suggest benefit in improving glycemic control in diabetic patients, but should not be co-administered with metformin in the management of type2DM. (7)
• Anti-Inflammatory: Study evaluated a methanolic extract of different parts of Abroma augusta for anti-inflammatory activity by carrageenan-induced paw edema method. Results showed potent anti-inflammatory activity comparable to diclofenac and probably due to alkaloid and flavonoid contents. (8) Study evaluated various extracts and solvents of dried and pulverized roots for anti-inflammatory activity. A methanolic extract exhibited significant activity in carrageenan induced paw edema and cotton pellet granuloma models. (20)
• Antibacterial / Antifungal / Cytotoxic: Study evaluated the in-vitro antibacterial, antifungal, and cytotoxic effects of ethanolic and petroleum ether extracts of two Bangladeshi medicinal plants Dillenia indica and Abroma augusta. Results showed both plants possessed moderate antimicrobial and cytotoxic properties. (9)
• Wound Healing: Study evaluated the wound healing profile of an alcoholic extract of Abroma augusta and its effect on dexamethasone suppressed wound healing in Wistar rats. Results showed wound healing properties with significantly increased breaking strength of the incision wound, while the dexamethasone treated animals was significant decreased. The alcoholic extract was found to reverse dexamethasone suppressed wound healing. (10)
• Prevention of Pancreatic Lipase Activity: Study evaluated the chick pancreatic lipase activities of Abroma augusta. The extract effectively inhibited lipase activity in a concentration dependent manner. At 100 µg/mL there was 88.6% enzyme activity. (11)
• Antimicrobial / Cytotoxic: Study evaluated the antimicrobial and cytotoxic activity of acetone extracts of leaves. Results showed significant antibacterial activity and antifungal activity. Extract showed cytotoxicity against brine shrimp nauplii. (12)
• Reduced Post-Prandial Glucose Absorption / Fresh Leaves: Study showed the dietary fiber present in the aqueous extract of leaves may be potentially effective in the management of T2DM by reducing post-prandial glucose absorption from the gastrointestinal tract. (13)
• Biochemical and Histomorphological Effects / Leaves: Study of aqueous extract of leaves showed an increase in the number of beta cells in treated diabetic rabbits. Results suggest antioxidant effect or regenerative ability in ameliorating biochemical and histomorphological abnormalities in diabetic rabbits. (14)
• Attenuation of Diabetic Induced Nephro-Cardiomyopathy / Prevention of Oxidative Stress / Leaves: Study evaluated the protective effect of defatted methanol extract of A. augusta leaves against T2DM and its associated nephropathy and cardiomyopathy in experimental rats. Results showed oral administration of AA at doses of 100 and 200 mg/kbw per day could reduce hyperglycemia, hyperlipidemia, membrane disintegration, oxidative stress vascular inflammation and prevent activation of oxidative stress induced signaling cascades leading to cell death. Study suggests a potential for a prophylactic role against T2DM and its associated reno-cardiotoxicity. (15)
• Synergistic Blood Sugar Lowering / Abroma augusta and Azadirachta indica: Study evaluated the use of combined (1:1) water extract of dried powder of root and leaves of A. augusta and A. indica orally to alloxan induced diabetic rats. Results showed A. augusta roots and A. indica leaves given as a water extract had hypoglycemic action and had better effect than given alone. (16)
• Blood Glucose Lowering / Inhibition of Metformin Absorption / Leaves: Study evaluated the probably mechanism of antidiabetic effect of aqueous extract of fresh leaves of A. augusta and the effect of the extract on absorption of metformin from the gastrointestinal tract. Results showed the extract of fresh leaves reduces absorption of glucose and helps in glucose tolerance. Study also showed the water-soluble fibers in the aqueous fraction substantially reduced metformin activity in diabetic rats. The inhibition could be due to a physical and/or chemical interaction of metformin with the fibers of the extract, a mechanism that needs to be investigated. (17)
• Thrombolytic / Antioxidant / Leaves: Study of methanolic leaf extracts of Abroma augusta showed good antioxidant and thrombolytic activity. Results showed significant (50.1%) clot lysis compared to negative control (water). (19)
• Anti-Inflammatory Activity / COX and LOX Inhibitory Potential: Study in albino wistar rats evaluated the aerial parts of of A. augusta and Desmodium gangeticum for cyclooxygenase (COX) and lipoxygenase (LOX) inhibitory activity. Each plant showed significant (p<0.0001) reduction of carrageenan induced paw edema. The anti-inflammatory activity of the plant extracts could be due to inhibition of COX and LOX enzymes. (22)
• Analgesic / Seeds: Study in mice of an n-hexane fraction from seeds of A. augusta showed significant antinociceptive activity using acetic acid-induced writhing, formalin and hot plate test models. (23)
• Gold Nanoparticles / Bark: Study reports on a one step green synthesis of gold nanoparticles (AuNPs) utilizing a bark extract of A. augusta, acting both as reducing and stabilizing agent. (24)
• Antipyretic / Analgesic: Study evaluated a methanol extracts of leaves, bark and roots for antipyretic (Brewer's yeast induced fever) and analgesic (Eddy's hot plate, acetic acid-induced mouse writhing test and tail immersion test) activity using Swiss albino mice. Results showed significant antipyretic activity. The extract also showed significant analgesic effect, higher in bark than leaf and root. (25)
• Abortifacient / Analgesic: In a study of plants for antifertility properties, the benzene extract of Abroma augusta roots showed significant abortifacient effects. (26)
• Repellent / T. castaneum: All test extracts of A. augusta collected in chloroform showed repellent activity against adult beetles of T. castaneum with repellency in the order of stem bark>seed>root wood>leaf> stem wood. (27)
• Stigmasterol and ß-Sitosterol / Anti-Arthritic and Anti-Gout / Roots: Study quantified the stigmasterol and ß-sitosterol content of roots of A. augusta and evaluated its in vitro biological activities. A methanolic extract showed good anti-arthritic and anti-gout activities. (28)
• Anticholinesterase / Antioxidant / Potential in Alzheimer's Disease: The main characteristics of Alzheimer's disease (AD) is oxidative stress and low level of neurotransmitter (especially acetylcholine). Effective treatment involves prolonging the function of acetylcholine by inhibiting acetylcholinesterase or butrylcholinesterase enzyme and reducing oxidative stress. Study evaluated the inhibitory activity and antioxidant activity of dried fruit extract and fractions of Abroma augusta. Among various fractions, ethyl acetate fraction showed most prominent cholinergic activity and antioxidant activity. Results suggest potential use in treatment of AD. (32)
• Combined Antidiabetic Effect / A. augusta and Coccinia indica: Study evaluated the combined effect of Abroma augusta and Coccinia indica on STZ-induced diabetic albino rats. Results showed reduction of fasting blood sugar to almost normal levels, along with improvement in glucose tolerance and serum lipid profile. (33)
• Mucilage as Suspending Agent: Study sought to formulate a new, cheap, and effective natural suspending agent for potential alternative use for traditional suspending agents, Suspending properties is the most desirable property of pharmaceutical suspension preparation. Mucilage obtained were observed for particle size, flow rate, viscosity and pH. Results showed the mucilage obtained from A. augusta was found to be an advantageous as suspending agent in a suspension and at a very cost effective process. (34)
• Taraxerol Diabetic Nephropathy / Leaves: Study evaluated the therapeutic potential of taraxerol isolated from a methanolic leaf extract of A. augusta against diabetic nephropathy using a rodent model of t2DM induced by high fat diet and a single dose of STZ. Taraxerol treatment significantly restored the biochemical parameters near to normalcy. Taraxerol treatment stimulated glucose metabolism in skeletal muscle, regulated blood glycemic status and lipid profile in the sera, reduced, reduced secretion of pro-inflammatory cytokines and restored renal physiology in T2D rats. Results suggest the potential for taraxerol as a new therapeutic agent for diabetic nephropathy. (36)
• Anti-Inflammatory / COX and LOX Inhibitory Potential / Roots: Study evaluated the cyclooxygenase (COX) and lipoxygenase (LOX) inhibitory activity of roots Aroma augusta and aerial parts of Desmodium gangeticum. Each plant extract significantly (p<0.0001) reduced paw edema volume compared with standard Ibuprofen. Abroma augusta demonstrated inhibitory activity against COX-1 to a greater extent than COX-3 and exhibited weak inhibitory action on LOX activity. (37)
• Enhanced Male Reproductive Functions: In Ayurvedic systems of medicine, Abroma augusta was used for treating male sexual dysfunction. In this study of normal male Wister albino rats, treatment with Abroma augusta significantly increased reproductive behavior of test animals, with increased body weight, testis seminal vesicle and ventral prostate, along with increased sperm count, sperm motility and spermatogenesis. (38)
• In Vivo Antioxidant Effect / Diabetes Induced Oxidative Stress: Study investigated the in vivo antioxidant activity of roots of Abroma augusta in STZ-nicotinamide induced T2DM. Results showed a preventive effect on oxidative stress as evidenced by significant effect on SOD, CAT, and LPO levels in animal treated with petroleum ether extract (p<0.0001) followed by by aqueous extract *p<0.001). (39)

Availability
- Wild-crafted.
- Extracts, powders, seeds in the cybermarket.