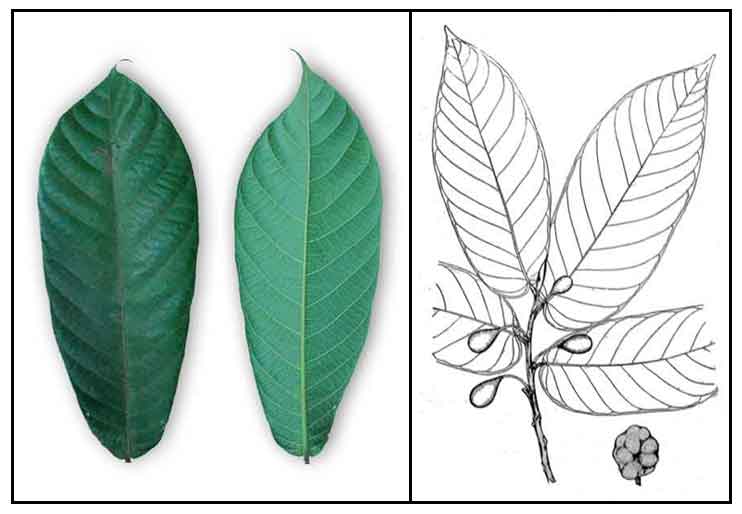 Botany
Anubing is a deciduous tree reaching a height of 30 meters and a diameter of about 100 centimeters. Leaves are oblong or subelliptic, 20 to 30 centimeters long, and 6 to 10 centimeters wide, hairy, pointed or slightly heart-shaped at the base. Petioles are 1 to 2 centimeters long. Male spikes are pear-shaped and 1 to 2 centimeters long. Female heads are rounded and nearly 2 centimeters in diameter. Fruit is about 10 centimeters long, irregularly rounded with the anthocarp extending into brownish, hairy appendages or tails, green when young, yellow to brown into maturity. Seeds are ellipsoid, 10 to 30 per fruit, and embedded in whitish, more or less gummy meat.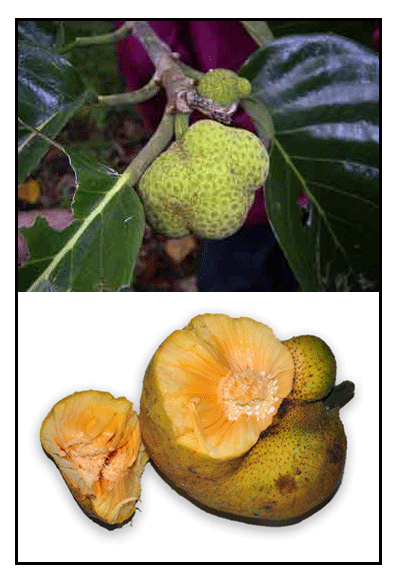 Distribution
- Widespread in the Philippines; in forests at low and medium altitudes from northern Luzon to Palawan and Mindanao.
- Also found in China (S-Yunnan), Taiwan (introduced), India, Bhutan, Bangladesh, Myanmar [Burma] (Chin, Mandalay, Taninthayi, Yangon), Andamans (South Andamans), Sikkim, Nepal, Laos, Vietnam, Thailand, ?Cambodia, Solomons, Sumatra, peninsular Malaysia, Borneo, Sulawesi, Moluccas, Aru Isl., and New Guinea. World Plants / Catalogue of Life
Constituents
- Qualitative tests showed the presence of protein and waxes, with the absence of carbohydrates and tannins.
- Studies on the heartwood of Artocarpus lacucha has yielded oxyresveratrol (2,4,3',5'- tetrahydroxy-stilbene) as the major constituent.
- Study of A. lakoocha heartwood yielded foreign matter 0.04, acid-soluble ash 2.06, total ash 2.51, moisture 9.57, and oxyresveratrol 1.44%.
- Study of root bark of A. lakoocha Roxb. yielded three new prenylated 2-arylbenzofurans viz., artoakoochol, 4-hydroxyartolakoochol and cycloartolakoochol. (12)
- Study of mineral composition of pericarp yielded principal elements viz., potassium 13,500 ppm, magnesium 1545 ppm, phosphorus 1500 ppm, and calcium 950 ppm. Trace elements were iron 108.1 ppm, zinc 12.4 ppm, manganese 5.4 ppm and copper 2.7 ppm. (14)

Properties
- Studies have suggested anthelmintic, skin depigmenting, and anti-herpetic activity (attributed to oxyresveratrol heartwood constituent).
- Seeds considered purgative, hemagglutinating.
- Studies have suggested antibacterial, anti-inflammatory, antiviral, antioxidant properties.
Parts utilized
Bark, seeds.
Uses
Edibility
• Monkey jack fruit (Artocarpus lakoocha) is edible, with a sweet sour pulp.
• Different parts of the fruit and spike of make flowers used to prepare curries, pickles and sauces. (10)
Folkloric
• Bark is boiled and used for stomach aches.
• In Thailand, a dried aqueous extract from the heartwood used as anthelmintic, especially the treatment of taeniasis.
• Edible fruit pulp used as liver tonic.
• Seeds and milky latex used as purgative.
• Seeds and bark used for stomach and liver diseases.
• Bark applied externally to draw out purulent matter; used for boils, cracked skin and pimples. (9)
• In Thai medicine, used as anti-inflammatory and anti-aging agent.
Others
• Wood: Timber and wood used in making furniture, boats, cabinets. Also, ideal for heavy construction, poles, furniture and plywood with termite resistant capacities. (10)
• Fodder: In Nepal, a preferred fodder tree. Leaves of A. lakoocha yields 16% crude protein, and one mature tree produces 60-200 kg fresh feedstuff per year. (10)

Studies
• Antimicrobial / Bark: Study evaluated the antibacterial activity of A. lakoocha Roxb. bark against different species of bacterial. A methanolic extract showed good activity against gram negative bacteria (Shigella sonneii, E. coli, B. pumilus, P. mirabilis, B. subtilis). (3)
• Anti-Aging Activity / Phytooxyresveratrol: A. lakoocha extraction yielded phytooxyresveratrol (POV). POV exhibited antiaging activity and also showed high levels of phenolic content, radical scavenging activity, and anti-glycation activities. (4)
• Antioxidant Activity / Phenolic Content / Bark: Study showed the methanolic extract of bark of A. lakoocha exhibited strong antioxidant activity on DPPH and Ferric Ion Reducing assays. The flavonoid content was 53.2 mg g-1 and phenolic content was 0.360 µg/ml. (5)
• Antiglycation / Heartwood: Study of heartwood of Artocarpus lakoocha yielded 10% oxyresveratrol. The isolated oxyresveratrol showed strong antiglycation and antioxidant activities. The IC50 for antiglycation was 2.0—0.03 µg/ml (five times higher than aminoguanidine) and the IC50 for antioxidation were 0.1±0.01 mg/ml (DPPH) and o.43±0.03 mg/ml (TBARS), which were nearly twice as strong as those of resveratrol. (6)
• Anticandidal and Antibiofilm Activity: Study investigated the anticandidal and antibiofilm activity of Artocarpus lakoocha extract against various candida. Results showed A. lakoocha extract acts as a potent antibiofilm agent with dual actions, preventing and eradicating the biofilm. The extract is a potential source of natural candidal agent, which may be useful for prevention or treatment or treatment of candidiasis. (7)
• Antioxidant / Toxicity Study / Heartwood: Study showed antioxidant activity of 128.30 ± 0.01 ABTS, 55.86 ± 0.01 DPPH, and 463.49 ± 0.01 µmol H2O2 scavenging methods. Study suggests a high concentration of the extract might be toxic. (8) Also see: toxicity study (13)
• Gold Nanoparticles / Fruit and Leaves: Study reports on gold nanoparticles (AuNPs) synthesis using fresh leaves and fruit pulp of Artocarpus lakoocha and loquat (Eriobotrya japonica) leaves. Results suggest the green synthesis using botanical extracts is a cost-effective and non-toxic alternative to nanoparticle preparation. (11)
• Toxicity Study: Study evaluated the toxicities of Puag Hadd in a rat model. The LD50 was noted to be 1,148 mg/200 gm body weight, which is 45.9 times the therapeutic dose. Study showed no pathologic change on viscera. Results suggest a drug of choice for the treatment of taeniasis, with a wide margin of safety when taken with cool water. (13)
• Anticariogenic / Cytotoxicity / Pericarp: Study evaluated a pericarp extract against 12 isolates of streptococcus mutans recovered from dental caries patients. The extract showed inhibition of isolates. However, inhibition by antibiotic was higher than the extract. On Brine Shrimp Lethality bioassay, lethality was proportional to the concentration of the extract, with 100% mortality observed at 1000 µg/ml concentration. LC50 was found to be 452.49 µg/ml. (14)

Availability
Wild-crafted.