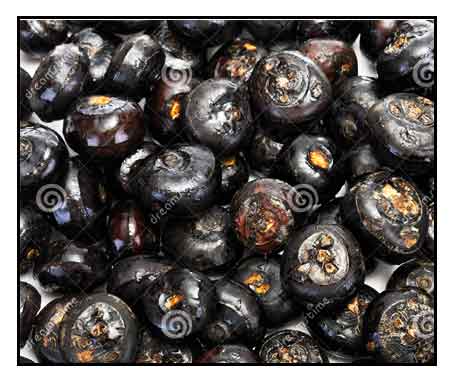 Botany
Apulid is perennial, rhizomatous, semiaquatic sedge growing to a height of 1.5 m. Rhizomes are short with elongated stolons, each one often terminating in a zoned, depressed, globose, brownish to blackish corm, 1 to 4 cm in diameters. Stems are erect, terete, tufted, 40 to 200 cm tall, round and smooth, 2 to 10 mm thick, longitudinally striate, transversely septate. Leaves reduced to bladeless basal sheaths, 3 to 20 cm long, membranous, oblique or truncate at the apex, reddish brown to purple. Inflorescence is a single, terminal, many-flowered spikelet, cylindrical, 1.5 to 6 by 3 to 6 mm, as thick or thicker than the stem, the apex obtuse to acute. Glumes are numerous, spirally arranged; flowers bisexual with perianth of 6 to 8, filiform, unequal, white to brown bristles; stamens 3, anthers linear, 2 to 3 mm long, style 7 to 8 mm long, 2- to 3-fid, the enlarged base persistent in fruit. Fruit is an obovoid nut (achene), 1.5 to 2.2 by 1.2 to 1.8 mm, shiny, yellow to brown.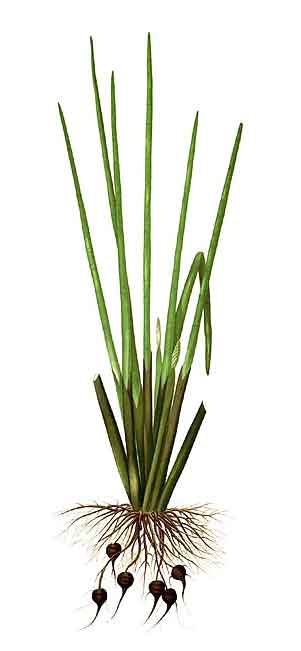 Distribution
- Found in wet farmlands and swampy areas. Grows in reed swamps, black water rivers, lake shores, irrigation canals; sometimes in brackish swamps. (6).
- Originates from Southeast Asia and has spread to tropical West Africa, Madagascar, Australia, and the Pacific Islands. (6).
- In Asia, widespread in Cambodia, localized in Indonesia, Japan, Malaysia, Taiwan, Thailand, and Vietnam. (6).
Constituents
- Ethyl acetate fraction of peel extract yielded eight flavonoids, Quantification by high-performance liquid chromatography identified fisetin, diosmetin, luteolin, and tectorigenin as four major flavonoids with levels of 31.66, 29.91, 13.69, and 12.41 mg/g, respectively. (see study below) (5)
- Nutrition analysis of Chinese water chestnuts, raw, 100 g (3.5oz): water, 73.5 g; energy 406 kJ (97 kcal); carbohydrates 23.94 g (sugars 4.8 g); dietary fiber 3 g; fat 0.1 g; protein 1.4 g; vitamins (thiamine 0.14 mg, riboflavin 0.2 mg, niacin 1mg, pantothenic acid 0.479 mg, vitamin B6 0.328 mg, folate 16 µg, vitamin C 4 mg, vitamin E 1.2 mg); minerals (calcium 11 mg, iron 0.06 mg, magnesium 22 mg, manganese 0.331 mg, phosphorus 63 mg, potassium 584 mg, zinc 0.5 mg, selenium 0.7 µg). (7)
- Plant yields alkaloid, steroids, flavonoids, terpenes, which includes sesquiterpene hydrocarbons. (9)
- Study of peels isolated five compounds: orcinol glucoside (1), leonuriside A (2), L-tryptophan (3), 2-hydroxymethyl-6-(5-hydroxy-2-methyl-phenoxy-methyl)-tetra-hydro-pyran-3,4,5-triol (4), and 1,4-dihydroxy-3-methoxy-phenyl-4-O-β-D-glucopyranoside (5). (see study below) (10)
- Study of peel yielded 20 monomeric compounds:  β-sitosterol (1).  β-daucosterol (4), cinnamic acid (7), ferulic acid (9), p-coumaric acid (11), caffeic acid (16), p-hydroxybenzoic acid (19), betulinic acid (3),     (3β)-Lup-20(29)-ene-3,30-diol (6), betulin (8), kaempferol (12), quercetin (13), rutin (17), chlorogenic acid (14), coumarin (18), 16-Hentriacontanone (2), phenol,2,4-bis(1,1-dimethylethyl)-,1,1',1"-phosphite (5), n-tetratriacont-20,23-dienoic acid (10), 17-33 ketone (15), and n-butyl-β-d-fructofuranoside (20). (see study below) (12)
Properties
- Studies have suggest antibacterial, antioxidant, antitumor, nitrite scavenging, anthelmintic, acrylamide inhibitory, antiproliferative, detoxifying properties.

Parts used
Rhizomes, corms.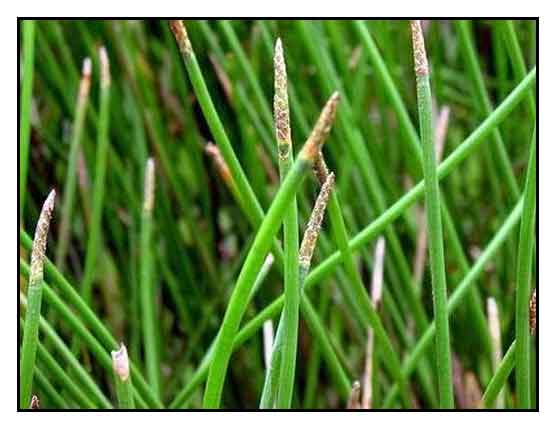 Uses
Edibility
- Edible part is the underground corm.
- Corm eaten raw or cooked, slightly boiled or grilled; sweet and crisp with a nutty flavor when ripe. Also pickled or canned.
- Popular ingredient in Chinese cooking, especially chop suey.
- Starch can be made from dried and ground corm that is used to thicken sauce and give a crisp coating to various deep-fried foods.
Folkloric
- Used for treating jaundice, abdominal pain, abdominal tumors, conjunctival congestion, throat swelling, and pain, bloody diarrhea, hypertension, chronic nephritis, constipation. (8)
- Used for abdominal pains, amenorrhea, hernia, and liver problems. (3)
- In the Bhandara District of Maharashtra, rhizomes are used for the treatment of dysmenorrheal irregularities. Herb infusion used for pain, diarrhea, dysentery, and other inflammatory conditions. (9)
Others
- Crafts: Leaf stems used for weaving bags, mats, baskets, hats, etc. (3)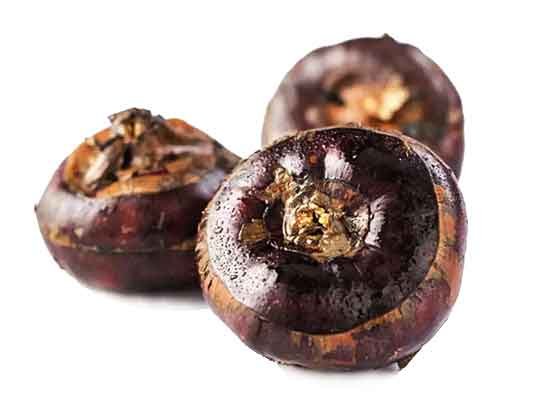 Studies
• Antibacterial / Peels: Peels are usually discarded as waste product during food processing, amounting to 20% of whole fruits. Study evaluated the antibacterial properties and major constituents of water chestnut peels extracts and fractions. The ethyl acetate fractions showed greater antibacterial activity than n-butanol fraction, methanol extracts and water fractions against three common pathogenic bacteria viz., S. aureus, El coli and Listeria monocytogenes. Results showed potential for use as food supplement to improve food safety by control or prevention of deterioration of stored foods or elimination of food-borne pathogens. (4)
• Antitumor / Antioxidant / Nitrite Scavenging / Peel Flavonoids: Study evaluated water chestnut peel flavonoid extract and ethyl acetate, n-butanol, and water fractions. The EA fraction showed maximum free radical levels (IC50s of 0.36, 0.40 and o.37 mg/mL foe DPPH, ABTS, and OH, respectively), nitrite scavenging effects (IC50 1.89 mg/mL), and A549 cell inhibitory activity (IC50 776.12 µg/mL), with highest value of total flavonoid content (TFC 421.32 mg/g). Cellular mechanisms of luteolin inhibition of A549 cells were achieved via induction of cell proliferation arrest at G1 phase and apoptosis/necrosis. Results suggest flavonoids are closely associated with the antitumor, antioxidant, and nitrite scavenging effects. (see constituents above) (5)
• Anthelmintic / Fruit: Study evaluated a methanol fruit extract for anthelmintic activity against Paramphistomum cervi by measures of time of paralysis and time death of the worms. Albendazole was used as standard. The extract at dose of 150 mg/ml showed significant effect with paralysis time of 23.0 minutes and death time of 29.8 minutes. (8)
• Inhibitory Acrylamide Formation Activity / Peels: Food processing can sometimes lead to the formation of toxic compounds. One such compound is acrylamide, a rodent carcinogen and human neurotoxin, classified as a possible human carcinogen. It was first detected in various eat-treated, carbohydrate-rich and low moisture food items. Study of peels isolated five compounds. Compounds 1, 2 , 4, and 5 exhibited good inhibition of acrylamide formation activity, better than quercetin, catechin, and epicatechin. (see constituents above) (10)
• Carboxymethyl Cellulose from E. dulcis: Sodium carboxymethyl cellulose (Na-CMC) in one of the important modified cellulose, water soluble and widely used in various applications of food, pharmaceuticals, detergent, paper coating, among others. Raw material source of cellulose is from wood and cotton. Na-CMC can be synthesized from balkanization and carboxymethylation of purum tikus (E. dulcis) cellulose. (11)
• Antibacterial / Antiproliferative / Peel: Study of peel yielded 20 monomeric compounds. On antibacterial experiments, Phenolic acids, ferulic acid and caffeic, showed good inhibitory activity against four bacteria tested. In-vitro anti-proliferative activities of seven compounds were evaluated for in-vitro antiproliferative activities on four human cancer cell lines. Results showed 17-33 ketone (15) possessed the most potent effect with IC50s of 10.20 µmol against T24 cells. compound 15 induced apoptosis of T24 cells and altered anti- and pro-apoptotic proteins, leading to mitochondrial dysfunction and activations of caspase-3/9 for causing cell apoptosis. Study suggest compound 15 has potential as an antitumor chemotherapy candidate. (12)
• Detoxifying and Diuretic Health Care Porridge / Invention: Invention relates to Eleocharis dulcis as a detoxifying and diuretic health care porridge. The invention is prepared from raw materials of Eleocharis dulcis, rice, barley flakes, among others. (13)
Availability
- Wild-crafted.