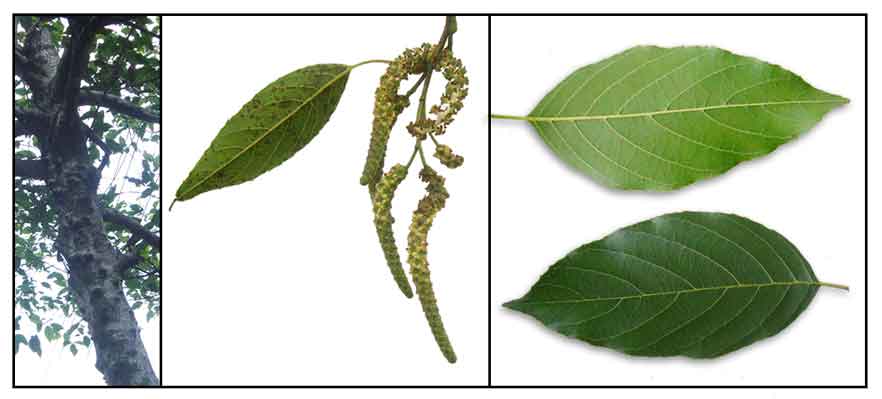 Botany
Arnus is a small- to medium-sized deciduous tree growing to a height of 15 meters. Leaves are simple, alternate, narrow-elliptic, acuminate, wedge-shaped at the base, up to 12 centimeters long, glossy and dark green above and pale underneath, the margins slightly toothed. Flowers are staminate, in long catkins; the pistillate flowers are in short catkins, becoming woody cones with 5-lobed scales and 2-winged nutlets. Fruit is a small nut, compressed, one-seeded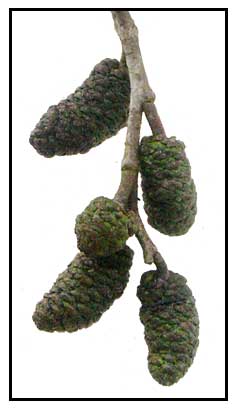 Distribution
- Indigenous to Korea.
- Grows in Baguio and other parts of the Mountain Province.
- Propagated by seed or grafting.

Constituents
- Two diarylheptanoids, oregonin and hirsutanone were isolated by bioassay-guided fractionation of the methanol extracts of the leaves of Alnus japonica Steud and their structures were elucidated from their spectroscopic data. Compounds exhibited significant low-density lipoprotein (LDL)-antioxidant activities.
- Study of ethanol extract of stem bark isolated a new diarylheptanoid named alnuheptanoid A [(5S)-7-(3,4-dihydroxyphenyl)-1-(4-hydroxyphenyl)-5-methoxyheptan-3-one] (8), along with seven known diarylheptanoid derivatives: platyphyllenone (5), (5S)-1,7-bis(4-hydroxyphenyl)-5-methoxyheptan-3-one (6), 1-(3,4-dihydroxyphenyl)-7-(4-hydroxyphenyl)-4-hepten-3-one (7), hirsutenone (9), (5R)-O-methylhirsutanonol (10), hirsutanonol (11) and oregonin (13), three triterpenes: α-amyrin (1), betulinaldehyde (3) and betulinic acid (4), and two sterols: β-sitosterol (2) and daucosterol (12). (20)
- Crude extract of stem bark isolated two novel diarylheptanoids, known as alnuside C (2) and alnuside D (3), and three known compounds, 1-(3,4-dihydroxyphenyl)-7-(4-hydroxyphenyl)-heptan-3(R)-O-β-D-glucopyranoside (1), oregonin (4) and hirsutanone (5). (see study below) (21)

Properties
- Studies suggest antioxidant, hepatoprotective, cytotoxic, anticancer, antiatherosclerotic, antiviral, anti-trypanosomal, antiproliferative, pro-apoptotic properties.
Parts used
Stem bark, leaves.
Uses
Folkloric
- No reported folkloric medicinal use in the Philippines.
- Popular folk medicine in Korea, used for cancer, gastric disorders, hepatitis and fatty liver.
- Various species of alder, including this species, seem to contain antitumor compounds.
- In Oriental medicine, bark used for fever, hemorrhage, gastroenteric disorders, lymphatic disease and cancers. (15)
- Cortex extract traditionally used for purifying blood and treating enteritis, diarrhea, hematochezia, and cut wounds. (30)
Other uses
- Dye: Bark yields a dye.
- Fuel: Source of firewood.
- Wood - Close grained; used for turnery. Suitable for making small furniture, and charcoal for gunpowder. (26)
- Barrier or support: Used as living posts. (26)

Studies
• Hepatoprotective / Antioxidant: Alnus japonica showed antioxidant activity and hepatoprotective effects against acetaminophen-induced cytotoxicity in cultured hepatocytes in vitro. (4)
• Cytotoxic / Diarylheptanoids: Study isolated 10 compounds from the bark of Alnus japonica. The diarylheptanoids showed potent cytotoxic activities against murine B16 melanoma cells and human SNU-C1 gastric cancer cell line. (1)
• Anti-Influenza / Diarylheptanoids / Bark: Study isolated two rare acylated diarylheptanoids from the bark of A japonica – oregonoyl A and oregonoyl B, with nine known compounds. Platyphyllone, was strongly active, and platyphyllonol-5-xylopyranoside was moderately active on antiviral testing, compared with positive control, zanamivir. (5)
• Anti-Atherosclerosis / Diarylheptanoids: Study isolated reported the inhibitory effects of two diarylheptanoids from the methanolic extracts of Alnus japonica leaves on the expression of adhesion molecules in human umbilical vein endothelial cells. Results suggest the compounds may be useful in prevention and treatment of atherosclerosis.
• Antioxidant: Study isolated naturally occurring bioactive compounds from AJ that showed significant radical-scavenging antioxidant activity in a concentration-dependent manner.
• Antioxidant / Anti-LDL Oxidation / Anti-Inflammatory: Study isolated 5-O-methylhirsutanonol (5-MH) from the leaves of A japonica which exhibited antioxidant activities on Cu2+ and AAPH-mediated LDL oxidation and well as macrophage-mediated LDL oxidation. 5-MH also suppressed the expression of inflammation-associated genes, such as tumor necrosis factor alpha, COX-2 and IL-1ß.
• Hirsutenone / Atopic Dermatitis / Bark: Study isolated hirsutenone from the bark of Alnus japonica. Results showed hirsutenone may specifically inhibit calcium-activated processes in both T cells and mast cells and presents a potential for a new topical drug for atopic dermatitis, probably through a calcineurin inhibitor-mimicking mechanism. (9)
• Anti-Influenza Component / Bark: Study of bark isolated four lupane-type triterpenes (1-4) and one steroid (5). Compound 3, betulinic aldehyde, exhibited a particularly strong anti-influenza effect against KBNP-0028 relative to a positive control. (10)
• Oregonin / I/R Induced Mesentery Oxidative Stress / Inhibition of NADPH Oxidase Activation/ Bark: Study suggests that ORG restrained I/R-induced ROS production might be correlated to its inhibitive effect on NADPH activation. (11)
• Diarylheptanoids / Inhibition of Papain-Like Protease of SARS: The papain-like protease, which controls replication of the acute respiratory syndrome coronavirus is identified as the potential drug target for the treatment of SARS. Of the nine diarylheptanoids isolated from Alnus japonica, hirsutenone (compound 2) showed the most potent PL inhibitory effect. (12)
• Atopic Dermatitis / Leaves and Bark: Study evaluated the immunomodulatory effect of A. japonica in a model of atopic dermatitis in NC/Nga mice. Leaf and bark extract suppressed the development of AD-like skin lesions, with decrease in blood eosinophils and decrease in serum IgE and Th2-related cytokine levels. Results suggest the leaf and bark extract may prove useful in the treatment of atopic dermatitis and other allergic skin diseases. (13)
• Cytotoxicity / Oregonin and Hirsutanone: Study evaluated the cytotoxic effects of four different extracts from A. japonica on Caco-2 cells using MTT assay. Oregonin and hirsutanon from the four extracts, index ingredients of Alnus japonica, were analyzed with HPLC and physiochemical studies. In cell cytotoxicity study, the water extract showed highest cytotoxicity. The 70% methanol extract showed highest content for both oregonin and hirsutanone. (15)
• Anticancer / Antioxidant / Caspase-Dependent Pathway: Study evaluated A. japonica extracts for in vitro antioxidant and anticancer effects in AGS human gastric carcinoma cell lines. Results showed ethanol extracts have greater antioxidant activity than water extracts. The ethanol extract inhibited cell growth and induced cell death by increasing reactive oxygen species production in AGS cells. The extract triggered apoptosis when caspase-8, 7, 3 and PARP were activated. Results suggest a potential strategy for clinical chemotherapy. (16)
• Dyeing Properties / Bark and Heartwood: Study evaluated the dyeing properties of cotton and silk fabrics dyed with A. japonica bark and heartwood extracts. Results showed tannin to be the major colorant component. Silk dye intake was better than that of cotton. Although washing fastness was not good, light, dry cleaning, and perspiration fastness were moderate. Also, rubbing fastness was moderately good grade. Dyed fabrics showed very good antimicrobial abilities of 99.9% against S. aureus and K. pneumonia. (17)
• Hepatoprotective / Antioxidant / Bark: Study of Alnus japonica bark isolated one new diarylheptanoid, named alusenone (1A), and 11 known one (1B-2-11). Mixtures 1, 2-6, 10 and 11 showed good antioxidative and hepatoprotective effects compared to controls. (19)
• Anti-Trypanosomal / Bark: A crude extract of Alnus japonica bark exhibited a strong effect on the growth of Trypanosoma brucei. Study isolated two novel diarylheptanoids and three known compounds. Among the isolated diarylheptanoid, oregonin and hirsutanone exhibited potent in vitro inhibitory activity against T. brucei growth in the bloodstream with IC50 of 1.14 and 1.78 µM, respectively. (see constituents above) (21)
• Epihirsutanonol / Hepatoprotective Activity / Bark: Study isolated a new diarylhelptanoid, epihirsutanonol (1) from the bark of Alnus japonica, along with two known ones. The new compound showed significant hepatoprotective activity on the bass of t-butylhydroperoxide induced hepatocyte injury in vitro assay. (22)
• Cyclic Diarylheptanoids / Antioxidant / Anti-Inflammatory / Stem BarK: Study of EtOAc fraction of stem bark of Alnus japonica yielded a new cyclic diarylheptanoid, alnuheptanoid B (3), along with four known cyclic diarylheptanoids viz., myricanone (1), (+)-S-myricanol (2), myricanone 5-O-ß-D-glucopyranoside (4), and (+)-S-myricanol 5-O-ß-D-glucopyranoside (5). Compounds were assessed for anti-inflammatory and antioxidant activity using carrageenan induced rat paw edema method and DPPH assay, respectively. Results showed significant antioxidant activity compared to standard antioxidant propyl gallate at concentration of 50 µM. Compound 2 demonstrated anti-inflammatory activity at dose of 10 mg/kg compared with indomethacin control. (23)
• Pro-Apoptotic / Antiproliferative / Human Leukemia Cell Lines / Bark: Study evaluated the antiproliferative activity of hirsutanone (Hir) and oregonin ()re) in human cancer cell lines. A cytotoxicity study using a panel of 12 human cancer and 4 normal cell lines showed Hir exhibited potent antiproliferative activity against 4 leukemia (Jurkat, U937, THP-1, and HL-60) and 2 colon cancer cell lines (HCT-15 and colo205). The Hir also exhibited antiproliferative actions via caspase-dependent apoptotic cell death. (24)
• Diarylheptanoids / Curcumin Analogues / Pancreatic Cancer Cell Line: Isolated diarylheptanoids from the plants exhibited inhibition of growth of PANC-1 (KRAS heterozygous G12E, TP53 homozygous P72R and R273H) pancreatic cancer cell line. Mechanism was attributed to the inhibition of FoxM1 transcription factor signaling axis. (25)
• Ameliorative Effect on Colitis / Anti-Inflammatory / Attenuation of Intestinal Barrier Disruption / Bark: IBD (Inflammatory bowel disease) is a chronic inflammation of the GIT caused by high levels of pro-inflammatory cytokines and epithelial barrier dysfunction. Study evaluated the effect of ethanol extract of A. japonica bark on colonic mucosa injury in mice with DSS (dextran sodium sulfate)-induced colitis. Treatment ameliorated the pathological damage and histopathologic features of DSS-inudced colitis. The extract also inhibited pro-inflammatory cytokines expression. Overall results suggest the AJE inhibits intestinal inflammation and protects against intestinal barrier disruption in mice with DSS-induced colitis in vivo and human intestinal epithelial cells in vitro. Study suggests potential benefits for the treatment of IBD. (27)
- Caspase-Mediated Apoptosis / Human Gastric Carcinoma Cells: Study evaluated A. japonica extracts for in vivo antioxidant potential and anticancer effects in AGS human gastric carcinoma cell line. Antioxidant activity was evaluated by DPPH, FRAP, and ABTS assays. The ethanol extract exhibited more potent antioxidant activity than the water extract. The extract inhibited cell growth and induced cell death by increasing ROS production in AGS cells. All extracts triggered apoptosis medicated through activation of caspase-8, 7, 3, and poly-ADP ribose polymerase (PARP). Results suggest potential use as a promising strategy for treatment of gastric cancer carcinoma. (28)
• Invention / Herbal Combination as Natural Tea for Impotence: Invention relates to an invigorating herbal combination tea product for curing men's impotence. The tea is composed of a parasitic herb as first material and Alnus japonica and/or schizandrae fructus as second material. (29)
• Anticancer / Apoptosis of Human Colon Adenocarcinoma Cells / Mitochondria/Caspase Pathway: Study of an ethanol extract of Alnus japonica exhibited significant cytotoxicity in human colon adenocarcinoma HT-29 cells via induction of apoptosis through a ROS-mitochondria-caspases-dependent pathway in human HT-29 cells. (30)
• Invention: Anti-Influenza Viral Composition / Stem and Bark: Invention relates to an antiviral composition comprising bark or stem A. japonica extract and a method for preparing high activated anti-influenza viral composition. The invention suggests that the bark or stem extract has low toxicity to normal cells, while having an exscellent antiviral effect even at low concentration, with potential for preventing and treating influenza viral infection. (31)
• Hirsutenone / Anti-Prostate Cancer / Inhibition of Akt: Study showed that hirsutenone, a bioactive compound in Alnus japonica, exhibits anti-cancer effects against prostate cancer through a direct physical inhibition of Akt1/2. Hirsutenone strongly induces apoptotic cell death in both PC3 and LNCaP cells. Results suggest hirsutenone suppresses human prostate cancer by targeting Akt1 and 2 via inhibition by direct binding in an ATP-noncompetitive manner in vitro and ex vivo. (32)
Availability
- Wildcrafted.
- Cultivated.
- Seeds in the cybemarket.