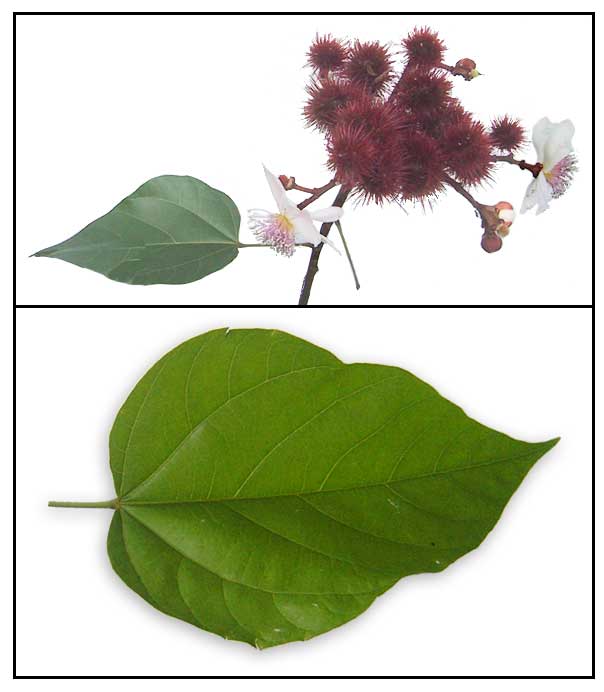 Gen Info
- Next to caramel, annatto is the world's most important natural colorant yielding yellow to red colors. There is global commercial production of the seed, estimated in 1990 at 10,000 tons per year; Brazil being the largest exported.
- The common name achiote derives from the Nahuati word for the shrub, achiotl. The plant was brought to Southeast Asia by the Spanish in the 17th century.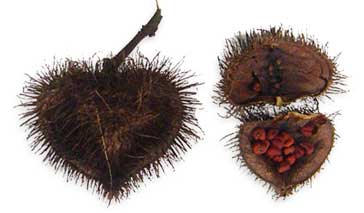 Botany
Atsuete is a tree reaching 4 to 6 meters. Leaves are entire, alternate with long petioles, ovate, 8 to 20 centimeters long, 5 to 12 centimeters wide, with a broad and heart-shaped base, and a pointed tip. The flowers are white or pinkish, 4 to 6 centimeters diameter, 4 to 6 centimeters in diameter on terminal panicles. Fruits are spiny capsules, ovoid or rounded, reddish brown, about 4 centimeters long, and covered with long, slender and soft spines. Fruit dry and split open in two parts exposing many small red seeds covered with a dye-yielding red pulp.

Distribution
- Introduced.
- Planted in and about towns throughout the Philippines.
- Native of tropical America.
- Pantropic.
- Widely cultivated and naturalized in tropical and subtropical regions throughout the rest of the world.

Constituents
- Phytochemical screening yielded carbohydrates, steroids, alkaloids, proteins, flavonoids, terpenoids, phenolics, tannins and glycosides.
- Bixa orellana seeds are the only natural source of bixin, a carotenoid widely used in food industry as colorant.
- Seed contains a fatty oil with palmitin, a little stearin, and phytosterol.
- Study of carotenoid pigments in the seeds identified bixin, norbixin, ß-carotene, cryptoxanthin, lutein, zeaxanthin and methyl bixin.
- Aqueous extracts yielded six major compounds viz. 2-butanamine, acetic acid, pentanoic acid (valeric acid), phenol, pantolactone, and benzoic acid. (see study below) (32)
- Phytochemical analysis of seeds showed phenolic compounds and flavonoids to be present in all extracts. The maximum amount of phenolic compounds was found in the aqueous extract with 75.3 mg of GAE/g of extractive. Isolation of purified bixin was done from the seeds. (see study below) (39)
- Main carotenoids from the seeds are Apo-ψ-carotene, 9′Z-6′-ol, ß-carotene, bixin, Z-carotene, cryptoxanthin, dimethyl-(9Z)-6,6'-diapocarotene-6,6'-dioate, dimethyl-(9Z,9'Z)-6,6'-diapocarotene-6,6'-dioate, phytoene, phytofluene, geranylgeraniol, lutein, methyl-(9Z)-10'-oxo-6,10'-diapocarotene-6-oate, methyl-(9Z)-6'-oxo-6,5'-diapocarotene-6-oate, methyl-(9Z)-8'-oxo-6,8'-diapocarotene-6-oate, methyl-(9Z)-apo-6,lycopenoate, methyl-(7Z,9Z,9'Z)-apo-6'-lycopenoate, methyl-(9Z)-apo-8'-lycopenoate, methyl-(all-E)-apo-8-lycopenoate, neurosporene, norbixin, Trans-bixin, zeaxanthine.
- Phytochemical screening of leafs yielded alkaloids, terpenoids, steroids, phenols, and tannins. (see study below) (53)
- GC-MS study of seed oil yielded 35 components, of which (Z,E)-farnesyl acetate (11.6%), occidentalol acetate (9.7%), spathulenol (9.6%) and ishwarane (9.1%) were major constituents. (71)

Properties
- Root-bark is antiperiodic and antipyretic.
- Aphrodisiac and detoxifier.
- Leaves are diuretic, antipyretic, purgative.
- Seeds are slightly astringent.
- Fine powder covering the seed is hemostatic and stomachic.
- The pulp (annatto) surrounding the seeds is astringent and slightly purgative.
- Studies have suggested antibacterial, antifungal, antidiarrheal, neuropharmacologic, anticonvulsant, antidiabetic, hypolipidemic, cardioprotective, antioxidant, aldose-reductase inhibitory, diuretic, radioprotective, antileishmanial, mosquito repellent, wound healing, anti-inflammatory, anticancer, hepatoprotective, antimalarial, anthelmintic, food preservative properties.

Parts utilized
Leaves, bark, seeds, dye.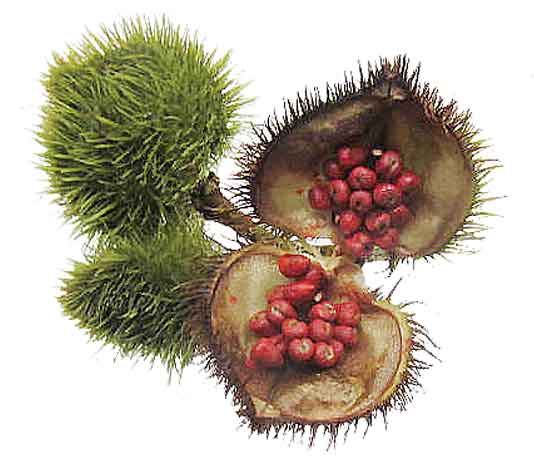 Uses
Culinary / Edibility
· Seeds used locally for coloring food and as condiment.
· In the food industry, used to color butter, margarine, mayonnaise, sauces, sausage, soup, ice cream, cheese, etc.
Folkloric
· For small burns: Wash the leaves with soap and water. Boil 10 leaves in 5 glasses of water; cool. Soak the burn area for 10 minutes, once a day.
· The pulp of the seeds, immediately applied to, prevents blistering and scarring. Pulp also used to treat bleeding, dysentery, gonorrhea, constipation and fever.
· The seeds, ground and boiled, also used for burns. Mixed with coconut, is applied to the throat.
· Decoction of bark used for febrile catarrh.
· Fresh seeds when moistened produce a reddish colored juice that is applied to red rashes.
· The seeds are used as antidote for cassava and J. urcas poisoning.
· Fine powder that covers the seeds is used as hemostatic, and internally as stomachic.
· In

French Guiana

, infusion of leaves used as purgative in dysentery.
· Leaves used as febrifuge in

Cambodia

.
· Decoction of leaves used as gargle for sore throat.
· Seed oil used for leprosy.
· The achuete dye used with lime for the treatment of erysipelas.
· Also used for wound healing, regulation of heavy menses, and thinning hair.
· The leaf, bruised with the head of a "walis-tingting" (broom made from frond ribs of the coconut leaves), mixed with warm coconut oil is applied on the forehead for headaches.
· An infusion of the leaves used as purgative.
· Poultice of leaves are diuretic and used for treatment of gonorrhea
· Mucilage produced from infusion of fresh branches used a emollient in the

Antilles

..
· Leaves for snake bites.
· Extract of leaves, barks and roots used as antidote for poisoning from Manihot esculenta, J. curcas, and Hura crepitans.
· Decoction of leaves for nausea and vomiting.
• In traditional Peruvian medicine, used to treat heartburn and stomach distress caused by spicy foods; also, as a vaginal antiseptic and cicatrizant.
· In

Uruguay

seeds are ground and boiled and used on burns.
• In West Indian folk medicine, used for diabetes mellitus.
• In Guatemala used for treatment of gonorrhea.
• Powder from grinding seeds used as aphrodisiac. Infusion of cold buds used to wash inflamed eyes. Decoction of leaves used as antiemetic therapy in pregnancy. (

3

5

)
• Used as female aphrodisiac in the Amazonia.
Others
• Dye: The main product from B. orellana is an organic dye present in the seed coat called "annatto," lipid-soluble and widely used in the food industry for its red to orange-yellow colors (cheese, butter, oils, margarine, ice-cream, pastries). Next to caramel, it is the world's second most important food colorant. Besides providing an attractive color to meat and other dishes, it also imparts a subtle and distinctive flavour. In the cosmetic industry it finds use in hair, nail and soap products, and also in the many of the household products – floor wax, shoe polish, russet leather, wood stains. [also see study below (

40

)]
• Fiber: Lightweight, not durable. The fibrous bark used to make ropes and twine.
• Apiculture: Flowers are source of nectar for honey. (

82

)
• Wood: Soft wood used as fire starter. Wood is soft, light weight, porous, weak and not durable. (

82

)
• Gum: Bark yields a water-soluble gum similar to gum arabic. (

82

)
• Fodder: Bixa meal, which remains after extraction of pigment from the seed, is useful as additive to poultry feed and can replace 30% of the maize in the food. However, the seed embryo contains a poisonous alkaloid, so it is not wise to the residues from the extraction process directly. (

82

)
• Repellent / Poison: Bixin extracted from the seed coat is used in India as insect repellent. The seed coat yields a waxy substance that has paralytic action on mammalian intestinal parasites. (

82

)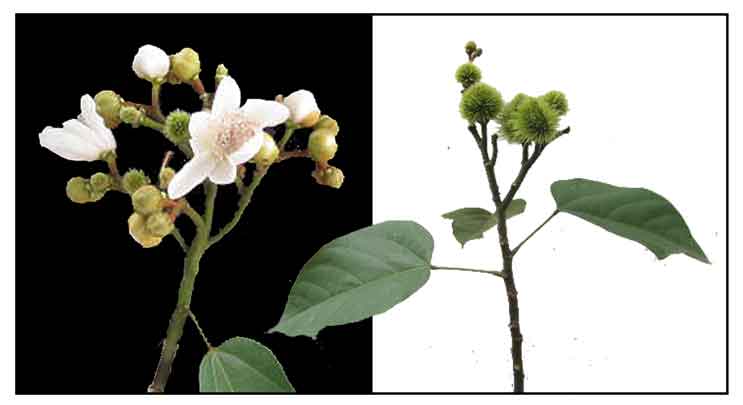 Studies
• Antimicrobial / Antifungal: The study screened plants extracts - including Bixa orellana – for antimicrobial activity and MIC. B orellana showed low MIC against against E coli and a better MIC against B cereus. Results showed that Bixa orellana, Justicia secunda and Piper pulchrum could be potential sources of new antimicrobial agents. (1)
• Antimicrobial / Antifungal: Study of organic extract of BO showed to possess a narrow spectrum of antimicrobial activity, effective only against Gram+ bacteria used in the study.
• Antibacterial / Antioxidant / Antidiarrheal / Neuropharmacologic / Anticonvulsant/ Gastrointestinal Motility Effect: Preliminary pharmacologic studies on the methanol extracts of BO leaves showed statistical decrease in locomotor activity, anticonvulsant effect, analgesic and antidiarrheal effect and a delay i gastrointestinal motility. It also showed radical scavenging properties and antibacterial activity against agents of diarrhea and dysentery.
• Hypoglycemic / Antidiabetic / Seeds: Study of BO oil seed suspension of the red seed coat showed it to be a potent hypoglycemic agent. Extract study showed hypoglycemia in both normal and streptozotocin diabetic dogs.
• Hypoglycemic: Methanol extracts of B. orellana and L. acutangula showed significantly hypoglycemic activities in Swiss Webster mice.
• Hypoglycemic / Peripheral Utilization of Glucose: Study on C-peptide STZ-induced diabetic dogs showed a glucose lowering effect probably through stimulation of peripheral utilization of glucose. (13)
• Milk-based pigment: Study showed B orellana seeds can be used as a pigment in making milk-based paint. (9)
• Anti-Gonorrheal: In a study of 46 plants popularly used in Guatemala for the treatment of gonorrhea, B orellana bark was one of the most active plants that inhibited strains of freshly isolated N gonorrhea. (11)
• Antibacterial / Anti-Staphylococcal Activity: Study showed crude ethanolic extracts from leaves of B orellana and bark of Alstonia macrophylla showed potential antibacterial effect against S aureus. (12)
• No Effect on BPH Symptoms / Prospective Double-Blind Placebo-Controlled Study: Prospective double-blind randomized placebo-controlled study in patients with BPH presenting with moderate lower urinary tract symptoms (LUTS) associated with BPH did not show any benefit from BO compared to placebo. (16)
• Bioactive Sesquiterpene: Study of extract of air-dried leaves yielded ishwarane, phytol, polyprenol, and a mix of stigmasterol and sitosterol. Results of the prophylactic assay demonstrated anti-toxic property. Acid writhing testing demonstrated minimal analgesic activity. (17)
• Radioprotective: Study evaluated the radioprotective effect of a hydroalcoholic extract of seeds of B. orellana on chromosome aberration in cells of bone marrow in irradiated mice. Pretreatment resulted in significant reduction in aberrant metaphases. Results suggest B. orellana may be used as radioprotective in humans. (19)
• Microwave Facilitated Bixin Extraction / Antioxidant Activity: Bixa orellana seeds are the only natural source of bixin, a carotenoid colourant. Microwave assisted extraction was shown to be the most effective extraction procedure for isolation of bixin. MAE is green technology, superior to conventional extraction methods. (21)
• Hypolipidemic Effect / Seeds: Study investigated the effect of an aqueous extract of Bixa orellana seeds in mice with hyperlipidemia induced by tyloxapol, fructose, and ethanol. Results showed a hypolipidemic effect with reversal of hyperlipidemia induced by Triton, fructose and ethanol. (22)
• Diuretic Effect / Leaf: Various extracts of dried leaf powder were investigated for diuretic activity in Wistar rats. A methanolic extract showed significant diuretic activity by increasing total urine output and increased excretion of sodium potassium and chloride. Results were compared to standard drug furosemide. (24)
• Cardioprotective Effect / Leaf: Study evaluated the cardioprotective activity of an ethanol extract against isoproterenol-induced myocardial infarction in Swiss albino rats. A dose-dependent protective effect was observed. All parameters and markers were significantly reversed upon treatment with the extract and were comparable to α-tocopherol, together with histopath changes. (25)
• Anti-Leishmaniasis: Study of B. orellana extract in experimentally infected BALB/c mice showed significant activity against promastigote and amastigote forms of L. amazonensis. (27)
• Anti-Inflammatory / Bradykinin Inhibition: Study showed pretreatment with aqueous extract of B. orellano caused significant dose-dependent inhibitory activity against inflammatory models, the bradyknin-induced hind paw edema model and bradikinin-induced increased peritoneal vascular permeability.. The anti-inflammatory effect may be due to its antibradykinin activity related to a reduction of nitrous oxide production. (28)
• Anti-Leishmania: Study in mice showed activity of Bixa orellana against Leishmania amazonensis. Results showed significant activity against promastigote and amastigote forms of L. amazonensis. (30)
• Mosquito Repellent / Antioxidant: Study of fresh fruits, dried seeds, wood, bark and leaves yielded sesquiterpenes, monoterpenes, and arenes (α-humulene, D-germacrene, y0elemene and caryophyllene). Plant showed to be a good source of antioxidants. On repellency testing against A. aegypti, dried seed extracts showed significant skin protection activity. (31)
• Antihistamine / Anti-Inflammatory Activity: Study evaluated the major constituents of an aqueous extract of B. orellana and its antihistamine activity on acute inflammation-induced model in rats. Results showed anti-inflammatory activity attributed to the inhibitory effect on vascular permeability, suppressed as a result of reduced expression of biochemical mediators (NO and VEGF) in tissues. (see constituents above) (32)
• Poor Wound Healing Activity / Leaves : Study evaluated the wound healing activity of BO leaf extract in an excision wound healing model on guinea pigs. showed only slight decrease in wound area, not significantly different from the control group. The findings do not support or justify its use in folkloric medicine for wound healing. (33)
• Safety Study / Leaves : A 6-month study in humans given 750 mg of leaf powder per day showed no significant or serious adverse effects. Leaf extracts appear safe when given under the current conditions of use. Additional human and animal controlled and efficacy studies are needed. (36)
• Antioxidant / Seeds: Study evaluated protocols for extraction protocols for annato coloring fraction and its potential for pharmacologic applications and evaluated the in vitro antioxidant activity of seed extracts. Results showed good antioxidant activity in the DPPH and iron oxide reducing power assays and suggests a potential source of natural antioxidants. (37) Study evaluated various extracts for antioxidant activity using DPPH method. An aqueous extract showed the most significant antioxidant activity with IC50 of 20 µg/ml compared to standard ascorbic acid. (see constituents above) (39)
• Antimicrobial / Antifungal / Leaves: Study evaluated antimicrobial and antifungal activities of phenolic leaf extracts of Bixa orellana, L. camara, S. jamaicensis. and H. suaveolens against 4 bacterial strains (S. aureus, B. subtilis, E. coli and P. fluorescence) and 3 fungi (A. niger, A. flavus, and Mucor sp.). The phenolic extracts of all four plants showed antibacterial and antifungal activity with varying degrees of inhibition. The phenolic components were equivalent to Triclosa in antibacterial activity. (38)
• Natural Dye for Dyeing and Finishing Leather / Seeds: Study reports on the extraction of color from Bixa orellana seeds and its application in dyeing and finishing of leather. Results showed the natural dye with better coloring properties. (40)
• Anti-Cancer / Cytotoxicity Against Melanoma Cell Line / Seeds: Study analyzed the bioactive component of a petroleum ether extract of B. orellana seed and its anticancer potential against B16F-10 melanoma cell line. Results showed dose- and time-dependent cytotoxicity with IC50 values of 145.98 ± 7.49 µg/ml and 121.60 ± 6.20 µg/ml for 24 h and 48 h, respectively. The extract prevented the cell proliferation and migration of treated cancer cell. GC-MS analysis yielded three anticancer compounds viz. geranyl geraniol, squalene, and beta-sitosterol. Results showed potent anticancer and apoptotic inductive potential which can be further explored in in vivo model for possible cytotoxic activity. (41)
• Anticonvulsant / Antidiabetic / Seeds: Study analyzed various extracts for anticonvulsant activity in strychnine induced tonic convulsion in Swiss albino mice and antidiabetic activity in alloxan induced diabetic model in wistar rats. All extracts reduced convulsion in mice, with the diethyl ether extracts showing better activity compared to other extracts. All extracts reduced blood sugar levels, with the EA and n-butanol extracts showing better activity in comparison to the other extracts. (42)
• Suppression of Histamine-Induced Endothelial Hyperpermeability / Leaves: Study evaluated the protective effect of aqueous extract of B. orellana leaves against histamine-induced hyperpermeability in vitro. Results showed suppression of endothelial permeability which may be closely related with the inhibition of PLC-NO-cGMP (phospholipase C-nitric oxide-cyclic guanosine monophosphate) production and PKC (protein kinase C activity). (see also 32) (43)
• Indelible Ink: Study evaluated the feasibility of annatto seeds (Bixa orellana) and kasubha (Corcus sativus) together with cartridge ink as an alternative indelible ink. Results showed the ink set up that contains 30% cartridge ink, 30% kasubha extract, and 40% atsuete extract was the most effective and has a potential as alternative for indelible ink. (44)
• Hepatoprotective / Seed Oil / Leaves: Study evaluated the pretreatment effect of B. orellana seed oil on CCl4-induced liver damage in male Wister rats. Results showed dietary exposure to seed oil exhibited moderate protection against carbon tetrachloride hepatotoxicity in rats, with significant (p<0.05) reduction in serum marker enzymes, lipid peroxidation, and relative liver weights induced by CCl4. (45) Study of extracts of dried leaf powder showed hepatoprotective activity in Wistar rats with liver damage induced by CCl4. (78)
• Open Wound Healing / Seed Oil: Study evaluated the oil extract of B. orellana as a healing agent in the rat model of open wound healing. Results showed B. orellana oil will hasten the onset of the healing process and its initial phases, but will ultimately produce a scar of poorer quality. (also see 33) (46)
• Anti-Malarial: Study of B. orellana through hairy root culture technology yielded secondary metabolites. Compounds 1-10 were evaluated for antimalarial properties. Compound 5 (stigmasterol) was the most potent lead compound. Stigmasterol and the other chemical constituents of hairy roots showed modest antimalarial properties in 3D7 and K1 strains with low toxicity in mammalian cells. (47)
• Safety and Efficacy of Leaf Extracts: Many studies have been conducted involving Bixa seed extracts than with leaf. No subchronic safety (toxicity) study have been conducted in animals. A 6-month study in humans given 750 mg of leaf power per day showed no significant or serious adverse effects. Leaf extracts appear to be safe under given current conditions. Additional human and animal controlled safety and efficacy studies are needed. (2013) (49)
• Burn Wound Healing Activity / Leaves: Study investigated the healing potential of the plant on burn wounds using five replicates of mice as animal model. Results showed B. orellana is effective in treating burn wounds and is comparable to SSD (silver sulfadiazine) in terms of wound contraction, re-epithelization, and histological features of treated wound. (50)
• Indelible Ink Substitute: Study showed Bixa orellana can be a potential source of an effective adherence in making indelible ink. (51)
• Antibacterial: Study evaluated the in vitro antibacterial activity of methanolic extracts B. orellana against some pathogenic gram positive strains and gram negative strains. The methanol extract showed remarkable activity at MICs of 5 mg/ml against gram positive bacteria (B. subtilis and S. lutea) and one gram negative bacteria (S. dysenteriae). Results suggest B. orellana has potential as an antibacterial agent in the future. (52)
• Silver Nanoparticles / Leaves: Study reports on an environmentally friendly method of silver nanoparticles synthesis using a leaf extract of B. orellana. The silver nanoparticles synthesized by it has potential for bactericidal, wound healing, and other medical applications. (53)
• Natural Food Preservative / Seeds: Study evaluated the in vitro antimicrobial and antioxidant effect of ethanolic extract of annatto seeds. The most sensitive bacteria were B. subtilis, S. aureus, and Lactobacillus plantarum. Yeast and molds were more sensitive to EEBS than bacteria. Results demonstrate the antimicrobial and antioxidant activities of EEBS and the potential for the extract as a natural food preservative. (54)
• Anthelmintic / Leaves: Study investigated the anthelmintic activity of various extracts of B. orellana dried leaf powder against Pheretima posthuma. Results showed the ethanol and methanol extracts showed significant dose-dependent anthelmintic activity. The ethanol extract showed better activity compared to reference drug albendazole. (55)
• Antileishmanial / Cytotoxic / Seeds: Study investigated the leishmanicidal effect of B. orellana seed extract. Fractions BO-A and BO-B showed good antileishmanial activity with IC50 values of 12.9 ± 4.1 and 12.4 ± 0.3 µg/mL, respectively. Cytotoxicity was assessed in murine intraperitoneal macrophages. In general, sub-fractions showed lower toxicity than the crude extract. (56)
• Bixin / Carotenoid / Cytotoxic / Seeds: Bixa orellana's agro-industrial value is from the high carotenoid content of the seeds, mainly bixin. Commercially known as annatto, it is currently used as natural pigment in food, pharmaceutical and cosmetic industries. Although bixin's pathway has been established, the regulation of genes involved in its production was unknown. Study published B. orellana's transcriptome and identified most of its MEP (methyl-D-erythritol 4-phosphate) and carotenoid pathway genes. Further studies are needed before bixin and other achiote compounds can be extensively used by modern medicine. (57)
• Antidiarrheal / Castor Oil-Induced Diarrhea / Leaves: Study evaluated the effects of hydroalcoholic extract of B. orella leaves on castor oil-induced diarrhea in mice. Leaf powder was macerated in ethanol/water mixture (20/80) for 48 hours, then filtered. The extract produced significant (p<0.01) decreases in severity of diarrhea. The extract at 100 and 200 mg/kbw exhibited significant (p<0.01) reduction on intestinal transit (24.46%) compared to standard drug. (58)
• Antibacterial and Genotoxicity against Multidrug Resistant Isolates / Seeds: Study evaluated the antibacterial activity of hydroalcoholic extract of B. orellana seeds against multidrug resistant strains. All strains were initially resistant to ampicillin; however, in combination with the plant extract, the MIC was reduced 2-10 folds. DNA damage assay exhibited cell damage capability against all pathogens. Results showed antibacterial activity of the extract against multi-drug resistant pathogens alone and in combination with an antibiotic. (59)
• Antifungal Against Candida albicans: Study evaluated the antifungal activity of six different concentrations of ethanol extract of B. orellana against strains of Candida albicans (ATCC 90028). Nystatin was used as positive control. The highest antifungal activity was found at 24 hours, which increased in direct proportion to concentration of BEE (5%, 10%, 20%, 40%, 60%, and 100%): 11, 11, 13, 17.2m 19.1m and 21.4 mm, respectively. There were no statistically significant differences against Nystatin at 100,000 IU/mL, which showed inhibitory effect greater than BEE (p<0.05). (60)
• Antidyslipidemia and Anti-Inflammatory / Purified Annatto Oil: Study evaluated the possible mechanisms of action of compounds in annatto - geranylgeraniol and tocotrienols - using in silico method and molecular docking. Results corroborate the antidyslipidemic and anti-inflammatory activities of geranylgeraniol and tocotrienols. Some new mechanisms were predicted to be potentially underlying the activities include inhibition of squalene monooxygenase, lanosterol synthase, and phopholipase
A2. Study provides new insights into mechanisms of actions involved with molecules from annato and Chronic®. (61)
• Antibacterial against Streptococcus mutans and S. sanguinis: Study evaluated the cytotoxic and antibacterial effect of Bixa orellana (achiote) methanol extracts of seeds and leaves against Streptococcus mutans and S. sanguinis using agar diffusion method. The ME of leaves showed stronger antibacterial effect with inhibition zone of 19.97 mm against S. mutans and 15.11 against S. sanguinis. The 50% cytotoxic concentration was 366.45 and 325.05 µg/mL for leaves and seeds, respectively. (62)
• Herbal Lipstick / Seed Color Pigments: Some dues used in lipstick production are dangerous to human consumption, often eaten away by the user. Coal tars are basic ingredients from which synthetic dyes are formed, which can cause allergy, nausea, dermatitis and drying of lips. Due to various adverse effects of available synthetic preparations, study evaluated the formulation of herbal lipstick from Bixa orellana seeds with minimal or no side effects. Of the formulations, herbal lipstick, F-III was best among five and accepted by female volunteers. (63)
• Anti-Inflammatory / Serotonin-Induced Increased Vascular Permeability / Leaves: Study evaluated the anti-inflammatory activities of aqueous extract of B. orellana leaves in animal models. Results showed significant (p<0.05) anti-inflammatory activity evidenced by suppressions of increased vascular permeability and leukocyte infiltration. The inhibitions of the inflammatory events were probably mediated via inhibition of NO and VEGF formation and release. (64)
• Aldose Reductase Inhibition: Study of hot water extracts of B. orellana, C. morifolim and I. batatas showed potent inhibitory activity towards lens aldose reductase. Phytochemicals yielded isoscutellarein from B orellana as its potent inhibitor. (65)
• Antinociceptive / Anti-Inflammatory / Bixin / Seeds: Study investigated the anti-inflammatory activity of bixin using carrageenan-induced paw edema and myeloperoxidase (MPO) activity in male Wistar rats and antinociceptive effect using formalin and hot plate tests in rats and acetic-acid induced writhing in Swiss albino male mice. A higher dose of bixin significantly decreased carrageenan induced paw edema and MPO activity and increased latency time in hot plate. Bixin significantly reduced the number of flinches in both phases of formalin test and number of acetic acid induced writhings without changing the locomotor performance in open field test. Study validates the use of bixin as an anti-inflammatory through mechanism related to reduction of neutrophil migration. (66)
• Anticancer / Antiproliferative / Bixin: Emerging evidence suggests potential pro-oxidant effect of carotenoids provokes apoptosis of cancer cells. Study investigated bixin and crude extract effects on human lung cancer (A549), cervical cancer (HeLa), and breast cancer (MCF-7). Results revealed promising antiproliferative activity from both isolated pigment and crude extract. (67)
• Hypoglycemic Effect: Study evaluated the impact of annatto on blood glucose levels STZ-induced male Wistar rats using single dose of 60 mg/kg intraperitoneally. Results showed significant lower blood sugar levels, which lasted for 12 hours and more pronounced two hours after drug administration. (68)
• Cytotoxic on Human Cell Line (HepG2) / Bark: Study evaluated the cytotoxic effects of bark extract on HepG2 cell line. Results showed the bark extract was cytotoxic against BCl2 mRNA and BCl-xL mRNA induced apoptosis on human cells. MTT assay showed that as concentration of bark extract increased, the cancer cell viability decreased. (69)
• Antimicrobial / Anti-Inflammatory / Leaves: Study evaluated the antimicrobial and anti-inflammatory activities of hydroalcoholic extract (BoHE) and ethyl acetate fraction (BoEA) of Bixa orellana leaves. The extracts showed antimicrobial activity against M. abscessus subsp. massiliense and low toxicity against murine RAW 264.7 cells. The antimycobacterial activity was accompanied by significant anti-inflammatory activity in a peritonitis model induced by M. abscessus in mice. Extracts showed no toxicity in evaluated organs. Results demonstrated antimicrobial and anti-inflammatory potential of BoHE and BoEA. (70)
• Antimicrobial / Anti-Inflammatory / Leaves: Review reports on the compounds isolated from Bixa orellana from evidence-based advances to treat infectious diseases. The plant and leaves have been used as anti-inflammatory for the treatment of pulmonary diseases, snakebites, diarrhea, gonorrhea, hepatitis, gastritis. Traditional use has encouraged studies and led to the identification of bioactive compounds such as ß-cryptoxanthin, geranylgeraniol, lutein, procyanidin B2, procyanidin B3,
ellagitannin isomer and ellagic acid deoxyhexose -- compound that inhibit pathogenic microorganisms such as bacteria, fungi, protozoa, and viruses. (72)
• Anthelmintic / Seeds: Study for anthelmintic activity showed the seed extracts (aqueous, acetone, methanol, and ethanol) were effective against Eisenia fetida. Secondary metabolites such as tannin and phenolic compounds may be responsible for the anthelmintic activity. (73)
• Antiproliferative on Human Tumoral Cells / By-Products Fractions: Study evaluated the phytochemical characterization of B. orellana unsaponifiable extract and resulting fractions from by-products of an industrial process investigating in vitro antiproliferative activities in human tumoral cells. Main compounds identified by GC-MS were Geranylgeraniol (61.51%); for F fraction, Geranylgeraniol (70.23%); for Geranyl fraction, Geranylgeraniol (78.92%) and for R fraction: β-cubebene (27.75%). All fractions had remarkably similar antiproliferative profile. Results showed a cytostatic effect for the BO extract, but not attributed exclusively to geranylgeraniol. Results suggest the by-product has great value and a potential candidate for new anti-tumor ingredients. (74)
• Antioxidant / Antimicrobial / Seed Aril Pigment: Study reports on the extraction and characterization of bixin and associated pigment from aril of B. orellana seeds. The major component, bixin and nor-bixin were non-toxic, non-carcinogenic, and non mutagenic in in silico methods. The pigment was found to be a potent antioxidant and bactericidal against opportunistic bacteria. Results suggest bactericidal potential for cellulosic materials like papers or textiles in biomedical applications. (75)
• Anticolitis / Acetic Acid-Induced Ulcerative Colitis / Antioxidant / Leaves: Study evaluated the preclinical effects of hydroethanolic extract of B. orellana leaves in an invivo acetic acid-induced ulcerative model in rats. Results showed significantly decreased number of diarrheal stools, number of lesions, and relative weight of the colon, along with significant increase in hematologic parameters. Catalase and SOD activity and glutathione concentrations were all significantly increase (p<0.01) in blood and colon of extract-treated animals, along with decreased malondialdehyde and nitric oxide (p<0.01). Effect were attributed to inhibition in production of free radicals believed to be responsible for oxidative stress, hematological disorders, and tissue damage. (76)
• Antidermatophytic Activity / Leaves: Study evaluated the invitro antidermatophytic activity of methanolic extract of young leaves. The high-polar methanolic extract exhibited efficient antidermatophytic activity. Maximum antidermatophytic activity was observed against C. albicans followed by T. rubrum, M. gypseum, T. tonsurans, and T. mentagrophytes. Antibacterial activity was observed in E. coli followed by B. subtilis, P. aeruginosa, and S. aureus. (77)
• Anticonvulsant / Bark: Study evaluated the anticonvulsant activity of ethanolic bark extracts of Bixa orellana using maximum electroshock (MES) and pentylenetetrazole (PTZ) in male mice Results showed significant increase in onset time and decrease duration of seizures by electroconvulsive shock. At 200 mg/kg, animals treated with extract showed alteration in occurrence of HLTE (hind limb tonic extension) and duration of seizures. (79)
• Protective Effect in Induced-Osteoporosis / Tocotrienol: Study evaluated the skeletal protective effects of annatto tocotrienol using a buserelin-induced osteoporotic model in male Sprague Dawley rats. Annatto tocotrienol at 60 and 100 mg/kg significantly prevented deterioration of trabecular bone and cortical thickness in buserelin-treated rats (p<0.05). Both doses of tocotrienol improved femoral biomechanical strength and bone calcium content in buserelin-treated rats (p<0.05). Effects were comparable to calcium supplementation. (80)
• Immunomodulatory / Analgesic / Leaves: Study evaluated the immunomodulatory properties of various extracts of B. orellana leaves in Swiss albino mice using plethysmometer, volume of hind paw before and after inflammation is induced. The ethanol extract demonstrated most efficacy at dose level of 250 mg/kg after 2 hours. Tail immersion method was used to assess analgesic activity. The methanol extract showed highest effect at dose of 500 mg/kg 120 minutes after delivery. (81)

Availability
- Wild-crafted.
- Small scale local cultivation for condiment and food colorant use.
- Worldwide production of annatto seeds for commercial and home use.