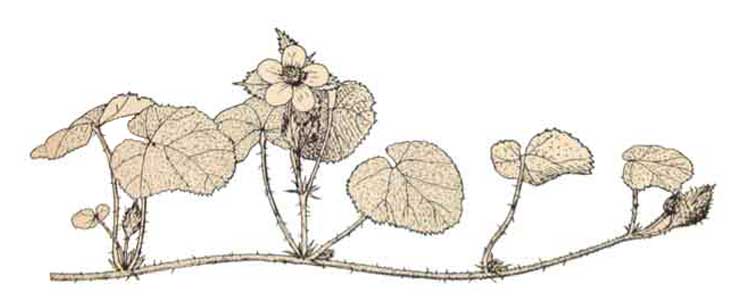 Gen info
Rubus is a large genus of flowering plants in the rose family, Rosaceae. They are small shrubs or almost herbaceous plants, with prickly stems and twigs. Flowers are white, pink, or red, usually in clusters. Fruits are usually red or orange berries; some species have edible fruits. There are about 25 species of Rubus in the Philippines, 15 of which are endemic to the country.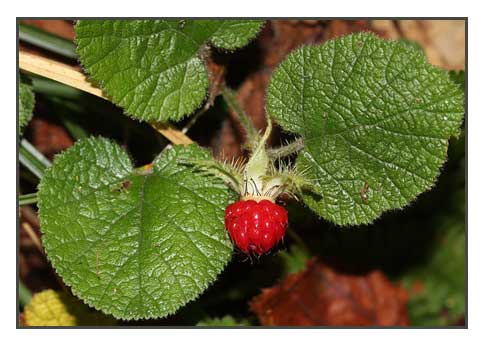 Botany
Atibulnak is a deciduous trailing plant, with stems measuring 0.5 to 1 meter long with a diameter of 0.2 to 0.5 cm at the biggest portion. Leaves are alternate, rough, hairy, heart-shaped, with toothed margins, 3 to 6 centimeters in diameter, the lower surface green, the upper surface darker green. Calyx, stems and leaves are armed with small fine spines. Flowers are white, up to 2 centimeters or more in diameter when fully opened. Fruits are 1.5 centimeters in diameter, bright red, juicy, subacid with a good flavor.
Distribution
- Widely growing in mossy forests and in lower elevations with moist and cold environment.
- Observed in the cold areas of Luzon and Mindanao.
- Found in E. Asia, China, Taiwan, Japan.

Uses
Edibility
- Fleshy pulp of the ripe fruit is eaten raw.
- Considered one of the best tasting of the Rubus species in the Philippines.
- Leaves eaten as vegetable.
Folkloric
- No specific reported used for atibulnak. For common Rubus species, local medicinal uses are reported for roots and leaves against dysentery, cough, thrush, fever, urinary and abdominal problems.
Others
- Ritual: Of cultural significance in the Tibetan culture. One of ten species of plants used for weisang, burned for the fragrance of its smoke believed to please the mountain god, to cleanse the people of dirty things, and to accompany the prayers for good harvest and prosperity. (3)
- Dye: Fruit yields a purple to dull blue dye.

Studies
• No studies found.
Availability
Wild-crafted.