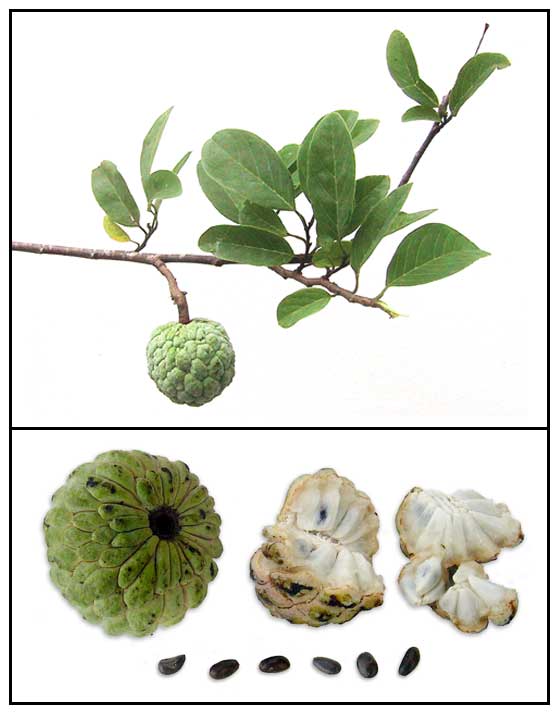 Botany
Atis is a small tree 3 to 5 meters in height. Leaves are somewhat hairy when young, oblong, 8 to 15 centimeters long, with a petiole 1 to 1.5 centimeters long. Flowers occur singly in the axils of the leaves, about 2.5 centimeters long, pendulous, hairy, three-angled, light green to yellow. Fruit is large, somewhat heart-shaped, 6 to 9 centimeters long, the outside marked with knobby polygonal tubercles. When ripe, the fruit is light yellowish-green. Flesh is white, sweet, soft, and juicy, with a mild and very agreeable flavor.

Distribution
- Cultivated throughout the Philippines; occasionally spontaneous.
- Introduced from tropical America by the Spaniards.
- Now pantropic.

Constituents
- The leaves yield an alkaloid, chloroplatinate.
- Anonaine, an alkaloid, is found in the bark, leaves and seeds.
- Seed yields an alkaloid, neutral resin, fixed oil.
- Seed contains a yellow, non-drying oil and an irritant which kills lice.
- Fruit peel extracts yielded alkaloids, proteins, carbohydrates, flavanoids, glycosides, saponins, and tannins. (28)
- Roots yielded two oxoaporphine alkaloids: liriodenine and oxoanalobine.
- Volatile oil study comprised mainly of α-pinene (1.0–11.9%), limonene (0.8–11.7%), β-cubebene (0.5–13.0%), β-caryophyllene (11.6–24.5%), spathulenol (0.8–9.0%), caryophyllene oxide (1.0–10.6%) and α-cadinol (3.3–7.8%). (48)
- Various solvent extracts of seeds showed the presence of flavanoids, coumarins, alkaloids, and terpenoids, with absence of saponins. (52)
- Study isolated 12 compounds from Annona squamosa viz., liriodenine (AS-1), moupinamide (AS-2),  -(-)-kauran-16 alpha-ol-19-oic acid (AS-3), 16 beta, 17-dihydroxy-(-)-kauran-19-oic acid (AS-4), anonaine (AS-5), 16 alpha, 17-dihydroxy-(-)-kauran-19-oic acid (AS-6), (-)-isokaur-15(16)-en-17,19-dioic acid (AS-7), squamosamide (AS-8), 16 alpha-methoxy-(-)-kauran-19-oic acid (AS-9), sachanoic acid (AS-10), (-)-kauran-19-al-17-oic acid (AS-11), daucosterol (AS-12). (54)
- Study of leaves for essential oil composition yielded 43 components, representing 88.6% of the total oil composition. Essential was composed to sesquiterpenoids i.e., sesquiterpene hydrocarbons (63.4%) and oxygenated sesquiterpenes (21.8%). Major oil constituents were (E)-caryophyllene (15.9%), y-cadinene (11.2%), epi-α-cadinol (9.4%), (Z)-caryophyllene (7.3%), γ-muurolene (5.4%), α-humulene (5.2%), viridiflorene (5.0%), α-cadinol (3.9%), aromadendrene (2.9%), δ-cadinene (2.9%), α-cadinene (2.9%), (2Z,6Z)-farnesal (2.2%) and caryophyllene oxide (2.1%). (59)
- Leaves yielded alkaloids, carbohydrates, fixed oils, tannins, and phenolics. (see study below) (63)
- GC-MS analysis of essential oil of pericarps yielded a total of 59 compounds The major compound in the oil was (-)-spathulenol (32.51%). (see study below) (65)
- Total phenolic and flavonoid content of methanol extracts of leaves and bark were 217.82 and 160.48 mg/g GAE and 66.92 and 76.50 mg/g QE, respectively. (70)
- Percentage composition of nutritional parameters in A. squamosa fruit (nutritional value/100g fruit) yielded: moisture 59.38, total ash 4.58, crude fat 0.22, protein 3.78, crude fiber 10.09, and carbohydrate 21.95. (70)
- Study of EtOH extract of seeds isolated three new bistetrahydrofuran annonaceous acetogenins (1-3) along with four known annonaceious acetogenins, uvarigrandin A (4), bullatacin (5), squamostatin-A (6) and squamostatin-D (7). (see study below) (85)

Properties
- The leaves, fruit and seeds are vermicidal and insecticidal.
- The unripe fruit is astringent, used for diarrhea and dysentery and dyspepsia.
- The bark is astringent and tonic.
- Roots make a drastic purgative.
- Leaves are emmenagogue, febrifuge, tonic
- Insecticide, antiovulatory, abortifacient.
- Studies have showed analgesic, anti-inflammatory, anti-microbial, anti-diabetic, cytotoxic, antioxidant, antilipidemic, anti-ulcer, molluscicidal, genotoxic, vasorelaxant, hepatoprotective, larvicidal, anthelmintic, insecticidal properties.
Parts used
Leaves, fruit, bark, seeds.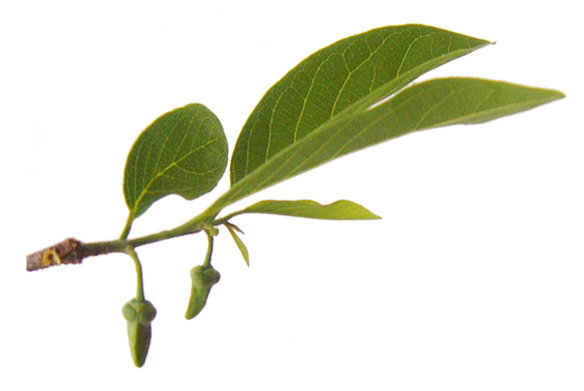 Uses
Nutrition
- Eaten raw or makes a delicious ice cream.
- The fermented fruit used to make cider.
Folkloric
- Salted bruised leaves used to hasten suppuration.
- Bark decoction is used as tonic and to stop diarrhea.
- Root has purgative action.
- Leaf decoction used for rheumatic baths to alleviate pain.
- For fainting and hysteria, crush fresh leaves and place over nose.
- For infected insect bites, pound and extract the juice from one unripe fruit and apply the juice directly to the affected areas, 3 times daily.
- For lice infestation of the head, atis has a herbal treatment regimen:
(1) Shampoo hair with gugo bark or any commercial shampoo daily for one week; with "suyod" combing twice daily.
(2) For lice eggs (nits), apply hot vinegar for half an hour after shampooing; then "suyod" (fine combing) thoroughly.
(3) Bedtime, pound 1/2 cup of atis seeds and mix with 1/4 cup of oil. Apply mixture thoroughly to the scalp and hair. Wrap the hair and head overnight. Shampoo in the morning and follow with fine tooth combing. Do daily for 3-5 days.
(4) Paste of the crushed seeds in water, applied to the scalp. The same used as abortifacient applied to the os uteri.
- In Northern India, young leaves used for diabetes.
- In Malaysia, used for skin infections, diarrhea, dysentery and UTIs.
- In India, leaves are crushed and applied to wounds, ulcers and sniffed to relieved hysteria and fainting spells. Leaf decoction used for treatment of dysentery; also, as tonic, febrifuge and cold remedy. (71)
Others
The blackened aborted atis fruit is a preferred by some healers as an ingredient in the making of the "unton," used for bales.

Studies
• Anti-Inflammatory / Cyclic Peptides: Study yielded two new cyclic peptides, cyclosquamosin H and I, together with six known cyclic peptides, squamin A, squamin B, cyclosquamosin A, D E and cherimolacyclopeptide B from the seeds. Compound 7 showed an inhibitory effect on the production of pro-inflammatory cytokines.
• Cytotoxicity / Anticancer: Extracts of A squamosa fruit pericarp was tested for cytotoxic activity against Dalton's lymphoma cells and HeLa cells. The chloroform extract was found cytotoxic to the different cell lines tested and suggests the potential for AS fruit pericarp for the development of treatment for cancers.
• Antidiabetic: (1) Study results showed that A. squamosa extract has an antihyperglycemic effect and alleviated liver and renal damage associated with STZ-induced diabetes mellitus in rats. (2) Study of aqueous leaf extracts were investigated on STZ-nicotinamide induced diabetic rats. The diabetic groups treated with aqueous leaf extract were compared with standard glibenclamide.
• Anti-Cancer / Squadiolins: Mono-tetrahydrofuran Annonaceous Acetogenins from Annona squamosa as Cytotoxic Agents and Calcium Ion Chelators: Squadiolins A and B showed potency against human Hep G2 and 3B hepatoma and MCF-y breast cancer cells.
• Hepatoprotective / DEN-induced Hepatotoxicity: Study on diethylnitrosamine (DEN)-induced liver injury in Swiss albino mice showed hepatoprotective effect, with improvement in biochemical parameters and confirmation by histopathological studies. (5)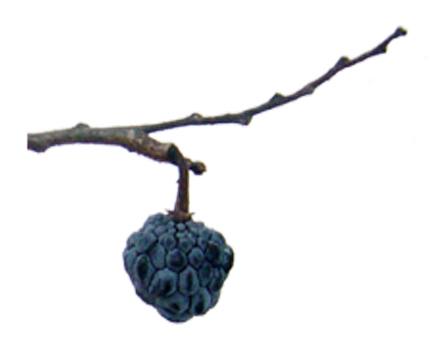 • Hepatoprotective: Study showed the extracts of Annona squamosa were not able to completely revert the hepatic injury induced by isoniazid + rifampin, but it could limit the effect of the drugs on the liver. The effect compared with standard drug silymarin.
• Antibacterial / Fruit: Study screened the ethanol crude extract of the fruit of A squamosa for antimicrobial activity against some pathogenic microorganisms. It showed inhibitory activity against S aureus and S pneumoniae. Results conclude the plant extract may serve as a valuable source of compounds with therapeutic antibiotic potentials. (6)
• Antithyroid Activity / Quercetin: Extract of the seeds of A squamosa was evaluated for it ameliorative effect in the regulation of hyperthyroidism in a mouse model. Phytochemical study revealed the presence of quercetin in the seed extract and the results of the effects of quercetin suggest an involvement of this phytochemical in the mediation of antithyroidal activity of A squamosa seed extract. (7)
• Antigenotoxic Activity: Study showed both aqueous and ethanolic bark extracts of A squamosa showed antigenotoxic effect. The bark extract demonstrated more prominent antigenotoxic effect in DBMA induced genotoxicity in Syrian hamsters. (8)
• Antiplasmodial Activity: Methanolic extract of Annona squamosa leaves showed high antiplasmodial activity. Preliminary studies yielded terpenoids and traces of phenolic principles with no alkaloids, tannins or flavonoids. (9)
• Molluscicidal Activity: Study on molluscicidal activity of leaves, bark and seed of Annona squamosa against snail Lymnaea acuminata was studied. Highest activity was observed in the seed extracts. The acetogenins from the seed were more toxic than synthetic pesticides. (10)
• Anti-Head Lice Activity: Study identified the active compounds against head lice from the hexane extract of Annona squamosa seeds. The two major compounds were oleic acid and triglyceride with one oleate ester. The triglyceride with one oleate ester and the crude hexane extract diluted with coconut oil 1:1 were found to kill all tested head lice.(11)
• Lipoxygenase Inhibition: Study yielded from the seeds a novel lipoxygenase inhibitor fatty acid ester, (+) - annonlipoxy, which showed enzyme inhibitory activity against lipoxygenase. The crude ethanolic extract of fruit pulp and seeds of AS also exhibited lipoxygenase inhibition. (12)
• Hepatoprotective / INH-Rifampicin Induced Enzyme Elevation: Administration of methanolic extracts of A. squamosa significantly prevented isoniazid-rifampicin-induced elevation in liver marker enzymes, together with increased total protein and reduced glutathione (GSH) levels. (16)
• Gestational Malformation Alleviation: Study diabetic albino rats concluded the gestational use of A. squamosa tends to alleviate the diabetes induced fetal malformations. (17)
• Antimicrobial / Phytochemicals / Seeds / Leaves: Phytochemical screening yielded phenols, tannins, alkaloids, saponins, flavanoids, reducing sugars and oil. The methanol extract showed maximum antibacterial activity against E. coli. Seed extract showed maximum antifungal activity against T. rubrum. (18) Comparative study evaluated the antimicrobial activity of dried leaf extracts against two gram negative bacterial strains (E. coli and P. aeruginosa) and two clinical fungal pathogens (C. albicans and A. niger). The leaf extracts showed higher antibacterial activity than anti-fungal activity. Phytochemical screening yielded glycosides, alkaloids, oils, saponins, and flavanoids. (61)
• Antimalarial Alkaloids: Bark extract yielded N-Nitrosoxylopine, roemerolidine and duguevalline. All compounds showed moderate activity against a chloroquine-sensitive strain and a chloroquine-resistant strain of Plasmodium falcifarum. (19)
• Antioxidant / Leaves: Extract of leaves showed only moderate scavenging activity of superoxide radicals and antilipid peroxidation potential. (23)
• Antibacterial / Stem Bark: Extract of stem bark was evaluated for antibacterial activity against Bacillus coagulans and Escherichia coli. Results showed activity on test bacteria. (25)
• Hypoglycemic / Leaves: Hot water extract of leaves showed a beneficial effect in controlling elevated blood glucose in alloxan and STZ-induced diabetic rabbit and rat models. Preliminary data suggest various mechanisms: pancreatic release of insulin and uptake of glucose through specific receptor. (26)
• Cytotoxic Acetogenins / Seeds / Anticancer on Five Tumor Cell Lines: Study of seeds isolated six new annonaceious acetogenins, annosquacins A-D, annosquatin A and annosquatin B. The compounds exhibited potent cytotoxic activity in vitro against five human tumor cell lines, and 5 and 6 showed high selectivity toward MCF-7 and A-549 cell lines. (27)
• Antidiabetic / Leaves: Study evaluated the antidiabetic activity of a hydroalcoholic extract of Annona squamosa in experimentally induced diabetic rat model. Extract of leaves showed significant reduction in blood glucose after glucose loading, with activity comparable to glibenclamide. (29)
• Antimicrobial / Fruit: Study of lyophilized powder of Annona squamosa fruit showed antimicrobial activity against microbial isolates. Significant activity was compared with standard Chloramphenicol. Preliminary screening yielded alkaloids, terpenoids, flavonoids, steroids, saponins, and glycosides as major constituents. (30)
• Biodiesel Production from Custard Apple Seed Oil: Paper reported on the transesterification of custard apple seed oil. The viscosity of biodiesel produced from the seed oil is nearer to that of the commercially available diesel. (31) Study presents the production of biodiesel from non-edible, renewable sugar apple seed oil. The biodiesel yielded was 95.15% at optimal process parameters. The fuel properties were found close to that of diesel fuel and meet specifications of ASTM standard. (66)
• Pediculicide / Leaves: Study of leaves yielded anthraquinones, a derivative of anthracene which can be used as insecticide. Study showed the leaves extract can be useful as a lice remover, which is cheaper than commercial products. (32)
• Antidiabetic / Seeds: Study of methanolic and ethanolic extracts of seeds showed significant hypoglycemic activity in both normal and alloxan induced diabetic rats. (33)
• Analgesic / Anti-Inflammatory / Bark: Study of methanolic extract of bark of Annona squamosa yielded caryophyllene oxide. Caryophyllene oxide showed significant central and peripheral analgesic activity along with anti-inflammatory activity. Effect was comparable to standard drug Pentazocin. (34)
• Corrosion Inhibition: Study evaluated an alkaloids extract from Annona squamosa for possible corrosion inhibition for C38 steel in 1 M HCl. Results showed AS extract was a mixed type inhibitor, with an inhibition efficacy that was temperature-dependent. Inhibitive effect was ascribed to the presence of organic compounds. (35)
• Cytotoxic Effect on Human Tumor Cell Lines: Study evaluated organic and aqueous extracts from defatted seeds of Annona squamosa for antitumor activity on different human tumor cell lines. Organic and aqueous extracts induced apoptosis in MCF-7 and K-562 cells, with nuclear condensation., DNA fragmentation, induction of reactive oxygen species generation and reduced intracellular glutathione levels. (36)
• Insecticidal / Seeds: Study evaluated the insecticidal properties of an ether extract of Annona squamosa seeds. As a contact poison, the extract is toxic to Musca nebulo and Tribolium castaneum adults; DDT is 7 to 10 times more toxic, respectively. Extract also acts as a stomach poison against the larvae of Bonbyx mori, although ten times less than DDT. (37) Study evaluated seed extracts against various strains of red flour beetle, Tribolium castaneum. A petroleum spirit extract showed highest toxicity (LD50=15.697 µg cm2) in CTC 12 strain. (50)
• Toxicity Studies / Roots: The ethanolic extract of roots showed toxicity in acute toxicity studies while the aqueous extract was found to be non-toxic in oral acute and subacute studies in rats. (39)
• Antidiabetic / Antihyperlipidemic / Fruit Peels: Study investigated the effect of various extracts of fruit peels of Annona squamosa on blood glucose and lipid profile in STZ-induced diabetic rats. Results showed significant reduction in blood glucose and a significant decrease in lipid profile. (40)
• Anti-Ulcer / Twigs: - Phytochemical investigation of twigs isolated twelve known compounds. Three of the compounds, (+)-O-methylarmepavine (2), N- methylcorydaldine (3), isocorydine (6), showed promising anti-secretory activity, comparable to standard drug omeprazole. An ethanol extract and its chloroform and hexane fractions exhibited gastroprotection via inhibition of H+K+-ATPase (proton pump) activity and simultaneously strengthening mucosal defense mechanisms. (41)
• Antifungal / Antioxidant / Leaves: Study evaluated the antifungal and antioxidant activities of various extracts of A. squamosa leaves. All extracts exhibited radical scavenging activity and reducing power property in a concentration dependent manner, with the methanol extract showing higher antioxidant activity. Both organic and aqueous extracts showed dose dependent antifungal activity against all tested strains. (44)
• Neuroprotective / Nootropic / Antiepileptic / Anonaine: Study evaluated the neuroprotective property of Annona squamosa and its active alkaloid content (-) Anonaine as an antiepileptic agent by acting on GABA receptor. Results showed memory boosting and memory regaining effects in radial arm and y-maze model. There were also significant improvement in epileptic rat's behavior and decreased GABA receptors. (45)
• Oral Toxicity Study / Leaves: Study evaluated aqueous-ethanol (AE), dichloromethane (DM), and petroleum ether (PE) fractions for oral acute toxicity using albino mice. The LD50s were >1000 mg/kbw DM, >1500 mg/kbw AE, and >3000 mg/kbw for PE fraction, suggesting the DM and AE are harmful if swallowed while the PE may be harmful. (46)
• Wound Healing: Study evaluated the effects of A. squamosa on the formation of glycosaminoglycans and collagen during wound healing in normal and diabetic rats. Results showed wound healing efficacy in human dermal fibroblast through promotion of active synthesis of GAGs and collagen maturation during wound healing. (47) Study of a methanolic leaf extract using albino mice showed very good wound healing property. (49)
• Antiulcer / Seeds: Study evaluated extracts of seeds of Annona squamosa in a pyloric ligation rat model. Results showed significant inhibition of gastric lesions. The alcoholic extract extract significantly (p<0.001) decreases the volume of gastric acid secretion, pH, free acidity, total acidity and ulcer index.   (51)
• Antidiabetic Effect: Study investigated the possible therapeutic effects of A. squamosa extract on certain biochemical markers in STZ-induced diabetic rats. Oral administration of aqueous extract to diabetic rats for 30 days significantly reduced blood glucose, urea, uric acid, and creatinine. with increased activities of insulin, C-peptide, albumin, albumin/globulin ratio and restored all marker enzymes to near control levels. (53) Study evaluated the antidiabetic activity of hydroalcoholic extract of A. squamosa leaves in experimentally induced diabetic rat model. Result showed antidiabetic activity comparable to Glibenclamide. (56)
• Antipsoriatic Activity / Leaves: Study evaluated the suppressive effect of various Thai plants with anti-psoriatic activity on the expression of the helix-loop-helix transcription factor Id1 (inhibitor of differentiation or inhibitor of DNA binding), which is a known biomarker for psoriasis. Western blot analysis confirmed the Id1 protein was significantly attenuated after treating FaCaT cells with all tested concentrations of A. squamosa leaves (p<0.05). (55)
• Anti-Ulcerative Colitis Effect / Leaves: Study evaluated the anti-inflammatory effects of A. squamosa leaf aqueous extract against acetic acid induced colitis in Sprague-Dawley rats. Results showed extract treatment counteracted acetic acid induced ulcerative colitis by a significant (p<0.05) decrease of colonic tissue malondialdehyde (MDA) and significant increases of catalase (CAT), glutathione (GSH) and glutathione peroxidase (Gpx). The leaf extract showed potential anti-ulcer activity for alleviating colitis. (57)
• Anti-Inflammatory / Roots: Study evaluated the anti-inflammatory effects of alcoholic and aqueous extracts of roots of A. squamosa in a carrageenan-induced rat paw edema model. An alcoholic extract at 200 mg and 400 mg/kbw showed better inhibition (p<0.01). (58)
• Insecticidal: Study investigated the insecticidal activity of ethanolic extract of Annona squamosa. The extract produced significant "knockdown" (KD50) in concentration of 1% w/v and 5% w/v with 100% mortality at 39.6 ± 1.4 and 14.5 ± 1.1, respectively. The ethanolic extract showed potent activity against Sitophilus oryzae pest. (60)
• Nanoparticles / Effect on Liver (HepG2) Cancer Cell Line / Leaves: Study reports on the rapid biosynthesis of iron oxide nanoparticle using A. squamosa leaf extract. The Annona squamosa iron oxide nanoparticle exhibited promising anticancer activity against human liver cancer cell line. (62)
• DPPH Radical Scavenging Activity / Leaves: Study evaluated various extracts of Annona squamosa leaves for in vitro DPPH free radical scavenging activity. Of all the extracts, the ethyl acetate extract showed significant antioxidant action. (63)
• Anti-Lice Component / Seed: In Thailand, a petroleum ether extract cream formulation is reported to kill 93% of head lice within 3 hours. This study focused on the identification of the active compound from a hexane extract of seeds of custard apple. A triglyceride with one oleate ester was the active compound against human head lice. Results suggest it can be used as a marker for quality control and standardization of custard apple seeds, extracts, and anti-head lice preparations. (64)
• Anti-Hepatoma / Essential Oil / Pericarp: Annona squamosa fruit pericarps are discarded as waste. Study evaluated the essential oil extracted from A. squamosa pericarps for anti-hepatoma activities. The APEO demonstrated anti-hepatoma activities against SMMC-7721 hepatoma cell line with IC50 lower than 55 µg/mL. Pro-apoptotic and cell cycle arrest effects were confirmed by flow cytometry analysis. (see constituents above) (65)
• Pediculicide / Seed Oil: Study evaluated the pediculicidal activity of Annona squamosa seed oil extract in emulsion. Results showed pediculicidal effect. The 100% concentration produced the highest number of lice killed at one-hour time interval. (67)
• Diethanolamide / Seed Oil: Diethanolamides are nonionic emulsifiers widely used in industries as cosmetics and detergent industries. The diethanolamides prepared from apple seed oil were found to be non-irritating to the skin and can be used in various detergent preparations. (68)
• Larvicidal Effect / Cx. quinquefasciatus: Study evaluated the larvicidal activity of A. squamosa plant over the mosquito, Cx. quinquefasciatus. Results showed concentration dependent larvicidal activity, with 100% mortality recorded with 10 mg/ml concentration. Results suggest a potential, eco-friendly, biodegradable and economic larvicide in integrated mosquito control program. (69)
• Alkaloids / Anti-Infective / Anticancer Effect: Studies have isolated more than 83 alkaloids from this genus, and an isoquinoline backbone is a major structural alkaloid moiety of the Annona genus. Isolated alkaloids including liriodenine, anonaine, asimilobine showed sensitivity against Staphylococcus epidermis. Other alkaloids such as (+)-xylopine and isocoreximine showed significant anticancer activity against A549 and K-562 cell lines, respectively. Review reports o the rich structural diversity and pharmacological activities of Annona genus. (71)
• Antidiabetic / Acute Toxicity Study / Leaves: Study evaluated the anti-diabetic and acute toxicity of A. squamosa ethanolic extract of leaves in alloxan-induced diabetic albino rats and mice. On acute toxicity testing, no toxicity was observed at 800 and 1600 mg/kg doses. At 5000 mg/kbw dose, 100% fatality was observed within 24 hours. Using doses of 100, 200, and 400 mg, leaves extract showed significant anti-diabetic activity. (72)
• Flavonoid / Xanthine Oxidase Inhibitor / Potential Gout Treatment / Fruit: Study isolated flavonoid compounds from ethanol extracts of sugar apple and tested it for activity as xanthine oxidase inhibitor relative to allopurinol. From 275 grams of fruit, study isolated 6 grams of flavonoid with 95.26% purity with xanthine oxidase inhibitory activity of 83% compared to allopurinol with 48% at the same concentration of 100 ppm. Results suggest promising anti-gout treatment for the isolated flavonoid. (73)
• Chemopreventive / DMBA- Induced Papillomagenesis / Leaves: Study evaluated the effect of A. squamosa leaves extract against DMBA (7,12-dimethylbenz(a)anthracene-induced papillomagenesis in Swiss albino mice. Results showed dose-dependent protection of microsomal aberrations and micronucleus formations in bone marrow of Swiss albino mice. The anticarcinogenic activity was also observed in Melanoma tumor model. Antibacterial and antimutagenic activities were also observed. (74)
• Anthelmintic Study / Leaf Juice: Randomized, controlled study evaluated the effectiveness of atis (Annona squamosa) leaf juice as anthelmintic against Ascaris lumbricoides on 80 children. The ova count constantly decreased until the third day post treatment. However, after the third day three dosages of leaf juice administered in adjunct to Mebendazole showed no increase in anthelmintic activity. (75) Study evaluated the anthelmintic effect of A. squamosa leaf juice against Ascaris lumbricoides on 68 children aged 4-9 years old with initial ova count of 150 and above. In this study, the leaf juice did not exhibited anthelmintic activity against A. lumbricoides ova at one-week post treatment. Researchers suggest isolation of the active compound using different solvents like methanol and ethyl acetate, and that dosage be administered in varying amounts for several days. (86)
• Anti-Scabies / A. squamosa with Permetrin: Study showed A. squamosa leaf essential oil based ointment in combination with permetrin 5% could increase scabies treatment effectiveness. (76)
• Cytotoxicity / Bacterial Membrane Destabilization / Leaves: Study investigated methanol extract of leaves for cytotoxicity against tumor cell lines and several bacterial strains. Results showed significant antibacterial activity against S. aureus, K. pneumoniae, and E. faecalis with MICs of 78. 78, and 39 µg/mL, respectively. The leaf extract also showed significant biofilm disruption, rapid time dependent kinetics of bacterial killing, increased membrane permeability and significant reduction of cell numbers and viability. In cytotoxicity study against tumor cell lines, results showed more activity against Jurkat and HL-60. Analysis identified alkaloids anonaine, asimilobine, corypalmine, liriodenine, nornuciferine and reticuline. Results suggest the antimicrobial mechanism may be related to bacterial membrane destabilization. (77)
• Nutritious Flour from Residue Custard Apple: Study reports on the production of custard apple bagasse flour and incorporation into cookie and evaluated the acceptability of formulations in various proportions (5-50%). Results showed the processed flour presents values and specifications suitable for food formulations. Mineral composition (Cu, Fe, Mn, Zn, Ca, and Mg) responds to more than 20% of daily intake of nutrients. Cookies from the CAB flour showed high acceptability and suggested potential for nutritional incorporation in food formulations. (78)
• Acaricidal / Leaves: Study evaluated the acaricidal activities of crude ethanolic extract of leaves against flat larvae and engorged female adults Hyalomma anatolicum using larval (LIT) and adult (AIT) immersion tests. Results showed the ethanolic extract of A. squamosa to be a promising botanical and growth inhibitor against H. anatolicum. (79)
• New Benzyl Isoquinoline Alkaloid / Anticancer: Study isolated two benzylisoquinoline alkaloids. 6, 7-dimethoxy-1-(α-hydroxy-4-methoxybenzyl)-2-methyl-1, 2, 3, 4-tetrahydroisoquinoline (isolated for the first time from natural sources) and coclaurine. The isolated alkaloids showed excellent activity against colon cancer cells (HCT-116) and human breast cancer cells (MCF-7). (80)
• Comparative Antifungal Activity / Seed: Comparative study evaluated the antifungal activity of ethanolic extracts of seeds and leaves of A. squamosa against fungi Rhizopus nigricans, Aspergillus niger, Culvularia lunata and Cladosporium cladosporioides. The ethanolic seed extract exhibited maximum inhibition against all the tested fungi. (81)
• Hepatoprotective / Paracetamol Toxicity / Leaves: Study evaluated the hepatoprotective of a leaf extract against paracetamol induced liver toxicity in rats. Results showed hepatoprotective activity as evidenced by reversal of biochemical parameters along with histopathological confirmation. (82)
• Wound Healing / Antioxidants / STZ-Induced Diabetes: Study evaluated the efficacy of Annona squamosa on levels of antioxidants during wound repair in STZ-induced diabetic rats. Results showed A. squamosa promotes levels of enzymatic and non-enzymatic antioxidants in wound tissues for better wound repair in normal and diabetic rats. Enzymatic antioxidants (catalase, superoxide dismutase, glutathione peroxidase, and glutathione-S-transferase) and non-enzymatic antioxidants (ascorbic acid, vitamin E, and reduced glutathione) were significantly increased (p<0.05). (83)
• Prevention of Foodborne Bacterial Disease / Leaves: Study evaluated A. squamosa leaves extract for potential use in modern food safety or medicine. MICs were 62.5 to 125 µg/mL against Bacillus cereus, Listeria monocytogenes and Staphylococcus aureus and 250 µg/mL against Campylobacter jejuni. LC-MS analysis yielded reticuline and oxophoebine. Assessment of stability by MIC showed activity was heat-labile. Results suggest A. squamosa has broad spectrum but heat-labile activity against foodborne bacterial pathogens, and bactericidal activity against B. cereus and C. jejuni. While the bactericidal activity is not sufficiently rapid for use as food sanitizer, there is potential for the extract to be developed as an additive for refrigerated foods or as modern treatment for foodborne illness. (84)
• Cytotoxic Bistetrahydrofuran Acetogenins / Seeds: Study of EtOH extract of seeds isolated three new bistetrahydrofuran annonaceous acetogenins (1-3) along with four known annonaceious acetogenins, uvarigrandin A (4), bullatacin (5), squamostatin-A (6) and squamostatin-D (7). All the compounds showed significant cytotoxic activity in vitro against five human tumor cell lines. (85)
• Anti-Inflammatory / Polyherbal Formulation / Leaves: Study evaluated the anti-inflammatory activity of polyherbal formulation of leaves of Annona squamosa and Azadiracta indica. The polyherbal formulation showed significant anti-inflammatory activity against carrageenan induced paw edema model, reducing inflammation by 53.0% and 47.0% on oral administration at 100 mg/kg and 200 mg/kg respectively. (87)

Availability
Wild-crafted.
Small or large scale cultivation for fruit commerce.