Gen info
• The genus Ipomoea includes about 600 species distributed worldwide.
• Morning glory is a common name shared by hundreds of species of flowering plants in the Convolvulaceae family: Argyreia nervosa (woolly morning glory), Ipomoea pes-caprae (beach morning glory), Ipomoea purpurea (common morning glory) to name a few.
• Adding to the confusion of common names is the attribution of hallucinogenic and psychedelic properties to Morning Glory. Conflicting results confirm and contradict the presence of LSD in morning glory seed. Studies have found LSA (lysergic acid amide), a relative and precursor to LSD in the seeds of Argyreia nervosa. Some authorities report Ipomoea purpurea seeds lack psychedelic properties; some studies say otherwise.
• Etymology: Ipomoea comes from the Greek word ips meaning "worm" and homois meaning "similar to." Purpurea means purple.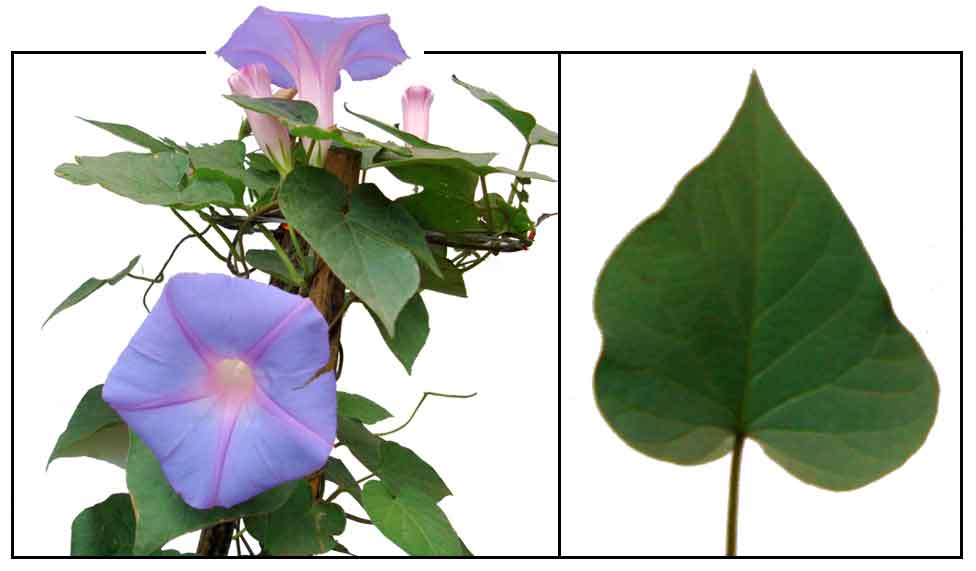 Botany
Ipomoea purpurea is a slender, twining vine with cordate-ovate, green leaves. Flowers are bell-shaped up to 5 centimeters across, in various colors – deep purple, blue, pink, carmine or white. New flowers bloom daily and the flowers last for a single morning and dies in the afternoon; on a cloudy day, lasting until night.
Distribution
- Widely distributed in the Philippines.
Constituents
• Seeds reported to contain small quantities of the hallucinogen LSD. (1)
• A glycoresin, ipopurpuroside, has been isolated, consisting of glucose, rhamnose and 6-deoxy-D-glucose glycosidically linked to ricinoleic acid. Other studies have isolated glycoresins marubajalapins I-XV from the jalapin fraction of aerial parts (leaves and stems). Flowers have yielded cyanidins and pelargonidins. (5)
• Mineral composition analysis (g kg DM) yielded 2.69 ± 0.0300, Ca 9.08 ± 0.0112, K 9.39 ± 0.0001, Mg 0.63 ± 0.0007, Cu 14.2 ± 0.0004, Fe 0.29 ± 0.0018, Zn 2.99 ± 0.0026, P 0.75 ± 0.0009. Protein content (% DM) 20.12 ± 0.200, total phenolic content (mg of GAE/g of extract) 24.02 ± 0.24. (9)
Properties
• Considered anthelmintic, diuretic, laxative, hallucinogenic.
• Seeds considered psychoactive.
Parts utilized
Leaves, seeds.

Uses
Folkloric
• No reported folkloric use in the Philippines.
• Elsewhere, seeds used in the treatment of edema, oliguria, ascariasis and constipation.
• Seed used in the treatment of various mental disorders.
• In China, seeds used for its laxative effect.
Others
• Tribal Rituals: Seeds reportedly used in African-Brazilian tribal rituals

Studies
• Acylated Pelargonidin Glycosides / Pigments: Study isolated four acylated pelargonidin glycosides from the red-purple flowers of Ipomoea purpurea. There were analogous pigments of the violet-blue Ipomoea anthocyanins composed of acylated cyanidin glycosides, instead of pelargonidin. (3)
• Case Reports Recreational Use Effects / D-Lysergamide / Seeds: Study reports four case reports by different authors of effects induced by seeds of Ipomoea purpurea. The effects were dose related, ranging from 2 to 25 g. Effects ranged from varying emotional states, visual distortions and hallucinations, and gastrointestinal side effects. (6)
• Ipopurpuroside / Glycoside: Study isolated a new glycoside, ipopurpuroside from I. purpurea. The glycoside consists of glucose, rhamnose, and 6-deoxy-D-glucose. (8)
Availability
Wild-crafted.
Seeds from the cybermarket.