Botany
Azolla pinnata is an aquatic, free-floating, and clump-forming macrophyte, with short branches and slender roots. Leaves are 2-lobed and in two rows; one of the lobes afloat, about 1.5 millimeters, the other submerged and larger. Leaves are 1 to 2 millimeters long, green, blue-green to dark-red in color, coated by tiny hairs that imparts a velvety appearance and provides water-repellency which help keep the plant afloat.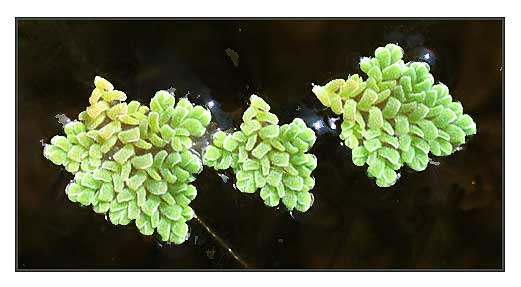 Distribution
- Found throughout the Philippines.
- In stagnant waters like pools and ponds.
- Native to much of Africa and Asia from China to Japan, India, Brunei.
- Widely distributed in southeast Asia, throughout the Pacific including Australia and New Zealand.

Constituents
- Study of sun-dried Azolla pinnata for nutritive value as feed yielded dry matter (DM) of 89.73%, organic matter 75.73%, crude protein 23.49%, crude fiber 14.7%, ether extract 3.7%, total ash 24.26%, acid insoluble ash 7.94%, calcium 2.58%, and phosphorus 0.26%. (see study below) (5)
- Study of total phenolic content was 95.25 µg GAE/mg extract while total flavonoid content was 41.13 µg CE/mg extract. (see study below) (6)
- Phytochemical evaluation of various extracts yielded phenols, flavonoids, saponins, tannins, carboxylic acids, carbohydrates. Aqueous extracts demonstrated higher phytoconstituents, followed by acetone, benzene, chloroform and ethanol. (11)
Properties
- Studies have shown biosorbent, phytoremediative, antioxidant, antibacterial activities.

Uses
Edibility
- In the Philippines, reported use by farmers as ingredient to salads, pinangat, mungo and omelet dishes. (15)
Folkloric
- No reported folkloric medicinal use in the Philippines.
Others
- Fodder / Feedstuff: Studies have shown enormous potential as livestock feed. In Asia and parts of Africa, used to feed pigs, ducks, chickens, cattle, fish, sheep, goats and rabbits. (8) Study showed Azolla meal has potential as feedstuff for chicks, with chick diets formulated with inclusion of AZM up to 10%. (14) Deficiencies in methionine, histidine and fiber make A. pinnata unfit as sole feed for animals; however, amino acid composition compares well with reference protein sources, with lysine content more that twice that of maize. (15)
Studies
• Adsorbent / Methyl Violet: Study evaluated the potential of Azolla pinnata as adsorbent for methyl violet. Results suggest that asola has great potential as a low-cost adsorbent for the removal of methyl violet in real life application. (3)
• Removal of Lead and Zinc from Polluted Water: Study evaluated the uptake of lead and zinc by Azolla pinnata (water velvet) in solutions enriched with 1.0, 2.0, 4.0, and 8.0 mg/l of the two metal ions. Uptake of both metal ions was highest at initial concentration of 1.0 mg/l. The effect of metal ions on biomass growth was also studies. (4)
• Rhizofiltration of Pb: Study showed the potential of Azolla pinnata to remove Pb(II) from aqueous environment through rhizofiltration, one of the phytoremediation strategies. Results showed A. pinnata is a suitable candidate for removal of Pb from polluted waterways. (7)
• Potent Feed Source for Livestock: Chemical analysis showed sun dried azolla is rich in crude protein content and has a potential as natural protein source for livestock feed. (see constituents above) (5) Enormous potential as livestock feed due to its high nutritive value (high proteins, essential amino acids, vitamins, minerals, growth promoter intermediaries), its ability to proliferate without inorganic nitrogen fertilization, and its high rate of growth in water without displacing existing crops or natural ecological systems. (8)
• Comparative Antioxidant Activity: Study evaluated the antioxidant potential of two Azolla species: A. pinnata and A. rubra by DPPH free radical scavenging assay and Ferric reducing assay. Azolla pinnata extract exhibited marked radical scavenging and reducing potential compared to A. rubra. Higher antioxidant efficacy was attributed to the higher content of total phenolics and flavonoids. Ascorbic acid was used as standard. (see constituents above) (6)
• Anticaries Activity: Study investigated the anticaries activity of two Azolla species viz., A. pinnata and A. rubra. Inhibitory activity of methanolic extract was tested against six oral isolates of Streptococcus mutans. While the isolates were susceptible to both extracts, A. pinnata displayed higher inhibitory effect as evidenced by wider inhibition zones and low MIC values. Results suggest potential use in the treatment of dental caries. (9)
• Alternate Protein Supplement to Ruminants: Study showed Azolla to be a good source of protein supplement with 21.37% crude protein with highest B protein fractions, moderate source of energy (1759 kcal ME/kg), high dry matter and organic matter digestibilities, and rich in trace minerals. (10)
• Fertilizer Alternative and Additive: Nitrogen fertilizer recovery by lowland rice can be as low as 10% and rarely exceeds 60%. Azolla contributes to the nitrogen (N) nutrition of rice plant through biological N fixation. Study assessed the influence of A. pinnata on floodwater chemistry, rice yield, total dry matter and N uptake of rice. Results conclude Azolla brought an additive effect and has potential as efficient fertilizer alternative or supplement in rice cropping system in Dano. (13)
Availability
Wild-crafted.