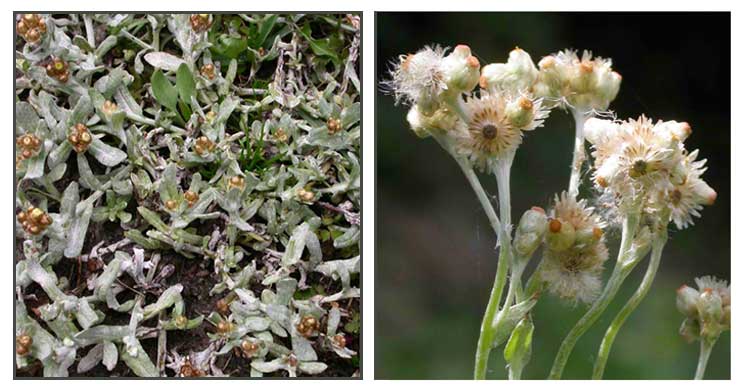 Botany
Badok is a woolly, extremely variable annual herb, 10 to 40 centimeters in height. Leaves are woolly on both surfaces, linear-spatulate or oblong-spatulate, 2.5 to 5 centimeters long, 0.4 to 1 centimeter wide, and blunt-tipped. Inflorescences are terminal, bearing crowded clusters of glistening, yellow heads. Involucral bracts are oblong. Achenes are ribbed or tubercled and have minute curved bristles.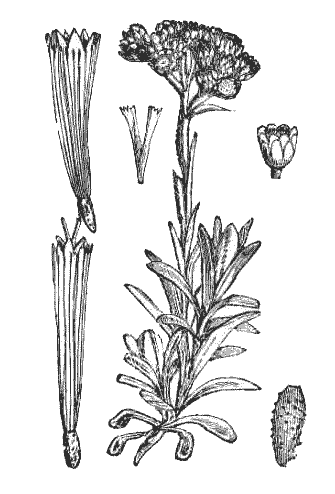 Distribution
- In open places, chiefly at medium altitudes, ascending to 2,400 meters.
- In Ifugao, Lepanto, Bontoc, Benguet Subprovinces; in Cagayan, Pangasinan and the Camarines Provinces in Luzon.
- Native of Europe and Asia.
- Occurs in India to China, Japan and Taiwan, and southward to Borneo and Australia.
Properties
- Leaves considered astringent, cholagogue, diuretic, febrifuge, hemostatic and vulnerary.

Constituents
- Study has yielded protective flavonoids, calycopterin and 3'-methoxycalycopterin from the leaf wax.
- Crude extracts yielded 5,4′-dihydroxy-6-methoxy-7-O-β-glucopyranosideflavone (hispidulin-7-O-glucopyranoside) (1) and stigmasterol-3-O-β-glucopyranoside (2). (See study below) (6)
- Phytochemical screening of the plant revealed alkaloids, carbohydrates, phenols, saponins, flavonoids, tannins, glucoside resins, phytosterins, terpenoids and fixed oils. (9)

Parts used
Leaves.

Uses
Edibility
- Leaves, raw or cooked. (10)
Folkloric
- In the Punjab, leaves are used as vulnerary and astringent.
- In Pakistan, used as anti-diarrheal.
- Infusion of aerial parts used as emmenagogue.
- Used as a counter-irritant for gout.
- In Bangladesh, plant is used by the Garo tribe, crushed along with dried fish and applied as a poultice to heal fractured bones. Also, used by the Kavirajes of Chalna as tonic, and for tumor, gout, and dermatitis. (3)
- In Nigerian folk medicine used as antiabortive, cyanogenetic, demulcent, diuretic, emollient, intoxicant, blood tonic. Also used for treatment of cancer, epilepsy, flux, stomach ache, and malaria.
Others
- Leaves used as tinder. (10)
- Leaves used as fodder. (12)
- Ethnoveterinary: In Angola, leaves used in contagious pleuropneumonia in cattle and goats. (12)
Studies
• Flavonoids / Antiseptic: Study of aerial parts yielded flavonoid compounds 5, 7, 3, 4 tetrahydroxy flavone; 5, 3, 4 trihydroxy flavonol and 3, 5 dihydroxy flavonol. Flavonoids were investigated as antiseptic against 4 bacterial and 2 pathogenic fungal strains. (4)
• Antifungal: Study of acetone crude extract of leaves showed strong antifungal activity when tested against pathogenic plant fungi in vitro. No cytotoxicity of isolated compounds against Vero kidney cells was observed. (see constituents above) (6)
• Cytotoxicity / Leaves: Study evaluated the cytotoxic activity of crude methanol extract of leaves against healthy mouse fibroblasts (NIH3T3), healthy monkey kidney (VERO), and four human cancer cell lines (gastric, AGS, colon, HT-29, and breast MCF-7 and MDAMB-231) using MTT assay. Results showed high cytotoxicity against AGS and MCF cell lines with IC50 0.98 and 0.34 mg/ml respectively. (9)


Availability
Wild-crafted.