Botany
Bagasua is a wide-spreading, creeping or twining, smooth vine. Leaves are alternate, orbicular to elliptic, thick, shining, 6 to 14 centimeters long, with a notched or lobed tip and broad base. Flowers are campanulate, light purple, borne on pedicels in the axils of leaves, usually as long as the stalks. Stalk is erect and bears one to six flowers, which often opens one at a time. Sepals are green, elliptic, and 8 millimeters long. Corolla is purple, bell-shaped, and 5 centimeters long, with the limb 5 to 6 centimeters in diameter and slightly lobed. Capsules are smooth, ovoid, about 1 centimeter long. Seeds are covered with hairs.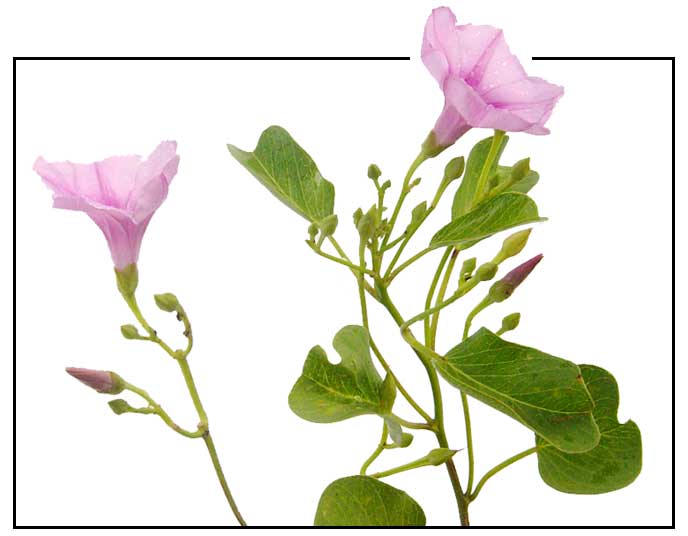 Distribution
- Found on all sandy seashores throughout the Philippines and also along the margins of some lakes.
- Most useful as a sand blinder.
- A pantropic strand plant.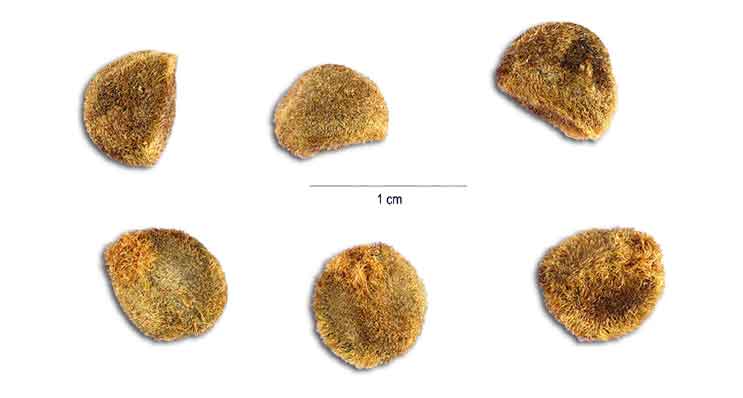 Constituents
- Plant contains a resin and an alkaloid.
- Leaves do not contain alkaloid, saponins, or glucoside.
- Yields mucilage, volatile oil, complex resin, fat, phytosterol, bitter substances, and red coloring matter.
- Phytochemical study suggest the presence of steroids, terpenoids, alkaloids and flavonoids.
Properties
- Tubers considered diuretic.
- Seeds are stomachic.
Parts utilized
Leaves

Uses
Folkloric
- Leaves used as an escharotic to extirpate the fungoid growth of ulcers.
- Leaves are cooked and used as a antirheumatic topical.
- Boiled tubers, as diuretic, used for disease of the bladder.
- Seeds used for stomach pains and cramps.
- In India, leaves are boiled and applied externally as an anodyne for colic; as decoction for rheumatism.
- Paste of leaves applied to carbuncles.
- In Brazil, used for inflammation and gastrointestinal disorders as an analgesic.
- In Australia, traditionally used for headache treatments.
Studies
• Antinociceptive / Phytochemicals: Study of the methanolic extract of Ipomoea pes-caprae exhibited considerable antinociceptive activity against classical models of pain in mice and supports the traditional use of the plant for painful conditions. Phytochemicals yielded the presence of steroids, terpenoids, alkaloids and flavonoids. (1)
• Antioxidant: Ipomoea pes-caprae was one of the selected mangrove plants in India studied for polyphenol antioxidants. (3)
• Anti-platelet aggregation: In a study looking for potent inhibition of ADP-induced human platelet 5-HT release in vitro. (4)
• Anti-Inflammatory: Topical application of an extract from the leaves of Ipomoea pes-caprae inhibited carrageenan-induced paw edema. In vitro prostaglandin formation was inhibited in a concentration-dependent manner. Study showed significant anti-inflammatory activity probably through reduction of prostaglandin and leukotrine formation. (5)
• Immunostimulatory: In vivo study evaluated the methanol extracts of three Brazilian medicinal plants on human mononuclear cells. All three induced T-lymphocyte proliferation. I. pes-caprae showed immunostimulatory activity three times higher than C. brasiliense. (7)
• Antioxidant / Radical Scavenging Effect: Study evaluating the in vitro antioxidant activity of Ipomoea pes-caprae showed a free radical scavenging effects that increased with concentration. Maximum antioxidant activity was noted at 1000 mg mL. (8)
• Antinociceptive / Antimicrobial / Flower Parts: Study describes the antimicrobial, hemolytic, analgesic, and anti-inflammatory effects of the methanolic extract of flower parts. The extract exhibited significant antinociceptive activity against two classical models of pain in mice. The extract also showed significant antimicrobial activity against human bacterial and fungal pathogens. (9)
• Hemolytic Activity: Crude methanolic extracts of Ipomoea pes-caprae was assayed on human, chicken and goat blood. Results showed pronounced hemolytic activity on chicken and goat erythrocytes, 156 HU and312 HU, respectively. (9)
• Anti-Inflammatory / Aerial Parts: Study of ethanolic extract of aerial parts exhibited significant anti-inflammatory activity in a dose-dependent manner. Stems and leaves yielded alkaloids, carbohydrates, glycosides, flavonoids, tannins, sterols and terpenoids. (10)
• Anti-Tumor / Melanoma Cancer: Study of evaluated the in vivo antitumor potential of Ipomoea pes-caprae on melanoma cancer. Results showed significant (p<0.01) anti-tumor effect with concentration dependent tumor volume inhibition. (12)
• Hepatoprotective / Leaves: Study evaluated the hepatoprotective effect of I. pes-caprae leaves extract in streptozotocin-induced diabetic rats. The extract showed hepatoprotective effect evidenced by significantly marked restoration of the increased ALT, AST and ALP in the STZ-induced diabetic rats.   (13)
• Comparative Cytoxicity and Antioxidant Activities: Study compared the phytochemicals, cytotoxicity and antioxidant activity of two plants: Ipomoea pes-caprae and Merremia umbellata. Tannins were present in all samples of I. pes-caprae while only detected in polar extract of M. umbellata. I. pes-caprae also showed better cytotoxic activity and marginally better antioxidant properties in comparison to M. umbellata. (14)
• Bioaccumulation of Metals and Metalloids: In a study of soil samples from tsunami-impacted regions in Thailand evaluated for Pb, Zn, As, Se, Cr, and Ni, the flowers, followed by leaves and stems, showed the highest amounts of these metals. The presence of these toxic metals in I. pes-caprae growing in contaminated soils should be a concern for tose who use the plant for medicinal purposes. (15)
• Proliferative Activity / T-Lymphocyte Stimulation: Study evaluated various plant extracts for immunomodulatory activity using in vitro cellular proliferation assay. C. brasiliense, I. pes-caprae, and M. elaeagnoides extracts showed dose-dependent induction of cell proliferation, with significant increase in cell proliferation (p<0.03) and percentage growth of 88.2%, 73.1%, and 52.7%, respectively, suggesting T-lymphocyte stimulation. (16)
• Immunostimulatory Activity: Study evaluated the effect of methanol extracts of three Brazilian medicinal plants on in vitro proliferation of human mononuclear cells. All three plants induced T-lymphocyte proliferation. I. pes-caprae showed immunostimulatory activity three times higher than C. brasiliense and 1.5 times higher than M. elaeagnoides extract. (17)
• Bioaccumulator / Bioindicators of Heavy Metal Contamination: Study evaluated the bioconcentration factor (BCF) and extent of heavy metal accumulation and potential toxicity in roots, stems, and leaves of C. benghalensis and I. pes-caprae. Results showed relatively high concentrations of Zn, Pb, Cu and Cd in the roots, stems, and leaves of I. pes caprae and C. benghalensis. Results suggest both plants can be classified as excellent bioindicators for Cu, Pb, and Cd. (18)
• Silver Nanoparticles / Leaves: Study reports the fast, eco-friendly and convenient method of green synthesis of silver nanoparticles from silver nitrate using leaf extract of I. pes-caprae. Results suggest a potential for use in the field of medicine and cosmetic industries. (19)
• Pentasaccharide Resin Glycosides / Cytotoxicity: Study of aerial parts of I. pes-caprae isolated pescapreins (XXI-XXX), pentasaccharide resin glycosides, together with known pescapreins I-IV and stoloniferin III. Compounds 1-10 were evaluated for potential to modulate multidrug resistance in human breast cancer cell line MCF-7/ADR. The combined use of the neew compounds at 5 µg/mL increased the cytotoxicity of doxorubicin by 1.5-3.7-fold. (20)
• α-Glucosidase Inhibitory Activity: Study evaluated the α-glucosidase inhibitory effect of n-hexane extracts of various coastal plants to control postprandial hyperglycemia. Among the ten study plants, Citrillus colocynthis, Aegle marmelos and Ipomoea pes-caprae exhibited potent α-glucosidase inhibitory activity, 85.9 ±0.10, 72.23 ± 0.30 and 67.9 ± 0.11 respectively. Results suggest potential alpha-glucosidase inhibitors that can be exploited for the treatment of diabetes. (21)
• Larvicidal / Aedes aegypti: Study evaluated the larvicidal activity of extracts of whole parts (roots, stems, leaves, flowers, and seeds) of Ipomoea pes-caprae on Aedes aegypti larvae. The methanol extract of I. pes-caprae leaf showed very strong larvicide (LC50 12.60 ppm) activity on A. aegypti larvae. (22)
Availability
Cultivated.