Botany
Bagilumbang is an evergreen tree growing to a height of 10 to 15 meters or more, It does not have hairs, except for the inflorescences. Leaves are suborbicular to broadly ovate,10 to 20 centimeters long, entire, with a broadly cordate base. Flowers are 10 to 12 millimeters in diameter, the petals obovate, densely hairy without, borne on panicles about 15 centimeters long. Fruit is somewhat rounded and angled, 5 to 6 centimeters in diameter, opening later along the angles, usually 3-celled and each containing a single seed. Seed is somewhat circular, flattened, rather smooth, with numerous small ridges, with a hard brittle shell about 0.5 millimeter thick. Within the shell is a white, oily, fleshy kernel with a very think embryo surrounded by a large endosperm. Kernel is covered by a thin, white, paperlike seed coat.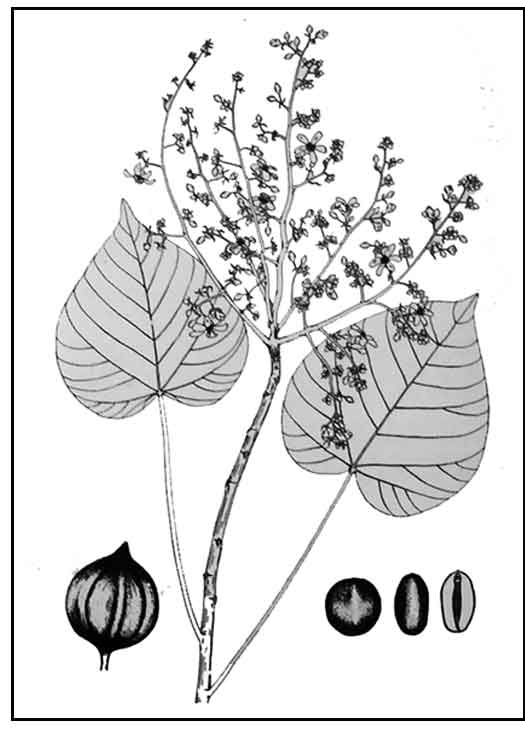 Distribution
- Widely scattered in forests at low and medium altitudes in La Union, Laguna, Cavite, Batangas, Quezon, Rizal, and Camarines Provinces in Luzon; in Negros; and in Mindanao.
- Sometimes, planted.
- In India, commercially cultivated for its tung oil.
- Planted in tropical and subtropical areas.
- In Taiwan, planted as a garden or shade tree.
- IUCN Red Listed: Vulnerable.
- Recalcitrant seed propagation with
Constituents
- The seeds, like other Aleurites species, yield a high percentage of oil.
- Constants are similar to tung oil.
- Kernel yields as high as 56 % of oil.
- In the genus Aleurites, plant is a significant source of conjugated fatty acid, eleostearic acid (38%).
Properties
- More suitable for varnish making than tung oil; although with very poor keeping qualities.
- Fruit reported to be poisonous. (see below)
- Seed is purgative.
- Fresh kernels have a nutty flavor but causes a burning sensation in the mouth, throat, esophagus and stomach. Even a small part of the nut can cause violent vomiting within half an hour, or a terrible diarrhea, a few hours after eating and lasting 12 to 24 hours.
- Studies have suggested radical scavenging, allergenic properties.

Parts used
Seed, bark sap.

Uses
Folkloric
- Seed is a strong purgative.
- Oil used for treatment of burns, scalds, wounds, and parasitic skin diseases
- Bark sap is used as a cure for scurf (dandruff); also used as hair tonic.
Others
- Oil: Seed yields a high-quality, quick-drying oil. It yields 56% bagilumbang oil used in the manufacture of paints, varnishes, soaps; used as fuel and a=for coating boats.(8) Oil used for illumination and as wood preservative. (13)
- Insecticide: Oil for the seeds is an effective insecticide.
- Soap: Oil from seed is a natural soap with weak cleaning function. (•) It was once made into a weak soap, popular with sailors as it lathered with sea water. (13)
- Fertilizer: Seed cake residue, after oil extraction, used as fertilizer. (8)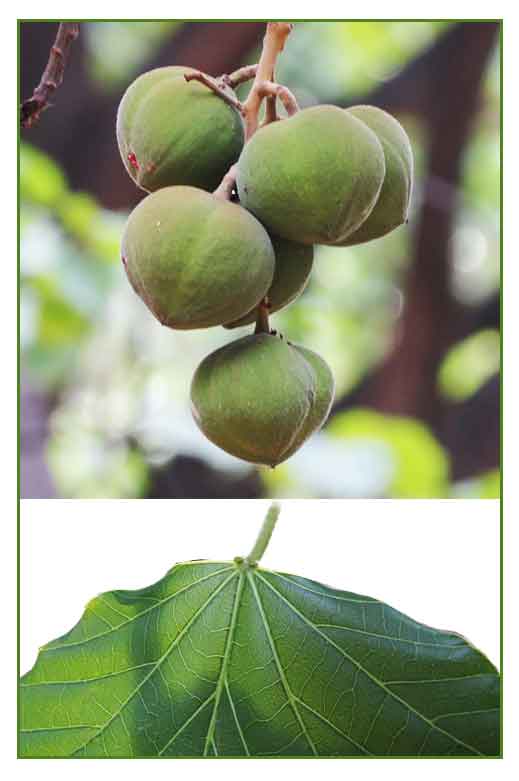 Studies
• Radical Scavenging: Study evaluated methanolic extracts of 35 plants for radical scavenging activity using DPPH and ABTS assays. Aleurites trisperma was one of four that showed very strong radical scavenging activity in both assays. (4)
• Oil Yield / Biodiesel Potential: Study evaluated the suitability of various non-edible oil seeds (jatropha, neem, moringa, trisperma, castor beans and candlenut) for integral utilization of fractions for production of biodiesel and other products. The highest oil content (62% w/w) was found in trisperma seeds. However, use of the oil for biodiesel production was restricted by its high content of polyunsaturated fatty acids. (5)
• Seeds / Allergenic Properties: Contact dermatitis has been reported from the foliage of all species of Aleurites. Ingestion can cause a whole range of gastrointestinal symptoms: burning in the throat and mouth, nausea, vomiting, cramps, diarrhea, dehydration. Ingestion of seeds has been reported to cause poisoning and death in livestock. (6)
• Potential of Seed as Source for Biodiesel Production: Study evaluated the potential of non-edible R. trisperma oil as a new carbon source for biodiesel synthesis. (10) Yields about 25-30 kg seeds per tree/year during July-August. Seeds yielded 38-40% oil, rich in nervonic acid. Seed is highly viscous with a high content of free fatty acids (7.14%). Biodiesel production has been carried out adopting a two-stage process, involving acid esterification and alkali catalyzed transesterification. Study has shown the oil to be a potential non-edible source for biodiesel production. (13)
• Optimization of Biodiesel Production from Reutealis trisperma Oil: R. trisperma oil is an attractive material for production of biodiesel. Study investigated the optimization of biodiesel production from R. trisperma oil using NaOH as catalyst. (11)
• Production of Protein and Oil-Rich Biomass: Study evaluated the use of Philippine tung (Reutealis trisperma) seed as substrate for the cultivation of black soldier fly larvae (Hermetia ilucens). The seed had relatively high oil (37.6-39.2% dw) and protein content (14.9-28.2% dw), feeding rate (50100 mg/larvae/d), dark light condition, and substrate depth of 4.10 cm. The prepupal biomass showed a relatively high amount of protein (45% dw) and oil content (26.6% dw) and was found suitable for cattle feed application. (14)

Toxicity / Concerns
• Fruit is poisonous.
• Fresh kernels have a pleasant nutty flavor, but cause a burning sensation in the mouth, throat, esophagus, and stomach. A part of one nut can cause violent vomiting within an hour or severe diarrhea, a few hours after ingesting and lasting 12 to 24 hours. (Minor Products of Philippine Forests / Brown. W. H. / Bureau of Forestry, Manila, 1920) (8)

Availability
- Wild-crafted.
- Cultivated in southeast Asia for its seed oil.