Botany
Baguio pine is a tall trees growing to 30 to 40 meters with a diameter of 140 centimeters. Bark is dark brown, irregularly flaking, deeply fissured. Wood with numerous resin canals. Branches are spreading, longest at the base and shorter upwards. Crown is narrow, with weakly developed lateral branches. Needles are in fascicles of three, sometimes two, with a persistent sheath, dark green, and up to 22 centimeters long. Cones are ovoid, up to centimeters cm long, 3-5 centimeters diameter, solitary or in pairs, brown in color.\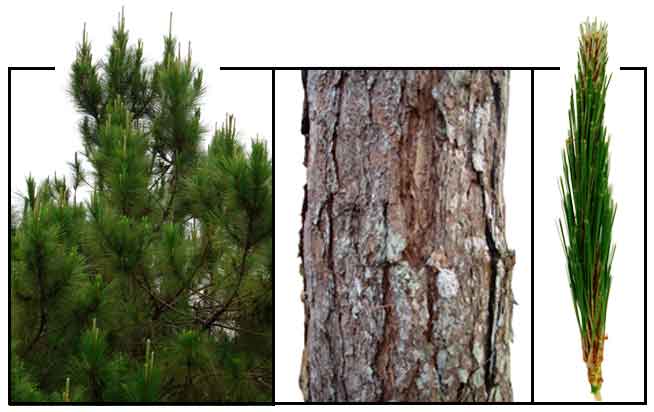 Distribution
- Found in the elevated areas of Baguio City and the mountain province. Its prevalence in Baguio has has earned the name "The City of Pines."
- Occasionally seen in the Metro Manila and other lowland areas, albeit, growing poorly.
- One of the most widely distributed pines in Asia.
- Also found in the Khasi Hill in India, Thailand, Burma, Cambodia, Laos, China, and Vietnam.
Parts used
Leaves, bark, latex.
Constituents
• Oil contains d-a-pinene (nitrosochloride, nitrobenzyl-amine) and B-pinene (m.0. of nopinic acid).
• Terpenes - abietic acid (abietane diterpenoid) - widespread in the Pinacea family. (2)
• Turpentine oil consists principally of pinene.
• Study on oleoresin yielded 21% of turpentine oil containing α-pinene (59.36%), β -pinene (31.20%) and longifolcne (0.78%). (3)
- GC/FID and GC/MSD study of essential oil of young twigs from three needle pines twigs growing in Vietnam yielded main components of α-pinene, ß-phellandrene, and trans-caryophyllene. (9)

Properties
• Monoterpene, alpha-pinene reported to have anti-acne, anti-pneumonic, expectorant, insecticide and tranquilizer properties.
• Turpentine produced from P. insularis has the appearance and consistency like that of crystallized honey and possess a pleasant odor.
• Wood is moderately hard, resembling yellow pine in the United States.
• Studies have suggested antimicrobial, antiapoptotic, antiproliferative properties.

Uses
Folkloric
- Limited folkloric medicinal use in the Philippines.
- In the Mountain Province, latex rubbed over arthritic pains.
- Historically, oil used to treat lung infections and added to baths to revitalize from mental or emotional fatigue.
Other
• Turpentine: A source of Philippine turpentine oil. Used in Spanish times as a commercial source of turpentine.
• Wood: The soft and light timber finds a wide range of applications: boxes, roundwood poles, construction timber, plywood, furniture, floorboards. (7) (see study below: 10)
• Paper: As pulpwood in the paper industry.
• Repellent: Native Americans used to stuff mattresses with pine needles to repel lice and fleas.

Studies
• Phytochemical: Phytochemical study yielded alpha-pinene, a monoterpene, with ant-bacterial, expectorant, insecticidal and tranquilizing properties.
• Synergism of Melphalan and Pinus kesiya Royle on Apoptosis Induction in Human Cancer Cells: Study evaluated the synergistic effects of the chemotherapeutic drug melphalan and phytoconstituents extracted from Pinus kesiya ex Gorddon in human cancer cells. Melphalan and P. kesiya extract had a similar effect on apoptosis induction both singly and in combination. P. Kesiya extract synergized the antiproliferation and apoptosis induction effects of melphalan. Combining P. kesiya extract with melphalan reduced toxicity while retaining the therapeutic efficacy of melphalan. (6)
• Wood Density: Wood density and mechanical properties increased from pith to bark and decreased from butt upwards. For uniformity of density and mechanical properties in processed lumber of P. kesiya in Malawi, logs of 6 m long or less much be used. (10)
• Comparative Antimicrobial Analysis / Sap and Root Canal Irrigating Solutions: Preserving permanent teeth is a dental concern and restoration and endodontic treatment are two of the methods used. Microbes are normal residents in the oral cavity and Streptococcus mutans is an endodontic pathogen with 40% incidence. This study compared the antimicrobial efficacy of pure pine sap with chlorhexidine and sodium hypochlorite in an MHA culture media with endodontic pathogens. While the control groups showed a wider diameter of zone of inhibition, in measures of length of time, P. kesiya showed longer effectivity/ (11)

Availability
- Wildcrafted.
- Pine needle essential oil in cybermarket.