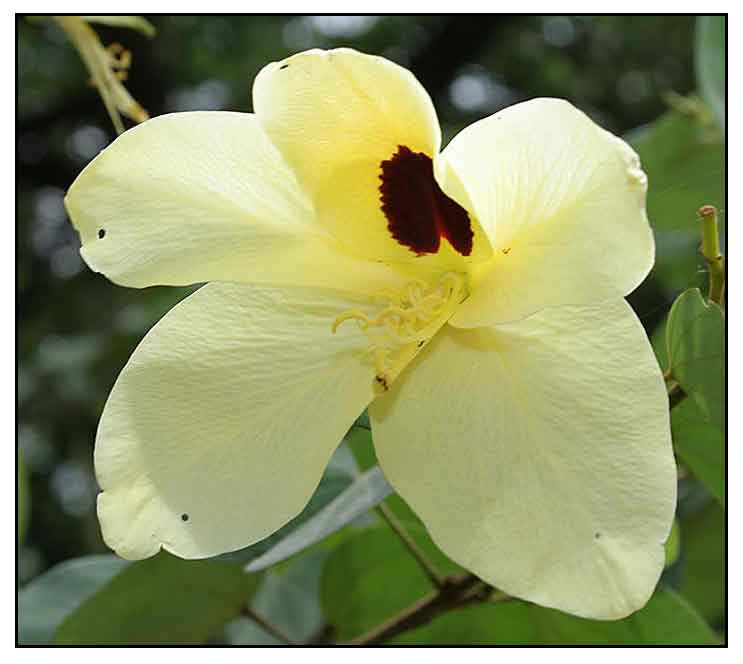 Botany
Baho-baho is an erect, branched shrub attaining a height of 2 to 4 meters. Branchlets, lower surfaces of the leaves and pods are somewhat hairy. Leaves are 4 to 7 centimeters long, about as wide, and split about one-third to the base into two, with oval, rounded lobes. Flowers are pale lemon-yellow, usually in pairs, on axillary peduncles. Pods are 9 to 11 centimeters long, about 1.5 centimeters wide, flattened and containing 6 to 10 small seeds.
Distribution
- Cultivated in Manila and other towns.
- A vigorous shrub used as border plants.
- Introduced from tropical Asia.
- Found in India, West Bengal, Sri Lanka and tropical Africa.
Constituents
- Flower contains flavonoids, isoquercitrin 6%, rutin 4.6%, and a small amount of quercetrin.
- Flower extract yielded lignins, saponins, sterols, alkaloids, and phenols. (see study below) (19)
- Seed yields a fatty oil, called ebony oil, protein, pentosan, water soluble mucilage and saponins.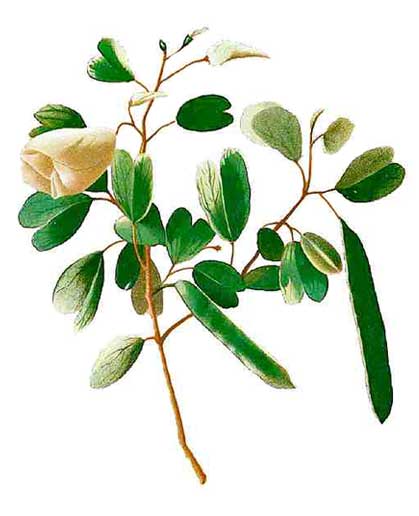 - Bark yields a fiber.
- Phytochemical screening of crude extract of flowers yielded carbohydrates, glycosides, alkaloids, phytosteroids, flavonoids, saponins, tannins, phenolic compounds, and fixed oils.
- Ethanol dried leaf extract yielded four flavonol glycosides: kaempferol-7-O-rhamnoside (1), kaempferol-3-O-glucoside (2), quercetin-3-O-glucoside (3) and quercetin-3-Orutinoside (4). (see study below) (3)
- Ethanolic extract of roots yielded yielded the presence of carbohydrates, reducing sugars, saponins, tannins, phenolics, and flavonoids. (13)
- Roots yielded glycosides, proteins, flavonoids, carbohydrates, tannins and phenolic compounds, and steroids. (14)
- Leaves yielded the presence of alkaloids, phytosterols, phenols, flavonoids, terpenes, carbohydrates, and cardiac glycosides. (see study below) (21)
- Various extracts of stems yielded the presence of carbohydrates, glycosides, alkaloids, tannins, flavonoids, phytosterols, and saponins. (see study below) (22)
- Phytochemical screening of aerial parts yielded phytosterols, alkaloids, glycosides, flavonoids, saponins, coumarins, triterpenoids, phenols, tannins, fixed oils, and fats. (see study below) (27)
- Study of flowering buds yielded five compounds viz., 1-(2′-hydroxy-4′-methoxyphenyl)-3-(4″-methoxyphenyl)-2-hydroxypropane-1,3-dione (1), 5-hydroxyflavone (2), 3,5,7,3′,4′-pentahydroxyflavone (3), 3,5,7,2′,4′-pentahydroxyflavone (4) and 5,7,3′,4′-tetrahydroxyflavone-3-O-rhamnoside (5) (28)
Properties
- Leaves smell like burned rubber when rubbed, probably giving the plant its local name of 'baho-baho.'
- Considered astringent, vermifuge.
- Seeds considered tonic and aphrodisiac.
- Fruit considered diuretic.
- Studies have suggested antimicrobial, antidiabetic, antilipidemic, antioxidant, cytotoxic, antioxidant, immunomodulatory, antitumor, anticoagulant, analgesic, antidiarrheal, anthelmintic, nephroprotective, hepatoprotective, antinociceptive, neuropharmacologic properties.

Parts used
Seeds, bark, flowers, roots.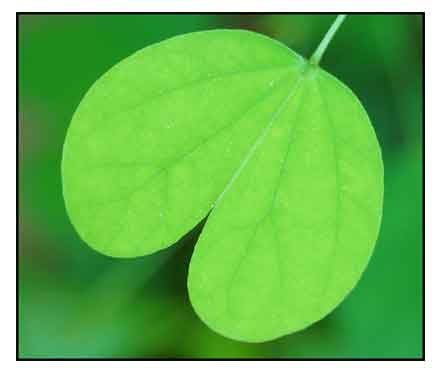 Uses
Folkloric
- Not known medicinally in the Philippines.
- In India, bruised bark is applied externally to wounds and tumors. Seed used as tonic and aphrodisiac.
Decoction of root bark use as vermifuge; infusion of stem bark used as astringent gargle.
- In the Malabar Coast, a decoction of root-bark is administered for inflammation of the liver.
- Decoction of root-bark also used as vermifuge.
- Infusion of bark used as an astringent gargle for sore throats.
- In southern India, the small, dried buds and young flowers are prescribed in dysenteric affections.
- Fruit is diuretic.
-Seeds have been eaten for their tonic and aphrodisiac action.
- In India and Sri Lanka, roots barks used internally for large intestinal problems; flowers used for dysentery and diarrhea.


- In Madura, leaves are ingredient to plaster used for abscesses.
Others
- Fiber: Yields a fiber suitable for use in basketry.
- Timber: Wood used for making rafters for huts.
- Dye: Leaves yield a yellow dye.

Studies
• Antimicrobial / Roots: The extracts of B tomentosa and B vahlii roots were tested for their antimicrobial activity against bacterial and fungal strains. The activities of the extracts were attributed t the presence of flavonoids and tannins. (1)
• Antimicrobial / Flowers: Antimicrobial activity was observed on the ethanolic extract of flowers. Good activity was observed against S. aureus, Strep faecalis, Bacillus linchiniformis, Shigella soneii, Klebsiella pneumonia, E coli, with good activity against fungi - Aspergillus niger, Candida albicans.     (6)
• Antimicrobial / Stems: Study evaluated different extracts of B. tomentosa stems for in-vitro antimicrobial activity against gram-positive and gram-negative bacteria and fungi. The relative potency of the extracts were in the order of chloroform > ethyl acetate > methanol > hexane extract. (see constituents above) (22)
• Anti-Lipidemic / Anti-Hyperglycemic: Study on the ethanolic extract of BT flowers on streptozotocin-induced diabetic rats showed significant reduction of plasma glucose, total cholesterol, LDL, VLDL, triglycerides with in increase in HDL. (2)
• Cytotoxicity / Antioxidant: Study isolated four flavonol glycosides: kaempferol-7-O-rhamnoside, kaempferol-3-O-glucoside, quercetin-3-O-glucoside and quercetin-3-O-rutinoside. Compound 3 had higher antioxidant activity than L-ascorbic acid. Compound 4 displayed slight cytotoxicity to bovine dermal cells. (3)
• Safety Studies / Leaves: Study to evaluate the toxicological effects of an aqueous leaf extract of B. tomentosa in Wistar albino rats showed the extract to be safe on bone marrow function and no hepatotoxic or nephrotoxic effects on all markers and parameters.
• Antioxidant / Immunomodulatory / Anti-Inflammatory: Study of methanolic extract in mice showed immumodulatory effects and nitric-oxide radical scavenging activity. Also, an anti-inflammatory effect was evidenced by significant reduction in acute inflammation of paw edema induced by carrageenan and formalin. (5)
• Anti-Ulcer Activity: Study evaluated the anti-ulcer activity of B. tomentosa using alcohol-induced and aspirin-induced ulcer models in rats. Results showed an aqueous extract of leaves showed significant dose-dependent anti-ulcer activity. Omeprazole was used as standard in both models. (9)
• Anti-Diabetic Activity: Study evaluated the antidiabetic activity of an ethanolic extract of roots in normal and alloxan induced diabetic rat. Results showed significant antidiabetic activity compared to glibenclamide. (11)
• Antibacterial / Leaves: Study evaluated the antibacterial activity of leaves of B. tomentosa against some human pathogenic bacteria. An ethanolic extract showed significantly higher inhibitory effect compared to an aqueous extract on tested organisms. (12)
• Gold Nanoparticles / Anticancer / Leaves: Study evaluated the green synthesis of gold nanoparticles (AuNP) using leaves extract of B. tomentosa and its in vitro anticancer activity. Green synthesized AuNP's were found to be stable. In-vitro anticancer activity was confirmed on cell lines of laryngeal HEp-2 carcinoma cells. (15)
• Analgesic / Leaves: Study of an ethanolic leaf extract of B. tomentosa on albino wistar rats using hot plate & tail immersion methods showed significant analgesic activity. (16)
• Protective in Acute Experimental Ulcerative Colitis: Study evaluated the ameliorative effect of B. tomentosa during ulcerative colitis. Results showed marked protective effects in acute experimental colitis, possibly by regulating antioxidant and inflammatory responses. (17)
• Antidiarrheal / Leaves: Study of crude aqueous extract of B. tomentosa for anti-diarrheal effect in Swiss albino mice and Wistar rats showed inhibition of castor oil induced diarrhea, inhibition of prostaglandin induced enteropooling and significant reduction in gastrointestinal motility in charcoal meal test. (18)
• Antibacterial / Flowers: Study of various flower extracts yielded the presence of constituents such as flavonoids, alkaloids, saponins, lignins, phenols, sterols. n-Butanol extract showed highest activity against Salmonella typhi and Enterobacter aerogenes. (19)
• Natural Anticoagulant / Flowers: Study evaluated the anticoagulant activity of leaf extracts of Murraya koenigii and Bauhinia tomentosa using in-vitro prothrombin time testing. Bauhinia tomentosa showed potent anticoagulant activity compared to Murray koenigii as evidenced by a significant increase in clotting time. (21)
• Antitumor / Chemoprotective / Flowers: Study evaluated the effects of methanolic extract of B. tomentosa against Dalton's ascites lymphoma (DAL) induced ascites as well as solid tumors in BALB/c mice. In the DAL model, the extract resulted in a 52% increase in life span. In solid tumor models, co-administration of extract and CTX (cyclophosphamide) significantly reduced tumor volume. Results showed potent antitumor activity which may be associated with immunomodulatory effects by regulating anti-oxidants and cytokine levels. (23)
• Anthelmintic / Pheretima posthuma and Ascaris lumbricoides: In vitro study of B. tomentosa showed significant anthelmintic activity against two worms viz., Pheretima posthuma and Ascaris lumbricoides. (24)
• Radical Scavenging / Seeds: Study evaluated the antioxidant and free radical scavenging activities of B. tomentosa pod and seed extracts by ferric reducing antioxidant power, DPPH, NO, hydroxyl radical scavenging, metal ion chelating, ABTS, and ß-carotene-linolate models. Seed acetone extract showed to be the most effective free radical quencher and a potent source of natural antioxidants. High polyphenolic content might explain the antioxidant capacities of the extracts. (26)
• Protective Against Gentamicin Induced Nephrotoxicity / Aerial Parts: Study evaluated the effects of aerial parts of B. tomentosa extract against gentamicin-induced nephrotoxicity in male Wistar albino rats. Results showed extract treatment significantly minimized elevated serum levels of biomarkers, decreased kidney lipid peroxidation, increased levels of reduced glutathione content, SOD, and catalase levels in a dose-dependent manner. Results showed B. tomentosa has good protective effect against gentamicin induced nephrotoxicity. (see constituent above) (27)
• Gold and Silver Nanoparticles / Anticancer / Leaves: Study reports o the synthesis of silver and gold nanoparticles using leaves extract of B. tomentosa and their anticancer efficacy. MTT assay evaluated the in-vitro anticancer efficacy of AgNPs, AuNPs, and aqueous extract of leaves for lung A-549 cells, Hep-2 cells, and MCF-7 cells. Results indicated that both silver and gold nanoparticles, as well as aqueous extract of leaves, exhibited high anticancer efficacy. (29)
• Anticancer / A549 Human Lung Carcinoma Cell Line: Study evaluated the anticancer activity of B. tomentosa for anticancer activity against A549 human lung cancer cell line. Treatment with B. tomentosa extract significantly inhibited the proliferation in a concentration dependent manner. AO/EtBr staining confirmed the occurrence of apoptosis in A549 cells after treatment. (30)
• Glucose Lowering Effect / Lipid Benefits / Leaves: Study evaluated the anti-diabetic effect of aqueous extract of B. tomentosa leaves on alloxan-induced diabetic Wistar rats. Results showed reduction of glycemic parameters, lipid parameters, and serum enzymes, with elevation of HDL cholesterol levels. Total protein and glycogen level in the liver of diabetic rats were significantly increased. Liver carbohydrate metabolizing enzymes were normalized. (31)
• Neuropharmacological Effects / Leaves: Study evaluated the possible neuropharmacological effects of aqueous extract of B. tomentosa leaves. The extract at doses of 200na d400 mg/kg revealed anti-anxiety activity. CNS depressant activity was confirmed by spontaneous locomotor activity, forced swim test, and diazepam induced sleeping time in mice. Nootropic activity was confirmed by increase in inflexion ratio. The extract also showed significant effect on motor coordination and potentiated catalepsy after haloperidol administration. Overall, the extract demonstrated anxiolytic, depressant, nootropic, skeletal muscle relaxant properties and anti-psychotic activity. (32)
• Nephroprotective Against Cisplatin-Induced Renal Damage: Although an important chemotherapeutic drug, cisplatin (CP) use is limited because of nephrotoxicity. This study evaluated the nephroprotective effect of B tomentosa against CP-induced renal damage in rats. Use of methanolic extract of B. tomentosa caused a significant increase in antioxidant enzymes including DOD, GSH, and CAT. The BT extract also significantly decreased lipid peroxidation (LPO), serum urea, and creatinine. Results suggest a potential role as a protective strategy against CP-induced nephrotoxicity. (33)
• Silver Nanoparticles / Anticancer / Leaves: Study reports on the green synthesis of silver nanoparticles using B. tomentosa leaves extract. The in-vitro anticancer activity of the extract and AgNPs was confirmed by MTT assay on cell lines of lung A-549 carcinoma cells. (34)
• Hepatoprotective in Paracetamol and Thioacetamide Toxicity: Study evaluated the protective effect of ethanolic extract of B. tomentosa against paracetamol and thioacetamide induced hepatotoxicity in animals. The extract showed marked hepatoprotective activity as evidenced by lowered body weights, positive effect on total bilirubin, total protein and liver enzymes. Histological exams showed striking reduction in hepatic centrilobular necrosis, along with considerable decrease in congestion and inflammatory cell infiltration. The effect of the extract was comparable to Silymarin. Study also demonstrated that the progression of TAA-induced liver cirrhosis could be prevented by the B. tomentosa extract. (35)
• CuO Nanoparticles / Antibacterial / Leaves: Study reports on the eco-friendly, biogenic synthesis of copper oxide nanoparticles (CuO NPs) using B. tomentosa leaf extract. The leaf extract was found to be a good reducing agent. The CuO NPs showed significant antibacterial activity against E. coli and P. aeruginosa. Results suggest potential fr utilization in biomedical applications. (36)
• Hypoglycemic / Effect on GTT / Leaves: Study evaluated the hypoglycemic effect of B. tomentosa using oral glucose tolerance test in alloxan induced diabetic rats. Results showed hypoglycemic effect with the most effect dose as 300 mg/kbw. (37)
• Antinociceptive / Antioxidant / Stems: Study evaluated the analgesic and antioxidant potential of various extracts of B. tomentosa stems. Central and peripheral analgesic activities were evaluated by Eddy's hot plate method and acetic acid-induced writhing in mice, respectively. Antioxidant potential was evaluated by DPPH and NO scavenging assays. In acetic acid-induced writhing test, ethanol, aqueous, and methanol extracts at 400 mg/kbw produced 81.21%, 79.18%, and 72.5% inhibition, respectively, compared to reference drug indomethacin with maximum inhibition of 79.26%. Dose-dependent DPPH radical scavenging was observed with IC50s of 65.50%, 167.% and 85.85 µg/mL for methanol, ethanol, and aqueous extracts, respectively, compared to reference ascorbic acid at 52.34 µg/ml. (38)

Availability
- Wild-crafted.
- Seeds in the cybermarket.