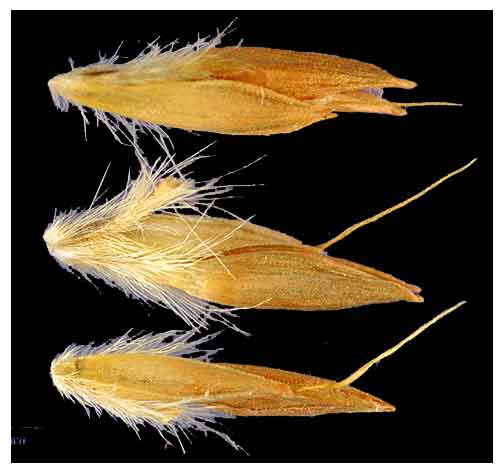 Botany
Balaniu is an erect, stout, leafy and fairly tall grass, 50 to 100 centimeters in height. Leaves are long and narrow, 30 to 50 centimeters long, 6 to 12 millimeters wide. Panicle is large, often supra-decompound; the branches are loosely or closely packed, erect at length, often drooping. Spathes are laxly or closely imbricate, 1 to 2 centimeters long, with spikes provided with 4 to 5 pairs of spikelets, sessile, awned.
Distribution
- In many parts of Luzon, In open grasslands at low and medium altitudes.
- Also occurs from Japan southwards through Taiwan and southeast China.
- Cultivated in India, Ceylon and other tropical countries for its essential oil.
Constituents
- Culm and leaves yield a small quantity of extractable aromatic oil.
- When the grass is distilled, yields a pale-yellow oil with a strong odor, known commercially as citronella oil.
- Oil reportedly contains an aldehyde, a terpene, an isomer of borneol (citronellol), acetic and valeric acids.
- The local variety tortilis yields an oil used locally to perfume soap. If studied, it is expected to yield citronella oil.
- Major constituents of essential oil are: citronella 31.6, neral 28.6, citronellol 10.6, elemicine 7.3, geranyl acetate 4.6, elemol 3.7, limonene 3.2, and isopulegol 2.7%.
- Study of leaf oil was dominated by geranial (32.0%) neral 19.1%), Cis- and trans-7-hydroxy-3,7-dimethyl-3,6-oxyoctana. (8)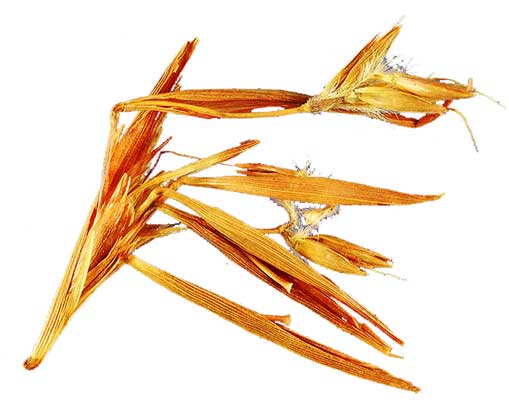 Properties
- Oil is considered antispasmodic, carminative, repellent, stimulant.
- Considered astringent, rubefacient, antiseptic, antibacterial and antifungal.

Parts used
Oil.

Uses
Folkloric
- Used as antispasmodic, carminative and stimulant.
- In India, the oil is used as external application for rheumatism and is also used to stimulate hair growth.
- Used for muscle pain and neuralgia.
Others
Oil: Although uncertain if the variety tortilis yields citronella oil, the oil distilled from this variety is used locally to perfume soap. Also used in tea preparations and as flavoring.
Insecticide: Ointment made from the oil used as protection against mosquito bites. Oil used in making insect repellent in sprays and candles.
Fodder: Grass provides fodder and pasture for livestock.
Paper: Stem and leaves can be source of paper material.
Studies
• Fungistatic / Atmospheric Preservative: Study evaluated 37 essential oils for potential use as atmospheric preservatives. Cymbopogon nardus var. narudus was one of the most active essential oils. By micro-atmosphere method, C. nardus and C. martinii were the most fungistatic.
• Antifungal: Study of C. nardus (citronella oil) showed antifungal activity, suppressing the growth of several species of Aspergillus, Penicillium and Eurotium. (3)
• Mosquito Repellent / Essential Oil: Study demonstrated the potential of essential oil of Cymbopogon nardus as a topical repellent against Anopheles arabiensis mosquitoes under laboratory conditions. (6)
• Analgesic / Essential Oil: Study compared the chemical and analgesic properties of essential oils of Cymbopogon nardus of Benin and Congo. Results showed the two essential oils with comparable effect on acetic acid induced writhings; the Benin essential oil effect was more significant on hot plate model, while the Congolese showed more effect on tail flick test. (7)

Availability
Wild-crafted.