Botany
Bali-bali is an erect. smooth, somewhat fleshy shrub or small tree, 2 to 5 meters high, growing to 30 feet in the wild. Branches are green, somewhat fleshy, cylindric, clustered or scattered, about 5 millimeters thick. There are no leaves except for a few, small, linear-oblong ones which are about 1 centimeter long or less, soon disappearing to leave the stems smooth and cylindrical, glossy green and pencil-thick. Involucres are shortly-stalked, clustered in the forks of the smaller branches, small, and turbinate. Each cell has a solitary seed.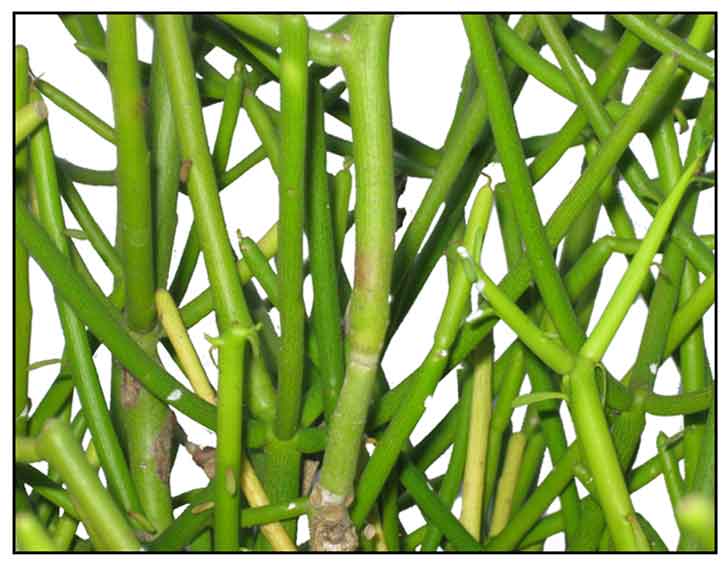 Distribution
- Introduced.
- Found from northern Luzon to Mindanao.
- Nowhere spontaneous.
- Occasionally garden hedge.
- Ornamental planting.
Constituents
• Euphorbon isolated from the needles, with 4 percent caoutchouc.
• A latex analysis yielded 75 to 82 percent resin, and 14 to 15 percent caoutchouc.
• Studies show the latex to be rich in terpenes, including ingenol and phorbol esters, the latter, highly irritating and shown to be tumor-promoting.
• Study isolated six terpenes: (1) cyclotirucaneol (2) cycloeuphordenol (3) tirucalicine (4) tirucaligine (5) euphorginol (6) euphorcinol.
• Latex showed great similarity in composition and activity to the highly poisonous croton seed oil from Croton tiglium.


• Phytochemical screening yielded alkaloid, coumarins, polyphenols and tannins, and triterpenes.
• GC-MS analysis of dried powdered stems yielded 46 constituents. The major constituents were lanosta -8,24-dien-3-ol, (3β)- (13.60%), (23S)-ethylcholest-5-en-(3β)-ol (7.02%), linoleic acid (2.96%) and viminalol (2.57%). (48)
• Study of 70% acetone extract yielded 12 compounds i.e. a tigliane diterpene ester, 4α-deoxy-phorbol-13-acetate (1), a atisane diterpene,ent-(3β,13S)-dihydroxyatis-16-en-14-one ( 2), together with six triterpenoids, lanosterol (3), 3-epi- glutinol (4), oleana-9 (11),12-dien-3-one (5), β-amyrenone (6), olean-18-en-3-one (7), friedelin (8), and four other compounds, stigmast-4-en-3-one (9), β-sitosterol (10), kaempferol 3-O-α-L-rhamnoside (11) and scopoletin (12). (55)
- Study yielded four new compounds, including a rare cadalene-type sesquiterpene (tirucadalenone), two tirucallane triterpenoids, euphorol L and euphorol M, and a euphane triterpene, euphorol N, together with 7 known compounds. (see study below) (59)
- HPLC-Qtrap-MS/MS analysis isolated 8 flavonoids and 5 shikimate derivative compounds. Chromatographic analysis isolated four previously unreported compounds: myricetin, 3,3'-dimethoxy-4-O- α-rhamnopyranosie-ellagic acid, 4-O-methyl-gallic acid and ampelopsin. (see study below) (62B)

Properties
- All parts of the plant yield a caustic milky white sap when damaged.
- Latex considered an energetic revulsive, vesicant and rubefacient.
- Juice also used as vesicatory.
- Milky juice in small doses considered purgative; in large doses, emetic and an acrid irritant.
- Studies on bark/latex have suggested antibacterial, molluscicidal, antiherpetic, antimutagenic, and anticarcinogenic, genotoxic, cytotoxic, anti-arthritic, anti-tumor, tumor-promoting, hepatoprotective, analgesic, anti-inflammatory, wound healing, mosquito larvicidal properties.

Parts utilized
Roots, stems, latex.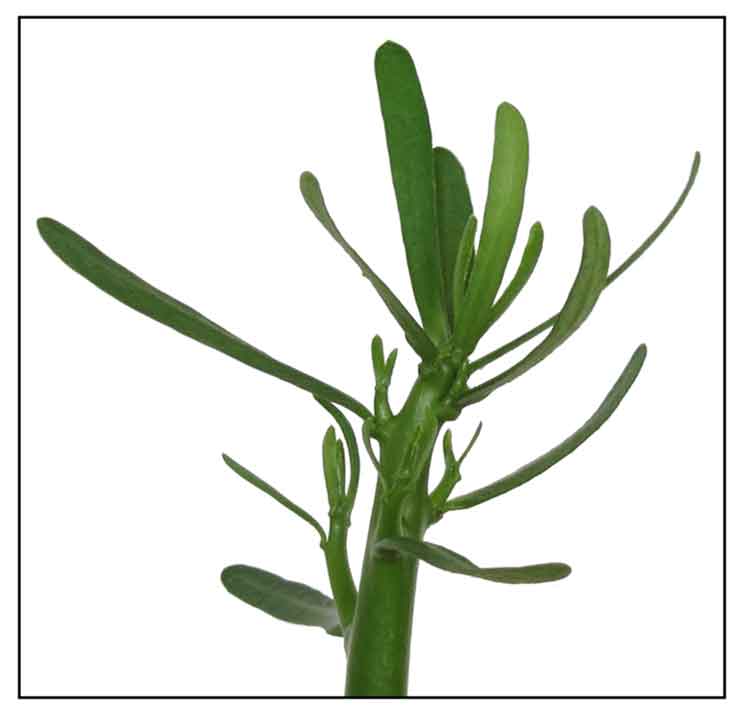 Uses
Folkloric
· In the Philippines, the first report of use came from Father de Sta. Maria: Heated root scraping mixed with coconut oil are applied externally to the stomach to relieve pain.
· Poultices of stems used for healing of fractures of bones.
· Latex used for wound healing.
· The milky juice, in small doses, is purgative; in large doses, emetic.
· Milky juice also applied to itches and insect bites. Also used for ear aches, whooping cough, asthma. Also, used to remove warts.
· Latex employed as a cure for wounds. Contact with eyes may cause blindness.
· Decoction of the branches for colic and stomach pains.
· The latex may cause eye irritation or blindness.
· Externally, a warm rubefacient remedy for toothaches, rheumatism,
· Milky juice used to raise blisters, especially in syphilitic nodes.
· Juice, given with butter, said to cure affections of the spleen and acts as a purgative in colic and bowel complaints.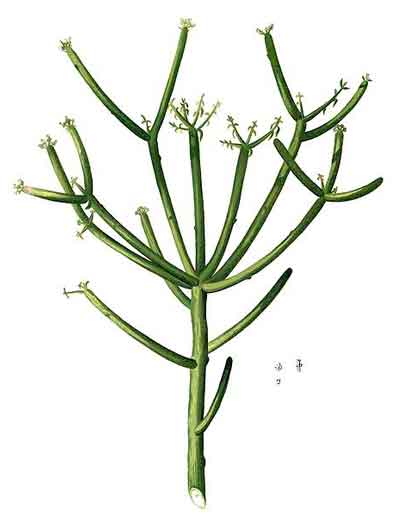 · Juice used as drops for earaches.
· Latex applied to various skin lesions: wounds, warts, swollen glands, earaches, and tumors of the nose.
· Roots used for treatment of schistosomiasis and sexually transmitted diseases.
· Latex used for sexual impotency and sterility.
· Latex used to promote breast enlargement.
· Latex boiled in milk used as antidote for poisoning and snake bites.
· Decoction of tender branches or roots used for colic and gastralgia.
· In Java bark is applied to fractures.
· Fresh, acrid juice used as vesicatory; also used to remove warts.
· Infusion of roots given for bone pains.
· Poultice of root or leaves used for ulcerations of the nose and for hemorrhoids.
· Decoction of wood applied on skin in leprosy and paralysis of the hands and feet following childbirth.
· Decoction of roots used to relieve pains in the abdomen; also used as purgative.
· In Africa, root used for snakebites; the latex for skin tumors, syphilitic ulcers; seeds and latex for intestinal parasites; decoctions of the wood for bacterial infections. Used for treatment of cancer, warts cough, sexual impotence, hemorrhoids, and epilepsy.
· In Malaysia, stems are pounded and used for swellings. Also used for hemorrhoids.
· In the Amazon, Madagascar and South Africa, latex used as application to warts, rheumatism, neuralgia and toothaches. Bark of plant used to treat fractures.
· In Dutch Indies, poultice of pounded stems are used to extract thorns.
· Root infusion for aching bones.
· In India, latex used for asthma, cough, earache, neuralgia, rheumatism, toothache and warts. Paste of fresh leaves and latex diluted with water used for cancer.
· In Peru, used for abscesses, asthma, cancer, stomachaches and toothaches.
· In Brazil, latex is used as folk medicine against syphilis.
· In Odisha, India, Karanj oil is applied to area of waist pain and heated leaf is applied in that place. (61)
· In KwaZulu-Natal Province, South Africa, decoction of crushed leaves of E. tirucalli mixed with Tabernaemontana elegans leaves or roots, Ozoroa engleri leaves, and Hypoxis hemerocallidea corm used to treat gonorrhea. (70)
· In Bangladesh, the tribal healers of the Soren clan of the Santal tribe use E. tirucalli to increase lactation in nursing mothers: Top stem of the plant is broken and partly sliced, and seven boiled Puntius ticto fish are inserted into the sliced stem and taken orally, daily for seven days. (71)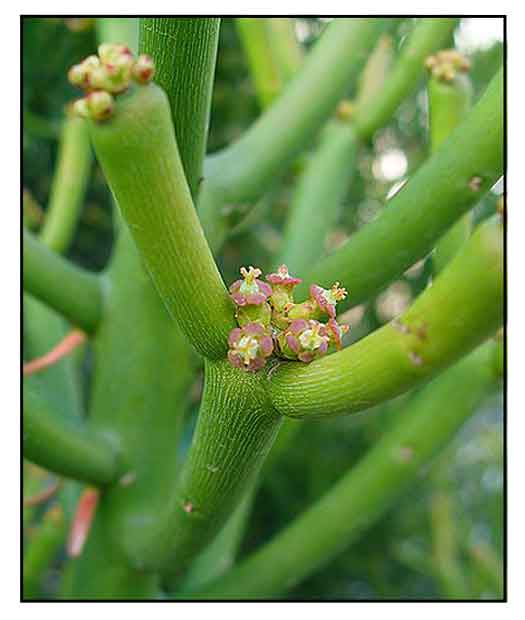 Others
· Repellent: In Africa, used as insect repellent.
· Poison: In the Philippines, latex used as fish poison. In the Congo, a variety of the species used as criminal poison.
· Pesticide: Possesses pesticidal features against pests like Brevicoryne brassicae (aphids), Aedes aegypti and Culex quinquefasciatus (mosquitoes), Lymnaea natalensis (mollusks) and Biomphalaria glabrata. (44)
· Fixative: Sap has strong fixative power. Mixed with with animal hair, used for fastening knife blades to wood handles and spear-heads to shafts. (45)
· Oil: Oil once used for linoleum, oilskin, and leather-cloth applications. (45)
· Wood: Used for making toys, rafters and veneers. (45)
· Fuel: Used for fuel when alternatives are not available. (45) Yields charcoal suitable for gunpowder use. Latex hydrocarbon, a C30 triterpenoid, yields high octane gasoline on cracking. Biomass can be converted into gas, liquid fuels, and solid fuels such as pellets, briquettes and charcoal. ( 49)
· Veterinary: In Bangladesh, leaf and stem fed to cows to increase milk production. (69) Treatment of sarcoid in horses. (see below) (72)

Biodiesel
• With little effort the poisonous latex can be converted to the equivalent of alcohol and has led chemist Melvin Calvin to propose its exploitation for producing oil. Milk bush grows on land not suitable for other crops, and is estimated to produce 10-50 barrels of oil per acre.
• Bali-bali is included in the list of oils with a potential for biodiesel: Algae Oil, Artichoke Oil, Canola Oil, Castor Oil, Coconut Oil, Corn, Cottonseed Oil, Flaxseed Oil, Hemp Oil, Jatropha Oil, Jojoba Oil, Karanj Oil, Kukui Nut Oil, Milk Bush, Pencil Bush Oil, Mustard Oil, Neem Oil, Olive Oil, Palm Oil, Peanut Oil, Radish Oil, Rapeseed Oil, Rice Bran Oil, Safflower Oil, Sesame Oil, Soybean Oil,Sunflower Oil, Tung Oil.
• Considered 30 times cheaper than ordinary oil and a prospective resource of methane and biogas. (44)
Toxicity / Concerns
Toxicity, Immune Suppression, Tumor-Promoting, and Cancer Concerns
• Latex is rich in terpenes, including phorbol and ingenol esters. Studies have shown the latex to be toxic. Phorbol esters are highly irritating and has been documented to promote tumors. One phorbol has been shown to enhance Epstein-Barr virus (EBV) infection, cause DNA damage to immune cells and cause suppression of the immune system. An extract has also been shown to decrease the ability of T-cells to kill EBV.
• Although touted folklorically for treating cancers, studies on its esters show tumor-promoting activity. The latex has been documented to promote tumor growth and/or trigger certain cancers. Some studies consider it an environmental risk factor for Burkitt's lymphoma.
Contact Irritant / Uveitis / Keratoconjunctivitis:
• Latex skin contact causes burning and irritation. Ingestion causes burning and irritation of the mouth, nausea, vomiting or diarrhea. The latex can cause temporary blindness. Several deaths have been attributed to the use of E. tirucalli for medicinal purposes. Reports have been made of chemical eye injury (keratoconjunctivitis) from exposure to the latex of ET.
• Many reports of mortality and morbidity with ingestion of the latex: vomiting, perforation of the stomach, intestines and kidney. In rats, it showed rapid severe inflammation, an oxytocin response, pro-convulsive and anti-convulsive effects,
• The triterpene esters are all highly inflammatory with carcinogenic activities.

Studies
• Traditional use of the latex from Euphorbia tirucalli in the treatment of cancer in South
Brazil: The study concludes that cancer management with E. tirucalli has no scientific basis and its esters have already presented a tumor-promoting ability. There are also endemic cancers in places where E. tirucalli is widely distributed and folklorically used. (2)
• Developmental Toxicity: Toxicological screening in rats suggests that the latex aqueous solution of E. tirucalli did not interfere with embryo development or implantation, but seems to alter the placenta morphology. (3)
• New highly irritant euphorbia factors from latex of Euphorbia tirucalli L.: 5 new euphorbia factors were isolated from the latex, all of which are highly sensitive to autoxidation. (4)
• Anti-Tumor Activity: Study of ET in tumor-bearing mice showed a modulatory effect on myelopoietic response and levels of PGE2 possibly through regulation of granulocyte and macrophage production and expression of functional activities. (5)
• Tumor Promoting: Although touted folklorically for treating cancers, studies on its esters show tumor-promoting activity. The latex has been documented to promote tumor growth and/or trigger certain cancers. Some studies consider it an environmental risk factor for Burkitt's lymphoma. (6)
• Anti-Arthritic: Study of a biopolymeric fraction from ET showed dose-dependent anti-arthritic activity and in vivo immunomodulatory capacity as a major component in inhibiting arthritis. (7)
• Hepatoprotective / Antioxidant: Study of aqueous extract of E tirucalli exhibited significant hepatoprotective effect, decreasing serum enzymes, bilirubin, cholesterol and tissue lipid peroxidation and increasing levels of tissue GSH. The hepatoprotective effect may be due to its antioxidant potential. (13)
• Antibacterial / Antifungal / Leaves and Stem Bark: E. coli and P. aeruginosa were most sensitive to a leaf extract. Stem bark extract exhibited significant activity against P. vulgaris, K. pneumonia. Leaf extract showed maximum antifungal activity with A. fumigatus. Low MIC exhibited by an extract against S. aureus presents a potential alternative to orthodox antibiotics. (14) Study evaluated various extracts of stems for antimicrobial activity. An ethanolic stem extract showed bacterial inhibitory activity against P. aeruginosa, B. subtilis and E. coli. The extract was also inhibitory to all fungi tested. (52)
• Inganen Diterpenes: The prevalent constituents of the plant latex are diterpenes of the Inganen types (ingenol esters), as well as tigliane (phorbol esters). Study data has shown that Inganen as well as colchicene have an inhibitory effect on tubulin polymerization, instable of MT nucleation and formation. Neurons exposed to Inganen initiate a cellular process than can lead to cell death - Inganen-induced apoptosis. (15)
• Pesticidal: Like all other pest remedies, E. tirucalli extracts vary in efficacy. High efficacy was observed with Anopheles spp. larvae, B. brassicae, R. similis, H. multicinctus, and P. goodeyi. (16)
• Anti-Inflammatory / Analgesic: Latex extract of E. tirucalli showed moderate analgesic activity in the tail immersion and acetic acid induced writhing test possibly through the suppression of prostaglandin and bradykinin formation. Results suggest both a central and peripheral analgesic activity. The analgesic activity may be due to the presence of flavonoids in the latex extracts. (17)
• Biogas Production: The results of a laboratory study on biogas production from Euphorbia tirucalli showed a maximum biogas yield of 298 liters per kg dry matter after mesophilic digestion (at 35 degrees Celsius) with bacteria from domestic waste water treatment for 21 days. Results showed E. tirucalli as a good feedstock for biogas production under laboratory conditions, with biogas production ranging from 218 to 293 liters/kg dry matter. Results provide a very interesting potential source of bioenergy in tropical countries. (18) Study assessed the biogas production from E. tirucalii. The highest biogas production was observed in 1:10 Euphorbia tirucalii to water ration (55.70 liters.). Also, E. tirucalii does not need any chemicals to generate biogas production. (32)
• Gastric Wound Healing: Study evaluated the effect of a crude extract of Euphorbia tirucalli in the stomach healing process of mice subjected to a 1 cm longitudinal incision in the gastric body sutured with 6-0 polypropylene stitches. Results showed wound healing activity with no signs of peritonitis, hematoma, or fistulas, with no significant statistical difference in histological parameters. (20)
• Microbicidal: Acetone extracts of stem portions of E. tirucalli showed activity against test organisms viz. Bacillus megaterium, B. subtilis, E. coli, E. faecalis, P. vulgaris, P. aeruginosa, S. aureus, A. niger, A. fumigatus, and Candida albicans. (21)
• Latex Activation of Epstein-Barr Virus Lytic Cycle/ Role in Burkitt's Lymphoma: Study examined the effects of unpurified E. tirucalii latex on EBV gene expression. Study suggests environmental exposure to the latex of Euphorbia tirucalli could directly activate the EBV lytic cycle and provide evidence of a role for E. trucalli in the etiology of endemic Burkitt's lymphoma. (22)
• Euphol Induces Human Gastric Cancer Death: Study demonstrated that euphol, a euphane-type triterpene alcohol, attenuated TGF-ß-inudced smad2 phosphorylation, and induced gastric cancer cell death through mitochondrial-dependent apoptosis. Results suggest euphol may distribute TGF-ß receptors in lipid rafts, and the membrane modifications may induce cancer cell death. (23)
• Euphol / Cytotoxic Effects on Human Cancer Cell Lines: The anti-tumor effects of euphol in vitro were assessed using MTS assays on 77 human cancer cell lines from 13 solid tumor models. Euphol demonstrated potent anti-tumor activity with dose and time-dependent cytotoxic effects on all cancer cell lines analyzed. (24)
• Antimicrobial / Latex: Study of various extracts of latex of E. tirucalii showed antimicrobial activity against Staphylococcus aureus, B. subtilis, P. aeruginosa, P. vulgaris, E. coli and Candida albicans. (27)
• Inhibition of Melanoma Proliferation: Study showed homeopathic preparations and ultra diluted latex showed good performance in inhibiting human melanoma (MV3) proliferations. (28)
• Mosquito Larvicidal / Latex: Study evaluated the efficacy of E. tirucalii latex as larvicide against Anopheles fenestus and Anopheles gambae. Results showed the fresh latex has high efficacy to cause mortality in A. mosquito larvae, with a potential for adoption as plant based mosquito larvicide. (29)
• Antibacterial for Antiseptic Gel: Study evaluated the antibacterial compounds of E. tirucalii for preventing Staphylococcus aureus infections in the form of an antiseptic gel. The most effective concentration of the extract to inhibit growth of S. aureus is 75% with 3.25 cm inhibition zone diameter. (30)
• Molluscicidal / Stem Bark: Study evaluated methanol extract of stem bark against two freshwater snails Lymnaea acuminata and Indoplanorbis exustus, both intermediate hosts of liver flukes Fasciola hepatica and F. gigantica which causes endemic fascioliasis in cattle and livestock. Results showed E. tirucalii was toxic against all the stages of both snails, with a potential as a source of safer molluscicides. (31) Study evaluated an acetone extract of stem bark against two harmful snails L. acuminata and I. exustus in an experimental pond. Results showed dose dependent toxicity with a significant negative correlation between LC values and exposure periods: 53.58 mg/L (24h) to 19.47 mg/L (96h). The extract was toxic against both snails and has potential as eco-friendly option in the management of fascioliasis disease. (41)
• Antitumor / Latex: Study showed aveloz latex suppressed and prevented growth of mouse breast cancer cells, at high concentration causing cell lysis, at low concentrations, drastically reducing cell viability. (33)
• Antimicrobial / Stems and Leaves: Study of stem and leaves extract showed some effect on bacteria while the latex showed best sensitivity on some fungi species. (33)
• ZnO Nanoparticles: Study reports on the biological synthesis of ZnO using stems of Euphorbia tirucalii avoiding the use of harmful reducing/stabilizing agents. The ET stem assisted synthesis of ZnO NP is simple, fast, cheap and efficient. (34)
• Ocular Injury from Latex: Study reports 3 cases of ocular injuries caused by the milky latex from E. tirucalii and Dieffenbachia sequine. Visual acuity was reduced between 6/30 and 6/20. Euphorbia sap caused punctate erosion, microbullae and Cescemet's folds. Ocular symptoms developed in 5 to 18 hours despite copious irrigation. Supportive treatment resulted in full recovery without sequelae over 1 week. When working with the plant, wearing gloves and eye protection is advised, together with washing exposed areas with soap and water before contact with others. (35)
• Reactivation of HIV Latency / Elimination of Viral Reservoir: Study showed that esters of ingenol from E. tirucalii act as reactivators of latent HIV from reservoir cells. Compound 1 (ingenol-3-dodecatrienoate) inhibited viral replication and activated human CD4 cells. Through proviral activation and blocking of viral entrance through receptor down regulation, it can be used in shock-and-kill strategy as adjuvant to HAART therapy to eliminate viral reservoir. (36)
• Lectin Antitumor Effect / Latex: Study purified a lectin fraction from the latex of E. tirucalii and evaluated its activity against tumor Ehrlich. The interaction of fraction lectin with receptor surface of tumor cells could interfere with tumor microenvironment. The production of TNF-α by macrophages may be related to the antitumor activity. (37)
• Wound Healing: Study evaluated the effects of crude extract of E. tirucalli in cutaneous wound healing in Swiss mice. The crude hydroalcoholic extract demonstrated better outcomes in the healing process, acute inflammation and fibrosis on the 14th day postoperatively. (38)
• Modulation of Cytokine Response / Latex: Study evaluated the production of type 1 (TNF-α and IFN-γ) and type 2 (IL-4 and IL-10) cytokines by circulating leukocyte subsets submitted to brief stimulation with the crude latex of E. tirucalli. Results showed a significant increase (p,0.05) in the percentage of CD4+ lymphocytes positive for type 1 cytokines TNF-α and IFN-γ. Neutrophils and CD8+ T lymphocytes showed a mixed profile of cytokine production. Data indicated a predominant type 1 cytokine response. (39)
• Antioxidant / Anticancer / Aerial Parts: Study reports on optimized water extraction conditions for total phenolic recovery and preparation of methanol and aqueous extracts from aerial parts of the plant, and to test for antioxidant and anti-cancer properties. Water extract yielded TPC of 34.01 mg GAE (gallic acid equivalents)/g while the methanol extract yielded 77.33 mg GAE/g. Antioxidant assays showed strongest correlation between TPC and antioxidant activity for ABTS and DPPH methods. The methanol extract showed greater growth inhibition capacity towards MiaPaCa-2 pancreatic cancer cell line. (40)
• Cytotoxicity on Brine Shrimp Lethality: Toxicity study against Artemia salina brine shrimp showed an LD50 of 23.10 (ppm) and 256% RT (relative toxicity) compared to lapachol control (100%). (42)
• Developmental Toxicity Study: Developmental toxicity in rats suggests the possibility that the latex aqueous solution of E. tirucalli did not interfere with tubaric embryo development or with implantation, but seems to have altered placenta morphology. (43)
• Anthelmintic: Study of petroleum ether and dichloromethane-methanol extract of latex reports anthelmintic activity against earthworm Pheretima posthuma as evidenced by decrease in time period to paralysis and death. (44)
• Cytogenetic Effect / Sperm Head Morphology / Stems: Study evaluated the effect of methanolic crude extract of E. tirucalli stems on sperm head morphology in male balb/c albino mice. Results showed significant (p<0.01) toxic effects on sperms of male mice that increased with increasing dose and time. GC-MS study yielded 3 hydrocarbons (toluene, tetradecane, and1-iodo- and bicyclo[3,2,1]octane). Studies have shown toxic effect of hydrocarbons, with cases of spontaneous abortion or miscarriage linked to paternal exposures to hydrocarbons and other chemical substances. Study suggests caution and choice of appropriate dose and period of treatment in its use in traditional medicine. (46)
• Antiproliferative / Variations in Activity / Aerial Parts: Study evaluated the antiproliferative activity of extracts of E. tirucalli aerial parts for probable geographic variations. Extracts in various concentrations were tested against leukemia (HL-60), lymphoma (Daudi) and melanoma (B16F10) cell lines. Results showed significant regional variability in cytotoxicity in a dose-dependent manner. Quantitative differences in some classes of secondary metabolites may explain the variations in antitumor activity. (47)
• Antiproliferative / Breast Cancer Cell Lines / Stems: Study evaluated the medical effects of E. tirucalli stem extracts in breast cancer lines (MCF-7 and MDA-MB231). Results showed inhibition of cell proliferation in a concentration and cell type dependent manner. Study suggests the extract might induce cell cycle arrest at G0/G1 phase by p21 overexpression. (50)
• Topical Latex for Intestinal Adhesions in Experimental Peritonitis: Study evaluated the antimicrobial and immunomodulatory effects of an aqueous solution of avelox latex on survival and intestinal adhesions in rats with experimental peritonitis. Results showed increased formation of intestinal adhesions and prevented deaths of all animals with peritonitis. (51)
• Modulation of Gene Expression / Larynx Squamous Cell Carcinoma / Latex: Study evaluated the effects of an antitumoral fraction of E. tirucalli latex on larynx squamous cell carcinoma (Hep-2), morphology, cell proliferation and gene expression. Results showed the involvement of E. tirucalli latex in the altered expression of genes in the tumorigenic processes, which has potential application as a therapeutic indicator of larynx cancer. (53)
• Cytotoxicity / Genotoxicity: Study evaluated the in vitro genotoxicity and cytotoxicity of aqueous extracts of E. tirucalli in human leukocytes and its effects on osmotic fragility in human erythrocytes. Results suggest the aqueous extract induces genotoxicity and cytotoxicity in human leukocytes, possibly via interaction with the antioxidant enzyme system, increasing ROS formation and decreasing cellular tolerance level to chemical plant constituents. (54)
• Peroxidase / Antifungal / Latex: Study purified a novel peroxidase from the latex of E. tirucalli. The enzyme exhibited antifungal activity against Aspergillus niger and Candida albicans. The simple purification, high yield, and stability suggest potential for biotechnological applications. (56)
• Wart Remover / Sap: Study evaluated the effectiveness of E. tirucalli (Pobreng kahoy) sap as wart remover. Study involved 10 patients with a 10-day application of sap. Results showed the sap significantly reduced the size of the warts. (57)
• Amelioration of Collagen Induced Arthritis / Triterpenoid Fraction: Study evaluated the anti-arthritic effect of a triterpenoid fraction isolated from E. tirucalli in collagen induced arthritis model in Wistar rats. Results showed significant )p<0.05) anti-arthritic activity as evidenced by decrease paw volume. Altered hematological parameters (CRP and WBC) were brought back to near normal. Radiological and histopathological studies indicated remodeling of ankle joints. Results paralleled standard drug diclofenac. (58)
• Cytotoxicity / Tirucadalenone: Study yielded four new compounds, including a rare cadalene-type sesquiterpene (tirucadalenone), two tirucallane triterpenoids, euphorol L and euphorol M, and a euphane triterpene, euphorol N, together with 7 known compounds. All compounds were tested for cytotoxicity against K562, MCF-7, and/or HepG2 tumor cell lines. Only tirucadalenone displayed a mild cytotoxic activity. (59)
• Euphol / Anticancer: Study evaluated the antitumor effect of euphol in a panel of 73 human cancer cell lines from 15 tumor types. Euphol showed cytotoxicity effect against several cancer cell lines (IC50 range of 1.41-38.89 µM), particularly in esophageal squamous cell (11.08 µM) and pancreatic carcinoma cells (6.84 µM), followed by prostate, melanoma, and colon cancer. Cytotoxicity effect was seen in all cancer cell lines, more than half considered highly sensitive. Euphol inhibited proliferation, motility, and colony formation in pancreatic cells. It exhibited synergistic interactions with gemcitabine and paclitaxel in pancreatic and esophageal cell lines, respectively. Results suggest euphol has potential as an anti-cancer drug, alone or in combination with conventional chemotherapy. (60)
• Flavonoids / Antimicrobial / Roots: Study isolated two flavonoids and one ellagic acid derivative from the roots of E. tirucalli. HPLC-MS/MS identified 13 compounds. The ethanol extract from roots and isolated compounds displayed significant antimicrobial activity against Staphylococcus aureus, Escherichia coli, Sporothrix brasiliensis and Candida albicans with MICs ranging from 8 to 2048 µg/mL. (see constituents above) (62)
• Ointment Formulation / Burn Wound Healing / Stem: Study evaluated the effect of ointment of patah tulang's stem's ethanol extract (5, 10, 20%) for burn wound healing on white rats. Results showed the 20% ointment concentration had the same effect as positive control in burn wound healing in white rats. (p,0.05). (63)
• Tirustatin / Stem: Study evaluated the toxicity of E. tirucalli protein extract and purified a protease inhibitor that may have biological medicinal functions. The cytotoxic and mutagenic properties of a protein extract produced from stem of avelos was submitted to a protease inhibitor purification process. A protease inhibitor, tirustatin, was isolated. The protein extract even at maximum concentration (20 µg/mL) did not show cytotoxic and mutagenic profile in a bacterial model. Results suggest potential use of proteins produced from E. tirucalli as pharmacological and biotechnological agents that can be exploited for development of efficient drugs. (64)
• Antifungal against Cryptococcus neoformans / Stem: Study of E. tirucalli for in vitro antifungal activity showed an aqueous extract and latex preparation to be effective against 10 clinical strains of Cryptococcus neoformans in vitro (latex and extract MIC range of 3.2->411 µg/mL), Both aqueous and latex preparations showed no genotoxic effect in human leukocytes cells in vitro. (65)
• Larvicidal on Aedes aegypti / Stem: The dengue virus is the cause of Dengue Hemorrhagic Fever (DHF). Study evaluated the larvicidal activity of ethanolic stem extract of E. tirucalli against mosquito Aedes aegypti. Results showed the ethanolic extract of stem of aveloz was effective as larvicide with LC50 of 171.480 ppm (0.0171%) and relatively safer to use than synthetic larvicides. (66)
• Euphol / Autophagy / Cytotoxicity / Glioblastoma Cells: Gliobastoma (GBM) is the most frequent and aggressive type of brain tumor. Euphol, the main constituent of the sap of E. tirucalli, has been shown to have euphol-based anti-cancer activity. Study evaluated the inhibitory effect and bioactivity of euphol using glioma primary cultures. Euphol showed concentration dependent cytotoxic effects on cancer cell lines, with more than five-fold difference in IC50s in some cell lines. Euphol treatment showed higher selective cytotoxicity index (0.64-3.36) than temozolomide (0.11-1.13) and reduced both proliferation and cell motility. Euphol exhibited antitumoral and antiangiogenic activity in vivo, using chicken chorioallantoic membrane assay, with synergistic temozolamide interactions in most cell lines. Results suggested euphol exerted in vitro and in vivo cytotoxicity against glioma cells, through several cancer pathways, including activation of autophagy-associated cell death. Study provides experimental support for development of euphol as a novel therapeutic agent for GBM, alone or in combination chemotherapy. (67)
• Euphol / Negative Modulation of TGF-ß Responsiveness: Transforming growth factor-ß (TGF-ß) responsiveness in cultured cells can be modulated by TGF-ß partitioning between lipid raft/caveolae-and clathrin-mediated endocytosis pathways. Euphol has a wide range of pharmacological properties, including anti-inflammatory and anticancer effects. In the study, euphol suppressed TGF-ß signaling by inducing TGF-ß receptor movement into lipid-raft microdomains and degrading TGF-ß receptors. (68)
• Sap Therapy / Sarcoid in Horses: Sarcoid is the most common cutaneous neoplasm in horses, with no established treatment. Aveloz, the Euphorbia tirucalli plant, contains terpenes and sterols in the latex with antitumor activity. Eight horses diagnosed with sarcoid were referred to the Veterinary Hospital and were treated with intratumoral injection containing the sap, with the tumor becoming swollen, black, dry, and detaching in 24-72 hours. Adverse effects (pain, tissue inflammation, edema, and purulent secretion) were observed at the injection site in all animals where treatment was effective. The sap treatment was 87.5% effective in treating sarcoids. In 3 months to 7 years, none showed tumor recurrences. Results suggest an immune response is strongly involved in the success of the sarcoid treatment. (72)

Availability
- Wild-crafted.
- Cultivated.