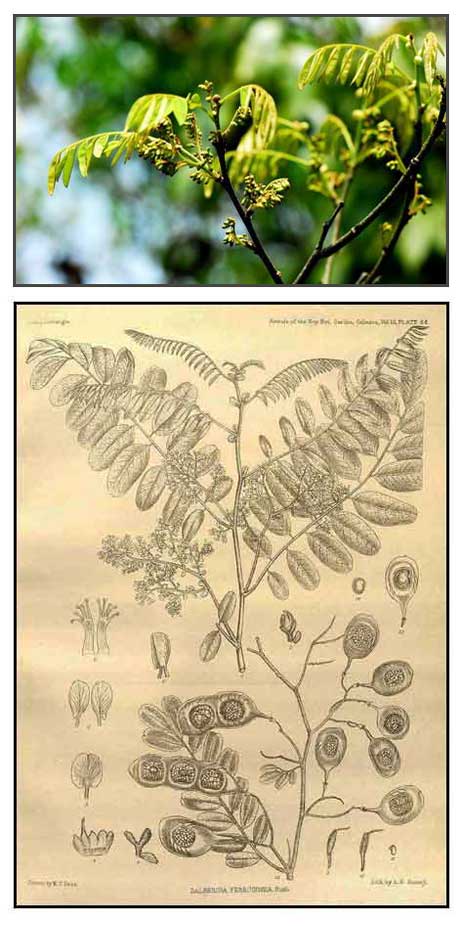 Botany
Balibagan is a climbing shrub reaching a height of several meters. Younger parts are covered with brown hairs, often becoming nearly smooth with age. Leaves are pinnate, 10 to 20 centimeters long, and made up of 15 to 21 leaflets. Leaflets are elliptic-oblong or oblong, 1.5 to 4 centimeters long. Flowers are pink, white, or yellowish, about 5 to 7 centimeters long, and borne in large numbers in axillary and terminal panicles. Pods are oblong to strap-shaped, 3 to 7 centimeters long, and 1.5 centimeters or less wide, and contain 1 to 3 seeds, being thin except where the seeds occur.
Distribution
- In thickets and secondary forests at low and medium altitudes from northern Luzon to Palawan and Mindanao.
- Also occurs in India, Bangladesh, China, Laos, Malaysia, Thailand, Vietnam, Papua New Guinea.
- Occurs in Brazil, Venezuela, French Guiana.
Constituents
- Roots and leaves yielded stipulin and luteolin 4'-rutinoside.
Properties
- Emmenagogue, abortive, piscicidal.

Parts used
Stem, bark, leaves, roots.

Uses
Folkloric
- Decoction of the wood of the stem or roots is used as emmenagogue.
- In excessive doses, used as abortive.
- In Bangladesh, roots and leaves used in gonorrhea and aphthae.
- Roots and leaves taken orally for treatment of gonorrhea.
Others
- Bark and roots used for poisoning fish. In Nepal, roots used as piscicidal.

Studies
• Flavone Glycoside: Study yielded a new luteolin 4′-rutinoside and luteolin from the leaves of Dalbergia stipulacea. (1)
Availability
Wild-crafted.