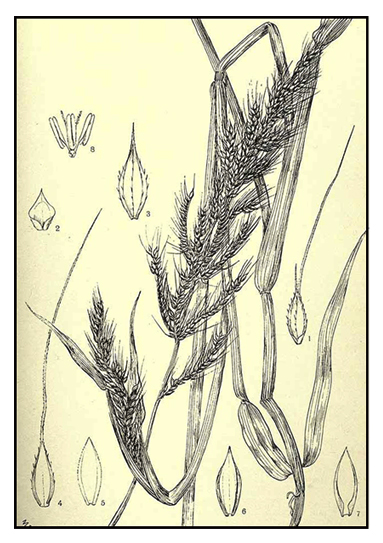 Botany
Balili is a coarse, erect, aquatic or subaquatic grass in habit, 1 to 1.5 meters high, the lower parts decumbent and rooting at the nodes. Stems are 6 to 8 millimeters in diameter. Leaves are 20 to 40 centimeters long and 8 to 13 millimeters wide. Panicles are about 20 centimeters long or less. Spikes are green or purple, distinctly longer than the internodes, spreading or ascending, about 1. 5 centimeters long, nearly 1 centimeter thick. Spikelets are in pairs in two rows, nearly 5 millimeters long, the empty glumes hispid on the nerves, the third glume with a long or short awn.
Distribution
- Found throughout the Philippines, in most islands and provinces, growing in open shallow water and in low, wet places, swamps, and borders of lakes and streams, at low and medium altitudes.
- Also occurs from India to Africa and Malaya.
Constituents
- Contains saccharose, 10%; reducing sugar, 7%; and emulsin.
- In a comparative nutritive analysis, E. stagnina yielded the highest in crude fibers, high phytomass.
-Study of chemical composition reported: Dry matter 19.3, crude protein 1.3, ether extract 0.4, crude fiber}
6.5, and ash 2.3. (2)

- Phytochemical screening revealed tannins and sterols. Roots possessed the highest polyphenol contents: 3.20±0.01 g/100g dry wt. Elemental analysis of ethanol extract yielded (dry weight basis): Fe 37.52±0.01 mg/g, Mn 90.07±0.03 mg/g, Zn 3.4±0.06 µg/g, Cu 123.1±0.06 µg/g. (6)
Properties
- Considered styptic and tonic.
- Study has suggested antimicrobial and phytoremediative properties.

Parts used
Roots, shoots.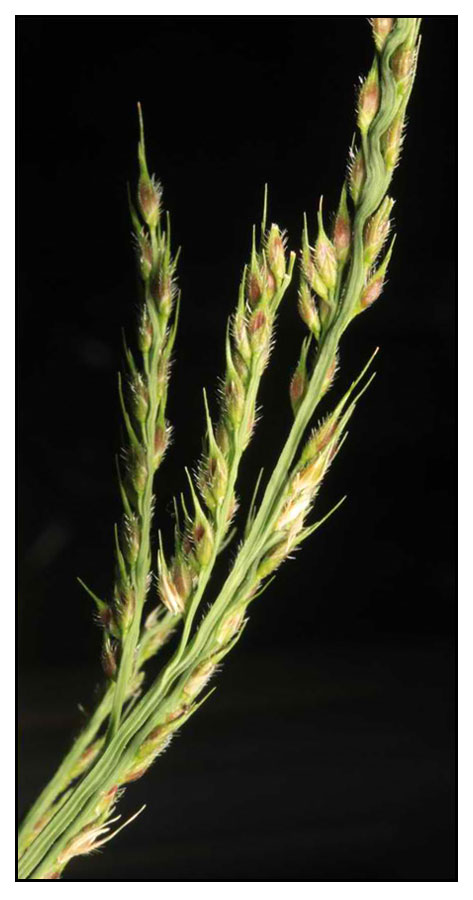 Uses
Edibility
- In tropical Africa, grains collected as cereal, especially in times of food shortage. (1)
- Sweet stems and rhizomes used to produce alcoholic and non-alcoholic beverages. (1)
- Used for extraction of sugar for making confectionery and liqueurs.
Children suck on the stems for sugar. (1)
- Sweet culms are sun-dried to extract sugar.
Folkloric
- Decoction of pith used as diuretic.
- In Mali, macerated stems in water provide a sweet solution used as energizer and to counter intoxication with Fugosia digitata. Fine powder of dried stems of Glinus oppostifoliuss and juice of stems of E. stagnina drunk as remedy against malaria. (8)
- Elsewhere, used as folk remedy for treating carbuncles, hemorrhages, sores, cancer and wounds.
- Shoots and roots used as styptic to wounds.
Others
- Fodder: In Egypt, grown as fodder grass. Chickens suck the stems for sugar. (1) Considered an important source of proteins for herbivores.
- Thatching: Stems used for thatching and mat making. (1)
- Ash of burnt soap used in making soap and as mordant with indigo dye. (1)
Studies
• Antimicrobial: Study evaluated ethanolic and water extracts of three macrophytes (roots): Echinochloa stagnina, P. stratiotes, and N. lotus for antimicrobial activities. All the tested microorganisms showed susceptibility (S. aureus, Candida albicans, B. subtilis) to moderate resistance (Salmonella and Shigella spp.) against E. stagnina ethanolic extract. The antimicrobial activity of the water extract was significantly reduced by 50%. (see constituents above) (6)
• Phytoremediation: Phytoremediation using Echinochloa stagnina has shown to be an cost-effective alternative method to restore saline clay soil beneficial for crop production. (Ado et al, 2016) (7)

Availability
Wild-crafted.