Botany
Baling-uai is a reedlike plant, climbing night on trees through the leaf tendrils. Stem is about 2.5 centimeters thick towards the base, terete and smooth. Leaves are sessile, 15 to 25 centimeters long, variable in breadth, 2 to 4 centimeters or more, lanceolate from a rounded base and terminating in a curled tendril at the apex. Flowers are white, borne in clusters, shortly pedunculated, with irregular laxly branched panicles, 15 to 30 centimeters long. Outer perianth-segments are broadly ovate or suborbicular, and the inner segments similar, more or less unequal. Fruits are rounded and smooth, red when mature, about 5 millimeters in diameter.
Distribution
- From Batanes Islands to Mindanao and Palawan, in all or most islands and provinces, in secondary forests at low and medium altitudes.
- Also occurs in tropical Africa, and in tropical Asia through Malaya to tropical Australia and the Marianne Islands.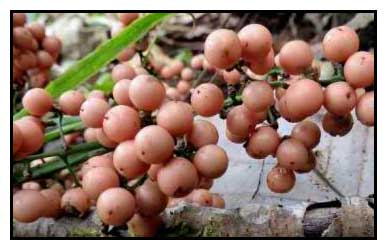 Constituents
- Study of various extracts of leaves for phenolic content in gallic acid equivalents yielded 153.28 mg/g for ethyl acetate extract, 134.78 mg/g butanol, 65.88 mg/g aqueous, 55.28 mg/g chloroform, 45.98 mg/g methanol and 22.78 mg/g hexane. Total flavonoids in catechin equivalents were highest in the ethyl acetate extract (38.9 mg/g), followed by butanol (28.45 mg/g), aqueous (21.18 mg/g), chloroform (12.9 mg/g), methanol (10.78 mg/g) and hexane (4.92 mg/g). (see study below)   (14)
Properties
- Stems and rhizomes are diuretic.
- Leaves are astringent and vulnerary.

Parts used
Stem, rhizome, leaves.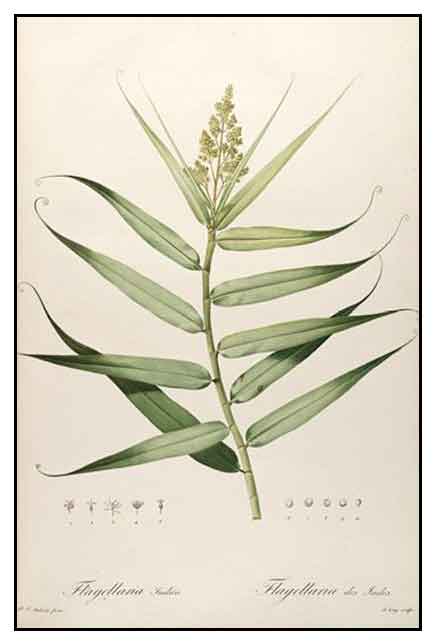 Uses
Edibility
- Young leafy shoots cooked and eaten as vegetable. Stems yield a sweet sap and chewed like sugar cane. (12)
- In Madagascar, leaves and stems used for making tea. (12)
Folkloric
- Decoction of stems and rhizome used as diuretic.
- Leaves are astringent and vulnerary.
- Plaster of leaves used on wounds.
- Tips of leaves applied to sore eyes.
- Young leaves used for making hair wash and to promote hair growth.
- Decoction of flowers and leaves used as diuretic.
- Plant used as contraceptive; stem used to induce sterility.
- Used for postpartum baths. (See: Suob)
- Reported use of leaves for contraception.
-In Malaysia, boiled root is taken three times daily as health tonic. The Murut tribe in Sabah boil the whole plant and use the water as a bath for semi-paralytic conditions.
- In Malaysian Borneo, decoction of roots taken for influenza, cough and vomiting.
- In Vanuatu, to induce infertility, a handful of leaf buds are crushed with water and salt; to drink a glass of the juice before breakfast, to continue for the following four days. Leaves of whole plant used as contraceptive. (3)
- In Papua New Guinea, infusion of chopped pieces of fresh stalk drunk to relieve stomachache, diarrhea, and dysentery. Fresh young leaves are boiled, cooled, and drunk to treat asthma, shortness of breath and fever. (13) Roots used as contraceptive. (16)
- In West Papua, the indigenous people of Manokwari use stem juices for fever. (15)
- In Australia, reported aboriginal use of sap from vine to relieve sore eyes. (17)
- In India, leaf used as contraceptive. (19)
Others
• Rituals and superstitions: The "huwag" vine from Flagellaria indica is used in the mananambal's Lenten rituals of producing curative concoctions and brews for sorcery.
• Weaving: In Australia, report of aboriginal use of stem strips for binding baskets and and sewing together sections of canoe hulls. (18) Used for basketry, but of inferior quality to rattan. Also used in making fish traps, nets and rope.
• Hair wash: Leaves used for hair washes.
Studies
• Anti-Dengue Activity: Study evaluated Thai medicinal plants for in-vitro anti-dengue activity. In an antiviral assay, Flagellaria indica showed 45.52% inhibition of DENV-2 in vitro at 12.5 µg/mL of ethanol extract. The CC50 of the ethanol extract was 312 gm/L. Results showed significant potential effect and suggested a potential for the development of anti-DENV drug. (8) (11)
• Hepatoprotective / CCL4-Induced Toxicity / Antioxidant / Leaves: Study evaluated the hepatoprotective mechanism of F. indica against carbon tetrachloride (CCl-4)-mediated liver damage in adult Sprague-Dawley rats. Total phenolic content in the aqueous extract of leaves was 65.88 ± 1.84 mg gallic acid equivalent/g. IC50 value for free radical scavenging was reached at extract concentration of 400 µg/mL. Immunochemical results showed the suppression of oxidative stress markers and pro-inflammatory markers (TNF-α, interleukin-6, prostanglandin E2). Findings suggest the presence of phenolic contents and their antioxidant effects can be credited to the hepatoprotective activity. (10)
• Antioxidant / Leaves: Study evaluated the antioxidant capacities of leaves of Flagellaria indica and phytochemical constituents of six different extracts. On DPPH assay, the highest values for radical scavenging were in the order of butanol>ethyl acetate>chloroform>methanol>hexane. Total phenolic content was also highest in the EA extract (38.96 mg/g) using catechin equivalents. Antioxidant and radical scavenging activity may be due strong presence of phenolic constituents, flavonoids and several bioactive compounds. (14)

Availability
Wild-crafted.