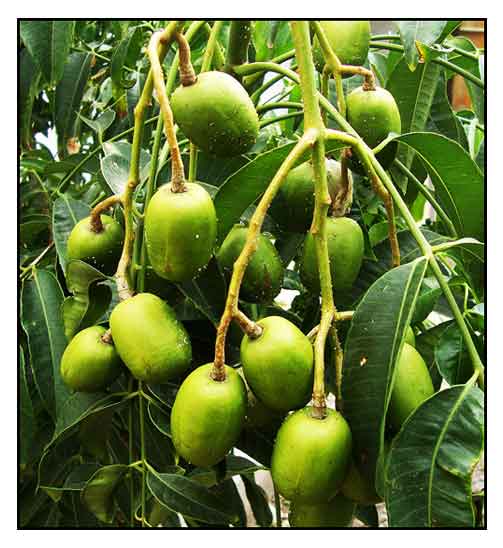 Botany
Spondias dulcis is a tropical fast growing deciduous tree, averaging 10 to 12 meters high, occasionally reaching 20 meters.,that can reach a height of 20 meters. Leaves are pinnate, 20 to 60 centimeters in length, with 9 to 25 glossy, elliptic or obovate-oblong leaflets 9 to 10 centimeters long, finely toothed toward the ape. Flowers are small, inconspicuous in terminal panicles. Fruit is oval, 6 to 0 centimeters long, borne in bunches of 12 or more on long stalks, green when unripe, amber-colored when ripe.
Distribution
- Native from Melanesia through Polynesia and introduced into tropical areas of both the Old and New World. (16)
- First fruited in the Philippines in 1915. (16)
Constituents
- Phytochemical screening of fruit peels yielded sterols and phenolics. (15)
- Nutrient content in 100 grams of food: energy 41 kcal, protein 1 g, fat 1 g,carbohydrates 3 gms, calcium 15 mg, phosphorus 22 mg, iron 3 mg, vitamin A 233 RJ, vitamin B1 0.08 mg, vitamin C 30 mg.
- Food value per 100 g of edible portion: Calories 137.30, total solids 14.53-40.35%, moisture 59.65-85.47%, protein 0.50-0.80%, fat 0.28-1.79%, sugar (sucrose) 8.05-10.54%, acid 0.47%, crude fiber 0.85-3.60%, ash 0.44-0.65%. (According to analyses made in the Philippines and Hawaii) Ascorbic acid content was reported at 42 mg/100g of raw pulp (Miller, Louis, and Yanawasa, Hawaii). Unripe fruits contain 0.76% of pectin. (16)
Properties
- Young fruit is mildly diuretic.
- Studies have suggested antioxidant, radical scavenging, antimicrobial, thrombolytic, wound healing, topoisomerase inhibitory properties.

Parts used
Fruits, shoots, leaves, bark..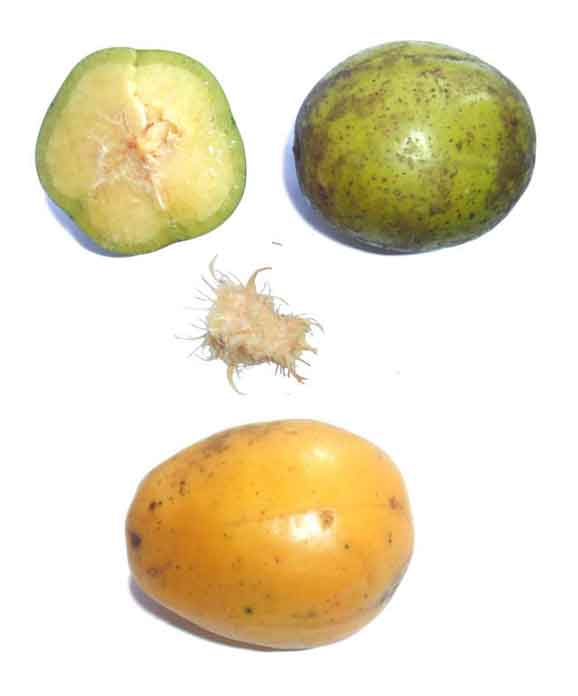 Uses
Edibility
- Fruit has suffered by comparison with mango and repetition in literature of its inferior quality. However, at a proper and firm stage,it is often relished out of hand and provides a delicious drink.(16)
- Fruit is eaten, raw or cooked. It is crisp when green, soft, sweet, and fibrous when yellow and ripe.
- Ripe fruits made into jams and marmalade; unripe fruits used as sour flavoring for sauces and soups.
- Young leaves are eaten raw or steamed, eaten as vegetable, pleasantly acid. (6)
- Fresh fruit used pickle and chutney using various concentrations of salt and sugar, respectively. Pickle with 15% salt and chutney with 40% sugar were rate better than other. (7)
Folkloric
- In Bangladesh, fruits used to improved eyesight and prevent eye infections.
- Juice of plant used as eye drops to relieve eye inflammation. Shoots used to stop bleeding after childbirth. Infusion of leave used for sore throats and mouth infections. (6)
- Juice from bark used to treat diarrhea; the bark used for dysentery. Grated fruit mixed with water used for high blood pressure. Young fruit used to treat stomach trouble and to aid women in labor. (5)
- In Suriname, juice of fresh fruits or infusion of fresh peels used for treatment of hypertension. (10)
- In Sri Lanka, fruit eaten by women who are pregnant or plan to get pregnant.
- In Cambodia, astringent bark used with various species of Terminalia as remedy for diarrhea. (16)
Others
- Nectar: Study suggested fruit is a potential source for nectar production. (13)
- Wood: Light-brown and buoyant, used for canoes. (16)
Studies
• Comparative Study / Antioxidant / Cytotoxic / Antimicrobial / Thrombolytic / Leaves and Fruits: Study evaluated methanolic extracts of leaves and fruits, partitioned with Chloroform and dichloromethane. A methanolic fruit extract showed highest phenolic content, flavonoid content and antioxidant capacity with highest DPPH radical scavenging activity ) IC50 1.91 µg/mL) and maximum reducing power (EC50 3.58 µg/mL). All extracts showed moderate antimicrobial activity against bacterial strains, with weak or no anti fungal activity. On brine shrimp lethality bioassay, LC50 value of all extracts was 1.335-14.057 µg/mL, lower than cut off index for cytotoxicity. All extracts showed statistically significant (p<0.001) thrombolytic activity. (3)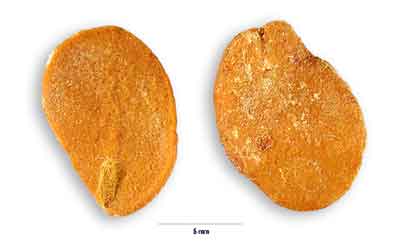 • Antimicrobial / Leaves : Study evaluated a hydroalcoholic extract of Spondias dulcis leaves for antimicrobial activity against S. aureus, S. epidermis, E. coli, P. aeruginosa and Salmonella sp. using agar diffusion and microdilution method Results showed good antimicrobial activity against Pseudomonas aeruginosa. Results showed low activity against gram-negative microorganisms. (4)
• Protection Against DNA Damage induced by Benzo[a0pyrene and Cyclophosphamide / Bark: Study evaluated an ethanolic extract of bark for protective effects against benzo[a]pyrene and cyclophosphamide induced DNA damage in mice. No genotoxic, cytotoxic, or mutagenic effect in bone marrow and peripheral blood of mice. The extract showed protective effects against B[a]P and CP-induced DNA damage, depleting the number of damaged nucleoids, MNPCW and MNRET in the test animals. The extract also increased CAT activity and GSH levels and depleted MDA levels. Results suggest S. dulcis can be a protective compound against DNA damage caused by mutagenic agents CP and B[a]P. (5)
• No Effect on Glucose Transport through Intestinal Mucosal Membrane / Leaves : Study evaluated the antihyperglycemic effect of S dulcis leaf infusion on glucose transport rate through intestinal mucosal membrane of male Wistar rats. Results showed no effect on glucose absorption rate (8)
• Antioxidant / Total Phenolic Content / Fruits: Study evaluated the antioxidant and total phenolic content of five species of fruits in Bangladesh. Ambarella showed a total phenolic content of 27.08 ± 1.66 mg GAE/g and total phenolic. On DPPH assay, ambarella showed scavenging effects of 74.12 ± 1.44%. (11)
• Inhibition of Human Topoisomerase / Anticancer: Study rationalized the known antioxidant and anticancer activities of extracts of some plants through inhibition of human topoisomerases I and II, as it is crucial to develop novel nontoxic topoisomerase inhibitors than can spare normal cells. Extracts of Spondias dulcis, Acacia catechu, Embelica officinalis, Terminalis belerica, and Terminalia chebula completely inhibited human topoisomerase I at 40 µg/mL concentration. The same extracts are known to possess anticancer activity. S. dulcis, T. chebula and A. catechu showed 20-80% inhibition of human topoisomerase 1 even at 9µg/mL concentration. The nuclear fragmentation leading to apoptosis in cancerous cell lines in the presence of such plant extracts may be through inhibition of topoisomerases in addition to modulation of modulation of Fenton-reaction mediated damage to DNA constituents shown elsewhere. (12)
• Fruit Nectar Source: Ambarella is an underutilized seasonal fruit crop in Sri Lanka, where it is largely utilized as curry and chutney. Study evaluated ambarella as a nectar source for use in food products. Proximate analysis of the fruit yielded: energy 69.12 Kcal/100g, carbohydrate 16.65%, protein 0.45%, fat 0.08%, sodium 3018 mg/kg, potassium 344 mg/kg, calcium 94.7 mg/kg, with total production cost of 190.oo Rs per one liter. Results suggest ambarella can be recommended as a source for fruit nectar production. The best maturity stage for nectar production is when the fruits are completely mature with ripening initiated on trees. (13)
• Burn Wound Healing / Leaf and Vaseline: Study evaluated the healing process of second degree burn in rats using ambarella leaf and vaselin. Parameters measured were inflammatory reactions and distribution of collagen tissue. Results showed the use of ambarella leaf and vaselin can speed up the healing process of burns in rats compared with other treatments. (14)
• Free Radical Scavenging / Fruit Peels: Study of fruit peels for DPPH free radical scavenging showed 69.7% at 1000 µg/ml, 24.25 at 500 µg/ml, and11.49% at 62.5 µg/ml. (15)

Availability
- Wildcrafted.
- Cultivated.