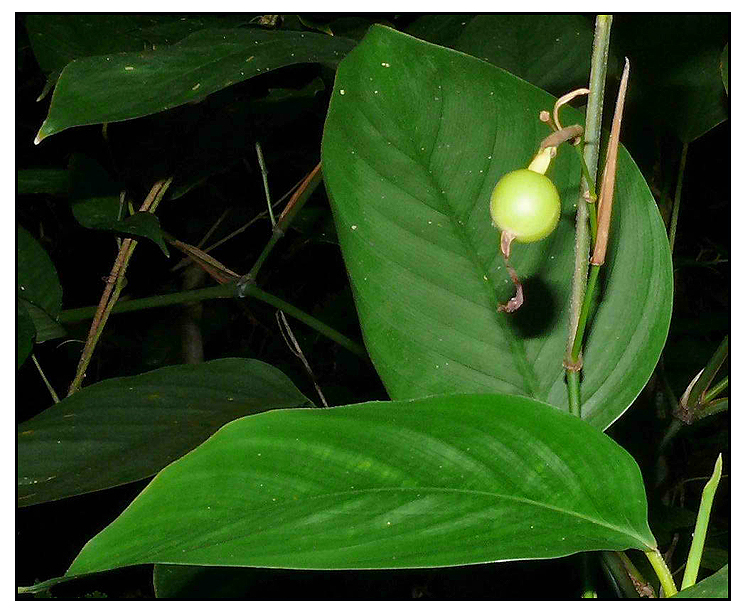 Botany
Bamban is a rhizomatous shrub with stems up to 2 to 3 meters tall, several growing in a cluster, smooth, and widely branched. Leaves are short-petioled, thin, smooth, ovate, 15 to 18 centimeters long and 9 centimeters wide. Petioles are about 1 centimeter long. Panicles are loosely- and few-branched. Calyx tube is about 1 centimeter long, with lanceolate segments which are acute and ribbed. Corolla lobes are white, linear to oblong, and longer than the tube. Staminodes are obovate and large, with the tip smaller, obovate and clawed. Anther, filament and lobe are linear. Fruit is globoid to ellipsoid, slightly hairy, about 1 centimeter in diameter, and whitish. Seeds are oblong, grooved and strongly wrinkled.
Distribution
- Very common in secondary forests, especially along streams, at low and medium altitudes from the Batanes Island and northern Luzon to Palawan and Mindanao, in all or most of the islands and provinces.
- Abundant in the Bicol region, especially Camarines Norte.
- Also occurs in Java and Borneo, to New Guinea, the Aru and Admiralty Islands, New Hebrides, and the Marianne Islands.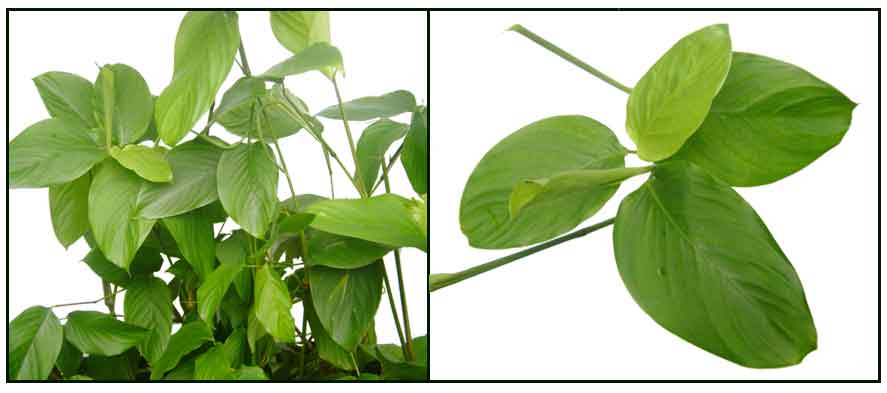 Constituents
- Phytochemical screening of crude extracts yielded phenolic compounds, alkaloids, tannins, phytosterols, cardiac glycosides, terpenoids, steroids, steroids, saponins, and flavonoids.(5)
Parts utilized
Roots, stems, leaves.

Uses
Folkloric
• Roots, brewed in decoction, are used as antidote for snake bites and for blood poisoning.
• In Macassar, paste of young stems with ginger and cinnamon bark is taken for biliousness.
• In Malaysia, the Temuans use the raw fruit orally for boils and abscesses. (4)
• Juice from young curled up leaves used for sore eyes.
• Malays use the sap from shoots to treat conjunctivitis.(2) Rhizomes used to treat shingles. Decoction of leaves and roots used as cooling baths for fever. Poultice of leaves and stem used as eye refreshment. (5)
• In Vanuatu, used postpartum to draw placental fragments: right side of the leaf blade is squeezed into a glass of water to drink. (1)
• In Papua, New Guinea, used for ear ache and ear infections. (7)
Others
- Basketry: Dried split stems are used for basket weaving, making fish traps and hats, and for sewing nipa shingles.
Studies
• Antioxidant: Various extracts of leaves, fruits, stems and roots of Donax grandis were evaluated for antioxidant activity. Fruits yielded the highest saponins. Three solvent fractions showed strong radical scavenging activity from DPPH. Results showed potential use as antioxidant and antiproliferative agent. (5)

Availability
Wildcrafted.