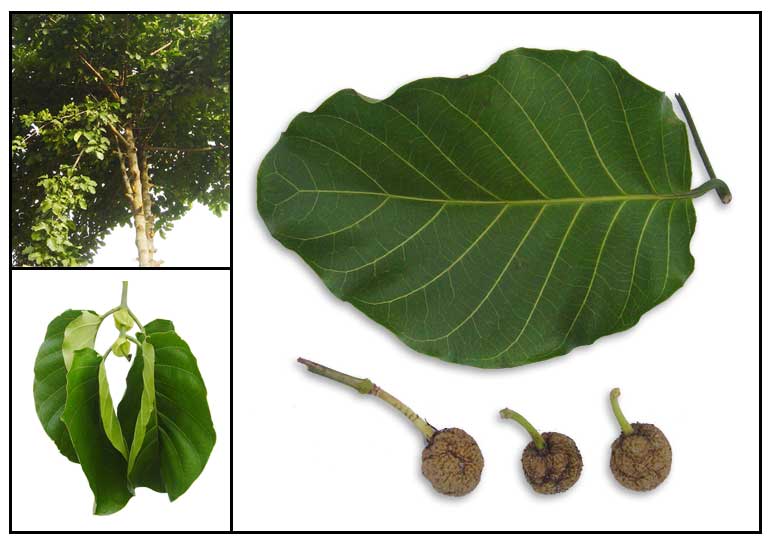 Botany
Bangkal is a smooth tree, 7 to 16 meters high. The leaves are leathery, elliptic to oblong-ovate, 11 to 25 centimeters long, blunt-tipped and rounded or heart-shaped at the base. Stipules are green, ovate to elliptic, 1 to 3 centimeters long. Flowers heads are solitary, peduncles and terminal, 4 to 5 centimeters in diameter. Flowers are fragrant, round, yellow or orange with white spikes.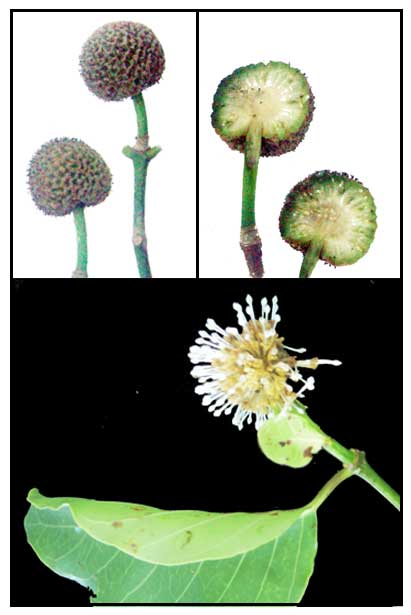 Distribution
- In secondary forests at low and medium altitudes from the Batan Islands and northern Luzon to Mindanao, in most islands and provinces.
- Also occurs in India to Malaya.
- Cultivated for ornamental purposes.
Constituents
- Bioassay-guided fractionation of dried stems yielded two novel tetrahydro-beta-carboline monoterpene alkaloid glucosides, naucleaorine (1) and epimethoxynaucleaorine (2), together with known compounds, strictosidine lactam (3), 3,4,5-trimethoxyphenol (4), 3α-hydroxyurs-12-en-28-oic acid methyl ester (5), 3α,23-dihydroxyurs-12-en-28-oic acid (6), 3α,19α,23-trihydroxyurs-12-en-28-oic acid methyl ester (7), and oleanolic acid (8). (see study below) (1)
- Roots yielded new naucleidinal derivative along with nine known compounds consisting of six indole alkaloids [naucleficine (1), naucleactonin A (2), naucleidinal (3), 19-epi-naucleidinal (5), strictosamide (6), and pumiloside (7)], two secoiridoids [aligenoside (8) and sweroside (9)], and vanillic acid (10) were isolated from the roots of Nauclea orientalis. (See study below).
Properties
- Emetic, vulnerary.
- Considered antimalarial, anticancer.
- Studies have shown antimalarial, antiproliferative, anthelmintic, antioxidant, cytotoxic, antiplasmodial properties.
Parts utilized
Bark, leaves, fruits.
Uses
Edibility
- Fruits are edible, though bitter tasting. Eaten by indigenous Australians. (13)
- Fruits palatable to bats and birds. In Malaysia, one of the food sources of proboscis monkeys.
Folkloric
- Used to treat wounds.
- Leaves applied to boils and tumors.
- Bark decoction for diarrhea and toothaches.
- Elsewhere, bark used as ingredient in birth control concoctions.
- Bark infusions used as emetic. Used to treat stomachaches and animal bites.
- Aboriginal people of North Queensland crush the fruits in water to use as baby food; also used for coughs, colds, stomach pains and diarrhea.
- In Laos, decoction of dried stem (chipped stem wood and stem bark) mixed with two other plants used to treat fatigue. (10)
- In Ayurveda, used for toothache, tumors, and diarrhea.
- In Gorontola, Indonesia, bark used as febrifuge.
Others
- Dye: In Otaheite, leaves used as ingredient in the red dye, or matte, for cloth.
- Lumber: Timber is not durable to weather exposure. Used for frames, internal floorboards, making canoes, woodcarving, paper making.
- Poison: Wood was shown to be toxic to the termite Cryptotermes domesticus under laboratory conditions. (13)
Studies
• Antimalarial : Phytochemical analysis isolated two novel tetrahydro-B-carboline monoterpene alkaloid glucosides: naucleaorine and epimethoxynaucleaorine, together with six other known compounds. Compounds 1, 2, 6, and 8 showed moderate in vitro activities against Plasmodium falcifarum. (see constituents above) (1)
• Phytochemicals: New Indole Alkaloids from the Bark of Nauclea orientalis: Four new alkaloids, nauclealines A and B and naucleosides A and B, together with six known compounds were isolated from the bark of Nauclea orientalis. (2)
• Antiproliferative / Alkaloids: Study yielded nine indole alkaloids from ammoniacal extracts of Nauclea orientalis. The compounds were found to exhibit in vitro anti-prolilferative activity against human bladder carcinoma T-24 cell line and epidermal growth-factor-dependent mouse epidermal keratinocytes. (3)
• Anthelmintic / Leaves: Various extracts of Nauclea orientalis leaves were evaluated for anthelmintic activity on adult Indian earthworm (Pheretima posthuma). The extracts exhibited dose-dependent action with inhibition of spontaneous motility and death of earthworms. (4)
• Cytotoxic Indole Alkaloids / Roots: Study yielded a pair of new isomeric indole alkaloids, naucleaoral A and B from the roots. Naucleaoral A showed significant cytotoxicity against HeLa cells with an IC50 of 4.0 µg/mL, while compound B showed very modest cytotoxicity against both HeLa and KV cell lines with IC50 of 7.8 and 9.5 µg/mL, respectively. (5)
• Antioxidant / Leaves: Study of ethanol extract of leaves showed significant antioxidant activity which was attributed to the phenolic constituents. (7) Study of aqueous extracts of some selected plants of the family of Rubiaceae and Acanthaceae showed Nauclea orientalis leaves to possess good antioxidant activity using a DPPH assay. (14)
• Roots / Constituents / Cytotoxicity: Roots yielded a new naucleidinal derivative along with nine known compounds consisting of six indole alkaloids. (See constituents above) The isolated compounds were tested for cytotoxicity on HeLa and KB cell lines. (9)
• Antiplasmodial / Hepatoprotective / Oleanolic Acid: Oleanolic acid isolated from N. orientalis exhibited a modest antiplasmodial property against Plasmodium falciparum and protected against CCl4, acetaminophen, and cadmium chloride-induced liver injury. (10)


Availability
Wild-crafted.