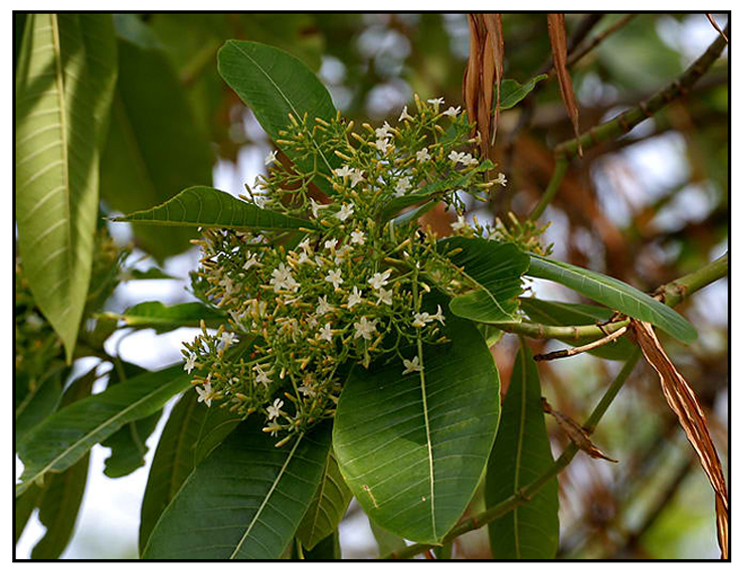 Botany
Batino is a medium-sized tree, growing up to 20 meters high. Bark is smooth. Branches are 4-angled. Leaves are in whorls of three, oblong-obovate, 10 to 30 centimeters long, 5 to 7 centimeters wide, and short-stalked. Flowers are small, yellowish-white, borne on short, terminal cymes. Calyx is small. Corolla is tubular, 1 to 1.5 centimeters long, lobed towards the top. Fruit is a double follicle, pendant, long and slender, 20 to 40 centimeters long. Seeds are small and very flat, with deep-brown hairs, especially along the edges.

Distribution
- Native to the Philippines.
- Common In open primary and in secondary forests and thickets at low and medium altitudes throughout the Philippines.
- Also native to Andaman Is., Borneo, Cambodia, China, Malaya, Maluku, New Guinea, Nicobar Is., Sri Lanka, Sumatera, Thailand, Vietnam.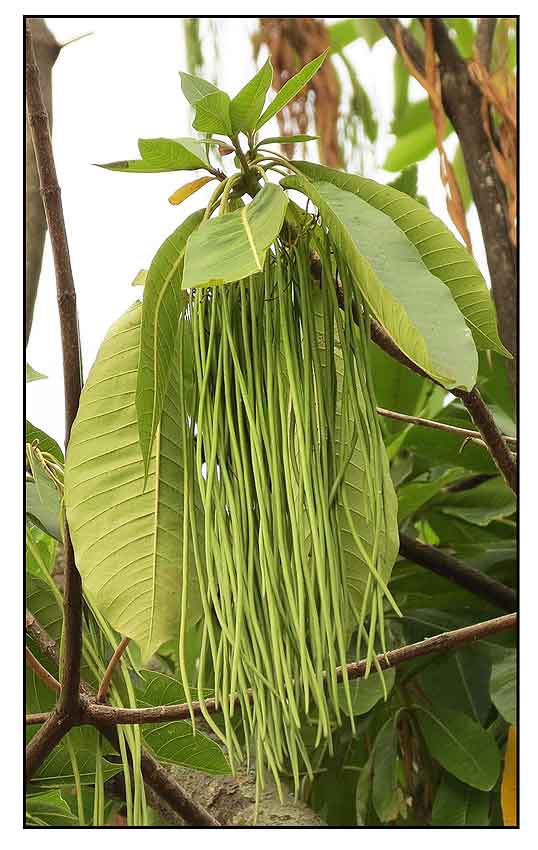 Constituents
- Bark yielded four alkaloids: macralstonine, macralstonidine, villalstonine, and a base M.
- Study isolated a nonphenolic alkaloid, macrophylline, consisting of colorless and tasteless crystals.
- Total alkaloids 0.99% - macrophylline, macrastonine, macalstonidine, villastonine,monomeric indole alkaloids, dimethoxy alstophylline.
- Research on alkaloidal content of leaves isolated and characterized twelve indole alkaloids.
- Phytochemical screening yielded alkaloids, phenolics, saponins, and tannins.
- Methanolic extract of leaves yielded sterols, triterpenes, flavonoid, alkaloid, tannin, and reducing sugar; fraction A yielded a ß-sitosterol, a phytosterol. (see study below) (6)
- Study of leaves isolated 19 alkaloids, 15 of which were characterized. Compounds were categorized into six groups: macroline (1-3), macroline oxindole (4,5), akuammiline (6-9), ajmaline (10-12), corynantheine (13), and strychnan (15). (16)
- Study of ethanol extract of stems yielded four compounds: macralstonine, a bisindole alkaloid (1), thungfaine, a new bisindole alkaloid (3), and naresuanoside, a new secoiridoid glycoside (4). (see study below) (17)
- Study of leaf extract yielded ten new indole alkaloids, alstomaline (1), 10,11-dimethoxynareline (2), alstohentine (3), alstomicine (4), 16-hydroxyalstonisine (5), 16-hydroxyalstonal (6), 16-hydroxy-N(4)-demethylalstophyllal oxindole (7), alstophyllal (8), 6-oxoalstophylline (9), and 6-oxoalstophyllal (10), along with 21 known ones. (18)
- Crude DCM extracts yielded eight constituents, which consisted of long unsaturated fatty acid (17:0) and fatty acid esters such as ethyl hexadecanoate and methyl hexadecanoate. Extraction of bark using MeOH/DMSO solvents identified 17 constituents, principally alkaloids (alstonerine, 34.38%; strictamin, 5.23%; rauvomitin, 4.29%; and brucine, 3.66%) and triterpenoids (γ-sitosterol, 3.85%; lupeol, 3.00%; 24-methylenecycloartanol, 2.81%; campesterol, 2.71%; β-amyrin, 2.30%; and stigmasterol, 2.13%). (see study below) (19)
- GC-MS study of acetone extract of flower identified 30 components. Major compounds were Cycloarterol acetate (17.11 %); 5H-1-Pyrindine (12.44 %); Lupeyl acetate (10.12%); Oleic acid (6.08 %); Ben-zenesulfonic acid, 4-hydroxy- (4.25 %); p-n-Amylphenol (4.23 %); and  4-Methylindole (4.22 %).     (21)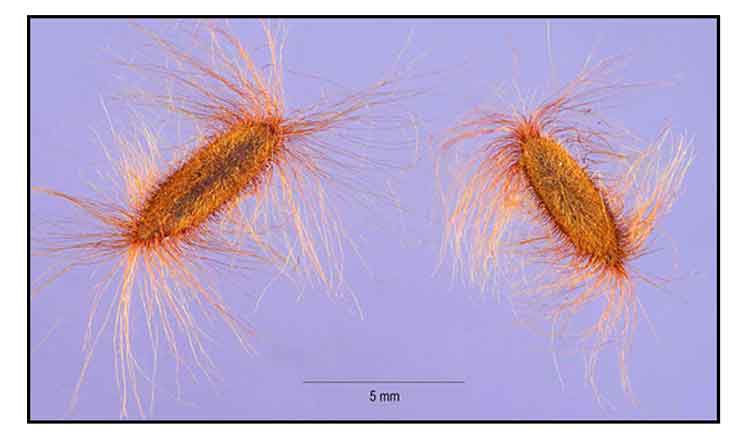 Properties
- Considered febrifuge, tonic, aphrodisiac, emmenagogue, vulnerary.
- Reported antipyretic, antibacterial, antifungal and antiinflammatory.
- Studies have suggested cytotoxic, antimicrobial, CNS depressant, anti-inflammatory, antipyretic, vasorelaxant, sperm-motility inhibitory, antiprotozoal, chemomodulatory, anticholinesterase properties.

Parts used
Leaves, bark.

Uses
Folkloric
• In the Philippines, the bark, in powder, decoction, infusion, tincture, or wine preparation, is used as febrifuge, tonic, antiperiodic, antidysenteric, emmenagogue, anticholeric, and vulnerary.
• Bark is used in the same manner as dita (Alstonia scholaris).
• Crush leaves, mix with a little coconut oil and heated, are applied as a warm poultice to sprains, bruises, contusions, and dislocated joints.
• In India, decoction of leaves and stem bark widely used to treat stomachache, skin diseases, urinary infections. Rooots used for fever and fractured bones.
• Decoction of young leaves drunk to treat lung and ear congestions. (15)
• Powdered bark, mixed with water, used for skin diseases. (15)
• In Thailand, used as general tonic, aphrodisiac, anticholeric, antidysenteric, antipyretic, emmenagogue, and vulnerary. Drink prepared from leaves and stem bark used to treat stomachache and for putrefaction of urine. (20)
Others
• Wood: Timber is of superior quality to Alstonia scholaris and less likely to attack by boring insects. Hard wood used for construction purposes, roof beams, flooring, furniture, poles and toys. (15)

Studies
• Antimicrobial activity of Alstonia macrophylla: a folklore of bay islands: The extract studies showed antimicrobial activity against various strains of Staph aureus, Stapyh saprophyticus, Strep faecalis, Proteus mirabilis, Trichophyton rubrum, Trichophyton mentagrophytes and Microsporum gypseum. (1)
• CNS Depressant Activities: An ethnomedicine of Onge of Bay Islands : Study showed of Alstonia macrophylla leaves caused a significant reduction in spontaneous activity, decrease in exploratory behavioral pattern, reduction in muscle relaxant activity. Crude leaf extract showed the presence of tannin, triterpenoid, flavonoid, sterol and alkaloids. (2)
• Cytotoxic activity of indole Alkaloids: 13 alkaloids isolated from the root bark of Alstonia macrophylla and a semisynthetic bisindole was studied for cytotoxic activity against two human lung cancer cell lines. The bisindoles were found to possess pronounced activity against cancer cell lines. (3)
• Antipyretic Activity / Ursolic Acid: Study showed the methanol extract to possess a significant antipyretic effect. Phytochemical testing yielded ursolic acid as a major constituent, with its diverse pharmacologic actions – antiinflammatory, antihistamine and analgesic. (4)
• Anti-Inflammatory Activity: Study of methanolic extract of dried leaves of Alstonia macrophylla showed significant dose-dependent antiinflammatory activity in a rat study, comparable to that of standard drug Indomethacin. (5)
• Sperm-motility Inhibition: Study evaluated a methanolic extract and n-butanol fraction of leaves for its effect on forward motility of goat spermatozoa. Results showed marked inhibition of sperm forward motility. Activity increased with increasing concentration of the fractions. Fraction A yield ß-sitosterol, which is a potent inhibition of sperm motility and has potential for use as vaginal contraceptive. (6)
• Antiplasmodial / Vasorelaxant: Study yielded four new alkaloids, alstiphyllanines A-D which showed moderate antiplasmodial activity against Plasmodium falcifarum and vasorelaxant activity against phenylephrine-induced contraction of isolated rat aorta.
• Chemomodulatory: Chemomodulatory activity of AS extract was studied in combination with berberine Hcl (BCL), a topoisomerase inhibitor, which showed antineoplastic benefits in the early stages. (8)
• Antibacterial: In a study of 12 extracts from 6 medicinal plants, the crude ethanolic extracts from the bark of Alstonia macrophylla showed potential antibacterial effect against S aureus. (9)
• Antiprotozoal: Study showed three alkaloids from A macrophylla to possess significant activity against E histolytica and Plasmodium falcifarum, although less in potency than emetine and chloroquine. (10)
• Comparative Antibacterial Study on Bark: Comparative study was done on the phytochemical and antibacterial activities of the bark of A. scholaris and A. macrophylla. Different solvent extracts showed alkaloids, saponins, phenolics, and tannins in both species. The chloroform extract of A. macrophylla showed broader spectrum of antibacterial activity than A. scholaris. (12)
• Alkaloids: Study of leaves isolated 19 alkaloids, 15 of which were characterized. Previous studies have attributed potent vasorelaxant activity to compound 4; compound 6 has shown moderate activity in vincristine-resistant human oral epidermoid carcinoma cell line. (see constituents above) (16)
• Bisindole Alkaloids and Secoiridoids / Anti-Cholinesterase Activity / Stems: Study of ethanolic extract of stems showed significant inhibitory effect on acethycholinesterase (AChE). Four compounds were isolated: macralstonine, a bisindole alkaloid (1), thungfaine, a new bisindole alkaloid (3), and naresuanoside, a new secoiridoid glycoside (4). Compound 5 showed moderate AChE and butyrylcholinesterase (BChE) inhibitory effects. Compound 4 showed inhibitory effect on cell growth of human androgen sensitive prostate cancer cell line (LNCaP). (17)
• Antixodant / Cytotoxicity / Anti-Venom / Bark: Study evaluated the pharmacognosy of the bark of Alstonia macrophylla. MeOH/DMSO sampes exhibited efficient radical scavenging activity (IC50 0.71 mg/mL), which were highly degenerative to MCF-7 (IC50 6.34 µg/mL), H69PR (IC50 7.05 µg/mL) and HT-29 (IC50 9.10 µg/mL). The samples also inhibited the northern Philippine Cobra's (Naka philippinensis Taylor) venom (IC50 297.27 µg/mL) through a secretory phospholipase A2 assay. (see constituents above) (19)
• Hepatoprotective / Paracetamol Toxicity / Leaves: Study evaluated the hepatoprotective activity of crude ethanolic extract of A. macrophylla in paracetamol induced hepatotoxicity in Sprague Dawley rats. Hepatotoxicity was induced by paracetamol 500 mg/kg leading to elevated liver markers, ALT, AST, ALP, and decreased serum albumin level. Extract treatment at 600 mg/kg resulted in decrease of liver enzymes and increased albumin level. Depleted levels of glutathione and catalase were increased, while malondialdehyde was significantly decreased. Effects were comparable to standard drug N-acetylcysteine. (22)

Availability
Wild-crafted.