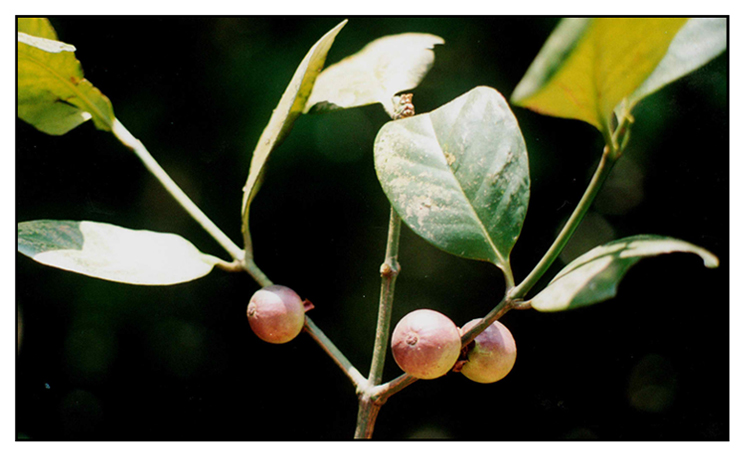 Botany
Batuan is a tree that grows up to 12 meters tall. Bark is smooth, dark gray in color; blaze is white. Leaves are simple, opposite, decussate; petiole 0.6 to 1.5 centimeters long, canaliculate, sheathing at the base, glabrous; lamina is 6.5 to 15 by 3.5 to 6 centimeters, usually elliptic, sometimes narrow obovate; apex acute to acuminate, base attenuate; coriaceious or subcoriaceious, glabrous; secondary nerves are 6 to 8 pairs; tertiary nerves are obscure. Flowers show inflorescence and are dioecious; male flowers in fascicles, axillary; female flowers larger than male, solitary, axillary. Fruit is globose to slightly elongated, 2 centimeters in diameter, yellow when ripe, each of its four cells contains a seed.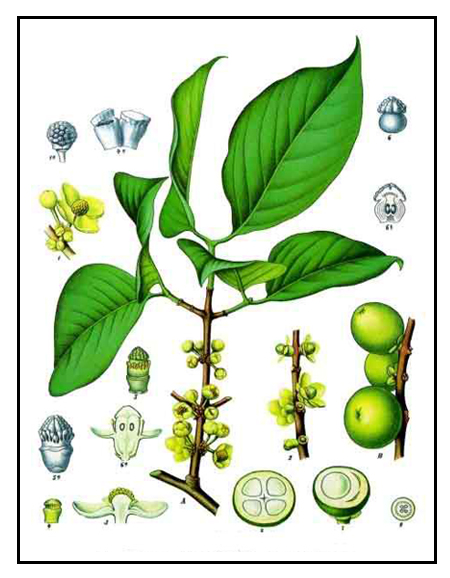 Distribution
- Found in Sri Lanka, India, and southern Philippines.
Constituents
- All parts of the plant yield a thick, yellow, milky juice which constitutes the gamboge.
- Phytochemical analysis of leaf extract yielded 15 novel cytotoxic compounds, gaudichaudione A-H, gaudichaudiic acid A-E, and known compounds morellic acid and forbesione. (see study below) (2)
- Study of bark isolated novel gaudichaudiic acids F-I . (3)
- GC-MS analysis of latex yielded 20 compounds with major compounds identified as  5-oxohexa-nenitrile (18.7%), phenol, 2,4-bis(1,1-dimethylethyl)- (24.64%) and Hexadecanoic acid (22.85%).  (see study below) (17)
- Gas chromatography of seed oil yielded ten different fatty acids such as myristic acid, palmitic acid, palmitoieic acid, stearic acid (45.95%), oleic acid (45.38%), linoleic acid, arachidic acid, behenic acid, heptadecanoic acid. (see study below) (18)
- Study to identify gambogic acid metabolites in rat bile yielded M1, M2 and M3. M1 was identified as 3,4-dihydro-gambogic aid, M2 as 10-hydroxy-gambogic acid and M3 as 9,10-epoxy gambogic acid. (27)
Properties
- Antidysenteric.
- Studies have shown cytotoxic properties.
- Gum-resin of G. morella considered to have hydragogue, cathartic, anthelmintic and amenorrheic properties. (7)

Parts used
Fruit, latex.

Uses
Culinary / Edibility
- Ripe fruits are edible but very acidic.
- Fruits can be preserved by drying thin sliced pieces in the sun.
- Dried slices added to curry preparations for its sour and cooling taste.
- Unripe fruit cooked as vegetable.
- Chutney made by boiling the fruit.
- Study has showed seed oil can be used as edible oil. (18)
Folkloric
- In India, the Bodo tribes of Udalguri use dried fruit slices as remedy for dysentery. (5)
- Fresh fruits reported to lower blood pressure.
- Resin applied as anti-irritant for skin.
- In Ayurvedic records, the yellow latex of the plant is dried and sold in the market as 'Kokum" or "Gamboge." (4)
- Gamboge is a laxative in doses of 10-15 cgm, producing abundant evacuations with violent colicky pains in doses of 30-50 cgm., and is an irritant poison in large doses. Used as hydragogue cathartic in draining of fluid elements from the blood, as in dropsy, asthma, pulmonary and cerebral congestion. Also used as vermifuge. Rarely given alone, often combined with calomel, aloes, jalap, rhubarb, etc.   (6)
Others
- Gamboge resin: Plant yields a gum-resin, used as yellow dye, as illuminant, and in varnishes, water colors, etc. Resin traditionally obtained by cutting a palm-sized thin slice of bark, and the resin scraped off when sufficiently dried. (23)
- Rootstock: Used as rootstock for mangosteen. (23)

Latex extraction
- All parts of the plant contain a thick, yellow, milky juice which constitutes the gamboge. In Malabar, Ceylon, Canara and Singapore the following method of extraction is followed: At the beginning of the rainy season a spiral incision is made around the bark of about half the tree trunk, and a piece of bamboo is fixed in place to collect the juice which slowly exudes from the cut for several months, soon becoming viscid and then solid after contact with the air. One tree, as a rule, yields enough sap to fill three internodal segments of bamboo, each 50 centimeters long by 3–5 centimeters in diameter. (6)
Studies
• Cytotoxicity / Tetraprenylated Xanthonoids: Study of leaf extract yielded 15 novel cytotoxic compounds, gaudichaudiones A-H, gaudichaudiic acids A-E, morellic acid and forbesione. Some compounds were found to exhibit significant cytotoxicity against several cancer cell lines. (2)
• Antioxidant: Hexane and methanol extract of fresh G. morella and methanol extract of preserved G. morella showed mild pro-oxidant activity. All the sample extracts except the ethyl acetate extract of fresh G. morella showed instant radical scavenging capacity. (8)
• Gamboge / Colorant: Early chemical literature reports the use in the arts and sciences of the pulverized gold-colored resin from Garcinia hanburyi, and to a lesser extent from Garcinia morella. The yellow colorant of 8th century East Asia artifacts is presumed to be gamboge-based water color. Also, the pigment has been noted in a Rembrandt painting, and reportedly used by Flemish painters. (9)
• Morellin / Antibacterial: In 1937 investigations from seeds and resin of G. morella isolated morellin. In 1963 the p-bromobenzenesulfonyl ester of morellein was identified. Morellin and gambogic acid, the major components of semipurified resin extracts of G. morella exhibited high in vitro specific growth inhibitory effects on Gram-positive bacteria in vitro and a protective action in experimental staphylococcal infections in mice. (9)
• Endophytes / Antioxidant: Fungal endophytes Aspergillus fumigatus and Fusarium verticillioides were isolated from the twigs of Garcinia morella. Studies showed antioxidant activity on DPPH and ABTS assays, with a total phenolic content of 100.24±0.01 mg/ml. Extracts also showed inhibition of 15-lipoxygenase and human cyclooxygenase-2. (9)
• Anti-Breast Cancer / Antioxidant / Anti-Inflammatory / Apoptotic Pathway / Fruit: Study evaluated Garcinia morella fruit for antioxidant, anti-inflammatory, and anti-breast cancer activity. Study suggested the chloroform fraction as the bioactive fraction. Tested on breast cancer cell lines, the fraction showed dose and time dependent antiproliferative responses. Mechanistic studies suggest an apoptosis inducing effect on breast cancer. On anti-inflammatory assays, the fraction lowered release of nitrite and TNF-α level of LPS-induced RAW264.7 cells (p<0.05). On carrageenan induced paw edema testing there was significant (p<0.05) inhibition of paw inflammation. Main component identified was garcinol, which was the first report of isolation. (14)
• Anticancer / T-Cell Murine Lymphoma / Apoptotic Induction: Study evaluated the antioxidant and anticancer activity of methanol extracts of leaf, bark, and fruit of G. morella in in vitro and in vivo experimental models. Results showed in vitro antioxidant and anticancer properties, with the fruit extract showing maximum activity. Anticancer activity was confirmed by in vivo results on Dalton's lymphoma (FLA) induced mice, evidenced by increased mean survival time of animals, decrease tumor volume, and restored hematological and biochemical parameters. The anticancer effect was exerted through induction of caspases and DNA fragmentation that led to apoptosis. (15)
• Hepatoprotective / Fruit Rind: Study evaluated the in vitro antioxidant and in vivo hepatoprotective activity of of G. morella fruit rind extract. Antioxidant activity was evaluated in various invitro models viz. DPPH, ABTS, NO while hepatoprotective activity was evaluated in albino rats with hepatotoxicity induced by CCl4. Toxicological study showed the plant to be non toxic. Results showed the methanolic fruit rind extract may be a protective agent against diseases caused by free radicals and hepatoprotective against CCl4 toxicity. (16)
• Larvicidal / Antioxidant / Latex: Study revealed G. morella latex possessed 204.27 mg/g phenolic acid and 124.92 mg/g of flavonoid content. GC-MS analysis of latex yielded 20 compounds. The latex showed toxicity against treated third instar larvae of Culex quinquefasciatus with LC50 and LC90 of 132.54 and 483.15 ppm. Latex also showed significant antioxidant activities with EC50 of 205.5 µg/ml in DPPH, 95.53 µg/ml in phosphomolybdate, 308.1 µg/mL in H2O2 scavenging assays. (see constituents above) (17)
• Nutritional Constituents / Antibacterial / Oil: Study evaluated the nutritional constituents of G. morella seeds and seed oil. Proximate analysis showed the seeds yield a high amount of carbohydrates, rich in oil, but low in protein content. Gas chromatography of oil yielded ten different fatty acids. The oil showed antibacterial activity against Staphylococcus aureus and Pseudomonas aeruginosa. Results suggest the seed oil can be used as edible oil and also for industrial applications (see constituents above) (18)
• Antioxidant / Antifungal / Dried Pulp: Study evaluated the antioxidant and antifungal activities of polyphenol rich extracts of dried fruit pulp of Garcinia morella and G. pedunculata. G. morella showed significant amounts of TP 5.46 ± 0.02 mg catechin equivalent/g and 3.69 ± o.04 mg quercetin equivalents/g. DPPH free radical scavenging activity showed IC50 of 1 .0 — 0.03 µg/mL and H2O2 radical scavenging activity with IC50 1.44 ± 0.01 µg/mL. Both species showed high antifungal activity against some human dermatophytes. (19)
• Anticancer / Neuroblastoma / Garcinol: Study evaluated the anticancer activity of G. morella fruit chloroform fraction and its isolated bioactive molecule garcinol on neuroblastoma cell line (SH-SY5Y).G. morella fruit and garcinol showed significant activity against neuroblastoma. Further studies were suggested to elucidate the mechanism of action. (20)
• Silver Nanoparticles / Antimicrobial / Fruit: Study reports on the novel green method for the synthesis of antimicrobial silver nanoparticles (AgNPs) using fruit extract of G. morella as substitute for conventional trisodium citrate. The green mediated AgNPs showed better antibacterial activity against Bacillus subtilis and Pseudomonas aeruginosa than sodium citrate mediated NPs.(21)
• Advanced Cancer Treatment by Gambogic Acid Injection / Clinical Trial: Gamboge acid is a pure active compound from G. morella. This open-labeled, randomized, multicentered, phase IIa study compared the efficacy and safety of different dosage schedules of gamboge acid infusions for advanced cancer treatment. There was an observed objective remission rate (ORR) of 14.29% and an overall disease control rate (DCR) of 76.2% in arm A compared to arm B with ORR of 0.00% and DCR of 61.5%. The preliminary results indicated a favorable safety profile at 45 mg/m2. (22)
• Anxiolytic / Sedative / Leaves: Study of methanolic extract of G. morella leaves in mice showed anxiolytic and sedative effect using Elevated plus maze, Rota rod, Open field test, Light/dark exploration in mice at both 200 and 400 mg/kg dose comparable to effect of diazepam. Activity was attributed to phytoconstituents present such as flavonoids, alkaloids, xanthones, and polyphenols. (24)
• Gambogic Acid / Anti-Inflammatory / Suppression of LPS-Induced Activation of NF-kB: GA (gambogic acid) is a polyprenylated xanthone abundant in the resin of Garcinia morella and G. hanburyl. The antitumor activity of GA has been demonstrated and believed to be partly related to its anti-inflammatory activity. Study demonstrated GA inhibits the LPS-dependent suppression of NF-kB target pro-inflammatory genes in macrophages. GA was able to decrease nuclear p65 levels in RAW264.7 macrophages, along with significant inhibition of kinase activity. Results demonstrate a potent anti-inflammatory activity of gambogic acid. (25)
• Gambogic Acid / Synergistic Lethal Effects with Methotrexate on Hepatoma Cells: Treatment of rat hepatoma and other human and murine cancer cells lines with methotrexate and gambogic acid (GA) showed the two drugs displayed a marked synergistic lethal effect. (26)

Availability
- Wild-crafted.
- Supplements.