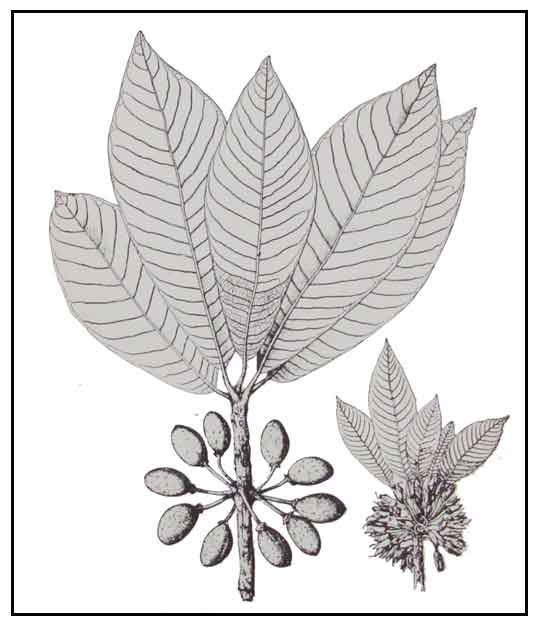 Botany
Betis is a good-sized tree reaching a height of 30 meters. Bark is brown and ridged. Leaves are clustered at the ends of the branchlets, oblong-obovate, 20 to 25 centimeters long, 7 to 9 centimeters wide, smooth on the upper surface, very hairy beneath, pointed at both ends. Flowers are numerous, hairy, pale white, borne in rounded clusters. Fruit is ellipsoid, brownish, grows upon thickened smooth stalks, 3 to 4 centimeters long, with a large and shiny seed.
Distribution
- In the Philippines, in primary forests at low altitudes, in the Luzon provinces of Cagayan, Cavite, Rizal, Quezon, and the Camarines; in Mindoro and Mindanao.
- Also reported in the primary lowland forests of Indonesia and Borneo.
- Threatened by habitat loss. Listed in the 2006 IUCN Red List of Threatened Species.
Constituents
- Seeds yield an oil used for illuminating.
Properties
Wood is pale red, hard and heavy.

Parts used
Bark, leaves and latex.
Uses
Folkloric
- Bark and leaves of the plant used for stomach pains in children.
- Latex applied to abdomen to expel worms.
- Bark powder provokes sneezing.
Others
- Wood used in building wharfs, bridges and ships; as foundation posts of houses.
- Seed oil used as illuminant.
Studies
• No studies found.

Availability
Wild-crafted.