Gen info
- During the middle ages, plant was referred to as the mythical "Vegetable Lamb of Tartary" because of the resemblance of the rhizomes to a lamb. The "lamb" is exposed by removing the leaves from the woolly rhizome, which when inverted fancifully resembles a woolly lamb.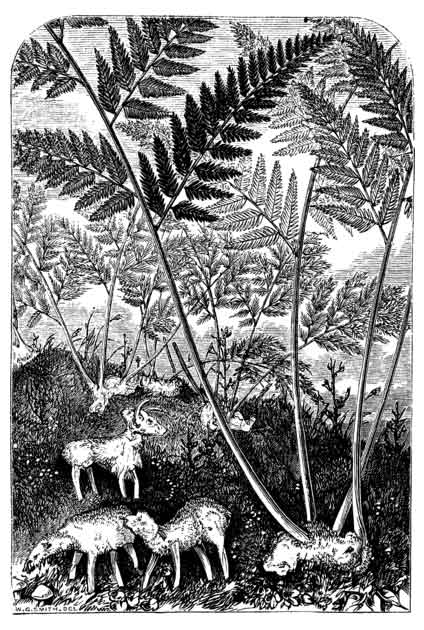 Botany
- Borabor is a large terrestrial fern growing to a meter or more in height, covered with dense yellow hairs at the base. Fronds are a meter or two long, ovate, hardly tripinnate and glabrous beneath. Lower pinnae are ovate-lanceolate, 30 to 60 centimeters long. Pinnules are linear-lanceolate. Sori are 2 to 12, rarely one, on each side of the segment. The indusium is brownish.
Distribution
- Found in the mountains, from Luzon to Mindanao.
- Native to parts of China and the western part of the Malay peninsula.
- Extends from Assam across Malaysia.
Constituents
• Rhizomes yield 30% starch. The yellow fuzz yields tannin and pigments.
• Rhizomes yield fatty acid (oleic, palmitic, and octadecanoic acid), flavonoids (kaempferol, onychin).
• Study for total phenolic content (TPC) yielded 1589 ± 191 mg of GAE/100g, DPPH radical scavenging activity with IC50 0.25 ± 0.02 NS 1542 ± 112 AEAC mg of ascorbic acid/100g; and ferric reducing power of 804 ± 56 mg of GAE/100g. (see study below) (4)
• Study yielded nine compounds viz. palmitic acid(Ⅰ), β-sitosterol (Ⅱ), 1-mono-palmitin (Ⅲ), daucosterol (Ⅳ), caffeic acid(Ⅴ), protocatechuic acid(Ⅵ), protocatechuic aldehyde (Ⅶ), n-butyl-β-D-fructopyranoside(Ⅷ) and D-glucose(Ⅸ).   (13)
• Study isolated a new phenolic compound, 4-O-caffeoyl-D-glucopyranose, from the rhizome of C. barometz. (17)
• Phytochemical screening of rhizomes for antioxidant constituents yielded several compounds such as protocatechuic acid, caffeic acid and shinbarometin (2-O-(9Z,12Z-octadecadienoyl)-3-O-[α-D-galactopyranosyl-(1′′→6')-O-β-D-galactopyranosyl]glycerol). (19)

Properties
• Considered anodyne, anti-inflammatory, anti-rheumatic, tonic, styptic.
• Studies suggest antibacterial, antioxidant, anti-osteoporotic, anti-inflammatory properties.
Parts utilized
Hairy filaments, rhizomes.
Uses
Edibility
• In Chinese medicine, Rhizoma cibotti is a main ingredient with other Chinese herbs to pickle wine for use as a tonic drink.
• Rhizome starch used for making cakes and liquor in China.
Folkloric
• In the Philippines rhizomes are used as topical for wounds and ulcers.
• Rhizome hairs used as hemostatic poultice for wounds.
• Used for osteodynia, leucorrhea, dysuria, polyuria.
•In Chinese medicine, used to tonify yang; used as anti-rheumatic, for strengthening the bones and muscles, and to replenish the liver, kidneys and the male generative organs. Recommended as an "old man's remedy." Roots also used for the treatment of lumbar pain, numbness, hemiplegia, leucorrhea, spermatorrhea, tumors, and bleeding in women.
• Also used for frequent enuresis.
• In China and Malaysia rhizomes are used as styptic for coagulating the blood to arrest capillary hemorrhages.
• In Malaya long hairs from the rhizomes used as styptic to coagulate blood to stop capillary hemorrhages.
• In Vietnam rhizomes are used to treat rheumatism, lumbago, neuralgia, sciatica, enuresis and body aches in pregnant women.
• In Europe hairy filaments from stipes used as hemostatic in wounds.
• In Chinese medicine, used for treatment of epilepsy. (21)
• Used for curing fainting, wounds and ulcers, coughs; as anti-rheumatic, kidney and liver tonic. (22)
Others
• One of 30 components in a Chinese herb pill used in regimen of therapy- herb therapy, foot massage, leg traction and exercise - for femoral head necrosis.
• Rhizome hairs used for stuffing cushions or as packing material.


Studies
• Sesquiterpenes / Permeability Studies: Study yielded three unusual sesquiterpenes from the rhizomes. Compound 1 was assigned good human intestinal absorption and permeability. (2)
• Osteoclast Inhibition/ Constituents / Anti-Osteoporosis: Study of methanol extract yielded 8 compounds including two new furan derivatives ( cibotiumbarosides A and B) and a new glycoglycerolipid (cibotiglycerol). Compounds 2 to 5 showed inhibition of osteoclast formation with no effect on BMM cell viability. Results suggest a potential for developing new treatments for osteoporosis. (3)
• Antioxidative / Antibacterial: Study of leaf extracts of five medicinal ferns that included C. barometz showed antioxidative potential. All the ferns showed antibacterial activity. (4)
• Alkaline Phosphatase / Osteoblast Effect: Study examined the ability of alkaline phosphatase (ALP) activity of human fetal osteoblast (hFOB1) with natural medicine supplementation. Results indicate M radix, Cibotium barometz, A cortex, C herba have inducing ability on ALP synthesis on osteoblast. (7)
• Antiosteoporosis Effect/ Ovariectomized-Induced Osteoporosis: Study evaluated the effects of CB extract on ovariectomy-induced osteoporosis in female Sprague-Dawley rats. Results showed the treatment can enhance bone strength and prevent the deterioration of trabecular microarchitecture, and presents a potential alternative for prevention and treatment of postmenopausal osteoporosis. (9)
• Inhibition of SARS-CoV Replication: In a study of more than 200 extracts to evaluate anti-SARS-CoV activities, six herbal extracts, including Cibotium barometz, were found to be potent inhibitors of SARS-CoV. Results suggest a potential for the extracts as candidates for the development of anti-SARS therapeutics. (10)
• Rhizomes / Antioxidant Effect: Rhizoma cibotii exhibited effective in vitro antioxidant activity, which may results from radical-scavenging and reducing power, attributed to the total phenolics, especially caffeic acid, one of the bioactive components.
• Chinese Herbal Medicine for Osteoporosis: In China, herb extract used to treat osteoporosis, preventing total BMD decrease in the femur induced by OVX, accompanied by a significant decrease in skeletal remodeling, as evidenced by decreased levels of bone turnover markers i.e., osteocalcin, alkaline phosphatase, deoxypyridinoline and urinary Ca and P excretions. (12)
• Effect on Adjuvant Arthritis: Study investigated the effect of CB on adjuvant arthritis.. Results showed CB decreased the blood rheology indexes, increased the weight of the mouse and the organs' weight, inhibited the turgescence of the feet, and increased the content of trace elements in blood, decreased the content of interleukin-1ß (IL-1ß) and tumor necrosis factor (TNF-α) in the joint fluid. (14)
• Anti-Osteoporosis / Rhizomes: Study evaluated the decoction effect of different processed rhizomes of CB on retinoic acid induced osteoporosis in male rats. Results showed the sand-baked and the wined were better than the steamed, salted, and the raw. Findings provide a reference in the processing principles of rhizomes and mechanisms of anti-osteoporosis. (16)
• Neuronal Regeneration / Shinbarometin / Root: Study of roots isolated onitin (I), daucosterol (II) and a new compound (III), characterized as glycerol, named shinbarometin. Compound III exerted an induced neuronal regeneration on nogo-A induced neuroblastoma cells. (18)
• Antiulcer / Leaves / Hair: Study evaluated the gastroprotective effect of C. barometz leaves against ethanol induced gastric hemorrhagic abrasions in Sprague Dawley rats. Grossly, there was a significant decrease in ulcer areas in pretreated rats, Histology showed reduction in submucosal edema and leucocyte infiltration in a dose dependent manner. Results are attributed to gastroprotective and antioxidant effects of the plant. (20) Study evaluated the anti-ulcer effects of C. barometz hair on ethanol induced stomach hemorrhagic abrasions in Sprague-Dawley rats. Rats pre-fed with the C. barometz hair extract exhibited a gastroprotective effect that might be attributed to antioxidants, an increase in pH, stomach mucus preservation, increased endogenous antioxidant enzymes, decreased lipid peroxidation, up-regulation of HSP70 and down-regulation of Bax proteins. (24)
• Anti-Inflammatory / Antioxidant / Rhizome: Study evaluated the antioxidant and anti-inflammatory activities of 85% methanol extract of C. barometz. Results showed potent scavenging effect of DPPH radical, superoxide radical and NO radical. In IFN-/γLPS-stimulated mouse peritoneal macrophage model, C. barometz decreased iNOS and COX-2 expression with notable cytotoxicity. (22)
• Polysaccharides / Stimulation of Chondrocyte Proliferation by Promoting G1/S Cell Cycle Transition: Study evaluated the effects of CBPS (cibotium barometz polysaccharides) on the viability and G1/S cell cycle transition in primary chondrocytes on Sprague Dawley rats. Results showed chondrocyte proliferaton was enhanced by CBPS in a dose- and time-dependent manner. Mechanism may be through stimulation of G1 to S phase transition. Results suggest a potential for CBPS as a novel treatment for osteoarthritis. (23)
• Effect on Alkaline Phosphatase Activity in Human Fetal Osteoblasts: Study evaluated several herbal medicines for alkaline phosphatase activity in human fetal osteoblast (hFOB1). Among the natural medicines studied, Morindae radix, Cistanchis herba, and Cibotium barometz induced higher activity of ALP synthesis than controls. C. barometz and C herba showed statistical significant compared to negative control (p<0.05). Results indicate C. barometz has inducing ability of ALP synthesis on osteoblast. (25)
• Hepatoprotective / Rhizome: A previous study isolated five hemiterpene glycosides, cibotiumbarosides E-I, and two known hemiterpene glucosides from the rhizomes of C. barometz. Cibotiumbarosides F and I both exhibited remarkable hepatoprotective activity against APAP-induced acute liver damage in vitro, which were more effective than control, bicyclol (27)
• Novel Polysaccharides / Anti-Osteoporotic / Rhizome: Two polysaccharides were purified from CB70 — CBP70-1-1 and CB70-1-2. Study showed the compounds significantly promoted the proliferation, differentiation, and mineralization of MC3T3-E1 cells. The CB70-1-2 significantly promoted the expression of osteogenic-related marker genes and proteins. which implies that the osteogenic activity of CB70-1-2 is accomplished mainly via activation pf BMP2/SMAD1 signaling pathway. Results suggest CB70-1-2 has potential as a natural anti-osteoporotic agent. (30)
• Gold and Silver Nanoparticles Antioxidant Antimicrobial / Root: Study reports on the green synthesis of gold and silver nanoparticle using Cibotium barometz root extract. The nanoparticles showed radical scavenging activity by DPPH assay, antimicrobial activity,Cytotoxic activity was evaluated in murine macrophages (RAW264.7) cells and MCF-7 breast cancer cells. Results demonstrated potential biomedical applications of the CB-AuNPs and CB-AgNPs as antioxidant, antimicrobial agents, and drug delivery agents. (31)


Availability
- Wild-crafted.
- Extracts in the cybermarket.