Gen info
- Cleome is a genus of flowering plants in the family Cleomaceae, commonly referred to as spider flowers, spider plants, spider weed or bee plants.
- It was previously placed in the family Capparaceae, until DNA studies found the genera more closely related to the Brassicaceae than Capparaceae.
- Cleome contains about 275 species, the vast majority of Cleomaceeae. (17)
Botany
7Botete is an annual, hairy, strongly-scented herb. Stems are erect, 30 to 90 centimeters in height, simple or branched. Leaves are alternate, palmately compound with 5- to 7-foliate, on petioles longer than the leaflets, commonly with stipular spines. Leaflets are entire, elliptic to obovate or rarely oblanceolate, 2 to 10 centimeters long, and pointed at both ends. Racemes are 10 to 30 centimeters long. Sepals are linear-lanceolate and 5 to 10 millimeters long. Petals are clawed, purple or rarely white, oval or rounded, 2.5 to 3.5 centimeters long. Fruit is a narrow capsule, 6 to 10 centimeters long, with pale and finely reticulated seeds.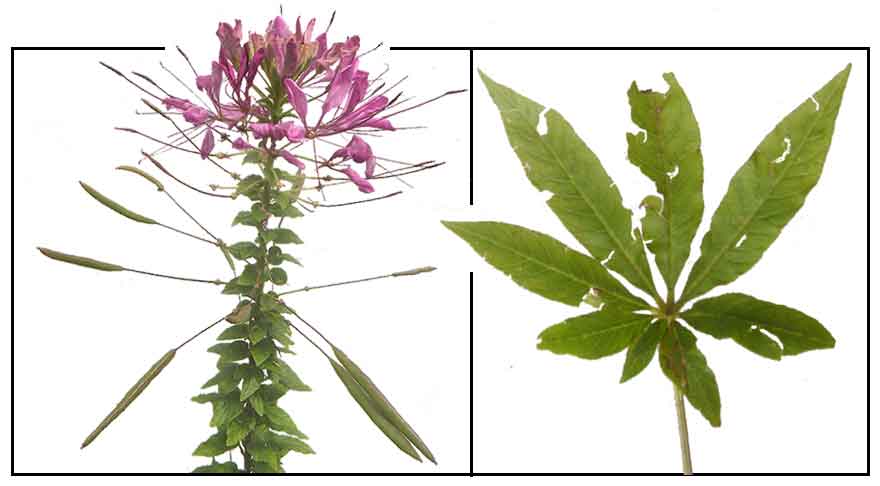 Distribution
- Originally Introduced in Baguio as an ornamental, now thoroughly naturalized.
- Wild and abundant along streams in Baguio.
- Used for bedding in gardens.
- Native of tropical America.
- Now pantropic.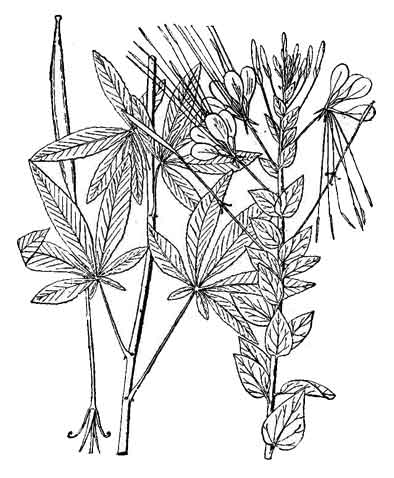 Constituents
- Oil of grains rich in glucosinolates.
- Yields flavone, flindulatin, and five novel diterpene cembranes, called cleospinol A, B, C, D and the 3'-hydroxy-isopentan-10-oate ester of cleospinol A. (5)
- Methanol extract of leaves yielded flavonoids, terpenoids, tannins and saponins. (see study below) (9)
- Cleome spinosa was studied for essential oil. The chemical profile yielded a dominance of oxygenated sesqui- and di-terpenes, except the fruit oil with its high content of fatty acids. Most abundant compounds of whole aerial parts (fruits, leaves, and stems) were abundant in (Z)-phytol (31.3%), integerrimine (5.5%), and incensole (4.0%). Flower oil yielded main components of 7-alpha-hydroxy manool (23.8%), incensole (9.2%), and sclareool (8.7%). Chief constituents of fruit oil were tetradecanoic acid (40.6%), (Z)-phytol (6.58%) and sclareol (4.5%). Dominant compounds in the leaf oil were (Z)-phytol (19.5%), 7-alpha-hydroxy manool (6.8%), and caryophyllene oxide (4.36%). (see study below) (7) =
- Ethanolic and aqueous extracts yielded terpenes, steroids, nitrogen compounds, sugars, phenolic co,pounds (simple phenylpropanoids and coumarins), flavonoids and chalcones. The polyphenolic profile showed caffeic acid to be the major compound of both extracts. (see study below) study below) (15)
Properties
- Stomachic and vulnerary.
- Studies suggest anti-inflammatory, antinociceptive, antimicrobial, and hair-promoting properties.
Parts utilized
Leaves.

Uses
Folkloric
- Bruised leaves applied to the head for headaches.
- Plant is a stomachic; in Brazil, used as an vulnerary.
- In Northeastern Brazil, used for treatment of diseases of the respiratory tract. Syrups and infusions of leaf and flower used for fever, influenza, cough, bronchitis and asthma. Whole plant used for digestive and cicatrizant effects. (6)
- Oil of grains used for earaches.

Studies
• Pharmaceutical and Cosmetic Compositions / Hair Growth: Patent application made for Cleome spinosa extract use in pharmaceutical preparation and cosmetic composition. (2) Invention uses a Cleome spinosa extract as an active ingredient for extending the growth of hair follicles. (3)
• Anti-Inflammatory / Antinociceptive: Methanol extracts were evaluated using carrageenan-induced paw edema and acetic acid-induced writhing animal models. Results showed significant anti-inflammatory and antinociceptive properties. No toxicity was noted by Artemia salina bioassay. (6)
• Essential Oil / Antimicrobial / Aerial Parts: Major compounds from the aerial portion without flowers were caryophyllene oxide, (-)-spathulenol and Z-phytol; In the flower oil, the main components were 7-alpha-hydroxy manool, incensole and sclareol; in fruit oil, tetradecanoic acid, (Z)-phytol and sclareol; In leaf oil, (Z)-phytol, 7-alpha-hydroxy manool and caryophyllene oxide. The volatile oil showed moderate action against seven of the eight bacteria strains used. The oils showed moderate insecticidal activity against Cylas formicarius elegantalus. (7)
• Antimicrobial / Leaves: Study of methanolic extract of leaves showed antimicrobial activity against Gram-positive bacteria (S. aureus and B. subtilis), Gram-negative bacteria (E. coli and P. aeruginosa) and fungus (C. albicans, C. glabrata, and C. krusei). (see constituents above) (9)
• Antimicrobial / Leaves and Roots: Study evaluated the in-vitro antimicrobial potential and phytochemical composition of roots and leaves extracts. All extracts inhibited the test bacteria and yeasts. Activity was attributed to flavonoids, terpenoids, and saponins. Chloroform and chlorhexane extracts were the most active with MIC < 1 mg/mL against S. aureus, B. subtilis and M. luteus. (10)
• Anti-Candid Potential // Fungistatic: Study evaluated The the phytochemical composition and anti-candida potential of extract of Tarenaya spinosa. Caffeic acid was the major compound of the extracts tested. The aqueous extract showed synergism against Candida albicans. Antagonistic effect was seen with the aqueous extract against Candida krusei. The combination of the extract with fluconazole were more significant activity than the products tested alone. (12)
• Antibacterial / Neuroprotective: Study evaluated the antibacterial activity and neuroprotective capacity of ethanolic and aqueous extracts of Taraneya spinosa. HPLC-DAD yielded caffeic acid as the major compound of the ethanolic extract of T. spinosa. While T. spinosa does not present antimicrobial activity, its extracts possess drug modulating activity. The species which is rich in phenolic substances, possess neuroprotective action. (13)
• Synergistic Antibacterial Effect with Oxacillin against S. aureus / Leaves and Roots: Study showed that chloroform and cyclohexane extracts from leaves and roots of Cleome spinosa were able to increase the action of oxacillin against Staphylococcus aureus. (14)
• Cytotoxic / Antiprotozoal / Antioxidant: Study evaluated the leishmancidal and trypanocidal activities and cytotoxic potential of Tarenaya spinosa. The ethanol extract showed significant antileishmanial activity against L. brasiliensis (LC50 81.75 µg/mL) and L. infantum (LC50 141.6 µg/mL). Both extracts showed LC50s of >1000 µg/mL against T. cruzi. The extracts showed high antioxidant
activity by DPPH assay.. The ethanol extract was toxic to fibroblasts, while the aqueous extract showed no cytotoxicity. With the absence of cytotoxicity, the aqueous extract presents as a promising source of antioxidant compounds. (see constituents above) (15)
• Antimicrobial Against Fusarium oxysporum / Cucumber Wilt: Cucumber Fusarium wilt is an important soil-borne disease that restricts cucumber production in all areas of the world. Study evaluated the preventive effect of Cleome spinosa on cucumber Fusarium wilt using various doses of powder formulation. Results showed as the concentration of the C. spinosa extract increased, the inhibitory on diameters and dry weight of mycelium also increased. GC-MS study identified 21 volatile constituents, including heterocyclic compounds, alcohol, chromene, ester, acid, and long-chain alkanes. Results suggest components of Cleome spinosa powder could effectively restrain cucumber Fusarium wilt. (16)

Availability

- Wildcrafted.