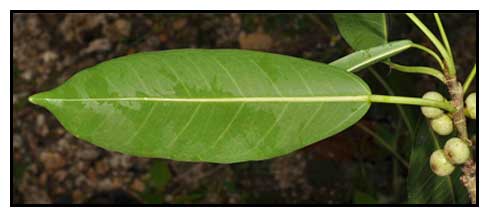 Gen info
- Ficus is a genus of about 850 species of wood trees, shrubs, vines, epiphytes and hemiepiphytes in the family Moraceae. The are collectively known as fig trees or figs. They are native throughout the tropics with a few species in the semiwarm temperate zones.
- Fruits of most species are edible but often of only local economic importance or eaten as bushfood. (11)
Botany
Botgo is a deciduous tree, starting as an epiphyte, later growing to 10 meters high. Leaves are smooth, entire and shining, oblong, 12 to 20 centimeters long, with tapering pointed tip and usually rounded base, with the petioles 5 to 7 centimeters long. Stipules are membraneous, pink, oblong, about 8 centimeters long. Receptacles are solitary, in pairs, or in fascicles in the axils of the leaves and in the axils of the fallen leaves on the ultimate branchlets, short-pedicelled, nearly spherical, about 5 millimeters in diameter, often in great abundance, 3-bracteate at the base. Fruits are pale greenish-white, turning orange-red when mature.
Distribution
- Common in thickets and forests at low and medium altitudes throughout the Philippines.
Constituents
- Phytochemical studies of leaves have yielded several compounds including lupeol, α-amyrin, ß-amyrin, stigmasterol, and campesterol.
- Studies have yielded the presence of carbohydrate, glycoside alkaloid, protein, amino acid, phytosterol, tannins, and flavonoids.
- Whole plant has yielded infectorin, scutellarein, scutellarein glucoside, sorbifolin, bergapten, bergaptol. (3)
Properties
- Astringent, vulnerary, styptic.
- Studies have suggested anti-filarial, antioxidant, antihyperlipidemic, hypoglycemic properties.

Parts used
Fresh roots, bark, leaves.

Uses
Folkloric
- The Kalanguya tribe in Tinoc, Ifugao, Philippines use decoction of leaves for cough. (8)
- In Agusan del Sur, Philippines, plant applied as poultice on sprains.
- The Ayta communities in Dinalupihan, Bataan, Philippines, apply to oil extracted from roots to painful body parts. (10)
- Leaves used for treating dermatitis.
- Fresh roots used as poultice on wounds.
- Decoction of aerial rootlets used on wounds, cuts, and sores.
- Bark decoctions used for washing ulcers; as gargle in salivations. Also used for menstrual disorders.     (4)
- Used for treating dermatitis: One cup of chopped bark is boiled in one-half gallon of water for ten minutes. Decoction used to wash the affected areas twice daily. (6)
- In Ayurveda, decoction of root barks of four Ficus species - F. religiosa, F. benghalensis, F. glomerulata, and F. infectoria - called Pancha valkala kashaya is used as a gargle in salivation, as wash for ulcers and as an injection for leucorrhea.
- In India, bark of F. infectoria Roxb. is used for leucorrhea, for expelling round worms, and for treatment of ulcers. Leaves used for treatment of skin diseases. (3)
- Decoction of latex used for parasitic worms.
- Decoction of chopped bark used for dermatitis and skin eruptions.

Studies
• Antifilarial Potential / Cattle Parasite: In vitro study of alcoholic and aqueous extracts of leaves of Ficus infectoria showed potent antifilarial activity on Setaria cervi. (3)
• Antihyperlipidemic / Hypoglycemic / Antioxidant: Study of methanolic extract of F. infectoria leaf and bark (mixture) in Wistar rats showed antihyperlipidemic, hypoglycemic and antioxidant effects. Results suggest a potential use in the management of insulin resistance. (5)
• Effect on Atopic Dermatitis / Bark: Study of bark decoction showed a beneficial effect (p<0.05) on a study of nine preschool children with moderate atopic dermatitis. (9)
Availability
Wild-crafted.