Botany
Boto is a large, spreading shrub with loose bark and a stout stem and branches. Leaves are crowded in the axil, alternate, obovate or obovate-oblong, 12 to 25 centimeters in length, 6 to 10 centimeters or more wide, and silky, with an obtuse tip which tapers to a wedge-shaped base. Flowers are white, tinged with purple, about 2.5 centimeters long, and borne in considerable numbers in axillary cymes. Calyx-lobes are linear-lanceolate, 3 to 6 millimeters long, and obtuse and enlarged in fruit. Corolla-tube is 1.5 to 1.8 centimeters long, obliquely split to the base behind, narrow, and hairy; the lobes lanceolate, and 6 to 8 millimeters long. Fruit is a drupe, ovoid, somewhat rounded, 1 to 1.5 centimeters long, longitudinally ridged and very succulent.
Distribution
- Along the seashore throughout the Philippines.
- Also occurs in India to Madagascar and through Malaya to Tropical Australia and Polynesia.
Constituents
- Bark and leaves yield a bitter principle and glucoside.
- ß-sitosterol-ß-D-glucoside, mannitol has been isolated.
- Plant yields imperatorin, marmesin, and coumarins.
- Phytochemical screening of stems yielded alkaloids, phenolic compounds, and carbohydrates. (6)

Properties
- Studies have suggested antibacterial, antifungal, anti-inflammatory, analgesic, CNS depressant properties.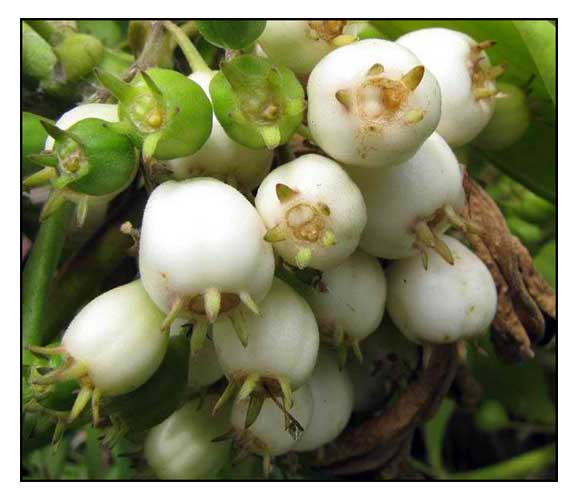 Parts used
Fruit, roots and leaves.

Uses
Edibility
- Young leaves cooked as a potherb.
- Fruit is edible; not well known.
Folkloric
- In the Philippines, juice of ripe fruit used for cleaning opacities of the eyes.
- Decoction of roots used for beriberi and certain syphilitic affections; also for dysentery. (5)
- In Amboina, juice of fruit is instilled by natives into the eyes to clear opacities and improve dimness of vision.
- As a cataplasm, fruit is used for tumors; internally, induces menstruation.
- In India, decoction of leaves and bark used for tachycardia.
- Used as diuretic.
- Bitter leaves eaten to relieve indigestion. Poultice of leaves applied to headaches, tumors and swollen legs. Juice of berries used for sore eyes. Cataplasm of fruit applied to tumors; taken internally to induce menstruation. (1)
- Root decoction used for dysentery and certain syphilitic affections.
- Bark decoction and leaves used to treat tachycardia (fast heart beats). Reported to be an excellent remedy for dropsy. Poulitice of leaves used for headaches, tumors, and swollen legs. Pith of stem used for diarrhea. (1)
- Juice of berries instilled on eyes to clear opacities; used for dimmed vision.
Others
- Tobacco substitute: Leaves smoked like tobacco.
- Wood: In Malaysia, used for making wooden nails and pegs for boats. (1)
- Crafts: Pith from stems and thick branches used for preparing sun-hats and floats; also, pressed flat to make rice paper. (1)

Studies
• Antimicrobial: Study of ethyl acetate extract exhibited inhibitory activity against Candida albicans, similar to Clotrimazole. The extract also showed activity against Klebsiella pneumonia.
• CNS Depressant: At 300-mg/kg dose, acts like a CNS depressant drug, with an effect comparable to Diazepam.
• Anti-Inflammatory / Antipyretic: Study in rats of anti-inflammatory and antipyretic effects of methanolic extract of S. frutescens leaves showed significant reduction in yeast-induced hyperthermia and carrageenan-induced paw edema. The effects were comparable to the standard drugs, paracetamol and indomethacin. (2)

Availability
Wild-crafted.