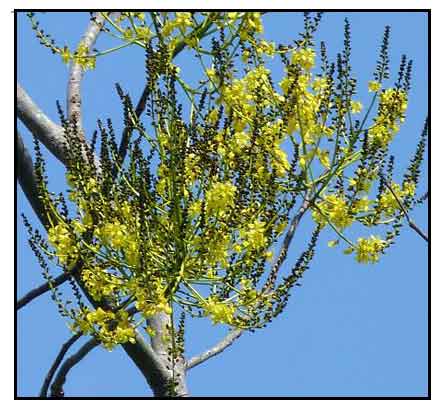 Gen info
- The plant was first described by J. M. C. Vellozo n 1825 under the name Cassia parahyba. The name likely refers to the Paraiba River in Southern Brazil. (3)
- It is one of the fastest growing trees.
Botany
Schizolobium parahyba is a tree growing to a height of 40 meters, capable of fast growth at 3 meters per year. Mature tree has a trunk up to 40 meters tall and 80 centimeters wide. Bark is smooth, gray-green. Leaves are bi-pinnate, about a meter long, with a green stem and 15 to 26 pairs of pinnae; main rachis about 2 meters. Pinnae are up to 30 centimeters with 8 to 27 pairs of leaflets per pinna, clustered near the end of branches. Inflorescence is up to 90 centimeters long; petioles 10 to 17 millimeters, articulated near the middle. Flowers are numerous, bright yellow, nectar-producing, about 3.5 centimeters in diameter. Fruits are tadpole-like pods, about 10 centimeters long, containing a single oval seed, smooth, and brown seed. (2) (3)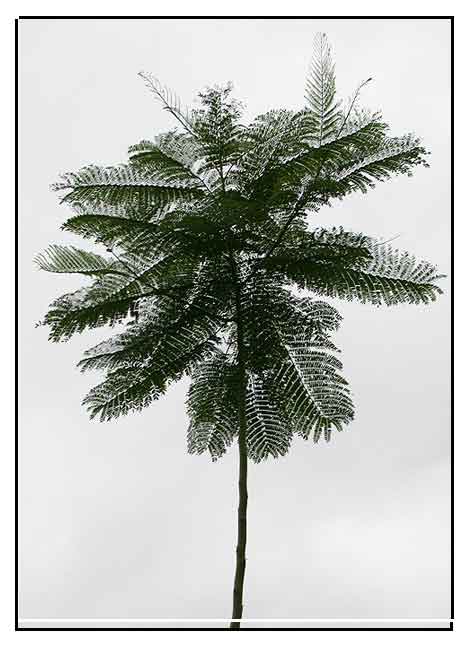 Distribution
- Introduced.
- Ornamental cultivation
- Introduced as an ornamental, for wood products and timber, and habitat restoration in Africa, Asia, southern USA, Fiji, Cuba, Puerto Rico.
Constituents
- Study of lyophilized aqueous extracts of Schizolobium parahyba leaves isolated four flavonoid compounds: isoquercitrin, myricetin-3-O-glucoside, catechin, and gallocatechin. (see study below) (4)
- Study of S. parahyba seeds purified a chymotrypsin inhibitor (SPCI) as a single polypeptide chain with two disulfide bonds.. It weakly inhibits elastase and has no significant inhibitory effect against trypsin and a-amylase. (9)
Properties
- Studies have shown anti-venom properties.

Parts used
Leaves.

Uses
Folkloric
- No reported folkloric medicinal use in the Philippines.
- In southeastern Brazil, plant used by people of the Triangulo Mineiro region as tea or infusion against ophidian envenomation. Farm workers also use plant extracts for treatment of their domestic animals that were bitten by snakes. (7)
Others
- Wood: Straw-colored, soft and light; used for making dugout canoes, toys, boxes, shoo heels. Also used for making laminated wood and paper. Easily cultivated, yielding 600 m3 per hectare after 10 years. (3)
- Crafts:Seeds used as beads and buttons. (3)
- Fodder: Animal feed and forage.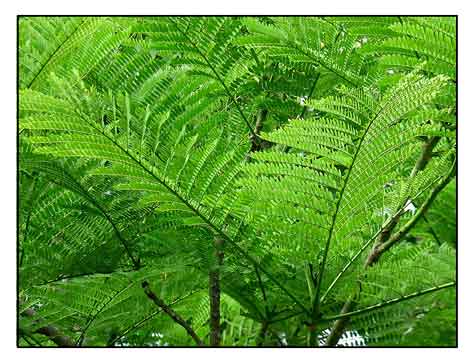 Studies
• Protective Against Snake Venoms and Toxins / Flavonoids / Leaves: Study of lyophilized aqueous extracts of Schizolobium parahyba leaves isolated four compounds (isoquercitrin, myricetin-3-O-glucoside, catechin, and gallocatechin). The compounds were tested against hemorrhagic and fibrinogenolytic activities of Bothrops crude venoms and isolated metalloproteinases. Results showed gallocatechin and myricetin-3-O-glucosidewere good inhibitors of hemorrhagic and fibrinogenolytic activities of metalloproteinases, respectively. Gallocatechin also inhibited the nyotoxic activity of both B. alternatus venom and BnSP-6. (4)
• No Effect on Experimental Bothrops Venom Induced Acute Injury / Negative Effect on GFR: Study evaluated the effects of S. parahyba extract in an experimental model of Bothrops pararaca venom (BV) induced acute kidney injury. Results showed S. parahyba simultaneously administered with BV at approximate concentration of 10:1 did not prevent BV induced AKI, hemolysis and fibrinogen consumption. Schizolobium parahyba used alone caused a significant decrease in GFR when used alone. (5)
• Anti-Snake Venom Property / Leaves: Study evaluated the ability of leaves of S. parahyba to inhibit some enzymatic and biological activities induced by Bothrops pauloensis and Crotalus durissus terrificus venoms and their isolated toxins. Phospholipase A(2), coagulant, fibrinogenolytic, hemorrhagic and myotoxic activities induced by the venoms and toxins were significantly inhibited with different amounts of S. parahyba. Results suggest S. parahyba possesses potent snake venom neutralizing properties and may be used as alternative to serum therapy and is a rich source of potential inhibitors of toxins involved in several physiopathological human and animal diseases. (6)
• Neutralization of Snake Venom / Tannins / Leaves: Study evaluated an aqueous extract of S. parahyba eaves for its ability to inhibit some biological and enzymatic activities induced by Bothrops alternatus and Bothrops moojeni snake venoms. Sp inhibited 100% of lethality, blood incoagulability, hemorrhagic and indirect hemolytic activities at a 1:10 ratio (venom/extract, w/w), as well as coagulant activity induced by both venoms. Sp precipitated proteins non-specifically,, suggesting the presence of tannins, which are very likely responsible for the excellent inhibiting effects of the analyzed ophidian activities. Besides tannins, the aqueous extract contains other compounds that can display specific inhibitory activity against snake venom toxins. (7)
Availability
- Wild-crafted.
- Cultivated.
- Seeds in the cybermarket.