Botany
Lindernia crustacea is a diffusely branched, smooth, suberect or spreading herb, growing to a height of 8 to 20 centimeters. Leaves are ovate, 8 to 15 millimeters long, pointed at both ends, and distantly toothed in the margins. Flowers are borne singly in the axils of the leaves, with stalks 1 to 3 centimeters long. Calyx is green or purplish, 4 to 5 millimeters long, with pointed lobes about 1.5 millimeters long. Corolla is purple, about 9 millimeters long. Capsules are oblong-ovoid to ellipsoid, 5 to 6 millimeters long, and included in the persistent calyx, whose length they approximate.

Distribution
- Common throughout settled areas in the Philippines, in open places, rice paddies, and disturbed soil, at low and medium altitudes.
- Introduced in the New World.
- Occurs in tropical and subtropical Asia from India to Australia and Polynesia.
Constituents
- Plant yielded two bitter substances, neither a glycoside nor alkaloid.
- Phytochemical screening yielded secondary metabolites-flavonoid, phenolic compound and tannins in the benzene, ethyl acetate, and ethanol extracts. Carbohydrate was present only in the ethyl acetate and ethanolic extracts, and amino acid present only in the ethanolic extract. (see study below (8)
- Study of ethyl acetate layer sample of L. crustacea extract yielded two new compounds i.e., linderside A, a cucurbitane glycoside, and linderside B , a cucurbitane triterpenoid. (see study below) (5)
Properties
- Considered emetic and cathartic.
- Studies have suggested phytoremediative, neuritogenic, anti-inflammatory, analgesic, antipyretic, anticancer, antioxidant properties.

Parts used
Whole plant, leaf, juice, stems.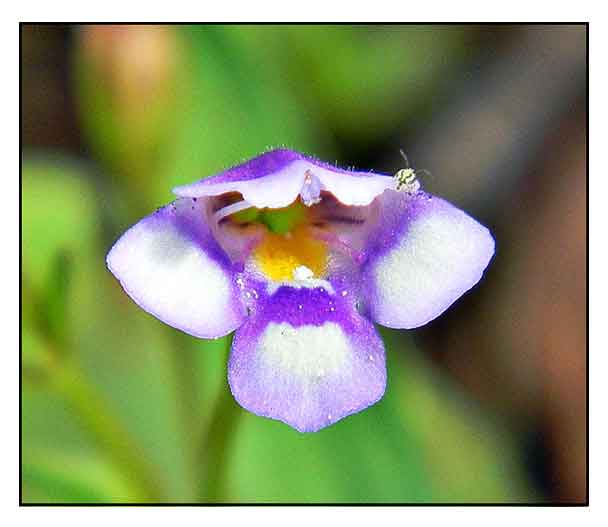 Uses
Folkloric
- Malays used it for poulticing boils, sores, etc, especially those caused by forest ticks.
- Also used for ringworm and itches.
- Malays also use the decoction of leaves after childbirth.
- In Indo-China used for biliousness affections and dysentery; in poultices for boils, sores, ringworm, shingles, and itches.
- In Kerala, expressed juice from crushed plant taken early morning on an empty stomach to clear the stomach.
- In India, leaf paste with lemon juice taken orally to cure excess bile secretion. Applied externally on ringworm and boils. In Andhra Pradesh, poultice of whole plant applied externally to skin afflictions.
- In the Himalaya, decoction of herb used twice daily for abdominal ailments. Paste of herb with cow's urine is applied on cuts and wounds to facilitate healing. (4)
- In the Garhwal Himalaya, plant decoction at 1/2 teaspoon twice daily used for abdominal ailments. Herb paste in cow's urine applied to cuts and wounds to hasten healing. (6)
- In Vietnam, stems used for fever, hepatitis, and leucorrhea. (7) Fresh leaves used by women after childbirth. (11)
- The Bodo tribe of Kokrajhar distract in Assam, India, drink whole plant decoction for treatment of diabetes. (13)

Studies
• Phytoremediation / Mercury / Effect on Maize Growth: A study of six wild plant species for phytoremediation potential showed three species with potential for phytoextraction of Hg (mercury)—Lindernia crustacea, Paspalum conjugatum, and Cyperus killingia—efficiently taking it up and translocating mercury from roots to shoots. The ratio of Hg shoot/root treated with ammonium thiosulfphate was greatest in L. crustacea, followed by PC and CK. Growth and biomass production in maize growth on remediated soil increased. (1)
• Lindersin B / Neuritogenic Activity: Study isolated and evaluated the mechanism of action of NGF-mimic substance. Neurotrophic factors such as nerve growth factor (NGF) play important roles in the NS. NGF is a potential therapeutic drug for the treatment of neurodegenerative diseases. The EA layer sample of L. crustacea extract exhibited significant neuritogenic activity. Study isolated two new compounds viz. linderside A, a cucurbitane glycoside, and linderside B, a cucurbitane triterpenoid. Neurite outgrowth induced by lindersine B in PC12 cells depended on TrkA/P13/ERK signaling pathway. (5)
• Anti-Inflammatory / Analgesic / Antipyretic / Aerial Parts: Study evaluated the anti-inflammatory (carrageenan induce paw edema and egg albumin induced paw edema in rats), antipyretic (yeast induced hyperthermia in rats) and analgesic (acetic acid induced writhing and hot plate method in mice) activities of various extracts of L. crustacea aerial parts. Flavonoids and phenolic compounds were found in all extracts. While all extracts showed activities at dose of 200 mg/kg, the benzene extract showed more significant anti-inflammatory, analgesic, and antipyretic activities. (8)
• Acute Toxicity Assay / Aerial Parts: Acute toxicity study in female Swiss albino mice using OECD guidelines showed no adverse effect or mortality at 2000 mg/kg dose of extract. LD50 by OECD guidelines was more than 2000mg/kg for all extracts. (8)
• In-Vitro Antioxidant Activity / Flavonoid: Study evaluated the antioxidant activity of different extracts of L. crustacea. A flavonoid was isolated which showed potent antioxidant activity on APPH, ferric thiocyanate, thiobarbituric acid, and reducing power assay methods. A benzene extract showed highest antioxidant activity with less IC50 value compared to ethyl acetate and ethanol extracts. (see constituents above) (9)
• Anticancer: Study evaluated the anticancer activity by analysis of phytoconstituents and in vitro cytotoxic activities against cancer cell lines, immune cell proliferating activity, reducing power activity, alkylation activity. The YKH ethanolic extract caused cancer cell death in HCT116 colon cancer, HepG2 liver cancer, and Jurkat leukemic cancer cell lines in a concentration dependent manner. Both YKH aqueous and ethanolic extracts showed high antioxidant activity. At high concentration, the YKH ethanolic extract can inhibit immune cells proliferation activity more than the YK aqueous extract. (12)

Availability
Wild-crafted.