Botany
Bulaklak ng Paraiso is an erect, smooth shrub or small tree, 1.5 to 5 meters high. Branches are armed with a few scattered spines. Leaves are bipinnate. Pinnae are 4-8 pairs, 6 to 12 centimeters long. Leaflets are stalkless, 7 to 11 pairs, elliptic, and 1 to 2 centimeters long. Flowers are red and yellow, or yellow, borne on terminal, lax racemes, about 4 centimeters in diameter. Petals are crisped and clawed. Stamens are long-exserted. Pod is nearly straight, flat, smooth, 5 to 9 centimeters long and 1.5 centimeters wide, containing 6 to 8 seeds.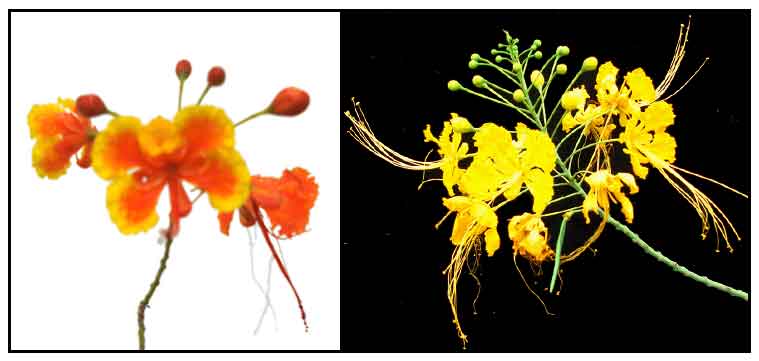 Distribution
- Mostly cultivated for ornamental use throughout the settled areas in the Philippines.
- Naturalized in some regions.
- Introduced from tropical America.
- Now pantropic.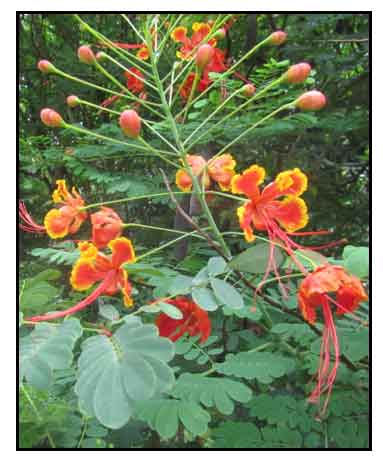 Constituents
• Plant yields diterpenoids, isovouacaperol, sitosterol, and flavonoids.
• Leaves contain gallic acid, a red coloring matter, gum, tannins, resin, benzoic acid, and salts.
• Study isolated five flavonoids: 5,7-dimethoxyflavanone, 5,7-dimethoxy-3,4'-methylenedioxyflavanone, isobonducellin, 2'-hydroxy-2,3,4'-6'-tetramethoxychalcone and bonducellin, all with anti-inflammatory activities.
• Stems contain peltogynoids, bhonducellin, 6-methoxypulcherrimin, and homoisoflavonoids. Study of the stems isolated a cassane-type diterpene ester, pulcherralpin.
• Flowers yield lupeol, B-sitosterol, flavonoids and myricetin.

Properties
• The odor of the plant resembles savin.
• Antiinflammatory, antiviral.
• Leaves reported to be purgative and emmenagogue.
• Flowers are reported to be tonic, purgative, febrifuge, and emmenagogue.
• Seeds, flowers and roots are reported to be abortifacient.
• Bark is considered a powerful emmenagogue and abortifacient.
• Roots reputed to be poisonous.

Parts utilized
Roots, leaves, flowers, seeds and bark.
Uses
Folkloric
- In La Union, decoction or infusion of leaves, flowers, roots, and bark used as purgative and emmenagogue.
- In Angola, decoction of roots used for intermittent fevers.
- In Nicaragua astringent infusion used as wash for the teeth and gums. Infusion of leaves, roots, and bark used for colds, fevers, skin ailments and purging; also used as emmenagogue.
- Reported to be abortifacient.
- In Mexico, a decoction of leaves used for liver affections and as mouth wash and gargle for mouth and throat ulcers.
- In the West Indies, decoction of leaves used for fevers.
- Flowers reputed to be purgative, febrifuge and emmenagogue. Decoction of flowers used for erysipelas and inflammation of the eyes.
- Powdered flowers used as insecticide; also used as tonic.
- Seeds also used as abortifacient.
- Fruit is astringent and used for diarrhea and dysentery.
- In the Amazon, leaf juice used for fevers; the flower juice for sores.
- Seeds used for cough, chest pains, breathing difficulty.
- Roots used to induce first trimester abortion.
- Leaves are purgative; used for renal stones, malaria, bronchitis.
- In Ayurvedic medicine, used for fever, jaundice, colic, flatulence, malignant tumors.
In Nicaragua, astringent infusion of the bark is used as a wash for teeth and gums.
In the West Indies, decoction used for fevers.
In the Antilles, the leaves are used as emmenagogue and abortifacient. A sweetened infusion is used as purgative.
In Jamaica, decoction of leaves used as a purgative.
In the East Indies, pods and leaves used as substitute for senna.
In India, infusion of flowers used as pectoral and febrifuge; also used in bronchitis, asthma and malarial fevers. Leaves used as antipyretic and antimicrobial.


Studies
• Antimicrobial: Antimicrobial activity of Caesalpinia pulcherrima, Euphorbia hirta and Asystasia gangeticum: Studies on the ethanolic extracts of the dry fruits of C. pulcherrima showed a broad spectrum of antimicrobial activity against E. coli (enteropathogen), Proteus vulgaris, Pseudomonas aeruginosa and Staphylococcus aureus. (3)
• Antibacterial: Study on the antibacterial effects of selected Indian medicinal plants was evaluated on strains of B cereus, S aureus, E aerogenes, E coli and K pneumonia. The most active antibacterial plant was Caesalpinia pulcherrima.
• Antiviral: In vitro antiviral activities of Caesalpinia pulcherrima and its related flavonoids: A study showed a potential for use in the treatment of infection caused by two viruses: herpes viruses and adenoviruses. The aqueous extract of CP and its flavonoid quercetin showed a broad spectrum of antiviral activity. (4)
• Anti-inflammatory: The study showed anti-inflammatory activity attributed to flavonoids. Results support the use of Caesalpinia pulcherrima for the treatment of inflammatory conditions in traditional medicine.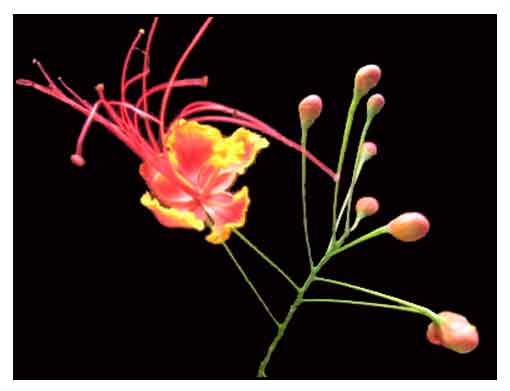 • Furanoid Diterpenes / Antibacterial / Antifungal : Study isolated four new cassane-type furanoditerpenoids from the leaves of CP. Antimicrobial testing showed activity against bacteria (S aureus, E coli, P aeruginosa and B subtilis) and fungi ( C albicans and T mentagrophytes). (5)
• Nutrient studies of CP Seeds: Study suggests C pulcherrima could be a good source of low cost plant protein, a good source of iron and calcium; the whole seeds more nutrient-rich than the seed nuts. (6)
• Flavonoids / Antiinflammatory: Study isolated five flavonoids from CP which significantly and dose-dependently inhibited inflammatory mediators, NO, cytokines (TNF and IL-12). (7)
• Antifungal: Study of methanol extract of 9 Indian medicinal plants showed C pulcherrima with good antifungal activity against C albicans. (8)
• Antioxidant / Cytotoxic: Study on the methanolic and aqueous extracts of C pulcherrima showed both exhibiting strong antioxidant activity. Testing for cytotoxicity, the aqueous extract was relatively toxic. Results of antioxidant and cytotoxic activities were attributed total phenolic content of the wood. (10)
• Analgesic: Study on the chloroform extract of Caesalpinia pulcherrima showed significant analgesic activity through a peripheral mechanism. (11)
• Drug Release Study / Excipient / Seed Polysaccharide: Caesalpinia pulcherrima seed polysaccharide can be used for the controlled release of both water-soluble and water insoluble drugs. (13)
• Anthelmintic: Study evaluated the in vitro anthelmintic potency of various extracts of CP flowers against Indian earthworms Pheretima posthuma. Results showed all the extracts exhibited anthelmintic activity, and the aqueous extract took the least time to cause earthworm paralysis. (14)
• Anti-Inflammatory / Anti-Ulcer: Ethanolic and aqueous extracts of aerial parts of C. pulcherrima exhibited significant anti-inflammatory activity in the cotton pellet granuloma model and significant anti-ulcer activities in the pylorus ligation- and aspirin-induced ulcer models. (15)
• Antimicrobial / Antioxidant: Study investigated the antimicrobial and antioxidant activities of seeds and fruit rind of C. pulcherrima. Among the solvents, the methanol extract showed the best antibacterial and antioxidant activities. (17)
• Seed Mucilage / Binder: Study isolated a water soluble mucilage from the seeds of C. pulcherrima. It was found to possess excellent binding property to serve as potential binder in conventional tablet formulation. (18)
• Antiulcer / Bark / Aspirin-Induced Ulcer:Study investigated the antiulcer effects of hydroalcoholic and aqueous extracts of bark in pylorus ligated models for protection against Aspirin induced method. Extracts significantly controlled aspiring induced ulcer development. (20)
• Anticonvulsant / Leaves:Study of an ethanolic extract of leaves of Caesalpinia pulcherrima showed anticonvulsant effect against maximal electroshock (MES) and pentylenetetrazole (PTZ) induced seizures in rats and mice. (21)
• Antifertility / Leaves:Study of an ethanolic extract of leaves in female albino mice showed significant antifertility activity in two experimental models i.e., antiimplantation and estrogenic/antiestrogenic activity. (22)
• Anti-Diabetic / ß-Cell Regeneration / Flowers:Study evaluated the hypoglycemic effect of an ethanolic extract of C. pulcherrima flowers in alloxan-induced diabetic rat models. Results showed anti-diabetic activity with better regeneration of ß-cells at the 300 mg/kg group. (23)
• Antibacterial / Leaves:Study evaluated methanolic extracts of leaf and flower of C. pulcherrima, Delonix regia and Peltaphorum ferrugineum against clinical isolates of Staphylococcus aureus and Streptococcus mutans. The flower extract of C. pulcherrima showed marked inhibition of cariogenic isolates. (24)
• Bioavailability Enhancement of Ondansetron After Nasal Administration / CP— Microspheres:Study showed CPG (Caesalpinia pulcherrima galactomannan)-based microspheres can successfully deliver ondansetron intranasally, sustain its effect, avoid first past effect, and enhance the bioavailability of ondansetron hydrochloride. (25)
• Mosquito Larvicidal Activity: Study evaluated the larvicidal activity of crude benzene and ethyl acetate extracts of leaves of Caesalpinia pulcherrima for toxicity against three important vector mosquitoes, viz., Culex tritaeniorhynchus, Aedes albopictus, and Anopheles subpictus. All extracts showed moderate larvicidal effects, with the benzene extract showing the highest larval mortality. (26)
• Anti-Inflammatory / Central Depressant Activity / Bark: Study evaluated a crude methanol extract of bark for anti-inflammatory and neuropharmacological activities in an experimental rat model. Results showed significant (p<0.001) anti-inflammatory activity against carrageenan induced paw edema comparable to standard drug phenyl butazone. The methanolic bark extract reduced the onset of sleep and potentiated the pentobarbital induced sleeping time in mice, suggesting a central depressant activity with probably tranquilizing action. (28)
• Nanoparticles / Antimicrobial / Flower: Study describes an ecofriendly technique for green synthesis of gold nanoparticles from AuCl4 solution using CP flower extract as reducing agent. The gold nanoparticles showed good antimicrobial activities when compared to standard antibiotics. (29)
• Anti-Arthritic: Study evaluated the anti-arthritic activity of an ethanolic extract of CP in adjuvant arthritic rat model induced by Freund's complete adjuvant (FCA) in albino rats. Results showed anti-arthritic activity with a significant decrease in paw volume with potential for significant normalization of hematological abnormalities in adjuvant induced arthritic rats. (30)

Availability
Ornamental cultivation.
Wildcrafted.