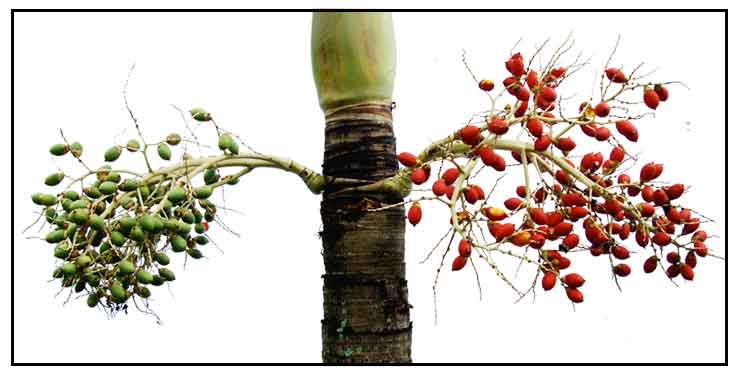 Botany
Bunga de Jolo is an elegant native Philippine palm growing to 6 to 10 meters high, with a solitary and slender trunk, 15 to 20 centimeters in diameter, marked with rings and leaf scars. Crown is composed of prominently arching leaves. Leaf blade is 2 meters long, bright green and divided into about 100 narrow and partly overlapping segments (leaflets), 50 on each side of the midrib. Flower occur in inconspicuous cluster,s borne below the leaf sheath, much branched and spreading, bearing both male and female flowers which are insect pollinated. Ripe fruit is ovoid, 2 to 3 centimeters long, beaked, pale green becoming bright red when mature. Fruit has a thin epicarp, a dry, yellowish, thin-fleshy mesocarp, and thin, fragile endocarp. Seed is ovoid, truncate basally, pointed apically, with a ruminate endosperm and embryo basally.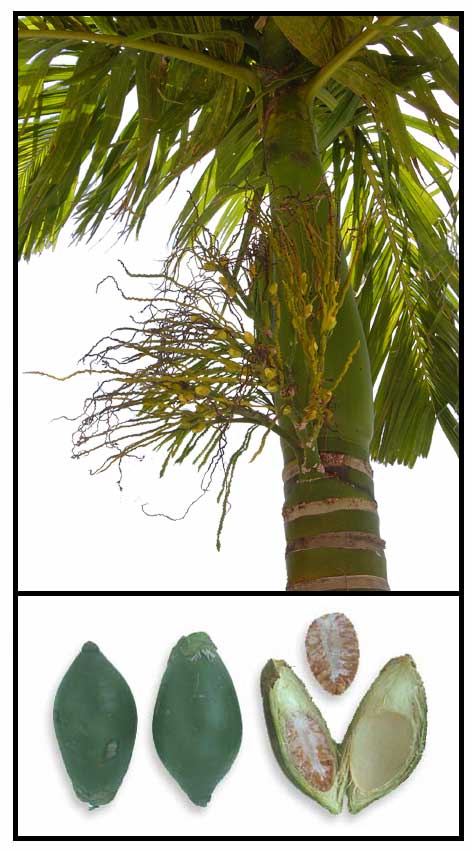 Additional info
Similar to the betel nut (Bunga, Areca catechu) but is smaller with a more slender trunk.
Distribution
- Naturally growing in the Philippines.
- Popularly cultivated in private gardens and public parks.
- A popular landscaping plant.
- Also reported in Borneo and Malaysia.
- Cultivated in tropical places like Hawaii and the southern half of Florida.
- Classified as 'Lower Risk/Near Threatened' in the IUCN Red List of Threatened Species (2013).
Constituents
- RP-HPLC analyses yielded the presence of gallic acid, pyrogallol, caffeic acid, vanillic acid, syringic acid, naringin and rutin. (see study below) (4)
- The methanolic extract showed higher total phenolic and flavonoid contents with values of 17.80 ± 0.45 mg gallic acid equivalents/g dry weight (DW) and 5.43 ± 0.33 mg rutin equivalents/g DW, respectively. (see study below) (4)
- Proximate analysis of fruit (pulp and kernel) of Veitchia merrillii yielded (g/100g): moisture 74.4/44.3, ash 1.4/1.0, proteins 1.5/2.6, carbohydrates 11.6/51.2, lipids 10.9/0.6 and energy 629/942 kJ/100g. (5)
- Study of fruit for carotenoid content (µg/g) and total RAE (retinol activity equivalents ) yielded 70.7 ± 2.8 pulp, 0.4 ± 0.2 kernel, and 592 total RAE. (5)
Properties
- Studies have shown antioxidant and cytotoxic properties.

Uses
Folkloric
· Seeds chewed as a stimulant.
· In Batan, used for diarrhea. (6)
Others
· Fleshy seed is used as a masticatory substitute, albeit inferior, for betel nut (Areca catechu, Bunga) which is preferred for nga-nga chewing.
· Ornamental source of beads.
· Tree prized by beekeepers for its quality nectar.

Studies
• Cyanogenesis: A survey of leaf material of 545 palms of 108 genera and 155 species showed cyanogenesis to be rare in the family.
• Antioxidant / Cytotoxicity / Fruits: Study evaluated the antioxidant and cytotoxicity activity of various extracts of Adonidia merrillii fruits. The ME showed higher antioxidant activity by DPPH, NO2 and ABTS scavenging assays compared to EA and water extracts. Extracts showed weak to moderate cytotoxicity in human hepatocytes (Chang liver cells) and NIH/3T3 (fibroblasts cell) cell lines. Results suggest a potential for antioxidant and cytotoxic drugs from natural sources. (see constituents above) (4)

Availability
Wildcrafted.
Cultivated.