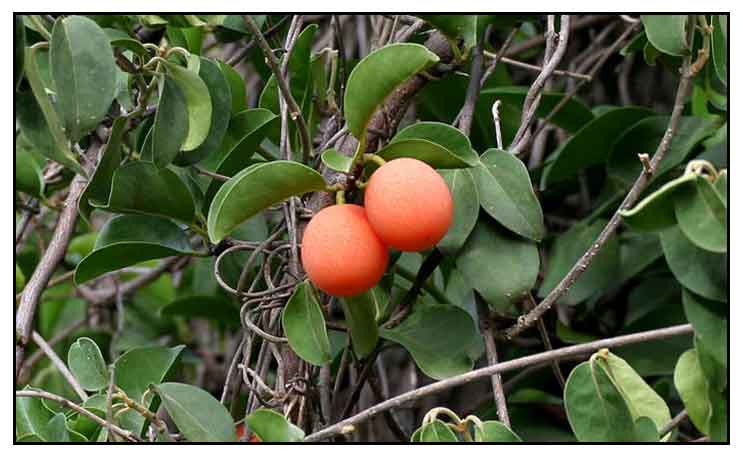 Botany
Buol is a spiny shrub or small tree growing to a height of 6 meters. Bark is smooth and reddish. Leaves are alternate, oblong or elliptical, 3 to 7 centimeters long, pale beneath, and with a rounded apex. Flowers are yellowish-white, fragrant and less than a centimeter long. Fruit is yellow, somewhat rounded, 1.5 to 3 centimeters in diameter, containing one large seed.
Distribution
- In thickets immediately back of the beach along the seashores in Quezon Province, Luzon, and in Palawan, Biliran, Mindanao, and the Sulu Archipelago.
- A pantropic strand plant.
- Widespread in tropical and subtropical countries in Central and South America, Africa, India, SE Asia, Australia, and the Pacific Islands.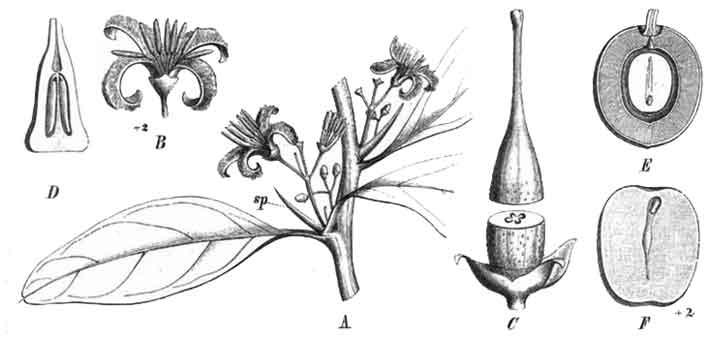 Constituents
• Pulp, seed and fruit contain hydrocyanic acid.
• Bark contains about 17% oils; heartwood and flowers contain essential oils.
• Seed oil contains oleic, linoleic, linolenic, arachidonic, eicosatrienoic, erucic and nervonic acids.
• Volatile oil of leaves yield benzaldehyde, hydroxy benzyl cyanide and isophorone.
• Kernels are purgative; although reported poisonous and containing hydrocyanic acid, subsequent investigation yielded no alkaloids and no cyanogenetic glucoside.
• Fractionation of the ethanol extract yielded a cyanogenic glycoside sambunigrin (1), together with known gallic acid (2) and the gallotannins β-glucogalline (3) and 1,6-digalloyl-β-glucopyranose (4). Flavonoids were isolated: quercetin (5), quercitrin (quercetin-3-O-α-rhamnopyranoside) (6), avicularin (quercetin-3-O-α-arabinofuranoside) (7), quercetin-3-O-β-xylopyranoside (8), quercetin-3-O-(6″-galloyl)-β-glucopyranoside (9) and kaempferol-3-O-(6″-galloyl)-β-glucopyranoside (10). (see study below) (16)
• Methanolic leaf extract yielded tannins, saponins, alkaloids, glycosides, flavonoids, triterpenoids, sterols, and phenolic compounds. (see study below) (19)
•Extract of root, leaves, and stem bark yielded carbohydrates (sugar and soluble starch), cardiac glycosides, saponins, tannins, and flavonoids, with absence of alkaloids. Anthraquinones were present in all extracts except leaf extracts. (see study below) (22)
• HACW phenolic phytochemical quantifications yielded in ascending order: ellagic acid (0.3%), phenolic acids (gallic, protocatechic and other) (0.7%), gallotannins (5%), flavonols (13%), and condensed tannins (81%). (see study below) (25)
• Phytochemical screening of leaves yielded tannins, flavonoids, alkaloids, saponins, anthraquinones, starch, general glycosides and bitter principles. (see study below) (26)
• GC-MS analysis of X. americana fresh seeds yielded high levels of protein (19.77%) and oil (27.71%). Saponification/methylation reactions to produce methyl esters and analysis by GC-MS identified 10 fatty acids with main components of oleic (55%), ximeninic (17%) and cis-19-octacosenoic (10%). (see study below) (34)
• Study of ethanolic extract of bark yielded flavonoids, steroids, tannins, alkaloids, phenolic compounds, saponin, terpenoids, and glycosides. (see study below) (35)

Properties
• Immature fruits have a strong almond-like smell due to cyanogenetic compounds, the most important of which is sambunigrine. (21)
• Fruit has a peculiar odor and acid flavor; considered purgative.
• Bark is astringent; fruit and nuts are purgative.
• Considered vermifuge, vulnerary.
Parts utilized
Bark, fruit, leaves, seeds.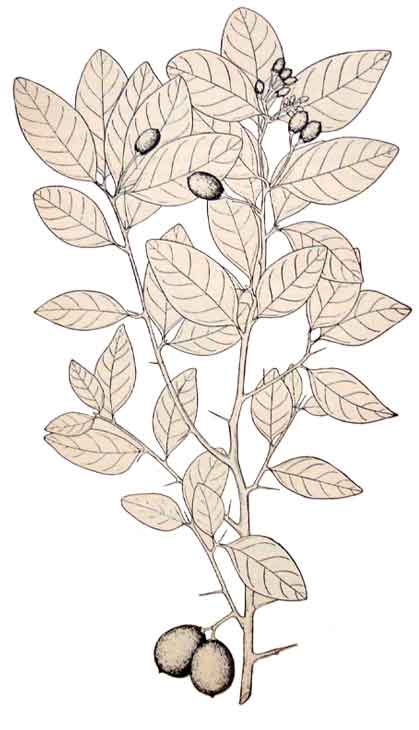 Uses
Edibility
• Fruit is edible, with a taste of sour apples; eaten fresh or pickled.
• Seeds are cooked and powdered, mixed with sago to make bread.
• Kernels yield a yellow, semi-drying oil, edible but pungent.
• In Ethiopia, fruit processed to make jams, jellies, and alcoholic beverages. (21)
• In Southern India, vegetable butter made from seeds boiled in water, used as alternative to ghee (traditional clarified butter). (21)
Folkloric
• In the West Indies, syrup made from the fruit is used for dropsy and rheumatism.
• In northern Nigeria, used for malaria, leproutic ulcers and various skin infections.
• In African traditional medicine, plant is used for treatment of cancer.
• In Sudan leaves and twigs are used for fever and colds, as mouthwash for toothaches, as laxative and eye lotion. Leaves are used for headaches and as poison antidote. Roots are used for skin aches, headaches, leprosy, hemorrhoids, sexually transmitted diseases, guinea worm, sleeping sickness, and as poison antidote. Powdered bark applied to skin ulcers. Fruits used as vermifuge.
• In Mali, used by healers for throat infections, amenorrhea and wound healing. Also used as tonic and analgesic. (16) Bark and roots used for treatment of skin diseases. (21)
• In South Angola, seed oil used as cosmetic for skin and hair care: rubbed on the body to anoint and soften skin and used as hair conditioner. Also used as medicinal remedy for varicose veins. (21)
• In Burkina Faso, western Africa, fruits used as remedy for constipation; also as astringent and tonic. In Zimbabwe, decoction of leafy twigs used as laxative and to treat febrile colds and cough. In Nigeria, leaf decoction used for toothache and as mouthwash. (21)
• In Brazil, decoction of bark used as cicatrizant and astringent and for treatment of excessive menstruation. (23)
Others
• Beer: In Transvaal, natives used the fruit in making beer.
• Oil: Oily kernels used for softening leather. (•) Heartwood yields an essential oil used for fumigation. Flowers yield an essential oil which can be a substitute for orange blossom. Seed oil suitable for soap manufacture and lubrication. (29)
• Fuel: Firewood and charcoal are chief uses of wood. (29)
• Tannin or Dyestuff: Bark used for tanning, yielding about 17% tannin. Roots also used for tanning. Bark used to strengthen indigo dyes. (29)
• Poison: Plant yields sambunigrine, the main cyanogenetic principle. Leaves at 100 ppm cause 100% mortality of Bulinus globus, the vector in schistosomiasis transmission. (29)
• Repellent: Bark and crushed fruit rind applied to sores of domestic animals; also to repel fleas. (29)

Studies
align • Antimicrobial / Chemical Constituents: Phytochemical analysis yielded saponins, cyanogenetic glycosides, flavonoids and tannins. The organic extract was active against all test isolates, highest for P aeruginosa. (1)
• Antimicrobial / Stem Bark: Stem bark methanolic and water extracts of X americana showed significant spectrum of activity against E coli, P vulgaris, S aureus, P aeruginosa and B subtilis. Phytochemical analysis yielded alkaloids, saponins, flavonoids, cardiac glycosides, terpenoids and tannins. (2)
• Volatile Oils: Analysis of volatile oil of leaves of X americana identified 33 components. The major constituents were benzaldehyde (63.5%) and isophorone (3.5%). (3)
• Acute Toxicity Study: Study showed no acute toxicity to the aqueous extract of Ximenia americana.   (4)
• Pesticidal Potential: Extract of root of Ximenia americana yielded two C18 acetylenic fatty acids with inhibiting activity on the hatching of Clavigralla tomentosicollis eggs. (5)
• Riproximin / Antineoplastic Activity: Study isolated a new protein, riproximin, belong to a family of type II ribosome inactivating protein. Riproximin has been shown to inhibit protein synthesis in a cell free system, as well as cytotoxicity as evidenced by IC50 of 0.5 pM in MCF7 and o.6 pM in CC531 cells. Results showed significant anticancer activity in a colorectal cancer rat metastasis model. (6)
• Anticancer: Study showed significant anticancer activity with a 95% reduced activity following intestinal absorption. Physiochemical characterization showed the active antineoplastic components are proteins with galactose affinity. (7)
• Wound Healing: Study of the wound healing effect of the aqueous extracts of five plants showed the best wound healing activity with the extract of Anthocephalus chinensis followed by Ximenia americana. (8)
• Antioxidant: Study showed the flavonoid portion of a methanol extract of stem bark exhibited significant antioxidant activity with an Rc50 value of 8.
• Adverse Effect on Male Reproductive System: Study of extracts of leaf, stem, bark and root of Xa in wister male rats showed decreased sexual behavior, sperm damage and testicular weight loss. Results suggest pro-oxidant activity and inhibitory effect of flavonoids, saponins, anthraquinones, alkaloids and terpenoid on neuromuscular tissues may have caused damage to sperm cells and block olfactory sensitivity with consequent "perceptual block" of pheromonal stimuli. (11)
• Anti-Diabetic: Study of a methanol extract of X. americana in normal glucose fed and alloxan-induced diabetic rats showed a dose-dependent anti-diabetic effect. The antidiabetic effect may be from the presence of flavonoids and tannins. (12)
• Anti-Trypanosomal / Stem Bark: Study of methanolic extract of stem bark of X. americana showed the flavonoid fraction to significantly inhibit the motility of the blood stream forms of Trypanosoma congolense. The suppression of the growth of parasites was dose-dependent. (13) Study evaluated in vitro effects of aqueous extracts and fractions of stem bark on Trypanosoma congolense DNA. Results showed antitrypanosomal potentials but did not indicate that trypanosome death was a results of DNA fragmentation. (17)
• Neuromuscular Depressant: Study of methanol extracts of leaf, stem bark and root of XA on neuromuscular behavior of Wister rats showed a dose-dependent inhibitory effect on locomotor activity and excitability of the rats. The inhibitory effect was attributed to the sedative, spasmolytic, and pro-oxidant effects of some phytochemicals, like tannins, flavonoids, saponins, anthraquinones, alkaloids and terpenoids. (14)
• Flavonoids / Enzyme Inhibitors and Radical Scavengers: Study of fractionated ethanol extract isolated flavonoids quercetin (5), quercitrin (quercetin-3-O-α-rhamnopyranoside) (6), avicularin (quercetin-3-O-α-arabinofuranoside) (7), quercetin-3-O-β-xylopyranoside (8), quercetin-3-O-(6″-galloyl)-β-glucopyranoside (9) and kaempferol-3-O-(6″-galloyl)-β-glucopyranoside (10). The flavonoids were active both as enzymes inhibitors and DPPH radical scavengers. (see study above) (16)
• Anti-Mycobacterium Activity / Leaves: Study evaluated the potential of Ximenia americana leaf extract for anti-mycobacterial activity against M. bovis. Preliminary findings suggest the potential of XA for the management of M. bovis and supports the traditional claims for the use of XA in the treatment of infections caused by M. tuberculosis. (18)
• Analgesic / Leaves: Study evaluated a methanol extract of leaves of XA for analgesic activity in hot plate and tail flick test narcotic models. Results showed significant antinociceptive activity in all animal models of nociception, exerting its mechanisms possibly through both central and peripheral pathways. (19)
• Antimicrobial / Stem Bark, Roots, Leaves: Study evaluated aqueous and methanolic extracts of roots, stem bark and leaves of X. americana against five bacteria. The extracts inhibited the growth of Staphylococcus aureus and Klebsiella pneumonia, while Shigella flexneri was inhibited only by the methanolic leaf, aqueous bark and aqueous leaf extracts. The extracts had no effect on Salmonella typhi and Escherichia coli. (see constituents above) (22) Studies have shown antibacterial properties. A MeOH extract of leaves have shown inhibitory activity on growth of Neisseria gonorrhea at dilution as low as 250 µg/ml, and antifungal activity against C. albicans and C. neoformans in concentration of 4000 µg/ml. (23) Study evaluated extract of leaves against six common bacterial isolates including Escherichia coli, Pseudomonas aeruginosa, and Candida albicans. (26)
• Free Radical Scavenging / Stem Bark and Leaves: Study isolated epicatechin and quercetin from the ethanol extract of stem bark and leaves, respectively. Of the extracts, fractions, and isolated compounds, only the ethyl acetate fraction of stem bark and leaves showed high antioxidant activity by DPPH assay and high content of total phenols The high antioxidant activity of the fractions was attributed to the presence of epicatechin and quercetin. (24)
• Anticancer / Polyphenols / Leaves: UPLC-MS analysis of X. americana leaves quantified phenolic compounds and evaluated its cytotoxic potential against 6 cancerous cell lines. yielded the presence of flavonoids (13%), gallotannins (5%), phenolic acids (0.7%), ellagic acid (0.3%) and an abundance of condensed tannins (81%). Cytotoxicity evaluation indicated considerable anticancer potential against a majority of the cancerous cell lines, in particular Caco-2. The profusion of polyphenols may explain the anticancer activity. (25)
• Toxicity Study / Leaves: Study investigated the toxicity of X. americana methanolic leaf extract. Results showed 20% mortality in rats at a dose of 25 mg/kbw at 3rd week, and 40% mortality with 50 mg/kbw after two weeks. Results suggest dose-dependent effects. At 12.5 mg/lg. there were no signs of toxicity as evidenced by non-significant alteration in hematological and serum parameters. Doses of 25 and 50 mg/kbw exhibited signs of poisoning such as depression, nervousness, difficulty in breathing. There were no pathological changes in the brain, suggesting the nervous signs may be related to hepatic damage. In contrast, a study by Maikai et al (2008) showed no toxicity in mice even at dose of 1000 mg/kbw. (27)
• Antioxidant / Anti-Inflammatory: Study evaluated solvent extracts viz., chloroform, EA, methanol, ethanol, and water for antioxidant potential by ferric ion reducing antioxidant power, DPPH, and phosphomolybdenum assays and anti-inflammatory activity using protein denaturation in vitro bioassay. The aqueous extract exhibited highest phenolic content and significant antioxidant activity. The methanol extract exhibited high anti-inflammatory activity. (28)
• Antimicrobial / Antidiarrheal / Phenol Rich Fractions / Roots: Study evaluated phenol acid-rich fractions of roots for antimicrobial, antidiarrheal, and antipyretic activities. All eight test Gram-negative bacterial strains were susceptible to the phenol-rich (PR) fractions. PR fractions also showed dose-dependent and significant (p<0.05-0.001) protection of rats against castor oil-induced diarrhea, along with delayed gastric emptying and dose-related inhibition of enteropooling. (30)
• Anti-Trypanosomal / Stem Bark: Study evaluated the in-vitro effect of aqueous extract and fraction IV extract of X. americana stem bark on Trypanosoma congolense DNA. Results showed the aqueous e and fraction IV extracts immobilized 55% and 90% of trypanosomes after 30-minute incubation. Study showed antitrypanosomal potential but did not indicate that cell death mechanism was due to DNA fragmentation. (31)
• Tablet Formulation: Study evaluated the physical and physical-chemical quality of tablets produced with X. americana L. extract. Methods indicated the presence of gallic acid at concentration of 1.61 mg/g. Results showed it was possible to obtain herbal tablets with high content of vegetal extract by direct compression, with a rapid process of formulation and production. (32)
• Anti-Inflammatory / Antinociceptive / Polysaccharide Rich-Fractions of Bark: Study evaluated the toxicity, anti-inflammatory and antinociceptive effects of polysaccharide rich fractions from X. americana barks using writhing, formalin carrageenan-induced hypernociception, and hot plate assays. The total polysaccharide fractions (TPL-Xa:8.1% yield) presented 43% carbohydrate (21% uronic acid). Results showed the polysaccharides rich fractions of XA barks, containing high levels of uronic acid, arabinose, galactose, and glucose, inhibited peripheral inflammatory nociception. (33)
• Seed Oil: Analysis of X. americana seeds for oil using saponification/methylation route identified ten fatty acids, four of which were palmitic, oleic, ximeninic and lignoceric acids. Study increased the knowledge on the medicinal potential of X. americana. Ximeninic acid and its ethyl ester (ximenoil) have topical action, used in the form of emulsion with anti-cellulite action. (see constituents above) (34)
• Antibacterial / Bark: Study of ethanolic extract of bark showed significant activity against Staphylococcus aureus and low activity against Pseudomonas aeruginosa. (see constituents above)   (35)

Availability
Wild-crafted.