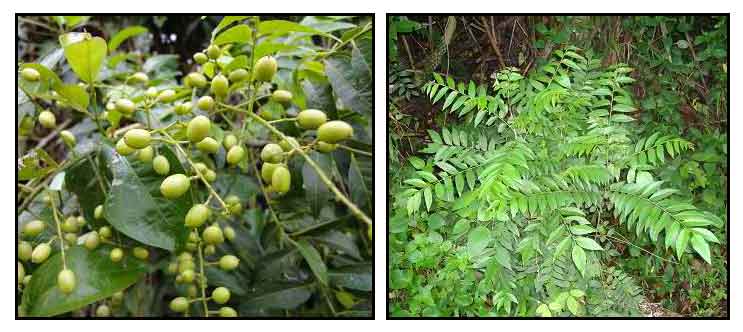 Etymology
Clausena excavatus derives from the Latin: Clausena, commemorating the botanist Clausen, and excavatus, to make hollow, referring to the bases of the filaments (stalks of stamens). (21)

Botany
Buriñgit is a shrub or small tree up to 15 meters high, covered with soft hairs all over. Leaves are 15 to 30 centimeters long, fetid when crushed, with 15 to 30 leaflets, alternate and short-stalked, 5 to 9 centimeters long. Flowers are 4-parted, shortly stalked, and white, borne on pyramidal panicles 10 to 30 centimeters in length. Fruit is smooth and broadly oblong, 1 to 2 centimeters long, ripening green then white or pinkish, occurring in hanging shoots. Each fruit contain 1-2 green seeds.
Distribution
- In thickets and old clearing at low altitudes in Mindoro, Culion, Palawan, and the Sulu Archipelgo.
- Also occurs in India to Indo-China and Malaya.
Constituents
- Study of leaves isolated 10 new furanone-coumarins - clauslactones A-J. together with known carbazole, clauszoline M, and a coumarin, umbelliferone.
- Study of an acetone extract of root bark yielded 10 new carbazole alkaloids, clausine M-V and clausenatine-A, together with 39 known compounds. (12)
- Study of air-dried roots yielded six coumarins and twelve alkaloids: binorponcitrin (1), xanthoxyletin (2), dentatin (3), nordentatin (4), clausenidin (5), scopoletin (6), dictamine (7), clausine D (8), clausine F (9), murrayafoline A (10), murrayanine (11), clauszoline I (12), 2-hydroxy-3-formyl-7-methoxycarbazole (13, 3-formyl-2,7-dimethoxycarbazole (14), clauszoline J (15), clausine H (16), murrayacine (17) and heptaphylline (18). (See study below) (19)
- Study of roots yielded two new coumarins, clauexcavatins A (1) and B (2), along with seven known ones (3-9). (33)
- GC-MS study of essential oil of leaves yielded more than 50 components 40 of which has been identified. The main constituents found were beta-caryophyllene (25.3%), germacrene B (11.8%) and beta-phellandrene (9.2%). (35)
- Study of stem bark isolated 11 compounds, including four prenylated coumarins (1-4), three carbazole alkaloids (5-7), a limonoid (8), a sterol (9), a depside (10) and a xanthone (11). (37)

Properties
- Scent of resin and lime is emitted when leaves are crushed.
- Studies have shown immunomodulatory, anti-cancer, anti-viral, antinociceptive, mosquitocidal, fungicidal properties.

Parts used
Bark, roots, leaves.

Uses
Culinary
- Leaves are edible.
- Tamils reported to use it as a potherb.
Folkloric
- For bowel problems, especially coli, the Malays drink a decoction of roots.
- Pounded root used as poultice for sores, including ulcerations of the nose.
- Poultice of leaves of pounded leaves applied to the head for headaches.
- In Kelantan, roots used for yaws.
- Ulcerations of the nose treated by fumigation from burning leaves and bark.
- Decoction of flowers and leaves used for colic.
- Decoction of roots used for abdominal colic.
- Decoction of leaves given after childbirth.
- In Indonesia, leaves used for fever and to expel worms.
- In India, used to promote urination and relieve flatulence.
- In Java, plant juice used for coughs; also, as vermifuge.
- Malays used it for treatment of abdominal pain, snakebites, and for detoxification. (14)
- in China, used for treatment of snakebites.
- In Vietnam, used to promote menstruation.
- In Orissa, India, paste of roots used for body pain; decoction of roots taken for dysentery. Roots ground together with leaves of Vitex negundo, roots of Kaempferia rotunda and boiled in Pongamia pinnata oil is applied externally for rheumatism. (28)

Studies
• Immunomodulatory: Study investigated the in vitro immunomodulatory activities of various extracts and the Thai folklore extract of C. excavata on mouse immune system. An aqueous extract exhibited maximum effect of both respiratory burst response and lysosomal enzyme activity indicating effective phagocytic activation. The Thai folklore extract exhibited maximum activity on splenocyte proliferation assay suggesting specificity towards B-cell proliferation through T cell independent pathway. (1) Study evaluated the immunomodulating effects in Balb/C mice of aqueous extract and Thai folklore preparation of C. excavata. Results showed the CEHW gave cell mediated immunity (CMI response more than the CEHF. Results suggest potential in vivo immunomodulating activities supporting previous in vitro studies. (25)
• Clauslactones / Inhibitory Effects for Tumor-Promotion: Study isolated 10 new furanone-coumarins named clauslactones A-J, together with known carbazole, clauszoline M and the coumarin, umbelliferone. The furanone-coumarins were founds to exhibit inhibitory activity against 12-O-tetradecanoylphorbol-13-acetate-induced Epstein-Barr virus early antigen activation in Raju cells.
• Clausine B / Antiproliferative / Anti-Cancer: Study investigated clausine B, a carbazole alkaloid isolated from the stem bark of Clausenas excavata for antiproliferative activities against human cancer cell lines. Results showed activity against non-hormone-dependent breast cancer, cervical cancer, ovarian cancer and hepatic cancer. The activity was attributed possibly to the phenolic group in clausine-B. (2)
• Mosquito Larvicidal / Essential Oils: Study investigated the mosquito larvicidal activities of leaf and twig essential oils from CE and its constituents against Aedes aegypti and Aedes albopictus larvae. Larvicidal assays showed the effective constituents in leaf and twig essential oils were limonene, γ-terpinene, terpinolene, β-myrcene, 3-carene and p-cymene. Among them, limonene showed the best larvicidal activity with LC50 of 19.4 µg mL-1 and 15.0 µg mL-1 against Ae aegypti and Ae. albopictus, respectively. Results suggested the essential oils may be explored as a potential natural larvicide. (3)
• Antiviral / Anti-HSV2: Study evaluated 35 extracts from the leaves of five plants, including C excavata, for antiviral activity against HSV-2 strains and HSV-2 isolates. Results showed 20 extracts from the 5 plants inhibited plaque formation by HSV-2 by inactivation activity. (4)
• Antinociceptive: Study of ethanolic extract of C excavata leaves showed significant antinociceptive activity on acetic acid-induced writhing in mice. (5)
• Coumarin / Inhibitory Effects for Tumor-Promotion: Study of leaves yielded furanone-coumarins found to exhibit inhibitory activity against 12-O-tetradecanoylphorbol-13-acetate-induced Epstein-Barr virus early antigen activation in Raji cells. (7)
• Flavonoids / Essential Oil: Study evaluated the major flavonoid compounds and predominant essential oils in C. excavata and its antioxidant, antibacterial and anticancer activities. Methanolic extract of leaves was high in phenolic content, rutin and naringin. Terpinolene was the main component in the leaf oil. There was weak DPPH scavenging activity. Antioxidant activity of flavonoids was associated with anticancer properties. Fruit oil showed better cytotoxic activity against MCF-7 cells and showed potential as a good source for breast cancer treatment. (8)
• Fungicidal: Root extracts of C. excavata showed significant inhibition of pathogenic plant fungi C. gloeosporioides growth. Results suggest CE should be investigated further as potential biologic control for C. gleoesporioides. (9)
• Anti- HBV / Cytotoxicity against MDR Cancer Cells: Study yielded four natural pyranocoumarins - (1) clausenidin, (2) nordentatin, (3) clausarin and (4) xanthoxyletin. Compounds 1 and 2 suppressed HBV surface antigen in HepA2 cells; 1 and 3 showed cytotoxicity against four human cancer cell lines. Others compounds showed significant activity against multi-drug resistant cancer cell lines. (10)
• Anti-HIV-1 / Limonoid: Study isolated a limonoid, clausenolide-1-ethyl ether and two coumarins, dentatin and nor-dentatin. Limonoid 1 from the crude ethanol extract of rhizomes and roots exhibited HIV-1 inhibitory activity. (11)
• Cytotoxic Carbazole: An ethyl acetate extract of the stem bark isolated a new carbazole alkaloid, clausine-TY, together with two known carbazole alkaloids, clausine-H and clausine-B. Clausine-TY showed significant cytotoxicity against CEM-SS cell line. (13)
• Toxicity Study / Stems: Study in rats evaluated the safety of a methanol extract of stems. In acute toxicity study, a dose of 5000 mg/kg showed no signs of toxicity, death, of pathological abnormalities. In a repeated dose 200 mg/kg/day 90-day toxicity study, no signs of toxicity and death were observed at levels of 200 mg/kg/day. Results suggest LD50 is greater than 5 g/kg. (16)
• Antioxidative / Cytotoxic: Study showed a methanol extract to exhibit the most potent antioxidant activity in the DPPH and ß-carotene bleaching assays. The methanol extract inhibited 50% of cervical (HeLa) cancer cell proliferation. Results suggest the antioxidative properties of C. excavata may be one of the mechanisms of its cytotoxic properties against cancer cells. (17)
• Dentatin / Prostate Cancer Cells Apoptosis: Study investigated the antiproliferative potential of dentatin, a natural coumarin isolated from C. excavata. Results showed dose-dependent inhibition of cell growth of prostatic cancer cell lines, with less cytotoxic effects on normal prostate epithelial cell line. The inhibitory effect was due to induction of apoptosis. (18)
• Roots / Coumarins and Alkaloids / Cytotoxicity: Study of roots yielded six coumarins and twelve alkaloids. Compounds 4, 11, and 18 exhibited highest cytotoxicity against KB (oral cavity cancer), MCF7 (breast cancer), and NCI-H187 ( small cell lung cancer). (see constituents above) (19)
• Analgesic / Anti-Platelet Aggregation: Clausine D and F, 2,4-prenylcarbazole alkaloids from stem bark, were shown to significantly inhibit platelet aggregation. (Wu TS et al, 1992). Ethanolic extract of leaves showed analgesic activity by protecting mice from acetic acid induced writhing (Rahman MT et al, 2002). (22)
• Anti-HIV Activity: Study isolated three carbazole derivatives, O-methylmukonal (1), 3-formyl-2,7-dimethoxycarbazole (2) and clauszoline J (3), and a pyranocoumarin, clausenidin (4), from the rhizomes and roots of C. excavata. Compounds 1-4 displayed anti-HIV activity in a syncitial assay with EC50 of 12, 29.2, 34.2, and 5.3 microm, respectively. (23)
• Dentatin / Anti-Breast Cancer: Study evaluated the effect of DTN (dentatin) on LA-7 cell-induced rat mammary tumor as confirmation of occurrence of apoptosis. Results showed significant reduction in tumor volume in the DTN-treated group, with significantly higher (p<0.05) number of apoptotic cells. In vivo study suggests DTN inhibits proliferation, induces mitrochondria-regulated apoptosis, and minimizes LA-7 induced carcinogenesis in rat mammary glands. Results suggest a potential in breast cancer treatment. (24)
• Antifungal / Leaves: Study evaluated the antimicrobial and antifungal activity of various extracts of E. excavata. A methanolic leaf extract showed significant antifungal activity against T. rubrum and T. mentagrophytes with MIC of 62.5 µg/ml and 31.2 µg/ml. The antidermatophytic activity might be due to the flavonoid nature of some of the constituents. (26)
• Gastroprotective / Ant-Ulcer: Study evaluated the gastroprotective effect of methanolic extract of C. excavata leaves in Sprague Dawley rat ethanol-induced gastric ulcer model. Results showed gastroprotective effect of the methanol extract achieved through inhibition of gastric juice secretion and ulcer lesion development, stimulation of mucus secretion, elevation of gastric pH, reduction of ROS production, inhibition of apoptosis in the gastric mucosa, and modulation of inflammatory cytokines. (27)
• Antioxidant / Acute Toxicity Study / Leaves: Study evaluated the antioxidant properties of solvent extracts of leaves and determined the acute toxicity of methanolic extract of leaves. In antioxidant activity testing using FRAP and DPPH, the methanol extract showed highest TPC and antioxidant activity, while a chloroform extract exhibited higher flavonoid content. There was no mortality with ME leaves even a high dose of 5000 mg/kbw. However, the ME of leaves produced mild to moderate pathological changes in the liver and kidneys as evidenced by mild degenerative changes and leucocyte infiltration. (29)
• Cytotoxicity / Wound Healing / Antioxidant / Leaves: Study evaluated the in vitro cytotoxicity of leaf solvent extracts using HaCaT (keratocyte) and Vero cell lines and its in vivo wound healing and antioxidant activities in Sprague Dawley rats. Results showed potent wound healing effect attributed to anti-inflammatory and antioxidant effects that enhanced the rate of wound contraction, re-epithelization, and collagen deposition.. The effect of the MECE may be attributed to its high polyphenolic compound content. (30)
• Mosquitocidal / Antioxidant / Antibacterial / Potential as Nanoparticle: Study evaluated the bioefficacy of methanol, hexane, and ethyl acetate extracts of C. excavata in terms of antioxidant and mosquitocidal activity. The methanol extract exhibited significant antioxidant, larvicidal, ovicidal, pupicidal activities against Aedes aegypti and Culex quinquefasciatus. The ME also exhibited pronounced antibacterial activity against selected human pathogenic bacteria. The ME was used to synthesize silver mediated nanoparticles and its bioefficacy was tested against selected vector mosquitoes and human pathogenic bacteria. (31)
• Dentalin and Heptaphylline / Antidiabeties / Antioxidant / Roots: Study evaluated the antidiabetic and antioxidant bioactive compounds from 95% ethanol extract of Clausena excavata roots. Two pure compounds isolated were identified as dentatin (1) and heptaphylline (2), which exhibited highest inhibitory activity on maltase enzymes with IC50s of o.75 and 11.46 µM, with acarbose as control with IC50 of 2.35 µM. Antioxidant activity of the two compounds showed IC50 values of 2.66 and 1.55 mM. respectively, with ascorbic acid (IC50 0.012 mM) a standard.