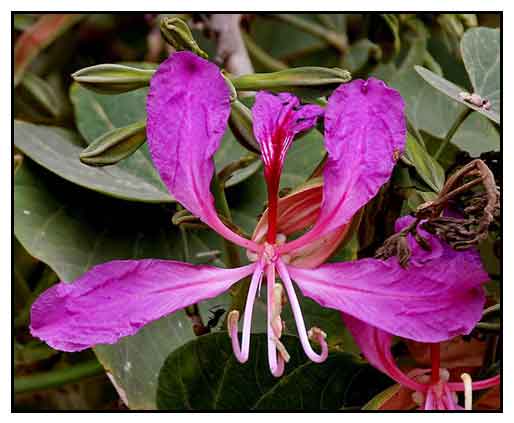 Gen info
Bauhinia is a genus of more than 200 species. The genus was named after the Bauhin brothers, Swiss-French botanists. The leaves share the double-leaf configuration of a heart, or more popularly, that of a butterfly. (Also see: Alibangbang / Bauhinia malabarica)
The Hongkong orchid tree (Bauhinia blakeana is named after one of the British Governors of Hongkong, Sir Henry Blake, 1898-1903) and is now the floral emblem of Hongkong. The flower looks like an orchid, and thus has earned the name "Orchid Tree." It is usually sterile, and debated as of hybrid origin between Bauhinia variegata and Bauhinia purpurea.
Botany
Bauhinia purpurea is a small to medium-sized deciduous fast-growing tree or shrub. Crown is round, symmetrical, moderately dense. Bark is pale grey, smooth to slightly fissured and scaly. Young branches are glabrous or glabrescent. Twigs are slender, light green, slightly hairy, and angled. Heartwood is brown, hard, and durable. Leaves are simple, alternate, base rounded to shallow-cordate, up to 12 centimeters long and wide, deeply 2-lobed at the apex. Inflorescences are 6- to 10-flowered raceme in terminal panicles. Flowers are showy and fragrant, numerous, hypanthium, turbinate, purple, nearly white or purple-marked. Fruit is brown, strap-shaped, about 15 to 20 centimeters long, 1.5 to 2.5 centimeters wide, with 10 to 15 shiny brown, glabrous, dehiscent, rounded, flat seeds, twisting as it opens. Seeds are orbicular, 14 to 16 millimeters in diameter, 1 to 2 millimeters thick. (17)
Botanically, very similar to and often confused with B. variegata but the petals are narrower, oblanceolate, and do not overlap. Stamens are 3 to 4.
Distribution
- Popular ornamental tree in towns and cities in the Philippines.
- Native to India.
- Found throughout subtropical India, North and South America, Nepal, Australia, Africa and the United Kingdom.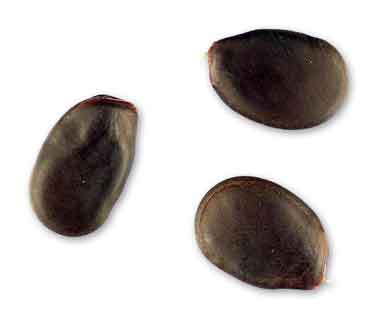 Constituents
- Phytochemical screening yielded glycosides, saponins, phenolic compounds and tannins, flavanoids, fixed oils and fats, phytosterols.
- Seeds and leaves yield phenolics, flavonoids, saponins, glycosides and tannins.
- Yielded amino acids lysine, phenylalanine, methionine and leucine.
- A study of ethanol extract of stems yielded a flavone glycoside, 5,6-dihydroxy-7-methoxy flavone 6-O-beta-Dxylopyranoside.
- Seed study yielded a new flavone glycoside, 6,4' dihydroxy 3- prenyl 3,5,7,5' tetra methoxy flavone-6-O-a-Lrhamnopyranoside.
- Fatty acid composition of seed oil yielded linolein (55.34%) and oleic (11.84%) acids as predominant unsaturated fats, while palmitic (17.4%) and stearic acid (11.40%) were the major saturated fatty acids. Three tocopherols and six phytosterols were also identified.
- Phytochemical screening of flowers yielded terpenoid, flavonoid, tannins, phlobatannins, cardiac glycosides. (16)
- Phytochemical screening of leaf and flower yielded carbohydrates, alkaloids, steroid and sterol, glycoside, saponin, flavonoid, tannins and phenolic compounds, protein, and fixed oil. (22)
- Phytonutrient analysis of leaf yielded total carbohydrate 50.3 ±3.46 mg/g, total protein 05.19 ±0.23, amino acids 05.95 ±0.88; flowers yielded total carbohydrate 43.33 ±2.30, total protein 13.99 ±0.23, amino acids 00.59±0.17. (22)
- GC-MS analysis of leaves yielded lupeol, stigmasterol, lanosterol, ergosterol, beta-tocopherol, phytol, hexadeconic acids, hexadeconic acids methyl esters, octadecadienoic acids and octadecatrienoic acid. (see study below) (26)
- Study of bark yielded a new compound, 6'-(stigmast-5-en-7-one-3-O-ß-glucopyranosidyl) hexadecanoate, together with 3ß-hydroxystigmast-5-en-7-one, oleanolic acid, 6,8-dimethylchrysin, and chrysin. (29)
- Phytochemical screening of stem bark yielded nine phytoconstituents: Myristic acid (1), Octadecanoic acid (2), 9,12-Octadecadienoic acid (3), isopropyl-24- methyl-pentacosanoate (4), Stigmasterol (5), β-Amyrin (6), β-Sitosterol (7), Lupeol (8) and ethyl 9,12- Hexadecadienoate (9). (30)
- Study of root extract yielded eleven new secondary metabolites (1-11) together with two known flavanones (12,13) and five known bibenzyls (14-18). The new compounds included eight dihydro-dibenzoxepine (1-8), a dihydrobenzofuran (9), a novel spirochromane-2,1'-hexenedione (10) and a new bibenzyl (11). (see study below) (32)
- A combination of CC, GC, TLC, and normal phase HPLC analyzed seed oil for lipid classes fatty acids, and fat-soluble bioactives of kachnar seed oil. An n-hexnae extract of seeds yielded 17.5%. Amount of neutral lipids was highest in the crude seed oil (ca 99%)), followed by glycolipids and phospholipids. Major fatty acids were linoleic acid, followed by palmitic, oleic, and stearic acids. The oil was characterized by a relatively high amount of phytosterols, with ß-sitosterol and stigmasterol as markers. ß-tocopherol was the major tocopherol isomer. (45)
- A novel flavone glycoside, 5,6-diihydroxy-7-methoxyflavone 6-O-ß-D-xylopyranoside (1) was isolated from the chloroform-soluble fraction of an ethanolic extract of B. purpurea stems. (52)
- Phytochemical study of bark isolated a new phenylpropanoid glucoside, purpuroside (1), along with eight known compounds (2-9). (see study below) (57)
- Study of heartwood of Bauhinia purpurea isolated 22 components: 6 steroids, two triterpenoids, three fatty alcohol, acid and ester, two glycerols, five flavonoids, two phenols, one chromone, and one sugar. Among them was a new compound, 6'-(ß-sitosteryl-3-O-ß-gucopyranosidyl) tetraeicosanoate. (58)
- Phytochemical screening of ethanolic leaf extract yielded flavonoids, alkaloids, steroids, terpenoids, lignins, carbohydrates, proteins, tannins, saponins, and glycosides. (see study below) (61

Properties
- Flowers considered laxative, anthelmintic.
- Root considered carminative.
- Stem considered astringent.
- Seeds are rich in calcium and iron.
- Studies have shown antioxidant, anti-hyperlipidemic, antiproliferative, wound healing, antiulcer, hepatoprotective, nephroprotective, anti-obesity, anti-epileptic, antidepressant, anti-arthritic, anticancer, phytoremediative, analgesic, anti-inflammatory, antibacterial, antifungal, anticonvulsant, phytoremediative, thrombolytic, antiarthritic, antidiarrheal properties.

Parts used
Flowers, stems, root, bark.

Uses
Edibility
- Flower buds eaten as vegetable.
- In Pakistan, fresh and dried flower buds are used as food material.
- Young seed pods cooked and eaten as vegetable.
- Young leaves and flowers eaten as a side dish with rice; used to flavor meat and fish. (17)
Folkloric
- No recorded medicinal use in the Philippines.
- Stem bark astringent in diarrhea.
- Flower buds used for bloody dysentery and piles.
- Bark decoction used for washing ulcers.
- A mixture of bark, root, and flowers in rice water used as maturant for boils and abscesses. (17)
- Used for dropsy, anasarca, rheumatic pains and swelling, convulsions, febrile delirium, animal bites, datura intoxication.
- In Pakistan, leaves, stems, and root are used to treat infections, pain, diabetes, jaundice, leprosy and cough. (15)
- In India, bark powder used to decrease debility: Dried root bark powder is mixed with half-teaspoon of S. aromaticum and half-teaspoon powder of Elettaria cardamomum. (38)
Others
- Fodder: In Nepal, found to increase milk production in lactating buffaloes. Leaves used as fodder by sheep, goats, and cattle. (17)
- Fuel: Used as firewood; calorific value is 4,800 kcal/kg.
- Wood: Used for carpentry and joinery and for making agricultural implements.
- Fiber: Obtained from the bark.

Studies
• Anti-Inflammatory / Antipyretic / Antinociceptive: Study of aqueous extract on animal models showed antinociceptive, antipyretic and anti-inflammatory activities. (1)
• Nephroprotective / Gentamicin Toxicity / Unripe Pods and Leaves / Bark: Study showed the unripe pods and ethanol extract of leaves of BP significantly protected rat kidneys from gentamicin-induced histopathological changes, with normalization of gentamicin-induced increases in serum creatinine, uric acid and BUN. (4) Study demonstrated the nephroprotective activity of unripe pods and bark against gentamicin induced nephrotoxicity. The beneficial effect suggested by biochemical findings and supported by histological evidence may be due to the scavenging effect of the extract. Results suggest B. purpurea supplementation may reduce gentamicin induced nephrotoxicity. (54)
• Wound Healing: Study of methanol and chloroform extracts prepared in carbopol and simple ointment base and applied to wounds showed dose-dependent and significant reduction in epithelization and wound contraction time. The methanol extract exhibited more activity. Results indicated BP leaves had wound healing property. (5)
• Antiproliferative / Antioxidant: Study showed Bauhinia purpurea leaf possesses potential antiproliferative and concentration-dependent antioxidant activities. (6)
• Antioxidant: Study of different extracts bark and leaves of B. purpurea showed significant inhibition of superoxide radicals in a dose-dependent manner. (7)
• Seed Oil: Extracted oil showed a reasonable ration of saturated and unsaturated acids. After oil extraction, the seed residue presents as a source of protein in the manufacture of poultry and animal feeds. (9)
• Anti-Ulcer / Leaves: Aqueous extract of BP leaves exhibited antiulcer activity which could be due to the presence of saponins or sugar-free polyphenols. (10)
• Antihyperlipidemic / Antiatherogenic: Study showed BP extracts significantly suppressed a cholesterol-high fat diet-induced hyperlipidemia in rats, suggesting antihyperlipidemic and anthiatherogenic potential. The activity may be due to polyphenolic compounds flavonoids, tannins, and proanthocyanidines. (11)
• Bauhiniastatins / Cancer Cell Growth Inhibitors: Study isolated four cancer cell growth inhibitors designated Bauhiniastatins 1-4 and pacharin. Bauhiniastatin 1 exhibited significant growth inhibition of P388 cancer cell line. (12)
• Antilipidemic / Anti-Obesity: Study of methanolic extract showed significant decreases in serum triglycerides, total cholesterol and LDL, with significant increases in HDL in obese rats. The body weight of the HFD induced obese rats was reduced by 30% when administered with sibutramine. The antilipidemic effect of MEBP was found to be more effective than Sibutramine. (13)
• Hepatoprotective / Paracetamol Induced Toxicity / Leaves: Study investigated the hepatoprotective potential of a methanol extract of Bauhinia purpurea leaves in paracetamol-induced liver toxicity in rats. Results showed potential hepatoprotective activity attributed to its antioxidant activity and high phenolic content. (14)
• Comparative Antioxidant Activity of Different Parts of B. purpurea: Study investigated the antioxidant activity of various extracts of leaves and bark of B. purpurea using DPPH and NO scavenging capacity. All extracts showed potent antioxidant capacity. The ethyl acetate bark extract showed highest activity in DPPH assay. An EA extract of leaves showed highest activity in in NO scavenging activity. (15)
• Antioxidant / Flowers: Study investigated the antioxidant activity of Bauhinia purpurea flowers. Results showed free radical scavenging activity, in decreasing order of activities: nitric oxide scavenging —reducing power activity—total antioxidant activity—metal chelating activity. (16)
• Antidiabetic / Stem Bark: Study investigated various extracts of stem bark of Bauhinia purpurea for antidiabetic activity in alloxan-induced diabetic mice. At higher doses, the extracts showed significant antidiabetic activity, with significant P values. The methanol extract showed the most potent antidiabetic activity. (18 )
• Antimicrobial / Stem Bark: Study screened an n-hexane extract of stem bark for phytochemicals and antimicrobial activity. Phytochemical screening yielded fatty acids, triterpenoids, steroids, alkaloids and phytol esters. Extract showed antimicrobial activity against all 6 bacterial strains (B. subtilis, E. coli, P. aeruginosa, S. typhimurium, Klebsiella spp) and 2 fungal strains (A. niger and Claviceps purpurea). (19 )
• Anthelmintic / Stem Bark / Whole Plant: Study evaluated petroleum ether and aqueous extracts of stem bark of BP against Indian earthworm Pheretima posthuma. The petroleum ether extract significantly demonstrated paralysis, and also death in shorter time compared to reference drug piperazine citrate. (20) Study evaluated aqueous and ethanolic extracts of whole plant of Bauhinia purpurea for anthelmintic activity against Pheretima posthuma. Both extracts exhibited significant anthelmintic activity at highest concentration of 100 mg/ml. Piperazine citrate was the standard reference drug. (31)
• Cytotoxic Activity / Leaves and Bark: Study evaluated different plant parts for cytotoxic activity using brine shrimp lethality bioassay. Results showed all extracts of both leaves and bark showed promising cytotoxic activity, the highest in the methanol bark extract and n-hexane fractions of leaves. Results suggest a promising source for novel anticancer agents. (21)
• Antidiabetic Activity: Study evaluated ethanol extracts of various plant parts (stem, root, leaf, and flowers) for anti-diabetic activity in diabetic Wistar rats induced by intraperitoneal STZ injection. All the extracts exhibited significant antidiabetic activity—the methanol extract was most active. (23)
• Anti-Obesity Effect: Study evaluated the effects of an ethanolic extract of BP on parameters of body weight, lean mass, fat free mass fat percent, tissue and plasma lipid profile, plasma glucose, insulin, and insulin resistance, and activity on amylase, lipase, leptin and adiponectin levels in high calorie diet induced obese rats. Results suggest EEB suppresses high-calorie-diet-induced obesity, with a potential for treatment of obesity and associated complications. (24)
• Antimicrobial / Leaves: Study evaluated the antibacterial and antifungal activities of B. purpurea leaves against B. subtilis, S. aureus, S. typhi, E. coli, P. aeruginosa, and C. albicans. Antimicrobial activity occurred in a concentration dependent manner. The efficacy was less than standard antibiotic, tetracycline. The antibiotic activity might be attributable to synergism between flavonoids, hydroxy acids and sesquiterpenes. (see constituents above) (26)
• Anti-Ulcer / Acute Toxicity Testing / Leaves: Study evaluated the anti-ulcer activity of methanol extract of B. purpurea leaf. Oral administration showed anti-ulcer activity (p<0.05) in all models tested. A dose-dependent protection was noted in the indomethacin-induced gastric ulcer model. In pyloric ligation assay, the extract significant increased gastric wall mucus secretion. In oral acute toxicity testing, 5000/mg/kg did not cause signs of toxicity in rats. (27)
• Amelioration of Hyperthyroidsim in LT4 Induced Albino female rats: Study evaluates the possible ameliorative effect in the regulation of hyperthyroidism in an albino wistar rat model. Results showed simultaneous administration of BP extract to LT-induced hyperthyroid animals reversed all effects indicating potential in the regulation of hyperthyroidism. Efficacy appears to be comparable to that of propylthiouracil (PTU) a standard antithyroidic drug. (28)
• Bioactive Compounds / Antimalarial, Antimycobacterial, Antifungal, Anti-Inflammatory, Cytotoxic / Roots: Study of root extract isolated eleven new secondary metabolites. Study reported antimycobacterial, antimalarial, antifungal, cytotoxic, and anti-inflammatory activities of the isolated compounds and discussed their biosynthetic pathways. (see constituents above) (32)
• Antidiabetic / Leaves: Study evaluated a methanolic leaf extract of B. purpurea in STZ-induced diabetic rat model. Results showed dose-dependent antidiabetic activity with significant (p<0.01) reduction in blood glucose levels. The activity was postulated to be due to an increase in pancreatic beta cell function or inhibition of intestinal glucose absorption. (33)
• Anti-Inflammatory / Antioxidant / Bark: Study evaluated the anti-inflammatory and antioxidant efficacy of ethanolic extract of B. purpurea bark in Sprague-Dawley rats. Results showed significant and dose-dependent inhibition of paw edema and ear edema and reversal of hematologic alterations to near normal. DPPH assay and MDA measurements showed potent antioxidant activity of the bark extract. Acute toxicity study showed the extract's non toxic nature even at higher doses. (34)
• Corrosion Inhibition: Study evaluated the inhibitory effect of B. purpurea extract in the corrosion of carbon steel in sulfuric acid solution. Results showed reasonable inhibitory effect. Study suggests the flavonoids in the leaf extract are potential corrosion inhibitors. The compound, rutin, exhibited a protective effect in HCl medium. (35)
• Antiepileptic / Stem Bark: Study evaluated an ethanol extract of B. purpurea stem bark for antiepileptic activity in Swiss albino mice by MES and PTZ methods. Results showed antiepiletic activity as evidenced by reduction in duration of all phases of epilepsy viz., flexion, extensor, convulsion, and stupor phases.   (36)
• Unique Chimeric Lectin: Lectins are carbohydrate-binding proteins used in biochemical, immunochemical, and histochemical studies. Bauhinia purpurea lectin (BPA) is a leguminous lectin with affinity for galactose and lactose. Study showed a novel type of lectin with unique carbohydrate-binding specificity can be constructed from BPA. (37)
• Cytoprotective Against Ethanol Induced Gastric Mucosal Ulcers / Leaves: Study evaluated the protective effect of ethanolic extracts of B. purpurea leaves against absolute ethanol-induced gastric mucosal damage in experimental rats. Results showed significant gastric mucosal protection as evidenced by gross reduction in ulcer area, increase gastric mucus production and decreased acidity of gastric content, together with histological evidence of decreased mucosal damage, reduction of edema and leucocyte infiltration. (39)
• Attenuation of Depression / Leaves: Study evaluated the antidepressant activity of ethanolic extract of leaves in Swiss albino mice using Forced swim test, Tail suspension test, and duration of mobility and immobility. Results showed statistically significant decrease in immobility time in both models. (40)
• Amelioration of Cisplatin-Induced Nephrotoxicity / Pods and Bark: Study of ethanolic extract of B. purpurea unripe pods and bark showed nephroprotective activity against cisplatin-induced nephrotoxicity in adult albino rats. (41)
• Regulation of Circulating Thyroid Hormone: Study evaluated the daily administration of Withania somnifera root extract and Bauhinia purpurea bark extract for 20 days on thyroid function in female mice. Both plant extracts showed increase in hepatic glucose-6-phosphatae (G-6-pase) activity and antiperoxidative effects as evidenced by decrease in hepatic lipid peroxidation (LPO) and/or by an increase in the activity of antioxidant enzymes. Results suggest the plant extracts are capable of stimulating thyroid function in female mice. (42)
• Antidiarrheal / Leaves: Study evaluated the anti-diarrheal potential of the leaves of B. purpurea on different animal models e.g. castor oil induced diarrhea in rats and gastrointestinal motility test using charcoal meal. In both modes, the the ethanol extract of leaves showed significant activity. (43)
• Silver and Gold Nanoparticles / Anticancer, Antimicrobial, Antioxidant / Catalytic / Leaves: Study reports on the green synthesis of silver and gold nanoparticles using a leaf extract of Bauhinia purpurea as reducing and stabilizing agent. The silver and gold NPs showed momentous anticancer effect in a dose dependent manner against A549 lung carcinoma cell line with IC50 of 27.97 µg/mL and 36.39 µg/mL, respectively. Antimicrobial study by agar well diffusion method showed activity against six microbial strains. The NPs also showed high antioxidant potentials with IC50s 42.37 and 27.21 µg/mL, respectively, using DPPH assay. Both NPs showed to be good catalysts for reduction of organic dyes. (44)
• Gastroprotective / Ethanol-Induced Gastric Ulcer / Leaves: Study evaluated the gastroprotective activity and mechanisms of protection of a methanol extract of leaves of Bauhinia purpurea using ethanol-induced gastric ulcer model in Sprague-Dawley rats. Results showed significant (p<0.05) and dose-dependent gastroprotective activity evidenced by decrease in ulcer area, further supported by histologic scores, significant (p<0.05) reduction in gastric juice volume, free and total acidity and increase in pH. The activity was significantly (p<0.05) modulated in the presence of sulfhydryl group, but not NO. The extract also exhibited significant (p<0.05) antioxidant activity. (46)
• Analgesic / Anti-Inflammatory / Stems: Study evaluated an ethanol extract of stem for analgesic activity using Eddy's hot plat method and acetic acid writhing method and anti-inflammatory activity using carrageenan induced paw edema in albino rats. Results showed significant analgesic and anti-inflammatory activities (p<0.001). Analgesic effect was comparable to standard analgin and anti-inflammatory effect to standard diclofenac sodium. (47)
• Anti-Arthritic / Stem Bark: Study evaluated the anti-arthritic potential of a hydroalcoholic extract from stem bark of Bauhinia purpurea in rats. Results showed significant inhibition (p<0.01) in paw edema and dose-dependent anti-arthritic activity on all observation days. There was also significant decrease (p<0.01) in oxidative stress markers, circulating pro-inflammatory cytokine (tumor necrosis factor alpha), interleukin-1, and IL-6, and an increase in anti-inflammatory cytokine IL-10. The extract was found safe with an oral LD50 value of >2 g/kg in acute toxicity study and no toxicological effect in the oral subacute toxicity study. (48)
• Effects of Receptor Antagonists on Peripheral Antinociceptive Activity / Leaves: Study evaluated the possible mechanisms of peripheral antinociception of aqueous extracts of Dicranopteris linearis, Melastoma malabathricum, and Bauhinia purpurea leaves in mice. All extracts exhibited significant (p<0.05) antinociceptive activity. The antinociceptive activity of B. purpurea was inhibited by naloxone, haloperidol, yohimbine, and reserpine. The antinociceptive activity of the extracts possibly involved the activation of several pain receptors i.e. opioids, muscarinic, a2-adrenergic and adenosine receptors, adenosine, H3-histaminergic and 5HT1A , dopaminergic receptors. (49)
• In-Vitro Activity of Saponins on Oral Pathogens: Dental caries, periodontitis and other mucosal diseases are caused by a complex community of microorganisms. Study evaluated the antimicrobial properties of saponins of four important oil yielding medicinal plants extracts (Bauhinia purpurea, Madhuca longifolia, Celastrus paniculatus, and Semecarpus anacardium) on selected oral pathogens involved in such diseases i.e. Streptococcus mutans, S. mitis, S. salivarius, Staphylococcus aureus and Lactobacillus acidophilus. The strong antimicrobial activity of B. purpurea and M. longifolia may be due to the presence of complex triterpenoid saponins, oleanine type triterpenoid glycosides or atypical pentacyclic triterpenoid saponin. These saponins may be used in food and oral products to prevent and control oral diseases. (50)
• Cadmium and Lead Remediation / Pods: Study reports on cadmium and lead remediation using magnetic and non-magnetic sustainable biosorbents derived from dried and powdered B. purpurea pods. Removal of Cd and Pb from actual groundwater using KPP and MKPP was demonstrated. (51)
• MgO Nanoflakes / Antibacterial / Leaves: Study reports on the biogenic synthesis of magnesium oxide (MgO) nanoflakes using leaf extract of B. purpurea. The MgO nanoflakes showed good antimicrobial property against S. aureus. The antibacterial mechanism may be due to damage to the cell membrane. (53)
• Antidiabetic / Pentacyclic Triterpenoids and Fatty Acid Esters / Stem Bark: Study evaluated the invitro antidiabetic activity of pentacyclic triterpenoids and fatty acid esters from stem bark of B. purpurea. Results showed dose dependent inhibition of glycosylation of hemoglobin and α-amylase. (55)
• Potential Human Hepatocellular Carcinoma Inhibitor / Seeds: Study isolated a 20-kDa Kunitz-type trypsin-chymotrypsin inhibitor, Bauhinia- purpurea trypsin inhibitor (BPLTI) from the seeds of B. purpurea. BPLTI demonstrated protease inhibitory activities toward trypsin and a-chymotrypsin. BPLTI exhibited a wide spectrum of anti-proliferative and pro-apoptotic activities especially on human hepatocellular carcinoma Hep G2 cells. The BPLTI stimulates apoptosis in Hep G2 cells, including evoking DNA damage, induction of cell apoptosis/necrosis, mitochondrial membrane depolarization and increased production of cytokines. Results suggest a promising candidate for treatment of human hepatocellular carcinoma. (56)
• NO Inhibitory Activity / Bark: Study of bark isolated a new phenylpropanoid glucoside, purpuroside (1) along with eight known compounds, Compounds 1, 2, 7, 8, and 9 inhibited NO production in mouse peritoneal macrophages with IC50 values from 35.5 to 63.0 µM. (57)
• Amelioration of Metformin-Induced Hypothyroidism: Study evaluated the possible ameliorative role of two plant extracts, B. purpurea and Withania somnifera on antidiabetic drug-induced hypothyroidism in T2 diabetic animals. Dexamethasone increased hyperglycemia, renal LPO, serum insulin, TC, LDL-C, VLDL, TG, and decreased serum T3, T4 and HDL-C as well as SOD, CAT. Metformin further decreased circulating T4 and caused hypothyroidism. Administration of either plant extract along with dexamethasone and metformin elevated concentrations of circulating T3 and T4 to euthyroid level, corrected relative risk ration (RR), and serum concentrations of lipids. Results suggested potential for the plant extracts to ameliorate metformin-induced hypothyroidism in T2DM patients. (59)
• Total Synthesis of Bauhinoxepin J: Study reports on the efficient synthesis of Bauhinoxepin J, which possesses antimycobacterial, antimalarial, and tumor growth inhibitory activities. (60)
• Thrombolytic / Anti-Inflammatory / Antiarthritic / Leaves: Study evaluated an ethanolic leaf extract for invitro anti-inflammatory, antiarthritic, and thrombolytic activity. In anti-inflammatory activity testing, maximum percentage stabilization of HRBC membrane was observed as 59.2% at 500 µg/ml concentration. For antiarthritic activity, maximum percentage inhibition by BSA and egg albumin method was seed at 82.2 and 94%, respectively. On thrombolytic activity assay, there was 91.02% clot lysis, compared to standard Streptokinase at 72.835%. (see constituents above) (61)
• Decreased Expression of Lectin as Marker of Cancer Recurrence: Study sought to identify lectins that can be used as predictor of gastric cancer recurrence after gastrectomy. Lectin expression and clinicopathological factors in patients who suffered gastric recurrence and those who did not were compared. Thirteen lectins showed significant increase in binding to cancer tissues, while 11 lectins showed a significant decrease to binding to cancer tissues. Lymph node metastasis and low Bauhinia purpurea lectin (BPL)-binding signals were independent predictive factors for recurrence. Patients with low BPL expression had significantly worse relapse-free survival than those with high BPL expression. Results suggest BPL expression as a predictor of gastric cancer recurrence. (62)
• Nutritive Value of Seeds: Seeds are a rich source of crude protein, crude lipid, fiber, carbohydrates, minerals and essential amino acids. Seed oil is a good source of essential fatty acids and lipid-soluble bioactive compounds. Seed oil contain 66% unsaturated fatty acids, with high linoleic acid content. Raw seeds yield appreciable levels of bioactive compounds such as phenolics, tannins, flavonols, anthocyanins, tartaric esters, flavonoids, l-dopa, and phytic acid. The seed materials have potential to be utilized as a nutraceutical/functional food. (63)
• Cadmium Adsorption by Activated Carbon Prepared from B. purpurea Leaves: Study evaluated the cadmium adsorbent ability of activated carbon prepared from Bauhinia purpurea leaves as a plant biomass. Results showed good capacity for cadmium adsorption, highlighting its potential as an effect adsorbent for treatment of industrial effluent. (64)
• Anticonvulsant / Leaves: Study evaluated the anticonvulsant activity of alcoholic and aqueous leaf extracts of Bauhinia purpurea in Wistar albino rats using Maximal Electro Shock Seizure (MES) and Pentylenetetrazole (PTZ). Acute toxicity study using OECD guidelines showed no adverse effects or mortality up to 4000 mg/p.o. Results indicate the 400 mg alcoholic leaf extract may be beneficial for anticonvulsant therapy. (65)
• Bauhinia purpurea Agglutinin (BPA) in Pancreatic Cancer: Study identified and evaluated the Bauhinia purpurea BPA conjugating protein in pancreatic cancer by ADC immunohistochemical technique. Results showed no positive staining in normal pancreatic tissues. BPA conjugating protein positivity was 8.3% in tissues from chronic pancreatitis and 62.96% in tissues from pancreatic cancer. The poorer the differentiation the higher the positive rate of BPA conjugating protein, which was 85.7% in moderately differentiated ones,18.2% in well differentiated. There was no difference between metastatic and non-metastatic cases, 69.23% and 57.14%, respectively. Results suggest the expression of BPA correlates with differentiation of pancreatic cancer but has not relationship with tumor metastasis. (66)
Availability
- Wild-crafted.
- Seeds in the cybermarket.