General info
Quisumbing . . . listed i) M. errans for Saging Maching ii) M. errans var. botoan for Butuhan and iii) M. errans var. basilisae for an unknown reason. However, Quisumbing wrongly credited Blanco and not Teodoro as the author of M. errans and again, did not explicitly establish M. errans var. errans. (Nicanor Teodoro's paper, A preliminary study of Philippine bananas, is at http://www.botanicus.org/page/709792.) (3)
Botany
Butuan is a wild banana plant, growing to a height of 3 to 3.8 meters, sending out suckers from the base. False trunk is erect and cylindric, 20 to 30 centimeters in diameter. Leaves are elliptic in shape, the mature blades about 1.5 to 2 meters long and 40 to 50 centimeters wide. Petioles grow to a length of 50 to 65 centimeters. Female fertile flowers appear toward the base, while the sterile staminate flowers appear toward the apex. Fruits are oblong, somewhat angled, about 15 centimeters long, 4 to 5 centimeters in diameter. Pulp is white, insipid or sour in taste. Seeds are hard and black.
Distribution
- An endemic form of wild banana, growing spontaneously in many parts of the Philippines.
- Considered endangered in some regions of the Philippines.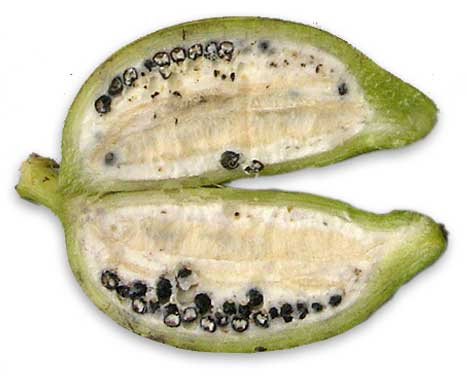 Constituents
- The puso (young inflorescence) is an excellent source of phosphorus, calcium and iron.
- Dichlormethane extract of corm of Musa errans yielded 31-norcyclolaudenone (1), squalene, and a mixture of stigmasterol and sitosterol.  (see study below) (1)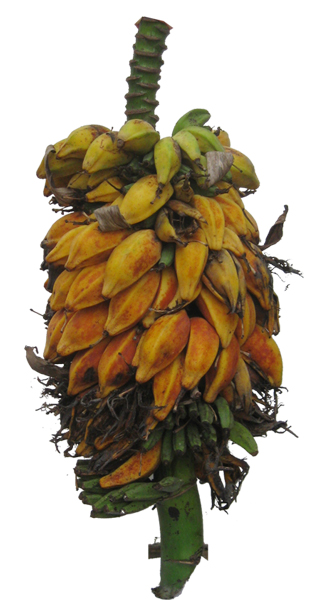 Properties
- Sap is vulnerary.
- Leaves considered antimicrobial.
Parts used
Leaves, corms, sap.
Uses
Edibility / Nutrition
- The puso (young inflorescence) is extensively used as food; a common market produce.
- The puso may be boiled and makes an excellent vegetable, or served with dressing, an excellent salad.
- Vinegar produced from the ripe fruits.
Folkloric
- Young unfolded leaves used as topical for chest pains.
- Internally, juice of corms given to tubercular patients.
- Sap used for wound healing.
- Sap exuding from the base of the cut trunk is used for urethral injections in gonorrhea.
- Unripe fruits eaten as treatment for diarrhea.
Studies
• Phytochemicals / Antimicrobial / Leaves: The air-dried leaves of the dichlormethane extract of Musa errans yielded 31-norcycloaudenone, squalene, and a mixture of stigmasterol and sitosterol. Antimicrobial testing showed low activity against C albicans, E coli, P aeruginosa, T mentagrophytes. (1) (2)
• Ecological Study / Mosquito in Leaf Axils: Aedes poicilius and Ae. flavipennis were the 2 most abundant mosquito species found breeding in the leaf axils of wild banana, Musa errans botoan, at 3 different study sites on Clark Air Base, Philippines. (5)
• Acute Toxicity Test: Since no animal subject died during the treatment period, the MLD (LD50) of the plant material is greater than 2000 mg/kg. (6)
• Hemostatic Activity / Peel: Study of Musa erans peel decoction demonstrated dose-dependent hemostatic activity, not only affecting the platelets but also affecting intrinsic and extrinsic pathway clotting factors, with significant decrease in bleeding time, clotting time, prothrombin time, and activated PTT. Tannins may have played a part in the hemostatic activity through an effect on platelet aggregation. (6)
Availability
Wildcrafted.