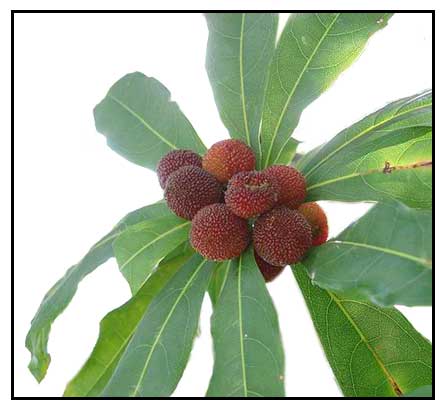 Botany
Cham-poi is an evergreen tree growing up to 20 meters high. Bark is brownish-gray, rough with deep vertical wrinkles. Leaves are crowded towards the ends of branchlets, obovate to elliptic, 5 to 10 centimeters long, entire or toothed, with a pale or rust-colored lower surface, minutely gland-dotted and aromatic. Flowers are minute and without perianth. Male flowers, in catkins, are 7 to 25 millimeters long, with 3 to 4 orbicular bracts. Stamens are 6 to 8. Female flowers are in axillary, erect spikes, 12 to 25 millimeters long, with 2 filiform stigmas. Fruit is a drupe, sessile, scaly, spherical, 12 to 18 millimeters in diameter, with a knobby and brilliant red surface, with a red flesh, the stone wrinkled and pitted.
Distribution
- Found in the Zambales Province of Luzon, in Palawan and other higher mountain areas.
- Occasional cultivation in Manila.
- Occurs in Japan, China, Korea, and Taiwan.

Constituents
- Bark analysis yielded: tannic matter, 27.3; soluble non-tanning substances, 7.9%; fiber and insoluble matter, 52.3%; moisture, 12.5%.
- Bark also shown to contain tannin, saccharin matter and salts. Study isolated myricitrin.
- Major anthocyanin isolated from a study was cyanidin 3-glucoside (95%). Other pigments are pelargonidin 3-glucoside and delphinidin 3-glucoside. Anthocyanins are responsible for most red, blue and purple colors of flowers, fruits and other plant tissues.
- Fruit is a rich source of cyanidin-3-glucoside, accounting for 85% of the anthocyanins in the fruit. (16)
- Essential oil of leaves yielded sesquiterpenes β-caryophyllene, β-caryophyllene oxide (CAO), α-humulene (HUM), trans-nerolidol (NER), and valencene (VAL). (see study below) (21)
- Study of root essential oil yielded principle components of 5-hydroxycalamenene (74.66 %) and phytol (7.74%). (see study below) (23)
- Study of nine cultivars for flavonoids yielded five flavonoids, i.e. cyanidin-3-O-glucoside (C-3-Glu), myricetin-3-O-rhamnoside (M-3-Rha), quercetin-3-O-galactoside (Q-3-Gal), quercetin-3-O-glucoside (Q-3-Glu), and quercetin-3-O-rhamnoside (Q-3-Rha). (see study below) (24)
- Study of leaves for essential oil yielded ß-caryophyllene, α-humulene, humulene epoxide I, valencene, epi-α-selinene, y-muurolene, ß-caryophyllene-oxide, and trans-nerolidol as dominant compounds. (see study below) (26)
- Study of bark isolated a new diarylheptanoid (11)-3,5-dimethoxy-11,17-dihydroxy-4,19-diketo[7,0]-metacyc-lophane, named rubanol (1), along with four known compounds (2-5). (see study below) (30)
- Study of bark isolated three new biphenyl type diarylheptanoid glycosides, myricanol 11-O-s-D-glucopyranoside, myricanone 5-O-ß-D-glucopyranoside, and neomyricanone 5-O-ß-D-glucopyranoside, and a new taraxerane type triterpene, myricetrione. (see study below) (31)
- Study of bark isolated ten cyclic diarylheptanoids (1-10) including three new compounds: myricanone 5-O-α-L-arabinofuranosyl-(1 -->6)-ß-D-glucopyranoside (7), myricanone 17-O-ß-D-(6'-O-galloyl)-glucopyranoside (8), and 16-methoxy acerogenin B 9-O-ß-D-apiofuranosyl-(1-->6)-ß-D-glucopyranoside (10), along with two flavonoids (11,12). (see study below) (39)

Properties
- Bark is considered aromatic and astringent.
- Fruit is considered carminative.
- Studies have suggested antioxidant, anti-angiogenesis, neuroprotective, cardioprotective, antiviral, analgesic, antiplatelet, hepatoprotective, COX inhibitory, tyrosinase inhibitory, free radical scavenging, antiandrogenic, anti-allergic, anticancer, antimicrobial, hypoglycemic, hypotensive properties.

Parts utilized
Bark. roots, fruit.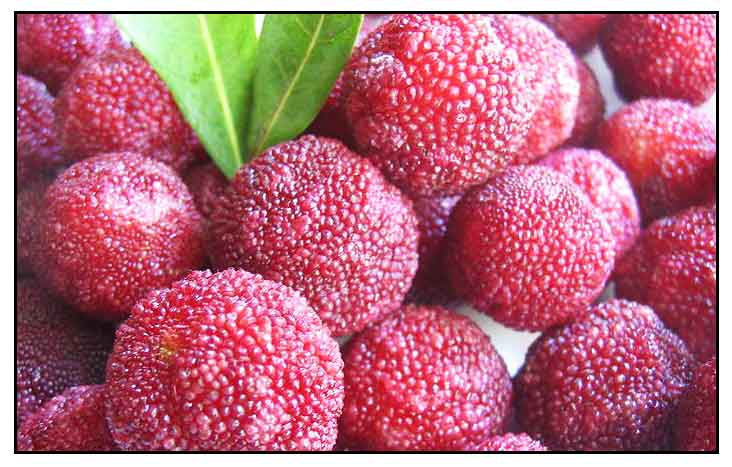 Uses
Edible
- Fruits are eaten raw or cooked; also, preserved.
- Fruits may be dried, canned, juiced, soaked in baijiu (Chinese liquor) or fermented into alcoholic beverages.
Folkloric
- Decoction of the bark is used for asthma, diarrhea associated with phthisis, fevers, lung afflictions, typhoid, dysentery and for diuresis.
- Oil from the bark used as ear drops for earache.
- Bark used for scrofulous and aphthous affections, chronic bronchitis, gonorrhea and atony of the digestive tract.
- Powdered bark used as snuff in catarrh with headache; combined with ginger as a stimulant in cholera.
- With cinnamon, used for chronic cough, fever and piles.
- Mixed with vinegar, used to strengthen the gums.
- Bark is chewed for toothaches.
- Powder or lotion from bark is applied to putrid sores.
- Pessaries are made from the bark to promote menstruation.
- Myrtle wax, made from boiling the fruit, is used as a healing application for ulcers.
- In China, salted form or any preserved form of the plant used as pectoral and calming the stomach.
- Fruit is carminative, and used for digestive disturbances, including diarrhea and dysentery.
- Kernel of seeds used for sweating of the feet.
- Bark and roots used as decoction for treatment of wounds, ulcers, scaly skin afflictions and arsenic poisoning.
In Taiwan, used for stomach disorders and diarrhea.
- Bark used in Chinese folk medicine for antibacterial, anti-inflammatory and anticancer activities. (25)
Others
- Dye: Dye prepared from the bark.


Studies
• Prodelphinidin / Anti-Herpes Simplex Virus Type 2: Study isolated prodelphinidin B-2 3,3'-di-O-gallate (PB233'OG) which was shown to exhibit anti-HSV-2 effects in various models of action. (1)
• Cytotoxicity / Anti-Tumor Compounds: Study isolated epigallocatechin 3-O-gallate and prodelphinidin a-2,3'-O-gallate as anti-tumor principle components. Both compounds inhibited the growth of HeLa cells. Results suggest the compounds can induce apoptosis in HeLa cells, and their cytotoxic effect may be through activation of caspase-3. (2)
• Myricetin / Analgesic / Cox Inhibitor / Antiplatelet Activity: Study isolated myricetin from the leaves of M rubra. Test results showed it possessed potent analgesic activity with peripheral rather than opioid system analgesia. It also showed to be a potent COX-1 inhibitor with antiplatelet activity. (3)
• Hepatoprotective / Carbon Tetrachloride Induced Liver Damage / Fruit: Study of fruit extract was shown to have hepatoprotective activity in carbon-tetrachloride induced liver damage in mice, possibly through regulation of mitochondrial VDAC (voltage-dependent anion channels), one of the most important proteins in the mitochondrion outer membrane. (4)
• Hepatoprotective / CCl4-Induced Toxicity / Bark: Study of methanol extract of bark of MR show hepatoprotective effects on CCL4 induced liver injuries in rats and significant protective effects against cholestasis induced by ANIT.
• Flavonoids / Free Radical Scavenging: Studies of extracts from four Chinese bayberry varieties isolated one dominant anthocyanin, three major flavonols, myricetin and quercetin-3-O-rutinoside. The black varieties showed higher radical scavenging than the pink and yellow varieties attributed to the levels of anthocyanins, flavonoids and total phenolics. (5)
• Tyrosinase Inhibiting Activity / Skin Whitening Potential: Ethanolic extract of dried leaves and bark of M rubra showed tyrosinase inhibiting activity, inhibition of the production of melanin from dopachrome by autoxidation, and SOD-like activity. Results suggest the leaves or bark of M rubra might be used as a whitening agent for the skin. (7)
• Anti-Androgenic Activity: Aqueous ethanol extract of the bark of M rubra showed in vitro testosterone 5a-reductase inhibitory activity and in vivo anti-androgenic activity. Three main active principles were identified: myricanone, myricanol, and myricetin. (8)
• Myricetin / Anti-Inflammatory / Anti-Allergic: Study on different in vivo models showed myricetin from MR leaves possesses potent anti-inflammatory function on acute and chronic inflammation via a mechanism that involves antioxidant activity. In a mouse allergy model, serum, there was down regulation of serum IgE levels. (10)
• Prodelphinidin / Anti-Cancer: Prodelphinidin B-2 3, 3'-di-O-gallate (PB233'OG) isolated from the bark of Myrica rubra showed antiproliferative activity with inhibition of proliferation of A549 carcinoma cells by blocking cell cycle progression and induction of apoptosis. (11)
• Antioxidant: Study showed MR leaves, branches and bark extracts showed stronger ability to scavenge free radicals compared to control. The branches showed the strongest ability to scavenge DPPH, followed by leaves and barks. (13)
• Flavonoids / Anti-Inflammatory: Study investigated the anti-inflammatory effects of myricitrin, a flavonoid rich in the leaf of MR. M. rubra leaf extracts inhibited pro-inflammatory TBF-a production in a macrophage cell line. (14)
• Hepatoprotective / Hypocholesterolemic / Anti-Anemic: Study evaluated Myrica rubra fruit juice in CCl4-inducted hepatotoxicity in rats. Results showed a stimulant effect on RCS and hemoglobin, possibly from stimulation of erythropoietin. There was also decrease in total and LDL cholesterol. The hepatoprotective effect may be from constituents acting as free radical scavengers. Study suggests the Myrica fruit drink to be anti-anemic, hypocholesterolemic, and hepatoprotective. (17)
• Cardiac Effects / Suppression of Platelet Aggregation: Study evaluated the effects of a 50% Myrica rubra drink (MRD) on the cardiovascular system and on platelet aggregation of rats and guinea pigs. Pretreatment of rats with MRD significantly suppressed vagal electrical stimulation to the heart and nicotine-induced bradycardia, via decreasing phenylephrine-induced rise in arterial BP and reflexly induced bradycardia. Treatment also suppressed ADP-induced platelet aggregation in rats and arachidonic acid-induced aggregation in guinea pigs. The activities were probably mediated by constituents such as proanthocyanidins, polyphenols, and flavonoids. (20)
• Antiproliferative Synergism of Sesquiterpenes with Doxorubicin / Leaf Oil: Study evaluated the effect of sesquiterpenes from the essential oil of MR leaves on the efficacy and toxicity of anticancer drug doxorubicin in CaCo-2 cancer cells and in primary culture of rat hepatocytes. The sesquiterpenes showed an ability to selectively increase DOX accumulation in cancer cells without affecting DOX concentration in non-cancerous cells. (see constituents above) (21)
• Antitumor / Apoptosis of Cancer Cells / Leaf Essential Oil: Study evaluated the essential oil from leaves of MR and its compounds a-humulene and trans-nerolidol on colorectal cancer cell line HT29. Results showed MEO was able to decrease adhesion of colon cancer HT29 cells to collagen. MEO, α-humulene and trans-nerolidol significantly suppressed adhesion of TNFα-induced cells probably due to down-regulation of ICAM-1. There was diminished tumor invasion and metastasis via up-regulation of E-cadherin. Results also indicate synergism and/or contribution of other components. (22)
• Antimicrobial / Essential Oil / Root: Study investigated the essential oil from M. rubra root for antimicrobial activity against foodborne pathogens. The essential oil was particularly effective against B. cereus and L. monocytogenes. The antimicrobial activity of the root oil mainly correlated with the 5-hydroxycalamenene content. Results on antimicrobial activity suggest food preservative potentials. (23)
• Flavonoids / Potential as Hypoglycemic Food / Pulp: Study investigated the flavonoid compositions of Chinese bayberry pulp extracts an quantified flavonoids in nine cultivars. Five flavonoids were identified and quantified. Glucose consumption activities of the cultivars varied significantly and correlated with total phenolics, total flavonoids, and DPPH scavenging activities. C-3-Glu and three quercetin-3-O-glycosides (Q-3-Glys, i.e., Q-3-Gal, Q-3-Glu, and Q-3-Rha) showed significant enhancement of glucose consumption in HepG2 cells. Results suggest cultivars with high content of C-3-Glu and Q-3-Glys may have great potential as hypoglycemic foods. (24)
• Myricanol / Anticancer / Growth-Inhibiting and Apoptosis Inducing / Bark: Study evaluated the effects of Myricanol extracted from M. rubra bark for anticancer effects on human adenocarcinoma A549 cells by inducing apoptosis in vivo. Results showed Myricanol significantly inhibited the growth of A549 cells in a dose-dependent manner, significantly decreased colony formation and induced A549 cell apoptosis. Myricanol upregulated the expression of Caspase-3, Caspase-9, Bax, and p21 and downregulated the expression of Bcl-2 at the mRNA and protein levels--changes associated with apoptosis. (25)
• Inhibition of Cancer Cell Proliferation / Induction of Apoptosis / Adenocarcinoma Cell Lines / Leaf Essential Oil: Study evaluated the antiproliferative effect of M. rubra essential oil in human colon and ileocecal adenocarcinoma cell lines. The essential oil significantly inhibited cell proliferation in a concentration-dependent manner in all cell lines, with Caco2 the most sensitive. In cancer cells, the EO induces apoptosis and caused significant increase of initiator and effector caspases. (see constituents above) (26)
• Neuroprotective / Myricanol and Myricetin / Leaves: Study evaluated the neuroprotective of two characteristic constituents, myricanol and myricetin, with N2a cells using H2O2-induced oxidative challenge. Results showed suppression of H2O2-induced cytotoxicity in N2a cells was achieved by pretreatment with myricanol. Study suggests potential for myricanol as preventive and treatment of neurodegenerative diseases induced by oxidative stress. (27)
• Proanthocyanidins / α-Glucosidase Inhibition / Leaves: Study evaluated the inhibition effect and mechanism of Chinese bayberry leaves proanthocyanidins (BLPs) on α-glucosides. Results showed BLPs was a high potential noncompetitive-type inhibitor of α-glucosidase with IC50 of 0.037 and acarbose equivalent of 517.01 mmol AE g. Results suggest BLPs as epigallocathechin-3-O-gallate polymers could be a novel α-glucosidase inhibitor with potential for use as functional food or anti-diabetic drug. (28)
• Hypotensive Effect / Inhibition of GLUT / Activation of NO/Akt/eNOS Signaling Pathway: Study evaluated the protective effects of ethanol extract of bayberry on spontaneous hypertension in rats LC-MS analysis identified 28 compounds. Treatment with the extract resulted in potent and persistent reduction of high blood pressure, even after drug withdrawal. The mechanism may involve protection against damage to vascular structure, enhancement of endothelium-dependent vascular function, inhibition of abnormal proliferation of smooth muscle by inhibition of glucose transporter-1 (GLUT1) and regulation of nitric oxide (NO)/serine/threonine kinases (Akt)/endothelial nitric oxide synthase (eNOS). (29)
• Diarylheptanoid / Cytotoxicity / Bark: Study of bark isolated a new diarylheptanoid, rubanol (1) along with four known compounds (2-5). Rubanol showed cytotoxicity against Lun-06, Neu-04, and Bre-04 cell lines with GI50 values of 16.03-32.58 µg/mL. (30)
• Inhibition of Nitric Oxide Production / Bark: Study of bark isolated three new biphenyl type diarylheptanoid glycosides, myricanol 11-O-s-D-glucopyranoside, myricanone 5-O-ß-D-glucopyranoside, and neomyricanone 5-O-ß-D-glucopyranoside, and a new taraxerane type triterpene, myricetrione.
The diarylheptanoids, triterpene, and their polyphenols showed potent inhibitory effects on nitric oxide production in polysaccharide-activated macrophages. Also, the diarylheptanoids, myricanol and myricanone inhibited production of iNOS. (31)
• Proanthocyanidins / Inhibition of Angiogenesis / Ovarian Cancer Cells / Leaves: Study of bayberry leaves proanthocyanidins (BLPs) showed strong growth inhibitory effects on cisplatin-resistant A2780/CP70 cells by inhibiting angiogenesis and inducing G1 cell cycle arrest. BLPs reduced tube formation in HUVECs and attenuated wound healing ability in A2780/CP70 cells and reduced the level of ROS and targeted Akt/mTOR/p70S6K/4E-BP-1 pathway. Overall, results indicated BLPs could be a valuable resource of natural compounds for cancer treatment. (32)
• Cardioprotective / Attenuation of Oxidative Damage and Cardiomyocyte Apoptosis / Flavonoids: Study investigated the potential protective effects and mechanisms of M. rubra flavonoids (MRF) extract on isoproterenol (ISO)-induce myocaridial injury in rats and hypoxia/reoxygenation (H/R) injury in H9c2 cardiomyocytes. Results suggested MRF exerts cardioprotective effects by attenuating oxidative damage and cardiomyocyte apoptosis most likely via a P13K/Akt/GSK3ß-dependent mechanism. (33)
• Neuroprotective Compounds / Bark: Study evaluated Myrica rubra bark for neuroprotective ingredients. UPLC-Q-TOF-MS and MTT assay identified 19 compounds, and myricitrin and myricanol 11-sulfate were shown to have neuroprotective, which prevented cell apoptosis through alleviation of oxidative stress by reducing levels of ROS and methane dicarboxylic aldehyde, and enhancement of activities of SOD. Results suggest several active compounds from MRB may offer neuroprotection with potential for development of new drugs against CNS diseases. (34)
• Dual 5-LOX/COX Inhibitor / Anti-Inflammatory / Leaves: Study evaluated the anti-inflammatory activity of various solvent extracts of M. rubra leaves for inhibitory activity toward pro-inflammatory enzymes cyclooxygenase-1 and 12 (COX-1, COX-2) and 5-lipoxygenase (5-LOX). The ethanol extract of leaves demonstrated strong inhibition of prostaglandin E2 (PGE2) biosynthesis catalyzed by both COX-1 and COX-2 and leukotriene B4 (LTB4) formation catalyzed by 5-LOX. The ethyl acetate fraction also exhibited dual 5-LOX/COX inhibition. (35)
• Regulation of Lipid Metabolism and Glucose Consumption / AMPK Pathway / Proanthocyanidins / Leaves: Study evaluated the hypolipidemic mechanisms of Chinese bayberry leaves proanthocyanidin (BLPs). BLPs reduced the activity of pancreatic lipase. SPBLPs and UDBLPs significantly activated AMPK in a dose dependent manner. SPBLPs and UDBLPs reduced triglycerides synthesis by phosphorylating ACC. SPBLPs and UDBLPs reduced sterols biosynthesis by inhibiting SREBP-1. SPBLPs promoted glucose consumption in HepG2 cells. Overall, the study suggests the hypolipidemic property and promotion of glucose consumption of BLPs via AMPK pathway. (36)
• Hepatoprotective / Alcohol-Induced Toxicity / Fruit: Study evaluated the beneficial effects of Chinese bayberry flavonoid fruit extract on chronic alcohol-induced liver oxidative injury in mice. Results showed the levels of TC, TG, LDL in serum and activity of CYP2E1 in microsomes, and levels of MDA in liver tissue and mitochondria were significantly (p<0.05) decreased in the extract treated group. Pretreatment noticeably prevented alcohol-induced hepatocyte apoptosis and fatty degeneration. Study suggests the hepatoprotective effects may be due to antioxidant properties. (37)
• Anticancer / Cervical Carcinoma (HeLa) Cell Line / Leaves: Study evaluated 14 medicinal plants for cytotoxic effects in human oral epidermal (KB) and cervical (HeLa) carcinoma cell lines. The extract of Myrica rubra var. acuminata exerted stronger cytotoxic effects on HeLa cells and lower cytotoxicity to primary normal gastric fibroblasts. Mra-induced cytotoxicity occurred in a dose-dependent manner. HeLa treated with Mra exhibited chromatin condensation and DNA fragmentation. Results suggest Mra induced apoptosis in HeLa cells and normal cervical fibroblasts. (38)
• Melanogenesis Inhibitory / Radical Scavenging / Bark: Study of bark isolated ten cyclic diarylheptanoids (1-10) including three new compounds: myricanone 5-O-α-L-arabinofuranosyl-(1 -->6)-ß-D-glucopyranoside (7) along with two flavonoids (11,12). On evaluation of the compounds against melanogenesis in B16 melanoma cells, six compounds (3,5,7,8,10, and 12) exhibited inhibitory effects with 30-56% reduction of melanin content at 25 µg/mL with no or very weak toxicity to the cells (82-100 of cell viability at 25 µg/mL). Seven compounds (1,3,5,6,8,11, and 12) showed potent free radical scavenging activity against DPPH. (see constituents above) (39)
• Antidepressant / Flavonoids / Leaves: Study evaluated the antidepressant effect of total flavonoids from Bayberry leaves in mice. Results showed significantly reduced immobility time of mice during forced swimming test and tail suspension test. The significant antidepressant effects were attributed to the total flavonoids. (40)
• Antimelanogenesis / Antioxidation / Free Radical Scavenging / Fruit: Study evaluated fruit extracts for anti-melanogenesis, antioxidation and radical scavenging effects on two melanoma cell lines: mouse melanoma (B16-F0) and human melanoma (A2058). A water extract of M. rubra fruit was less cytotoxic to melanoma cell lines, effectively inhibited melanin synthesis and tyrosinase activity and down-regulated the gene expression and protein secretion of MITF and TRP-1. The extract also showed abilities to scavenge DPPH free radicals and suppress ROS production. LC/MS/MS assay determined the effective compounds were myricetin-O-deoxyhexoside, quercetin-O-deoxyhexoside, and kaempferol-O-hexoside. Overall, study suggests the water extract of fruit is a safe and effective melanin inhibitor and anti-oxidant. (41)
Availability
Cultivated.