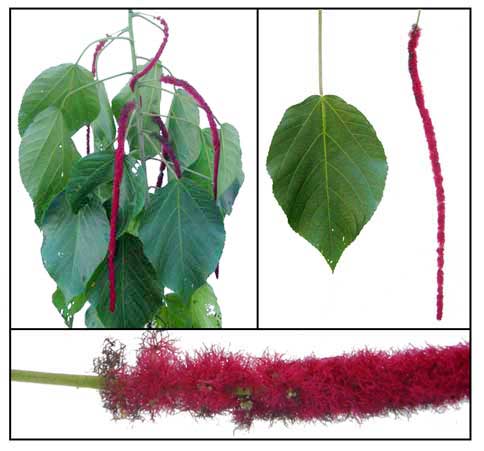 Botany:
Acalypha hispida is a shrub growing to a height of 1-3meters. Leaves are alternate, petioled 2-11 cm long, broad-ovate, bright green atop, pale green underneath, with crenulate-serrate margins. Inflorescence is axillary, solitary, in long pendant spikes, up to 15-40 cm long. Flowers are small and bright red.
Distribution
Popular garden cultivation for its decorative red catkins.

Constituents
- Phytochemical screening yielded flavonoids, carbohydrates, phenols and alkaloids.
- Plant has yielded gallic acid, corilagin, cycloartane-type triterpenoids, quercetin and kaempferol derivatives.
- Leaves yielded kaempferol 3-O-rutinoside. (16)
- Phytochemical screening of hexane extract (non-polar fraction) of leaves and twigs yielded flavonoids, carbohydrates, phenols, anthraquinones, cardiac glycosides, proteins, and alkaloids, with an absence of tannins, sterols and saponins. (see study below) (9)
- Proximate composition of leaves showed moisture (11.02%), crude fate (6.15%), ash (10.32%), crude protein (13.78%), crude fiber (10.25%) and carbohydrate (44.48%). Aqueous and methanolic extracts of leaves yielded phenolics, flavonoids, hydroxyanthraquinones, saponins, steroids, and phlobatannins.   (10)
- Ethanol and aqueous extracts of leaves yielded flavonoid content of 126.30 and 149.72 mg QE/g dry extract, and phenolic content of 130.51 and 173.80 mg GAE/g dry extract, respectively. (see study below) (18)
- Screening of dried powder leaves yielded carbohydrates, flavanoids, cardiac glycosides, anthraquinone glycosides, saponins, steroids, and tannins. (19)
- Phytochemical screening of leaf extracts yielded tannin, alkaloid, saponin and flavonoids, with absence of hydrogen cyanide and carbohydrates. (21)

Properties
- Diuretic, emollient, expectorant and laxative.
- Studies suggest antidiarrheal, anti-leishmanial, antioxidant, trypanocidal properties. antiulcer, antitumore, anti-inflammatory

Parts utilized
Bark, flower, leaves, root
Propagated by stem cuttings.
Uses
Folkloric
• Not known in the Philippines for medicinal applications.
• In Indonesia, a root and flower decoction is used for hemoptysis. Leaf poultice used for leprosy.
• In Malaya, decoction of leaves and flowers taken internally as laxative and diuretic for gonorrhea.
Bark used as expectorant and for asthma.
• In Africa, bark root used for pulmonary problems; leaf for leprosy, and flower for kidney ailments and as diuretic.
• In West Nigeria, leaves and stems soaked and boiled in water, used for skin rashes. (13)
• In India, reported Mawasi tribal use of flowers for diarrhea. (14)



Studies
• Antimicrobial: Studies of leaf extracts isolated gallic acid, corilagin and geranin responsible for antimicrobial activity. (2)
• Trypanocidal: Aqueous extract of Acalypha hispida leaves suggest trypanocidal effect. (3)
• Anti-ulcer / Anti-tumor: Studies yielded geraniin and dehydroellagitannins which suggest diverse biological properties including anti-ulcer and anti-tumor effects, antibacterial activity against helicobacter pylori and antifungal activity.
• Phytochemicals: Phytochemical studies yield phenolics, flavonoids, hydroxyanthraquinones and saponins. It also detected steroids , phlobatannins and glycosides.
• Anthocyanins: Study isolated three anthocyanins from the red flowers of the chenille plant. (6)
• Anti-Leishmanial: In a study of three Acalypha species, only A. hispida showed to have anti-leishmanial activity with an IC50 of 71.75 µg/mL (8)
• Antioxidant / Antioxidant: Study evaluated a hexane extract for phytoconstituents and antioxidant activity. Study yielded flavonoids, carbohydrates, phenols and alkaloids. Results showed significant antioxidant activities when compared to ascorbic acid. The scavenging activity could be linked to flavonoid and phenol contents. (see constituents above) (9)
• Toxicity Studies: Study in mice toxicity of combined extracts of three Acalypha species viz. Acalypha hispida, A. nervosa and A. fruiticosa. Subacute toxicity study showed no mortalities or evidence of adverse effects at highest dose of 2000 mg /kg of crude extracts. (11)
• Antidiarrheal / Combined Effects: Study evaluated the antidiarrheal potential of combined 70% hydroethanolic extracts of Acalypha hispida, A. nervosa and A. fruiticosa in castor oil-induced diarrhea in wistar rats. Results showed dose-dependent delay in the onset of induced diarrhea and also significant reduction in the number of diarrheal episodes and number of animals exhibiting diarrhea. Loperamide was used as standard drug. (12)
• Essential Oil / Larvicidal: Study of leaves for essential oil yielded main constituents of neral (11.04%), citral (12.87%), 6,10,14, trimethyl-2-pentadecanone (13.43%) and n- hexadecanoic acid (14.69%). On toxicity for brine shrimps larvae (Artemia salina), LC50 value was 122.28 µg/mL, while activity against Anopheles gambiae showed an LC50 of 125 µg/mL. (15)
• Anti-Inflammatory / Antioxidant / Leaves: Study evaluated the anti-inflammatory, antioxidant activity, and bioactive plant polyphenols of ethanol and aqueous extracts of leaves. Both extracts showed statistically significant inhibition of carrageenan and histamine induced paw volume. Both extracts showed DPPH scavenging, Fe+2 iron chelating, NO scavenging, and concentration dependent reducing power ability. The anti-inflammatory activity may be due to the high presence of ellagic acid, contributed, too, by other phenolic contents. (see constituents above) (18)
• Antimicrobial / Cytotoxic / Leaves: Study evaluated an ethanolic extract of leaves for cytotoxic and antimicrobial activities. Cytotoxic activity by brine shrimp lethality showed potent cytotoxic effect with LC50 19.95 µg/ml, comparable to standard cytotoxic drub chloramphenicol (LC50 7 µg/ml). The extract showed antibacterial activity against Salmonella typhi and moderate activity against Enterococcus coli, Streptococcus saprophyticus and Streptococcus agalactin. (20)
• Antibacterial / Leaves: Study evaluated the antibacterial properties of ethanol, methanol, chloroform and water extracts of leaves against E. coli, S. aureus, P. aeruginosa, and S. typhi. The test organisms were susceptible to the extracts in varying degrees, with the methanol extract showed more antibacterial activity. (21)

Caution
- Milky sap from the leaves and stems are poisonous.
- Symptoms: Ingestion causes nausea, vomiting and diarrhea; skin contact may cause acute dermatitis which may be severe.
- The toxic principle: diterpene esters.
Availability
Ornamental cultivation.